Starbucks Iced Brown Sugar Oat Milk Shaken Espresso is a delicious coffee drink to enjoy any day. Homemade cinnamon brown sugar syrup gives incredible flavor to this dairy-free espresso drink with oat milk. The taste of this vegan shaken espresso drink is so delicious you are going to want to enjoy one everyday.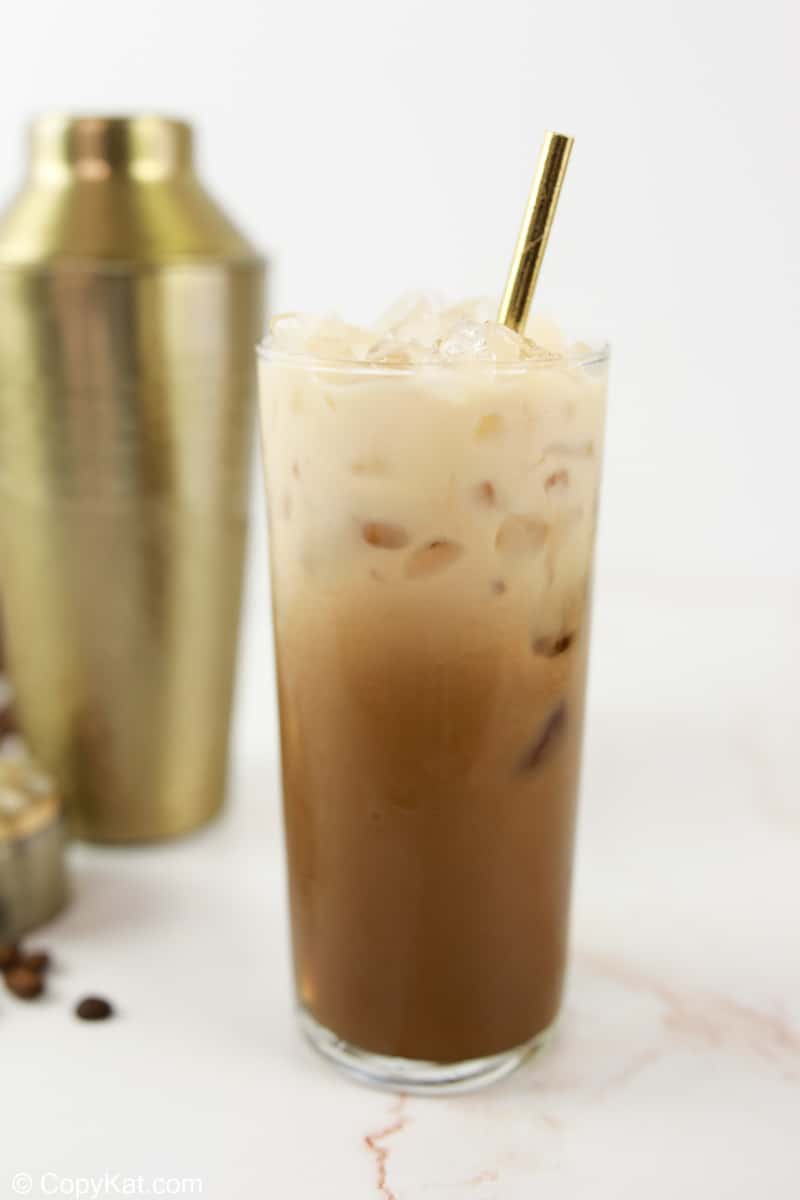 This post contains affiliate links. As an Amazon Associate, I earn from qualifying purchases.
Dairy Free Iced Coffee
Anyone who is still searching for a go-to coffee-based drink but doesn't want to drink dairy will love this Iced Oatmilk Shaken Espresso recipe. Heck, even people who don't mind milk should give this one a try.
Starbucks is known for creating some addictive beverages, and this one is a real winner.
Why This is the Best Iced Oat Milk Shaken Espresso Recipe
It's the brown sugar spiced syrup that turns this ordinary iced latte into a must-try drink. The warmth of the cinnamon combines perfectly with the rich sweetness of the brown sugar and the hint of vanilla to soften out the harsh bitterness of the espresso.
The result is a smooth-drinking, sophisticated beverage that is not overly sweet or cloying.
Is this Starbucks Copycat Recipe Any Good?
It certainly is delicious and comes very close to what you would get if you ordered at Starbucks. Some people even think it is better.
Making this drink at home will save you a lot of money and let you tweak the recipe a bit to match your personal preferences.
Starbucks Iced Brown Sugar Oat Milk Shaken Espresso Ingredients
Here's a list of what you need:
Dark brown sugar
Water
Cassia ground cinnamon
Saigon ground cinnamon
Vanilla extract
Espresso – you could use strong coffee
Ice
Oat milk
Ingredient Substitutions
As written, this Starbucks Iced Brown Sugar Oatmilk Shaken Espresso recipe is fantastic, but that doesn't mean you can't switch things up a bit:
No Espresso Machine, No Problem!
Many people don't have an espresso machine at home, but that doesn't mean they have to skip this Starbucks copycat recipe. The most straightforward solution is to make this recipe using a premium coffee, like Veranda Blend from Starbucks, and double brewing it.
Or, you can try using an instant espresso. Medaglia D'Oro Espresso Style Instant Coffee and Café Bustelo Espresso Style Instant Coffee are outstanding choices.
The Double Cinnamon Quandary
Yep, this recipe calls for two types of cinnamon: cassia and Saigon. Believe it or not, there are a few pretty big differences between the two spices.
First off, cassia is not authentic cinnamon. Yes, the most popular 'cinnamon' in the US is imposter, but it tastes pretty much like the real thing, and many cooks actually prefer it to the real deal when cooking savory dishes.
Saigon cinnamon, on the other hand, is true cinnamon. It has a strong flavor and a bit of heat and is also much more expensive than cassia.
If you don't want to run to the store just to make this drink, use whichever cinnamon you have on hand, but you may need to play with the amounts a little.
Regular Milk Instead of Oat Milk
Go ahead and use dairy milk instead of oat milk. Not everyone is into non-dairy milk, and that is totally fine. Use any kind of milk you want.
However, if you opt for oat milk, choose a brand that doesn't have any extra flavoring or additional sweeteners. A very popular oat milk is the Barista Blend from Califia Farms.
How to Make Starbucks Iced Brown Sugar Oatmilk Shaken Espresso
Place dark brown sugar, water, and cinnamon in a saucepan. Bring to a boil, whisking vigorously to combine the ingredients. Then simmer the syrup.
Remove the pan from the heat and add the vanilla extract.
Cool the brown sugar syrup to room temperature.
Place ice, brown sugar simple syrup, and espresso in a cocktail shaker or a mason jar with a lid. Shake vigorously.
Pour the shaken espresso into a tall glass.
Top with oat milk.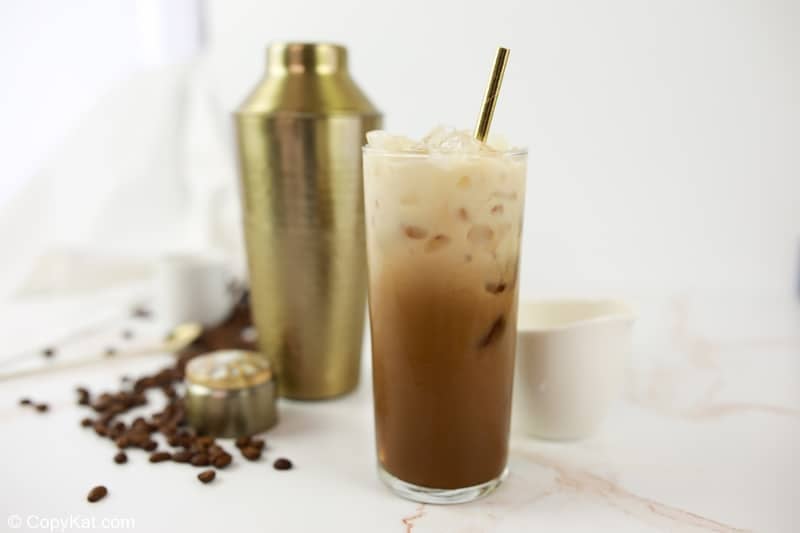 How Much Caffeine is in this Drink?
With two shots of espresso, drinking an Iced Oatmilk Shaken Espresso provides plenty of caffeine to wake you up and keep you going.
While the actual caffeine level will vary based on the espresso you use, on average, a double espresso has about 150 mg of caffeine. A regular cup of coffee can range from about 65 mg to 175 mg of caffeine depending on beans, brewing method, and the serving size.
How to Store Homemade Simple Syrup
You can store the cinnamon brown sugar syrup in an airtight container in the fridge for up to two weeks. Note the spices may start to lose their pungency within a few days. For the best flavor, use it within 72 hours.
Love Starbucks drinks? Try these copycat recipes!
More Coffee Drink Recipes
Check out more of my easy drink recipes and the best Starbucks drinks recipes here on CopyKat!
Ingredients
Brown Sugar Cinnamon Syrup
1¼

cups

dark brown sugar

1

cup

water

1

teaspoon

cassia gound cinnamon

½

teaspoon

Saigongfound cinnamon

¾

teaspoon

vanilla extract
Brown Sugar Oatmilk Espresso Drink
2

shots

espresso

(2 ounces)

1½

cups

ice cubes

2

tablespoons

brown sugar cinnamon syrup

1/4

cup

oat milk
Instructions
Brown Sugar Cinnamon Syrup
In a small saucepan, combine dark brown sugar, water, cinnamon. Bring to a boil. Whisk vigorously to combine the ingredients. Turn temperature to low and simmer for about five minutes.

Remove the saucepan from the heat and add the vanilla extract.

Allow the syrup to cool to room temperature.

Strain syrup with a fine mesh strainer, or strain through a coffee filter.

Store the syrup in an airtight container. You will use some of this in the drink.
Iced Brown Sugar Oat milk Espresso Drink
Place ice, brown sugar syrup, and espresso in a shaker.

Shake vigorously.

Pour it into a glass.
Nutrition
Calories:
145
kcal
|
Carbohydrates:
36
g
|
Protein:
1
g
|
Fat:
1
g
|
Saturated Fat:
1
g
|
Polyunsaturated Fat:
1
g
|
Sodium:
78
mg
|
Potassium:
124
mg
|
Fiber:
1
g
|
Sugar:
34
g
|
Vitamin A:
123
IU
|
Vitamin C:
1
mg
|
Calcium:
103
mg
|
Iron:
2
mg