Love the Starbucks Iced White Chocolate Mocha? Skip those long lines, and make one at home. It only takes minutes to make.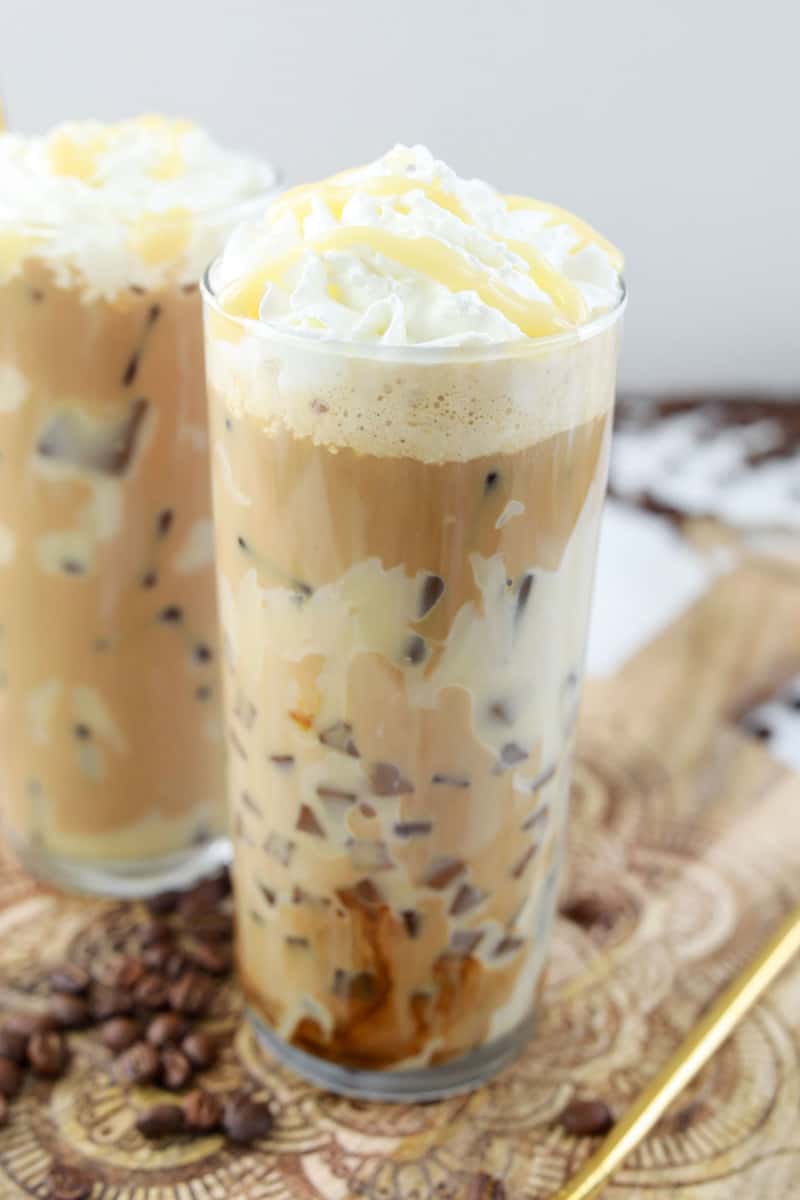 This post contains affiliate links. As an Amazon Associate, I earn from qualifying purchases.
White Chocolate Iced Coffee
There are two types of people in the world: those who love white chocolate and those who don't. If you appreciate the creamy sweetness of white chocolate and are a coffee drinker, you have to try this Iced White Mocha recipe from Starbucks.
Homemade Iced White Chocolate Mocha
Skip the expensive trips to the famous coffee shop. You can make your own coffee drinks at home which are every bit as good (or even better) for a fraction of the cost.
This version of Iced White Chocolate Mocha combines real white chocolate sauce with espresso for a decadent iced coffee that will become your new favorite. It's the perfect way to pump up your mid-afternoon energy levels.
What Makes Iced White Chocolate Mocha So Good?
This Iced White Chocolate coffee recipe offers something a little bit different than the typical mocha drink. The white chocolate sauce rounds off the rough edges of the espresso but doesn't overwhelm the coffee flavor.
An iced mocha with white chocolate is the perfect afternoon pick-me-up to get you through the workday.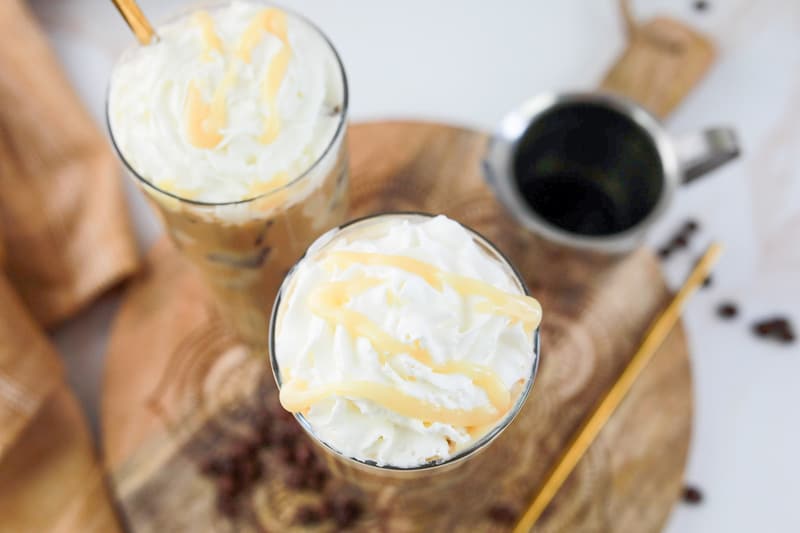 No Espresso Machine, No Problem!
Don't pass on this Iced White Mocha recipe just because you don't have an espresso maker. You don't need one to make this drink. Here are three alternatives you can use for this coffee drink:
Extra Strong Coffee
Brew extra-strong coffee using your standard method in a coffee maker or French press. Add one or two more scoops of coffee when you brew it.
For even better results, try using a French, Italian roast, or other dark roast coffee. Don't worry about additional caffeine. Darker roasts have slightly less caffeine!
Moka Pot Espresso
Use a Moka pot. Sometimes called a stovetop espresso pot, Moka pot coffee is full-bodied and delicious on its own and works wonderfully in a coffee drink.
Using a Moka pot couldn't be easier.
Just fill the reservoir with water, pop on the filter, add Moka-style coffee, and screw on the top.
Heat over low until the top fills with coffee and serve.
There are several good brands on the market, but Bialetti is the classic choice.
Instant Espresso Powder
Use instant espresso powder. Instant coffee has come a long way from "just drinkable" to "downright delicious".
Using a good quality instant espresso powder, like Medaglia D'Oro Espresso Style Instant Coffee in this recipe, is more than acceptable; it's a good idea.
Although this drink is cold, you still need to heat the water slightly to help dissolve the powder. You may want to try warming up some of the milk and putting the powder directly into the milk for a more robust flavor.
Concerned about drinking too much caffeine?
Are you concerned about the amount of caffeine you consume? The good news is that espresso naturally contains less caffeine per serving than regularly brewed coffee.
A shot of espresso or prepared espresso powder has about 90 mg of caffeine, and a tablespoon of instant coffee powder has around 11 mg. A serving of brewed coffee contains approximately 95 mg of caffeine.
Iced White Chocolate Mocha Ingredients
To make a cold white chocolate mocha drink, you will need:
White Chocolate Sauce
Espresso
Milk
Ice cubes
Whipped Cream
You can get the exact measurements in the recipe card below.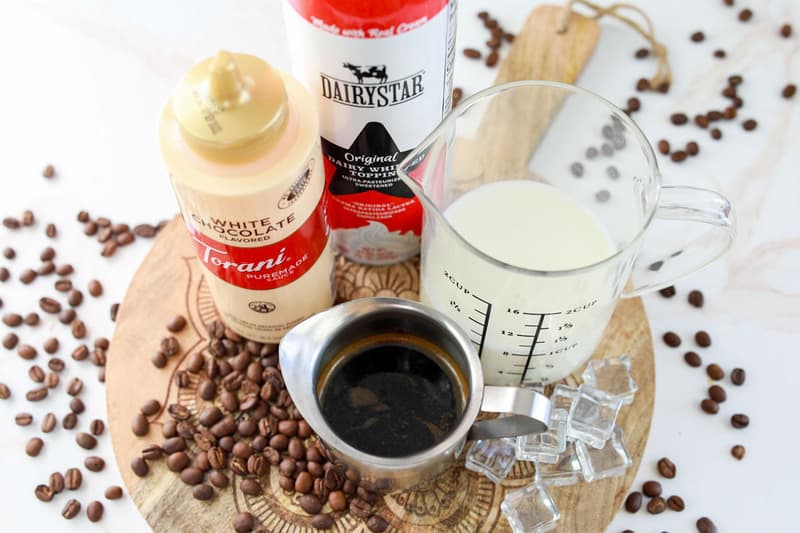 Ingredient Notes and Substitutions
There are several brands of white chocolate sauce available but look for one made specifically for iced coffee drinks. Order Starbucks Fontana Frappuccino White Chocolate Mocha Sauce if you want what you get in the coffee shop.
Starbucks uses 2% milk to make this iced mocha latte. You can use whole or skim milk if desired. You can also use plant-based dairy-free milk such as almond milk or oat milk.
You don't need an espresso machine to make this recipe (see above for alternatives). Whichever type of coffee you use, let it cool, or better yet, chill, before preparing the drink. Cold brew coffee is a great option. Doing this will prevent the Iced White Chocolate coffee from becoming diluted.
Make Your Own White Chocolate Sauce
If you order a white mocha drink in a shop, there's a good chance the barista will use white chocolate syrup. Don't be fooled; Pros use syrups for convenience, not taste.
White chocolate syrups are made from simple syrup (water and a sweetener) and often artificial vanilla flavoring. That means it is cheap to produce and lasts a long time. That makes sense for a business, but not for the coffee drinker. You can do better by using homemade white chocolate sauce.
White Chocolate Sauce Ingredients
You only need 2 simple ingredients to make a delicious white chocolate sauce:
To make the white chocolate sauce:
Heat a cup of whole milk over medium heat in a small, heavy-bottom saucepan. Stir the milk continuously using a whisk to heat evenly.
When you see the first whisps of steam rise from the milk, remove the pan from the burner to a heat-safe surface.
Use a peeler to shred four ounces of a high-quality white chocolate candy bar into the milk.
Use the whisk to combine until smooth. If the chocolate doesn't melt completely, put the pan back on the heat, but be careful not to burn the mixture.
Cool slightly before using the sauce or store in an air-tight container.
How to Make Starbucks Iced White Chocolate Mocha
Here are the easy steps to make a cold white chocolate mocha:
Make espresso using your favorite method (machine, Nespresso, moka pot on the stove, instant). Allow the brewed espresso to cool to room temperature.
Drizzle white chocolate sauce around the inside of a glass.
Fill the glass with ice and add the expresso.
Pour in the milk. Use a long handle spoon to stir until combined.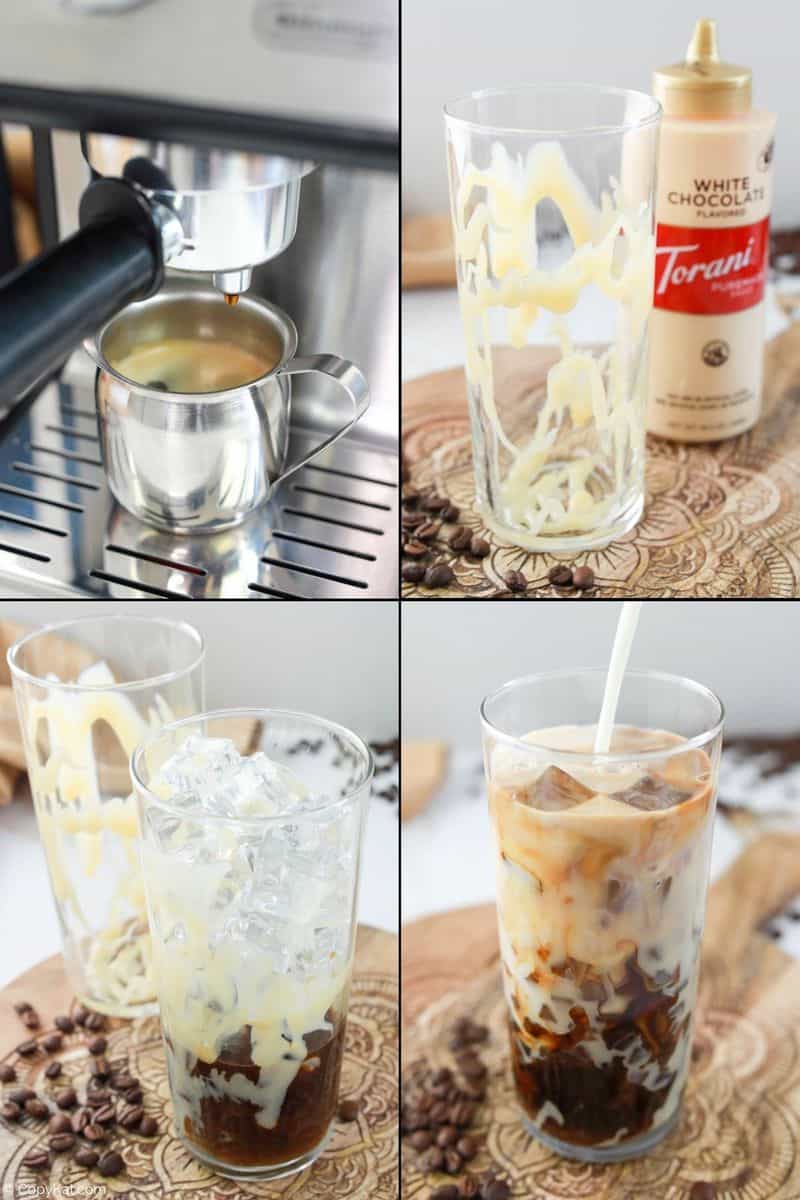 Top the Iced White Mocha with whipped cream.
Drizzle white chocolate sauce on top. Serve with a straw.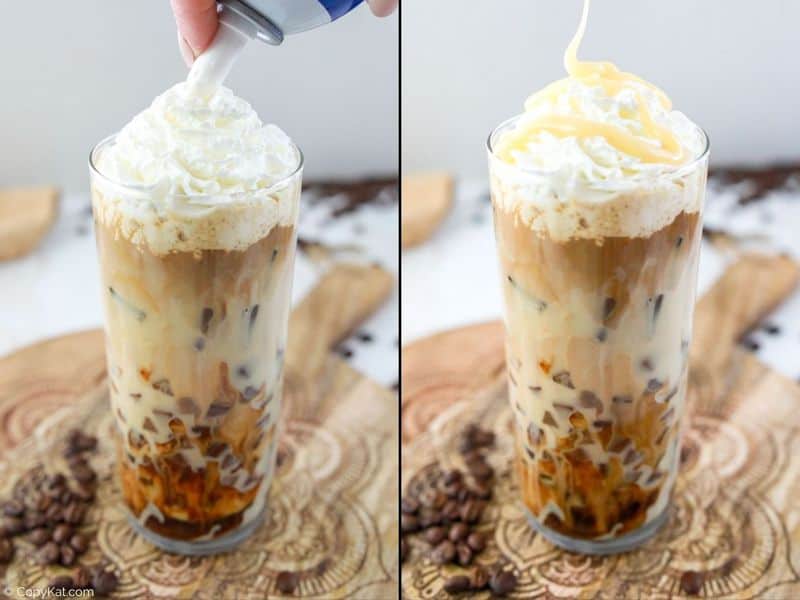 Recipe Variations
This Starbucks Iced White Chocolate Mocha recipe tastes excellent, but feel free to play around and make it your own. Here are a few simple ways to change things up:
Peppermint Twist. Peppermint goes exceptionally well with white chocolate. Add a drop of peppermint oil to the milk. Use a hammer to smash peppermint candies into a powder and sprinkle liberally on top of the whipped cream. If you want to get fancy, serve with peppermint bark.
Spike with a bit of alcohol. An ounce of Godiva White Chocolate Liqueur will bring this drink to the next level, but any cream liqueur works well. RumChata or your favorite flavor of Whisper Creek Tennessee Sipping Cream are particularly good choices.
Iced Gingersnap Vanilla Mocha. Gingerbread is so delicious that it is a shame it is relegated to the holiday season. But you can enjoy the flavor of gingerbread all year round by making an Iced Gingersnap Vanilla Mocha. Add two tablespoons of Torani Gingerbread Syrup to the milk and sprinkle crushed gingersnap cookies on top of the whipped cream.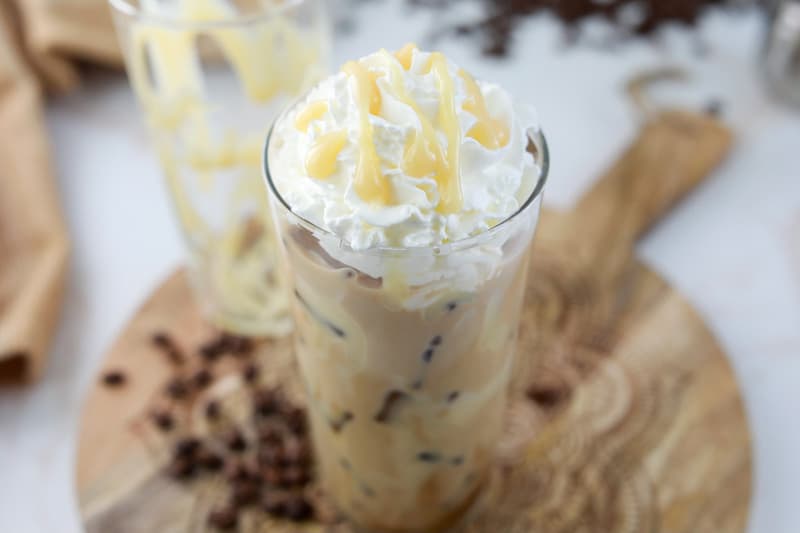 Try more copycat Starbucks drink recipes!
DIY Coffee Creamer and Syrup Recipes
Take a look at more of my famous Starbucks copycat recipes and popular drinks.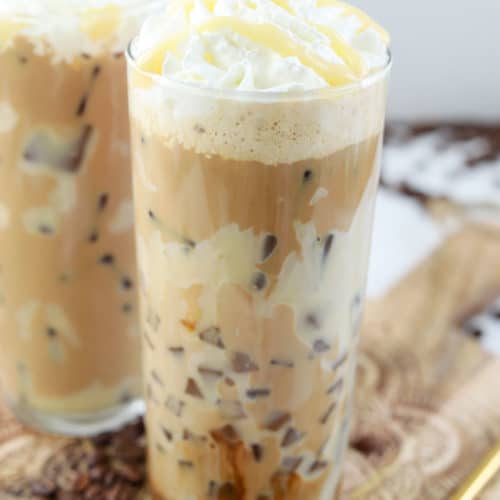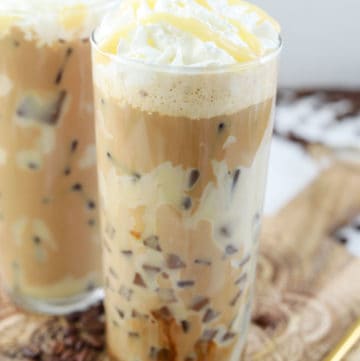 Starbucks Iced White Chocolate Mocha
Make your own copycat Starbucks Iced White Chocolate Mocha at home. White chocolate, strong coffee, whipped cream are what you need to make this famous iced coffee. It's so good your barista will wonder where you went.
Print
Pin
Rate
Add to Collection
Go to Collections
Ingredients
White Chocolate Sauce Ingredients
4

tablespoons

white chocolate chips

1

cup

milk
Iced White Chocolate Mocha Drink
1

tablespoon

white chocolate sauce

1

cup

ice cubes

1.5

ounces

espresso

1

cup

milk

2

tablespoons

whipped cream
Instructions
White Chocolate Sauce
In a small saucepan gently heat together 1 cup of milk, and 4 tablespoons white chocolate chips. Stir until blended well.

Remove the pan from the heat and let the sauce cool to room temperature. This sauce is for 6 to 8 white chocolate mochas.
White Chocolate Mocha Assembly
Drizzle white chocolate into glass, if desired, if not. Add about 1 tablespoon of white chocolate sauce per mocha.

Add espresso to the glass.

Add milk and stir to combine.

Top with whipped cream and a drizzle of white chocolate sauce if desired.
Nutrition
Calories:
205
kcal
|
Carbohydrates:
25
g
|
Protein:
8
g
|
Fat:
8
g
|
Saturated Fat:
5
g
|
Cholesterol:
24
mg
|
Sodium:
120
mg
|
Potassium:
367
mg
|
Fiber:
1
g
|
Sugar:
22
g
|
Vitamin A:
395
IU
|
Calcium:
276
mg
|
Iron:
1
mg