Pumpkin Spice Latte is the perfect symphony of robust espresso and creamy milk, interwoven with the quintessential blend of cinnamon, nutmeg, and clove, and the star of the show: rich, velvety pumpkin.
This isn't just your average coffee shop brew; it's a homemade ticket to autumnal bliss, crafted with love and the perfect balance of spice. Each sip promises a cozy sweater for your soul, inviting you to savor a moment of pure seasonal magic.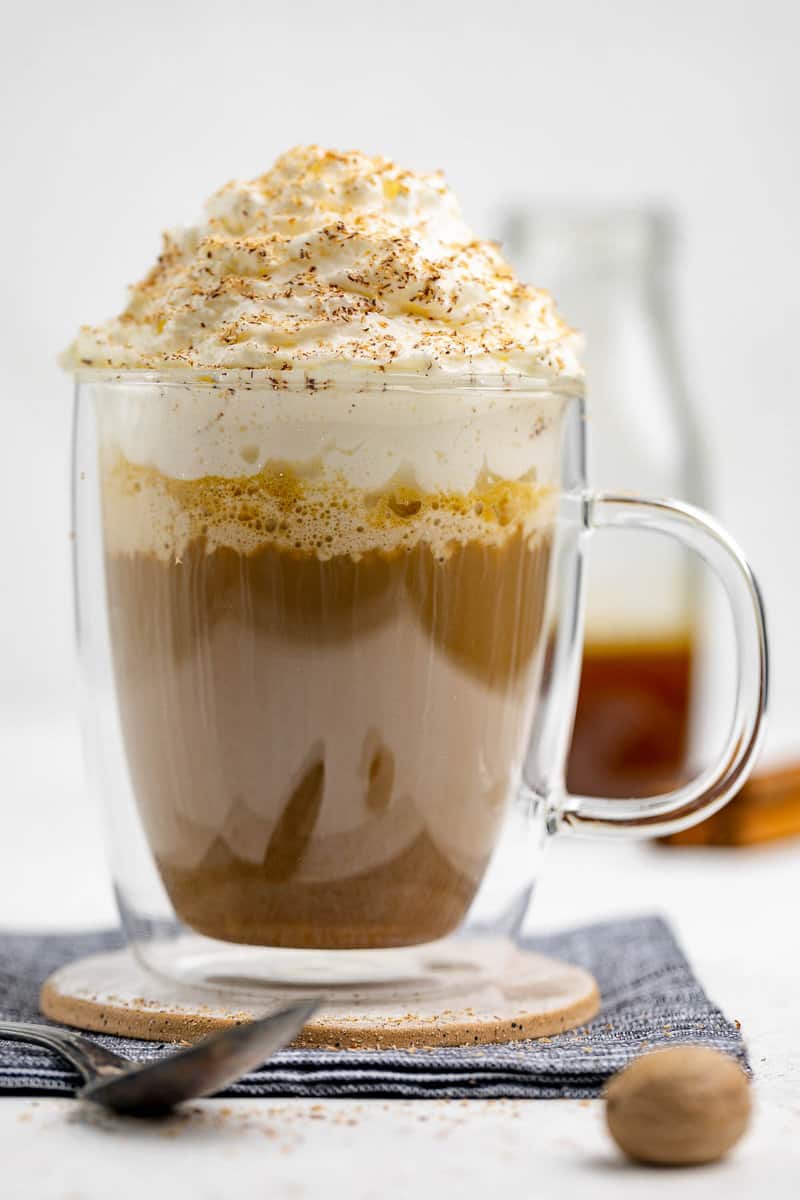 This post contains affiliate links. As an Amazon Associate, I earn from qualifying purchases.
What makes the Pumpkin Spice lattes one of the quintessential fall beverages?
The combination of pumpkin and the warm spices of cinnamon, nutmeg, ginger, and cloves are the fall spice flavors that we all crave. The PSL is only available for a limited time each year. So, if you don't rush out and grab a couple of these during the fall, you will have to wait until the next time they come back. Not anymore. So if you love those fall-favorite pumpkin pie spices, you are in luck. We will show you how to make one.
Why You Should Try Making a Homemade Pumpkin Spice Latte
When you make your PSL at home, you can make them any time of the year. This is on the Starbucks fall menu. There are other advantages of creating one, though, and it costs less to recreate your fancy coffee drinks at home. You can customize this any way you like: change out the type of milk, want more spice in your drink, or add some additional syrup.
What Makes This Pumpkin Spice Latte Recipe So Good
Unlike other recipes that have you add the spices and syrup separately, this recipe has a spice-infused syrup, so all of the autumnal flavors are pronounced.
It has a subtle yet comforting pumpkin taste perfectly balanced with cinnamon, nutmeg, and ginger. You can create this yummy latte while staying comfortable at home without venturing outside. Not to mention, you can make it any time of year.
Ingredients
Here's a list of what you need:
Water
Ground nutmeg
Cinnamon sticks or ground cinnamon
Fresh or ground ginger
Sugar
Canned pumpkin puree
Espresso or strong coffee
Milk
Whipped cream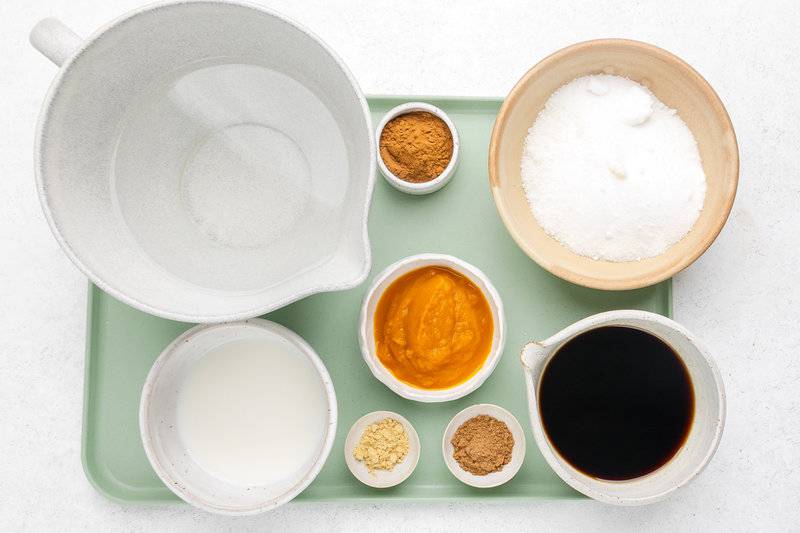 How to Make Starbucks Pumpkin Spice Latte
Combine nutmeg, cinnamon, ginger, and water in a medium-sized saucepan.
Bring to a boil, then turn down the heat to simmer for 20 minutes.
Strain out spices by pouring the water through a coffee filter.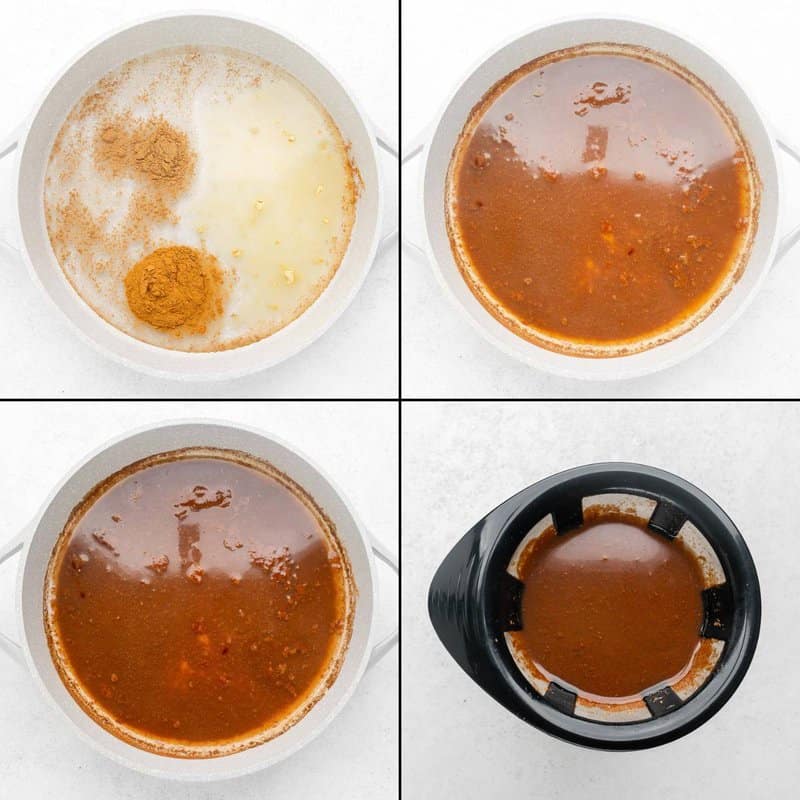 Place the spiced simple syrup back into the pan.
Add sugar and pumpkin and mix well.
Simmer for 10 minutes.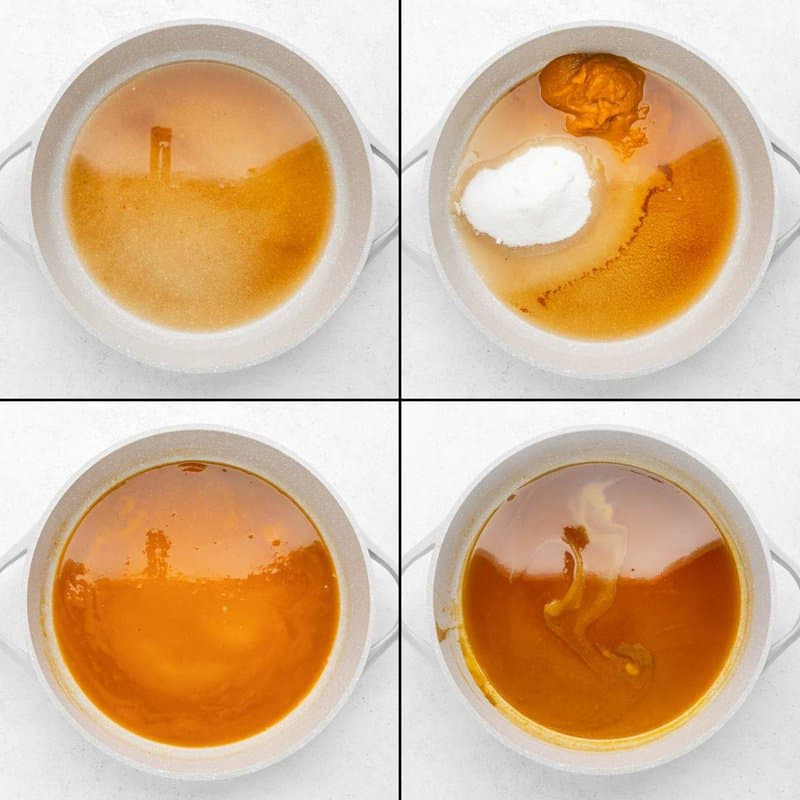 Prepare espresso or strong coffee.
Pour a couple of tablespoons of pumpkin syrup into a coffee cup, then add coffee.
Gently pour frothed milk over the coffee and stir.
Top with whipped cream and dusting of pumpkin spice.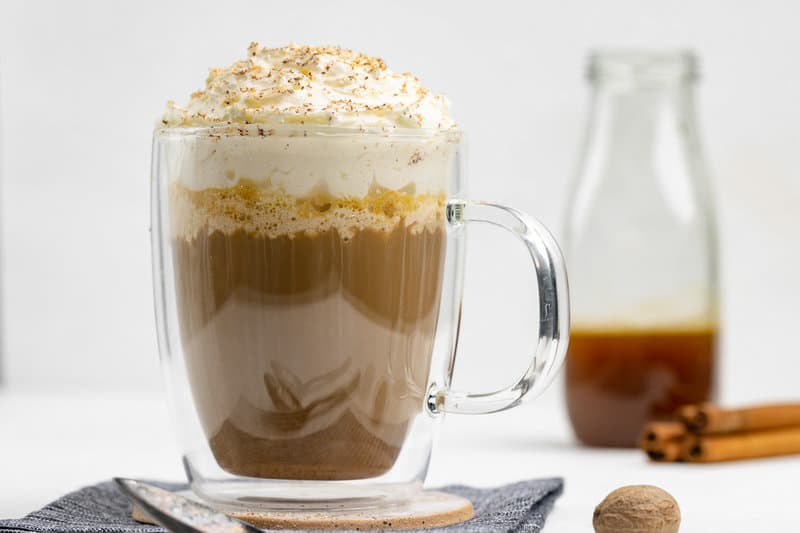 Ingredient Substitutions
You can substitute the milk for an alternative milk if you wish. If you have a dairy allergy, other options like almond milk, oat milk, or soy milk are excellent options.
Oat milk has a rich, silky texture, and soy milk froths up quite nicely. Almond milk is slightly trickier but works with high-fat content.
Espresso Tips for This Pumpkin Latte Recipe
Espresso is stronger than drip coffee because the water is steamed through the coffee, so using regular coffee won't give you the same result, if you use an espresso machine. In general, espresso has more caffeine.
How much caffeine is in a pumpkin spice latte depends on how big of a latte you make or buy. At Starbucks, a tall Pumpkin Spice Latte has 75 mg of caffeine, whereas a grande size has 150 mg.
Luckily, if you don't have an espresso maker, you can use instant espresso. Regarding instant espresso, I prefer the brand Medaglia D'Oro Instant Espresso Coffee for its quality and flavor.
If you want to make espresso like Italians, you can benefit from using a Bialetti Moka Express 3 Cup Espresso Maker. This appliance type is how Italians make authentic espresso in the comfort of their homes, and the product is only about 30 dollars.
How to Froth Milk for a Latte
You can easily froth warm milk in a jar with a lid on it, in a mixer, or in a blender. If you don't have any of those, you can froth your milk with a whisk.
I would suggest that you use whatever milk you enjoy the most. You can use half and half, whole milk, 2%, or even skim milk. You can heat milk for about 1 minute in the microwave before frothing it.
What to Serve with The Pumpkin Spice Latte
For this delicious Pumpkin Spice Latte, Starbucks Petite Vanilla Scones are an excellent pairing, especially if you love a pastry with their coffee. The vanilla sweet treat enhances the cinnamon, nutmeg, and ginger in the latte.
Love Starbucks? Try these copycat recipes!
Favorite Pumpkin Recipes
Check out more of my easy drink recipes and the best copycat Starbucks recipes here on CopyKat.com!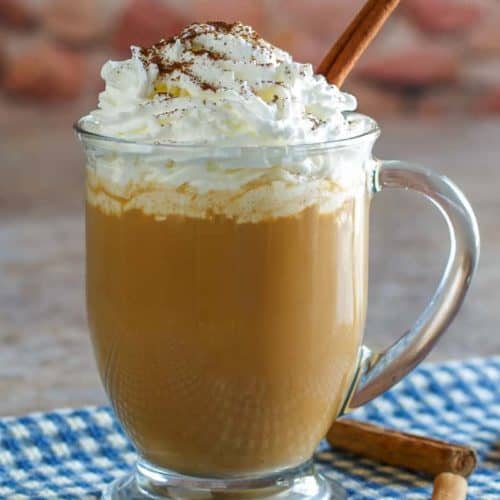 Ingredients
Pumpkin Spice Syrup
2 1/2

cups

water

1

tablespoon

ground nutmeg

3

cinnamon sticks or 1 1/2 tablespoons ground cinnamon

1/2

inch

fresh ginger or 1/2 teaspoon ground ginger

1

cup

sugar

3

tablespoons

canned pumpkin
Pumpkin Spice Latte
2 to 3

tablespoons

pumpkin syrup

4

ounces

prepared espresso

4

ounces

milk

warmed and frothed

2

tablespoons

whipped cream

1

dash

ground nutmeg
Instructions
To make the pumpkin spice syrup, bring the water and spices to a boil in a medium saucepan. Reduce the heat and simmer for 20 minutes. Strain the water through a coffee filter to remove the spices. Discard the spices and return the water to the saucepan. Add the sugar and pumpkin, mix well, and simmer for another 10 minutes. Store in an airtight container in the refrigerator.

To make the pumpkin spice latte, place 2 to 3 tablespoons of pumpkin spice syrup in a coffee cup. Then add the prepared espresso. Gently pour the frothed milk over the coffee and stir gently. Top with whipped cream and a dash of ground nutmeg.
Nutrition
Calories:
263
kcal
|
Carbohydrates:
52
g
|
Protein:
4
g
|
Fat:
5
g
|
Saturated Fat:
3
g
|
Cholesterol:
18
mg
|
Sodium:
100
mg
|
Potassium:
317
mg
|
Sugar:
50
g
|
Vitamin A:
245
IU
|
Calcium:
128
mg
|
Iron:
2.2
mg