Experience the rich, bold flavor of a Starbucks Flat White. Made with a double shot of espresso and velvety steamed milk, this specialty espresso drink features a unique microfoam texture and a higher ratio of espresso to milk. Savor the creamy, smooth taste of this coffee even more when you make it at home.The coffee lovers in all of us can enjoy the velvety texture of this espresso beverage at home.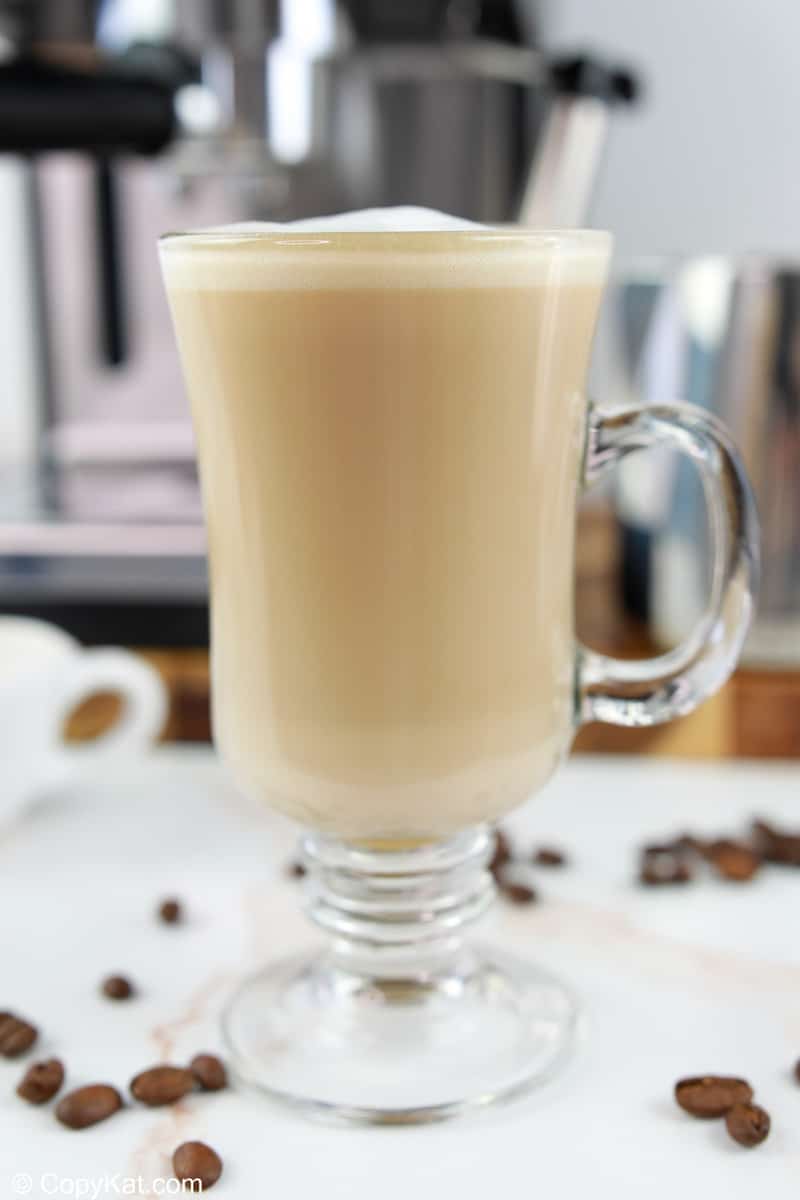 This post contains affiliate links. As an Amazon Associate, I earn from qualifying purchases.
What is Flat White Coffee?
A Starbucks "Flat White" is a specialty espresso drink with a double shot of espresso and steamed milk. What makes it unique is its preparation and the ratio of ingredients used.
To make a Flat White, a barista first pulls a double shot of espresso, two shots of espresso made with finely ground coffee beans and hot water under high pressure. The espresso is poured into a small ceramic cup, and steamed milk is added. The milk is steamed to a specific temperature and texture, creating a velvety microfoam poured on top of the espresso shot. The microfoam sets a Flat White apart from other espresso drinks, such as a latte, which typically has more foam and less steamed milk.
The ratio of espresso to milk in a Flat White is also different from other coffee shop drinks. A Flat White has a higher ratio of espresso to milk than a latte, giving it a more robust flavor and smoother, creamier texture.
Origins of the White Flat
Overall, the combination of a double shot of espresso, velvety microfoam, and a higher ratio of espresso to milk makes a Starbucks Flat White a special and unique drink that the coffee world loves. It is incredible what a little less milk can do to the flavor of the coffee taste.
Alan Preston from New Zealand claims he invented this drink in the 1970s when making a cappuccino. He could not get the milk to rise. He called it a flat white. So you could think of this as a failed cappuccino because it's a cappuccino that has no foam. Coffee snobs can enjoy the bold coffee flavor of this drink.
How did it get started? We will never know, but you can enjoy a coffee with a thin layer of velvety steamed milk. You can read more about the history of the flat white.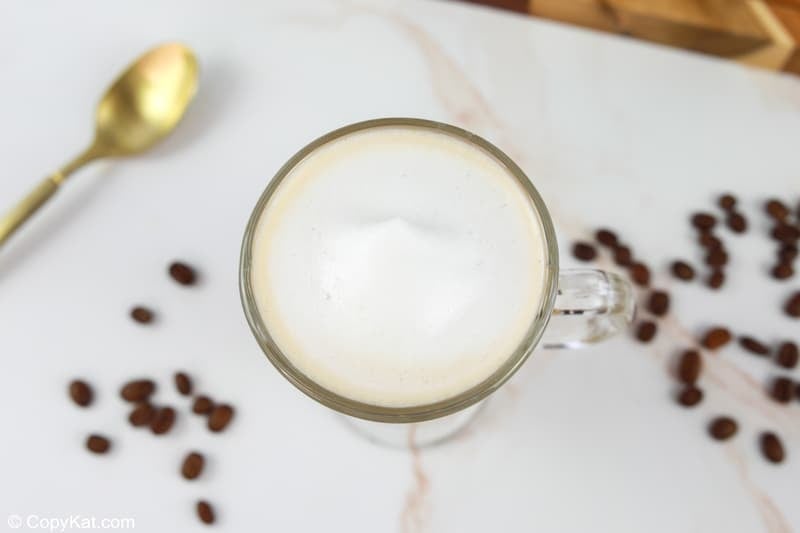 What Makes a Starbucks Flat White Extra Special?
There's something warm and cozy about this classic coffee drink. It's reminiscent of a chilly night with a fire and snuggling inside a blanket. It gives you a case of the warm fuzzies and makes you nostalgic for the past. If you order one from there, often they come with a latte art dot on the top of the beverage that is made up of a delicious creamy micro-foam of the milk of your choice.
Flat white is your answer if you love the more robust coffee flavor. This coffee giant classic consists of only two key ingredients. But don't let the two ingredients fool you; it packs a punch.
Flat White Coffee Ingredients
Wondering what is in flat what coffee? It's just a few simple ingredients:
Espresso
Whole milk
Sugar (optional)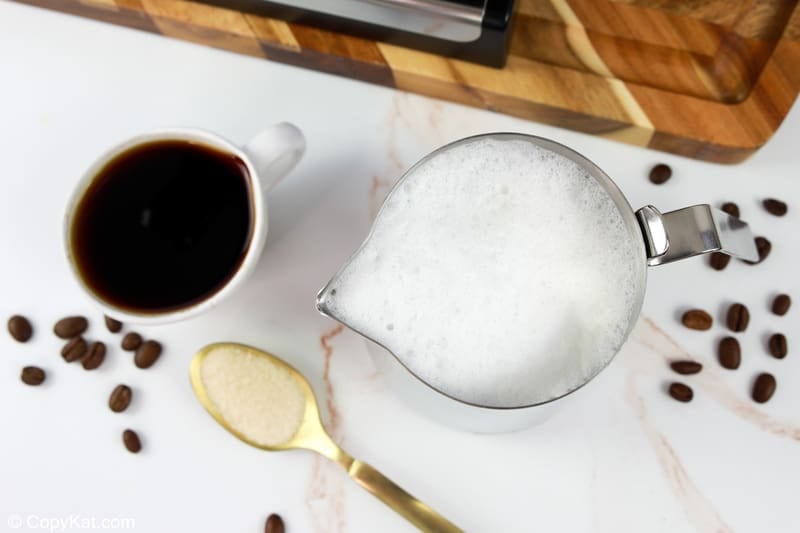 How to Make Flat White Coffee
Prepare two espresso shots and pour them into a glass over the sugar (if desired).
Steam the milk and froth it for at least a minute to get it foamy.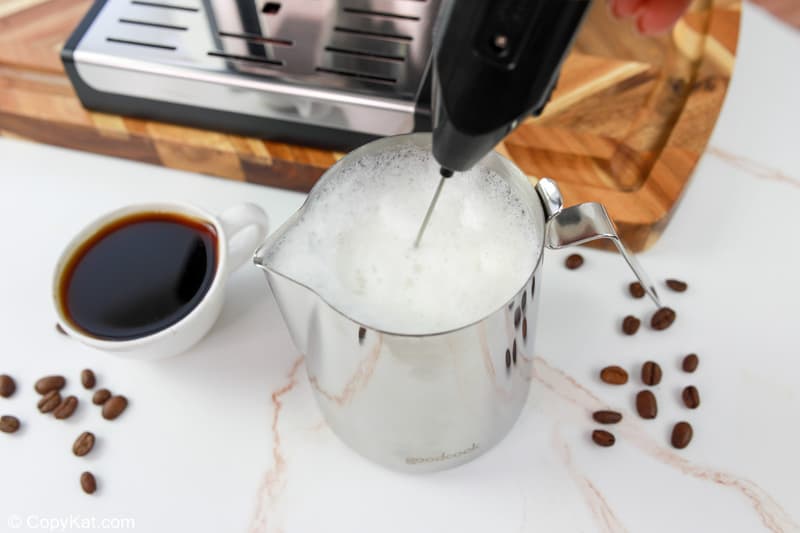 Pour the hot frothy, foamed milk over the espresso.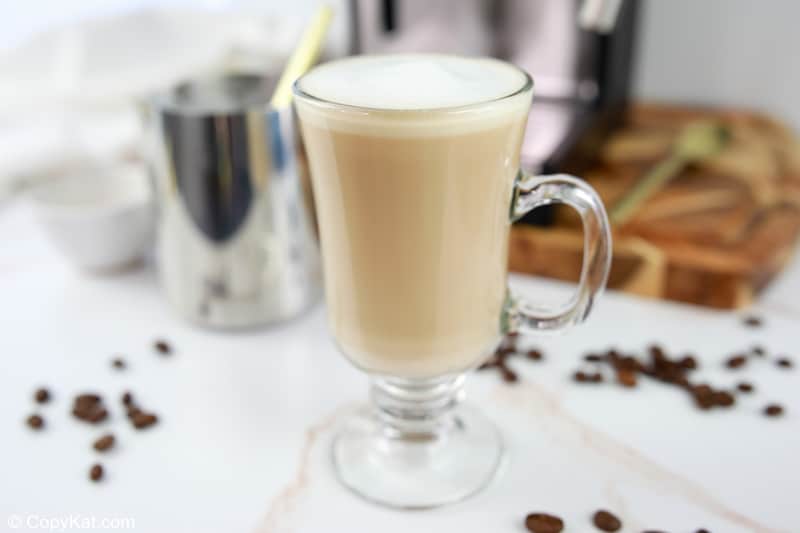 The Key to Making a Flat White like Starbucks
Although it seems easy enough, the key to the flat white is the consistency of the milk. You need frothy milk to pour over the piping-hot espresso.
What is the secret? It's all about the equipment!
If you don't have an espresso machine, making extra strong coffee won't quite cut it. You are going to need to push steam through your coffee maker. I love the inexpensive Bialetti Moka Pot. For under 40 bucks, you can make espresso at home, just like the Italians.
The Mr. Coffee Espresso System with Milk Frother is a relatively inexpensive and dependable espresso maker.
You can also try espresso powder such as Medaglia D'Oro Instant Espresso.
Espresso is different because the water goes through the coffee as steam, not just as a drip. The steam pushing through the coffee gives it its signature espresso taste. I think a super-strong regular coffee is ok for lattes, but if you want this distinctive espresso flavor, you need to step up your toolkit.
Steaming and Frothing Milk
So what's the difference between frothed milk and steamed milk? Frothed milk has more volume with a good amount of foam. Steamed milk is heated and more delicately aerated, resulting in small amounts of microfoam. Let the Coffee Maven guide you on how to steam milk at home.
What Is Microfoam? Steaming milk requires two steps: incorporating air to create the desired foam and heating the milk to the desired temperature. Microfoam results when the first step is done well. The air bubbles are so tiny they're almost invisible, making the resulting foam light, creamy and smooth.
Let's consider the froth now. A straightforward method to make milk nice and frothy is to place the heated milk in a jar with a lid and vigorously shake it. If you want to get fancy, you can buy a milk frother like the handheld MatchaDNA Milk Frother.
How to Froth Milk with a French Press: Pour the heated milk into your French Press (don't fill more than one-third). Place the lid on and pull and push down on the plunger until the milk doubles in volume.
How to Froth Milk in an Automatic Frother: Pour cold milk into the frother and set the temperature.
What Is the Best Milk for Frothing?
It's easier to achieve a good froth if you use low-fat or skim milk (Starbucks uses 2% milk). Whole milk has more fat, making it heavier and harder to froth. Almond, rice, and soy milk all work well.
Whichever type of milk you choose should be cold (straight out of the fridge).
So what's next? Armed with your knowledge of making a flat white coffee, you can learn how to pour the milk and make some of your latte art. Who doesn't want to make some fancy latte artwork with foamed milk? Check out this video on how to create artwork on your coffee.
Recommended Equipment
Do you love Starbucks drinks? Try these copycat recipes!
Yummy Coffee Drink Recipes
Be sure to check out more Starbucks copycat recipes and the coffee drink recipes on CopyKat.com!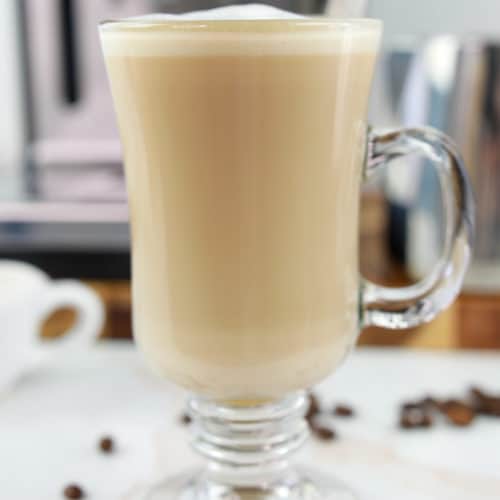 Ingredients
3

ounces

espresso

2 shots

1

cup

whole milk

steamed

sugar

to taste (optional)
Instructions
Prepare your espresso shots and pour them into a glass over the sugar (if desired).

Steam your milk and then using a frother, froth the milk for at least a minute. The key to making this drink is a microfoam. 

Pour the hot frothy foamed milk over the espresso and enjoy!
Nutrition
Calories:
156
kcal
|
Carbohydrates:
13
g
|
Protein:
7
g
|
Fat:
8
g
|
Saturated Fat:
4
g
|
Cholesterol:
24
mg
|
Sodium:
116
mg
|
Potassium:
419
mg
|
Sugar:
12
g
|
Vitamin A:
395
IU
|
Calcium:
276
mg