If you have never tried McDonald's coffees before, you are missing out on some tasty cups of joe. McDonald's McCafe Peppermint Mocha is a seasonal coffee that McDonald's serves up. This delicious McDonald's coffee joins an ever-growing line of festive holiday drinks.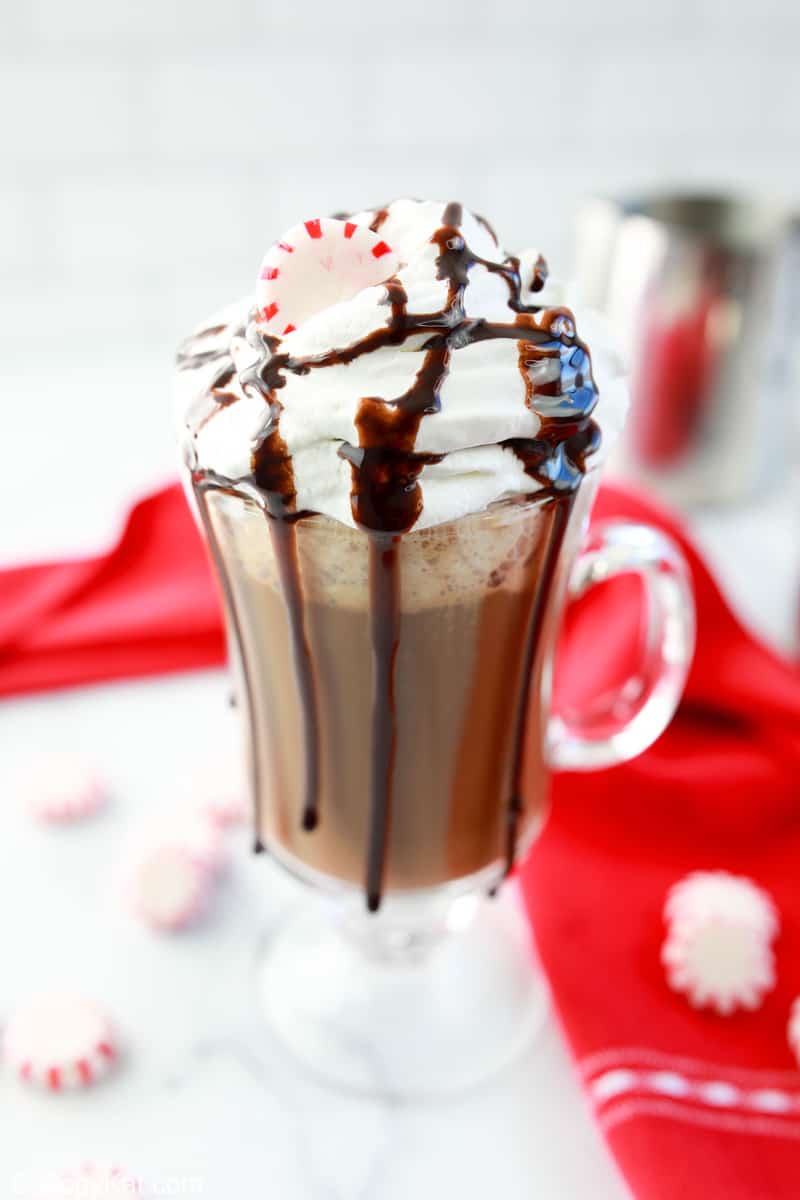 This post contains affiliate links. As an Amazon Associate, I earn from qualifying purchases.
Peppermint Chocolate Coffee Drink for the Holidays
When the weather starts to cool down, and the leaves have changed colors, it can only mean one thing – it's the beginning of the holiday season. With all the hustle and bustle the holidays entail, it's really lovely to sit down and cozy up with a good book and a hot coffee. Who doesn't love the holiday coffee menus?
This peppermint mocha is perfect for catching up with friends, as an after-dinner treat, or just taking it easy for a bit at home. While this may be only around for a limited time, with this copycat recipe, you can make this all year long!
What is a McDonald's McCafe Peppermint Mocha?
McDonald's McCafe has a line of classic drinks that they bring out just for the holiday season, McCafe Peppermint Mocha being one of them. This delicious drink is a hot creamy coffee bursting with rich chocolate and minty flavors.
What Makes this McDonald's McCafe Peppermint Mocha Recipe the perfect holiday beverage
This peppermint mocha recipe is easy to recreate at home, and you also save a lot of money. One of the best parts of making flavored coffees at home is you get to control the entire drink process. Want extra pepperminty? Go ahead! Love chocolate? Add extra!
Peppermint Mocha Ingredients
Cocoa Powder
Sugar
Peppermint extract
Strong coffee or espresso
Steamed milk (you can use either whole milk, 2% milk or nonfat milk)
Whipped cream (optional)
Chocolate syrup for an optional chocolate drizzle
Note: Make sure you use peppermint extract for this McDonald's coffee recipe and not peppermint oil. Not all peppermint oil is suitable for food consumption.
Ingredient Substitutions
If you don't want to use dairy milk, you can substitute any plant-based milk of your choice.
If you are watching your sugar intake, swap out the sugar in the peppermint syrup for your non-sugar sweetener of choice.
You can also choose to use milk instead of water in the peppermint mocha syrup. Just be careful not to scorch the milk.
How to Make a Copycat McDonald's Peppermint Mocha
The first step toward creating your own McCafe Peppermint Mocha is to make homemade peppermint chocolate syrup.
This peppermint syrup is easy to whip up, and once you have it made, you are only a few steps away from a peppermint mocha drink.
To make your own homemade peppermint mocha syrup
Mix together the cocoa powder and sugar.
Add water and bring to a boil, stirring constantly.
Remove from the heat, add the peppermint extract, and let it cool to room temperature.
Pour the syrup into a jar to store when not using it.
To make the peppermint coffee:
Pour the peppermint chocolate syrup into a tall coffee cup.
Add the coffee.
Add the steamed milk.
Top with whipped cream and peppermint chocolate syrup (optional).
Recipe Variations
It's fun to take a recipe and make it exactly the way you want. Give this recipe a try – you'll be in pure peppermint mocha heaven.
Top your holiday coffee with peppermint whipped cream, and you have Christmas in a cup! Make peppermint whipped cream by adding a few drops of peppermint extract and a couple of tablespoons of powdered sugar to heavy cream and beating until stiff peaks form.
Use more coffee or more cocoa, depending on your taste.
Vary the toppings: Crushed candy canes or peppermint candy, mini chocolate chips, coconut whipped cream.
For a white chocolate peppermint mocha, throw in some white chocolate chips with the milk while heating.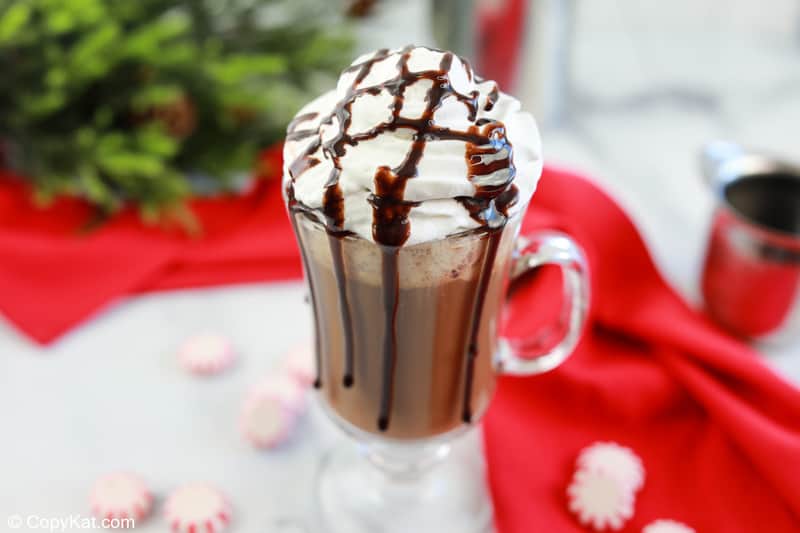 Coffee Tools for Making Espresso
This coffee recipe should be made with espresso, but you can also use a really strong cup of regular coffee.
A couple of other options are instant espresso or one of my favorite coffee tools – a Bialetti stovetop Moka Pot. These espresso-like makers cost under $30 and make a decent cup of espresso without using a fancy and expensive espresso machine.
Three Ways to Steam Milk at Home
If you want to make a latte without ponying up for an espresso machine with a steam attachment, here are three ways you can do so.
How to Steam Milk in the Microwave
Once you figure out the proper time needed for heating milk in your microwave, you can repeat it. For the first time, though, use a thermometer – you want the milk to be around 150°F.
Fill a microwave-safe container with milk. (If you're planning to use a frother, you only need around ¼ cup.
Heat for 20 to 30 seconds. For a larger amount of milk (½ to 1 cup), you may need to heat for 30 to 45 seconds.
How to Steam Milk on the Stovetop
Add the milk to a small pot over low-medium heat.
Keep stirring gently until the milk reaches 150°F, about 1 to 3 minutes. Milk scalds easily, and you definitely don't want burned milk in your coffee.
Note: If you struggle with the milk scalding too easily, use a double-boiler.
How to Steam Milk in a Mason Jar
Fill a large mason jar with about ¼ cup of milk.
Heat in the microwave for 20-30 seconds.
Check the temperature – you're looking for 150°F. You may need to add more time in 10-second intervals.
Remove from the microwave and screw the lid on tightly.
Shake until the milk has doubled in size or you have the desired amount of froth.
Read more about the methods to steam milk at home.
What to Serve With a Peppermint Mocha
For a truly decadent breakfast, team your copycat McDonald's mocha with chocolate pancakes.
Enjoy your McDonald's coffee drink with ginger snaps, chocolate sandwich cookies, or a fried apple pie.
How to Store Peppermint Syrup
Make a batch and store it in an airtight container in the fridge. It will keep for about two weeks, and you can indulge in a McDonald's McCafe Peppermint Mocha whenever you need to give yourself a treat!
Favorite McDonald's Copycat Drink Recipes
More Copycat Coffee Drinks
Want more great copycat coffee drinks? Be sure to try some of these:
Check out more of my easy coffee drink recipes and the best copycat McDonald's recipes here on CopyKat!
Ingredients
Peppermint Chocolate Syrup
1

cup

sugar

2

tablespoons

cocoa powder

1

cup

water

1

teaspoon

peppermint extract
Peppermint Mocha Coffee Drink
1-2

tablespoons

peppermint chocolate syrup

1

cup

coffee

or espresso shot

1

cup

steamed milk

2

tablespoons

whipped cream

1

teaspoon

peppermint chocolate syrup
Instructions
Peppermint Chocolate Syrup
In a saucepan, mix together the sugar and cocoa powder.

Add the water and bring the mixture to a boil, stirring constantly.

Remove from the heat, add the peppermint extract, and allow it to cool to room temperature.

Store the syrup in an airtight container in the fridge.
Peppermint Mocha Coffee Drink
Pour the syrup into a coffee mug

Add the coffee.

Add the steamed milk.

Top with whipped cream and a drizzle of peppermint chocolate syrup, if desired.
Notes
Be sure to use peppermint extract. Do not use peppermint oil.
Nutrition
Calories:
244
kcal
|
Carbohydrates:
29
g
|
Protein:
8
g
|
Fat:
10
g
|
Saturated Fat:
5
g
|
Cholesterol:
31
mg
|
Sodium:
128
mg
|
Potassium:
483
mg
|
Fiber:
0
g
|
Sugar:
25
g
|
Vitamin A:
455
IU
|
Calcium:
276
mg
|
Iron:
0.4
mg