The Starbucks Smoked Butterscotch Latte has a wonderfully unique flavor. This latte has a hint of smoke with the subtle flavor of butterscotch.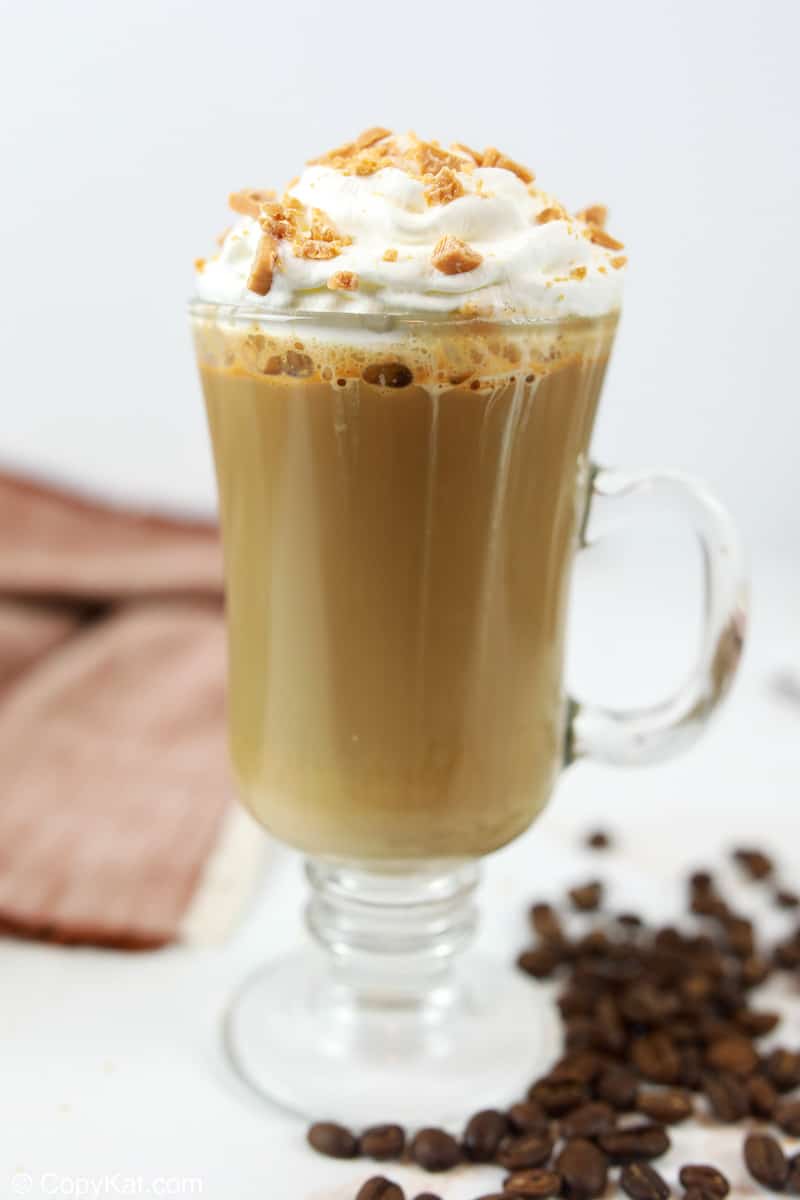 This post contains affiliate links. As an Amazon Associate, I earn from qualifying purchases.
Starbucks Seasonal Coffee Drinks
Starbucks has an extensive array of coffeehouse drinks. Yes, some aren't for the traditionalists, especially the flavors created for those with a sweet tooth. One of these is Smoked Butterscotch Latte which you may have noticed on a seasonal Starbucks menu.
What is a Starbucks Smoked Butterscotch Latte?
If you are wondering how a smoked butterscotch latte tastes, it has a hint of smoke with the subtle flavor of butterscotch. Its crowning glory is some milky foam or whipped cream.
What Makes This Starbucks Smoked Butterscotch Latte Recipe So Good
One reason I like to make Starbucks coffee drinks at home is that with copycat coffee recipes, I can control the level of sweetness. You are your own barista and can make your drink more or less sweet.
You can choose to top this smoky butterscotch latte in one of two ways – use the foam from the frothed milk or some sweetened whipped cream. It's entirely up to you how you want to enjoy your copycat Starbucks coffee.
At Starbucks, the Smoked Butterscotch Latte is seasonal only. This copycat Starbucks coffee with butterscotch recipe allows you to make this delicious Starbucks latte all year round.
Starbucks Smoked Butterscotch Latte Recipe Ingredients
Here is a list of what you need to make this delicious coffee drink:
Espresso
2% Milk
Whipped Cream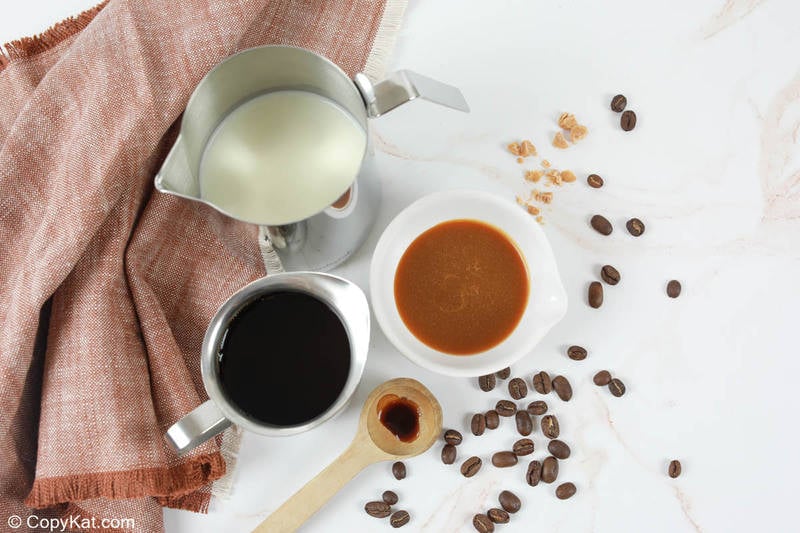 What is butterscotch?
Butterscotch is a lot like caramel, but there is a slight difference in the ingredients. Caramel is made up of granulated white sugar, butter, vanilla, and heavy cream.
Butterscotch is similar, but instead of granulated white sugar, brown sugar is used, which gives butterscotch a more sophisticated and nuanced flavor.
What Is liquid smoke?
This recipe includes a little liquid smoke to give the latte a very subtle smoky hint. Liquid smoke is made by smoking wood and catching the smoke on a porous substance. Then the smoke is washed away and collected.
You can buy liquid smoke in your everyday grocery store – it's often found near the condiments. This recipe needs just one or two drops, but you can also use liquid smoke to add a smoky touch to salad dressings, baked beans, and a lot more.
Smoked Butterscotch Latte – Ingredient Substitutions
Because it's perfect for frothing, the dairy milk of choice for Starbucks lattes is 2% milk. However, feel free to use your preferred dairy or non-dairy milk. Just take note that your chosen milk might not froth as well.
If you are watching your sugar intake, you can also use sugar-free butterscotch syrup.
Liquid smoke comes in different flavors. I use hickory, but you could experiment with different kinds such as pecan or mesquite.
How to Make Smoked Butterscotch Latte
Pour espresso or strong brewed coffee into a coffee cup.
Add butterscotch syrup.
Add liquid smoke.
Add warm frothed milk.
Spoon the frothed milk foam on top.
You can also top the latte with whipped cream and crushed butterscotch candy.
Recipe Variations
This butterscotch latte is so tasty as is, but you can vary the recipe a bit if you want.
Butterscotch Mocha Latte: Include 1 ounce of mocha syrup.
Salted Butterscotch Latte: Add 1/4 teaspoon sea salt to your coffee. You can also sprinkle a little sea salt onto the milk foam or whipped cream topping.
How to Make Espresso at Home
Did you know you can make espresso at home without an expensive espresso machine? You have several ways to brew coffee that will turn out almost like espresso.
Italians have been making espresso with Moka Pots on their stovetops for over a hundred years. Watch this how to use a moka pot video.
How to Make Frothed Milk at Home
Lattes are made with heated milk that has been frothed or aerated. Just like making espresso, you don't need a fancy machine to aerate milk. Here are some ways to froth milk.
How to Turn This Hot Smoked Butterscotch Latte Recipe Into an Iced Latte
When the warmer weather arrives, a hot coffee drink becomes less appealing. No problem, this Starbucks Smoked Butterscotch Latte recipe is amazing when ice cold! And, an iced latte is simple to make:
To start, your coffee should be allowed to cool. Or, consider using cold brew coffee.
Place the coffee, milk, butterscotch syrup, liquid smoke, and some ice cubes in a large mason jar. Make sure the lid is on tightly, then shake well to dissolve and blend the butterscotch.
Decant the mixture into a tall serving glass with lots of ice.
CopyKat Tip: Keep leftover coffee ice cubes on hand. This way, your drink doesn't get diluted!
Love Coffeehouse drinks? Check out these favorites!
Favorite Starbucks Food Recipes
Check out more of my easy coffee drink recipes and the best Starbucks recipes here on CopyKat!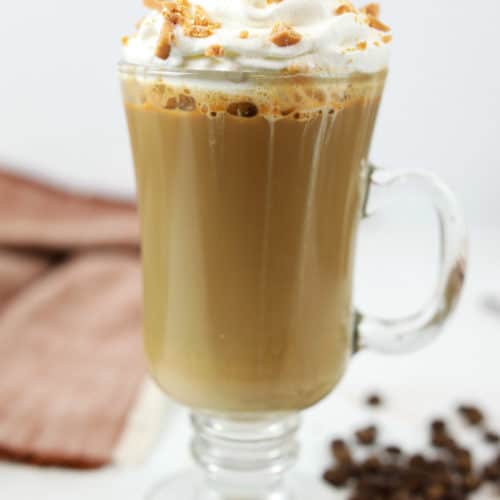 Ingredients
4

ounces

espresso

or strong brewed coffee

2

tablespoons

butterscotch syrup

1 or 2

drops

liquid smoke

4

ounces

milk

warmed and frothed

2

tablespoons

whipped cream
Instructions
Pour espresso or strong brewed coffee into a coffee cup.

Add butterscotch syrup. You can adjust according to your own personal desired sweet level.

Add warm, frothed milk to the coffee.

Spoon the frothed milk foam or whipped cream on top of the coffee.
Nutrition
Calories:
185
kcal
|
Carbohydrates:
33
g
|
Protein:
4
g
|
Fat:
4
g
|
Saturated Fat:
2
g
|
Cholesterol:
13
mg
|
Sodium:
204
mg
|
Potassium:
280
mg
|
Fiber:
0
g
|
Sugar:
5
g
|
Vitamin A:
185
IU
|
Calcium:
149
mg