You can make Starbucks Caramel Macchiato at home with this copycat recipe. It is an easy espresso coffee drink to prepare.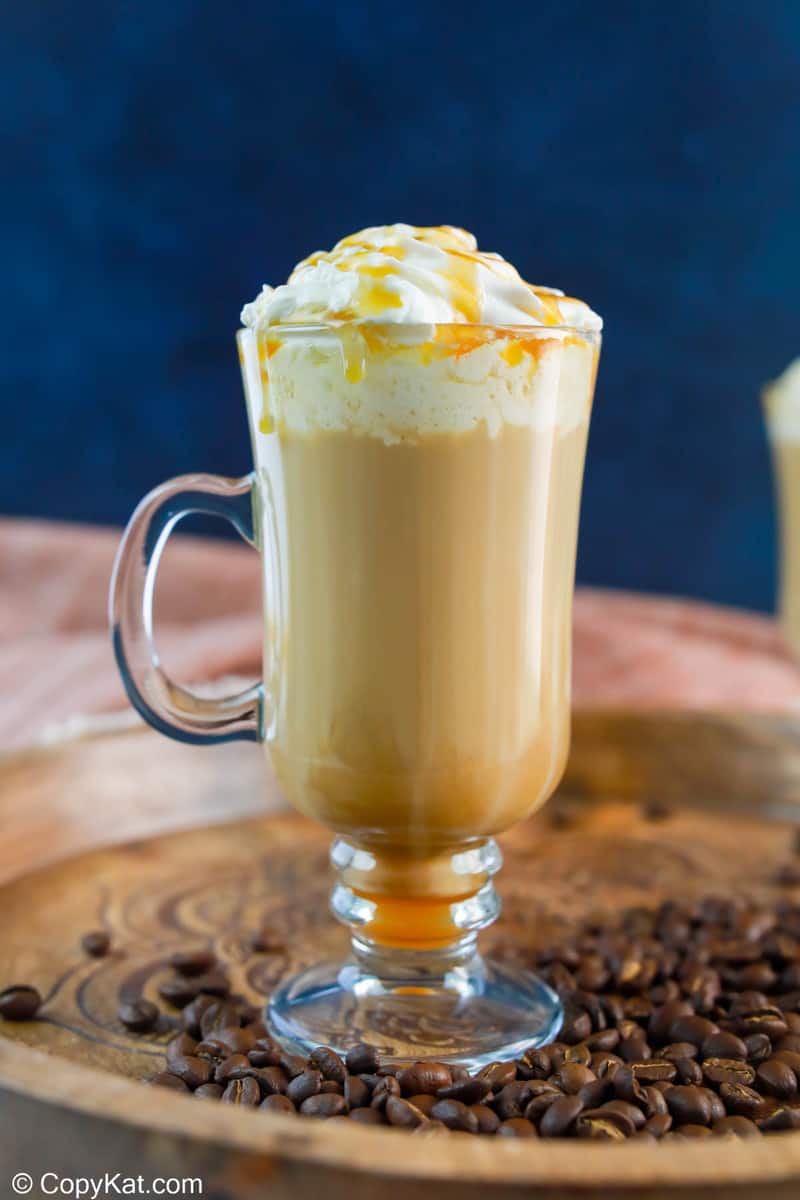 This post contains affiliate links. As an Amazon Associate, I earn from qualifying purchases.
Did you know it is easy to make your own fancy coffee house drink at home? When you make your own homemade caramel macchiato you never have to worry about the price of a Starbucks Caramel Macchiato. If you like you can buy the syrups and coffee at Starbucks so you are starting with the same ingredients.
What makes this Caramel Macchiato so good?
A couple of shots of espresso are paired with buttery caramel, sweet vanilla syrup, and steamed milk. Trying this for the first time was my single best experience in trying coffee. There is just something about the great taste of rich caramel that makes you want to reach the bottom of the cup. I know you will love this delicious caramel macchiato recipe.
What is in a Starbucks Caramel Macchiato?
Starbucks serves its own version of the Italian espresso macchiato. The Italian macchiato is an espresso shot topped with a cloud of steamed milk. Adds vanilla syrup to the cup, then Starbucks steams milk adds the steamed milk to the cup, then they pour over the espresso, some people like theirs topped with whipped cream, and finally, the signature caramel sauce cross-hatch goes on top.
The caramel macchiato has been a mainstay at Starbucks since it opened the first coffee shop in Seattle Washington in 1971. It has to be the caramel drizzled down the cup or on top of the whipped cream in the signature crosshatched Starbucks pattern that makes it just so delicious.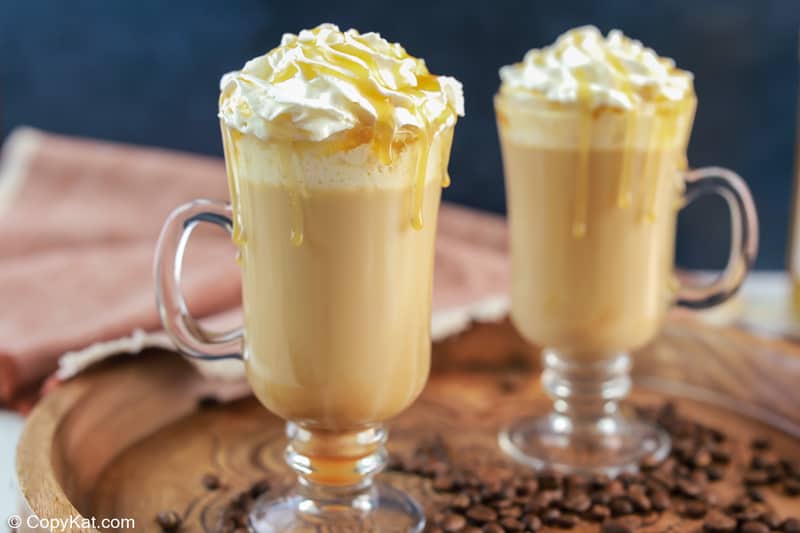 What does a Starbucks Caramel Macchiato taste like?
If you have never had one before you are in for a real treat. On your first sip, you will get a rich bold espresso, but this Starbucks drink is complemented with hints of vanilla flavor, creamy milk, and finally, that caramel drizzle will round out all of these flavors. For my friends that aren't serious coffee drinkers, this is what I often recommend.
Is a caramel macchiato strong?
When you order a grande caramel macchiato, this is made with 1 shot of espresso, and a typical shot of espresso at Starbucks is 75 mg of coffee. Most people drink an 8 ounce of coffee which contains 95 to 128 mg of caffeine. So a single espresso shot contains less caffeine than a cup of coffee. Again, this is for their small size.
Typically espresso coffee is roasted for longer and has a bolder taste than regular drip coffee, but it often tastes like it is stronger, but the caffeine content on the typical serving size is much less. Keep in mind the amount of caffeine you consume is dependent upon the drink size you wish to try.
How to your own caramel macchiato without a fancy espresso machine
No fancy Espresso machine? No Problem.
If you don't have a fancy espresso maker at home, you can simply brew coffee that has a darker roast than you typically enjoy.
The NespressoCafe machines do a good job of making espresso (while they don't get the pressure quite as high as an espresso machine, they do a good job for home use.)
Italian's make their espresso with one of these Bialetti Moka Express pots. They make amazing espresso for a great price.
You can purchase Instant Espresso powder, this has great flavor.
What's the difference between a macchiato and a latte at Starbucks?
The real difference is the amount of milk and the order in which the drinks are poured into the cup. The macchiato has less milk, and the latte has more milk
The macchiato is steamed milk with a shot of espresso poured over the top.
The latte is espresso, steamed milk, and then topped with milk foam.
Caramel Macchiato Recipe Ingredients
Here's a list of what you need to make this espresso drink: Keep in mind that Starbucks sells its coffee and many coffee syrups online. Go to either your local Starbucks or go to the Starbucks website to purchase the real ingredients.
Espresso roast coffee – Choose coffee that was roasted for espresso if possible, or get a dark roasted coffee that has been finely ground.
Vanilla syrup – Choose the brand you most like
2% milk or skim milk – Believe it or not the lower the fat content the better it will steam
Whipped cream – you can add if you desire
Caramel sauce – you want the rich kind you would pour over ice cream.
If you like, you can buy the syrups and coffee at Starbucks so you would be making a caramel macchiato with the same ingredients.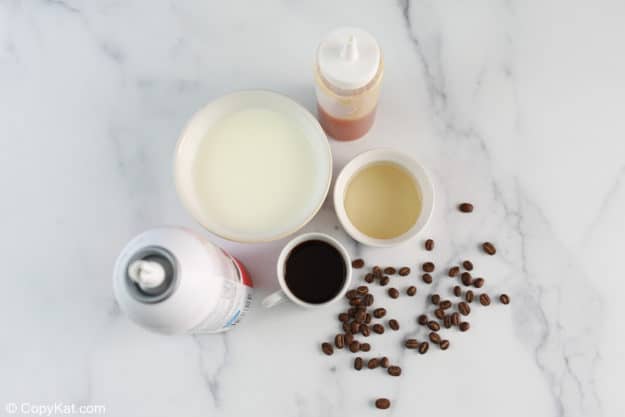 Ingredient Variations
Many people want to choose plant-based milk or other milk alternatives like oat milk, almond milk, coconut milk, or even soy milk will work. So feel free to swap those out.
You can choose sugar-free options – choose the sugar-free options for vanilla syrup or caramel syrup.
You could also swap out the 2% milk for nonfat milk, whole milk, or half and half if you want a super-rich taste.
How to Make a Caramel Macchiato
You can DIY Starbucks Caramel Macchiato at home. Let's get started.
Steam the milk.
Drizzle caramel sauce around the inside of a coffee mug. (Completely optional, I like to do this if I am using a glass mug).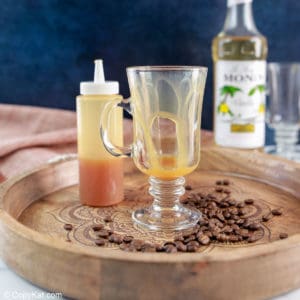 Add vanilla syrup.
Add hot espresso and stir to mix the caramel sauce, vanilla, and espresso together.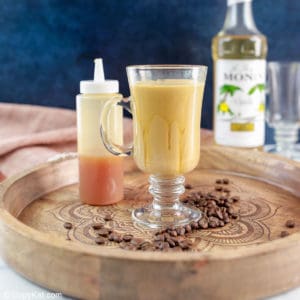 Top with whipped cream and a drizzle of caramel sauce.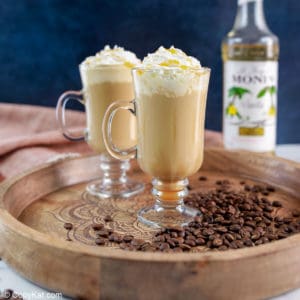 How to Steam Milk
The steamed milk is what makes this drink so amazing. When coffee shops steam milk they add air to the drink. Guess what, you can too. You will need to heat the milk in your microwave or on the stovetop until warmed, no need to boil the milk, just warm it until it is warm to the touch.
Pour the warm milk into a canning jar with a lid, or another jar with a lid. Seal the jar, and give it a good shake. The shaking will make the milk get filled with air.
Recommended Products
Here are a few items that you can purchase to help make your home coffee experience great.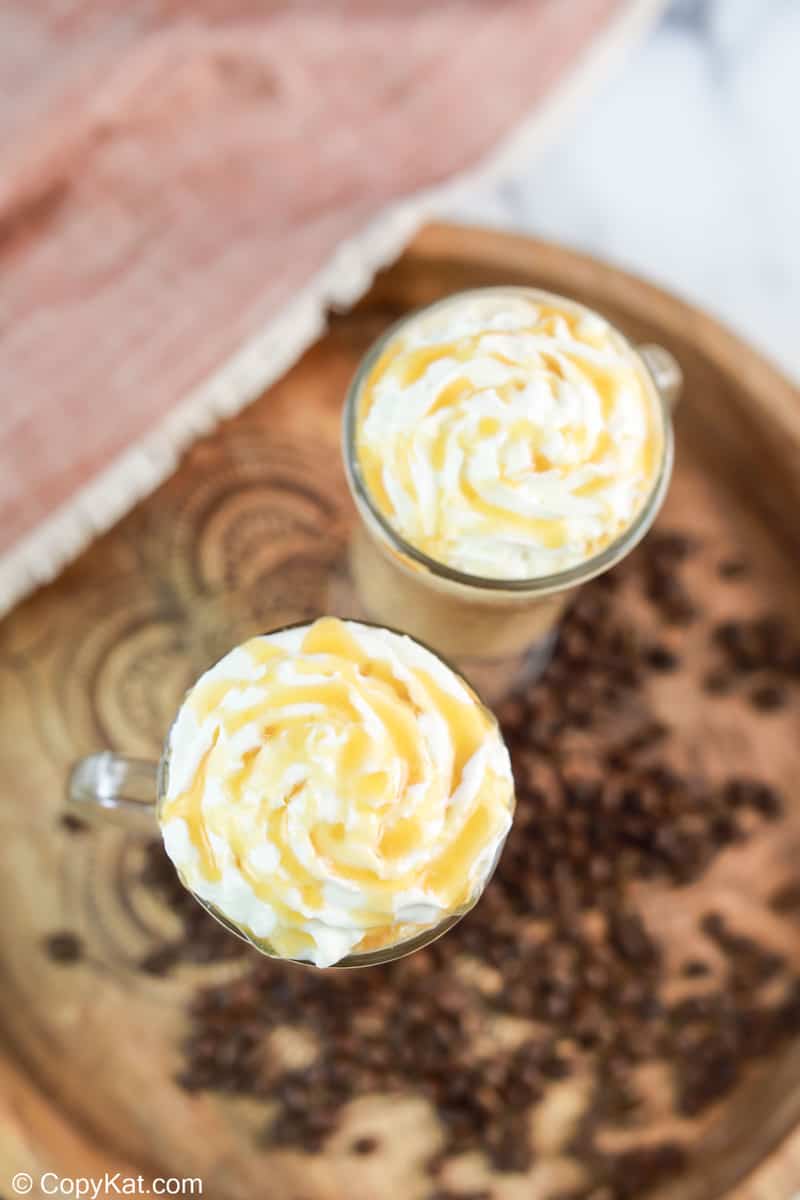 This is one of my favorite Starbucks copycat recipes, making coffee at home is a great way to save money while still enjoy the rich creamy texture of a caramel macchiato. I know when you give this recipe a try, you will feel like it's the real thing!
Love Starbucks Food and Drinks? Try These Recipes
More Caramel Recipes
Check out even more drink recipes and the best Starbucks recipes on CopyKat!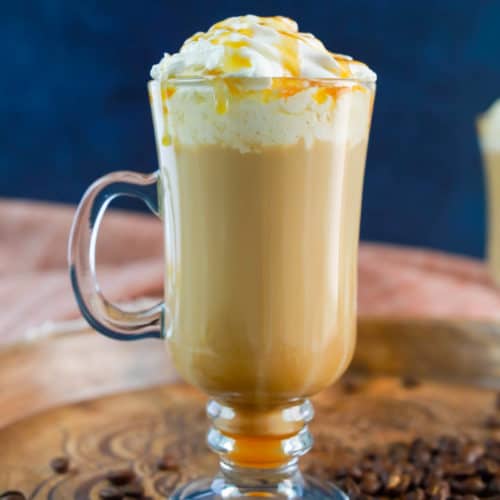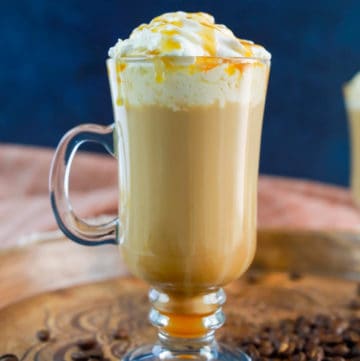 Ingredients
1

cup

milk

1

tablespoon

caramel sauce

1.5

ounces

hot espresso

2

tablespoons

vanilla syrup

2

tablespoons

whipped cream
Instructions
Heat milk to about 150 degrees (between 140 and 160 degrees). Do not let it boil or scald.

Drizzle caramel sauce around the inside of a coffee mug.

Add vanilla syrup to the mug.

Add the hot milk to the mug.

Pour the espresso to the mug, and give it a quick stir.

Top with whipped cream and a drizzle of caramel sauce.
Nutrition
Calories:
333
kcal
|
Carbohydrates:
55
g
|
Protein:
8
g
|
Fat:
10
g
|
Saturated Fat:
5
g
|
Cholesterol:
31
mg
|
Sodium:
204
mg
|
Potassium:
370
mg
|
Sugar:
42
g
|
Vitamin A:
455
IU
|
Calcium:
286
mg
|
Iron:
1.4
mg