Crunch and Munch Caramel Popcorn is a wonderful (BUT VERY ADDICTIVE) snack that tastes just like the product from the store. I use as many "LITE" products as I can find to help reduce the calories, and it doesn't seem to take away from the taste. This is a great afternoon snack and perfect for movie night. Enjoy and Happy Snacking!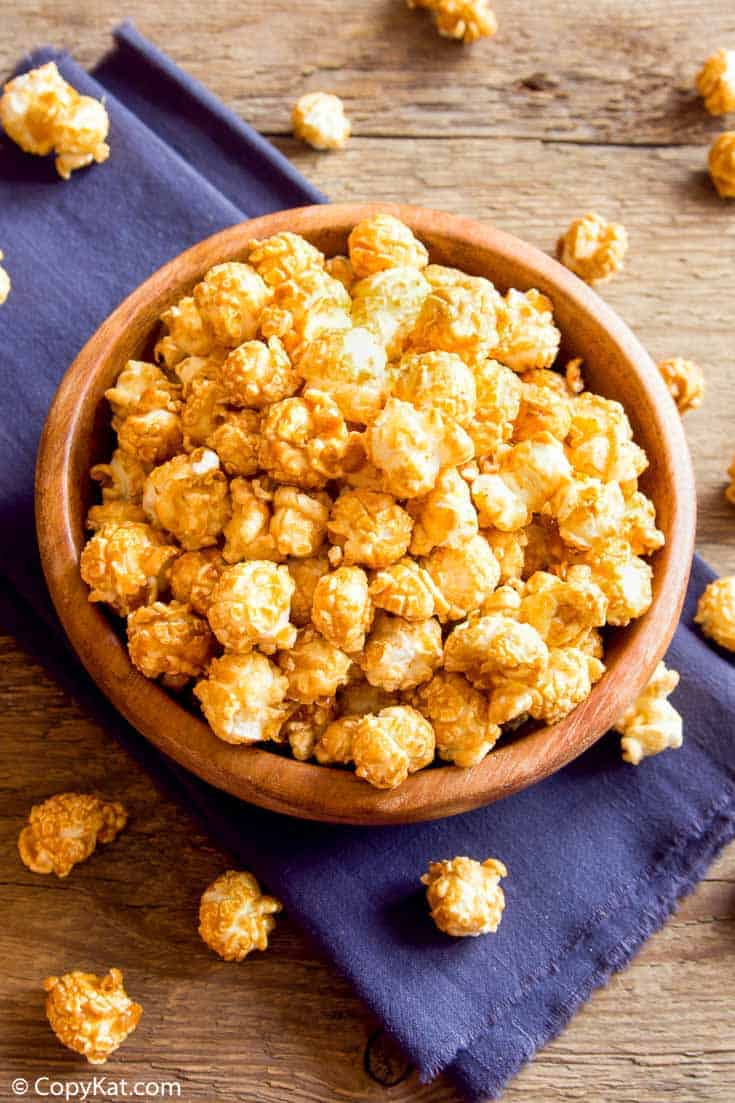 Crunch and Munch Caramel Popcorn
Love popcorn? Take a look at these recipes: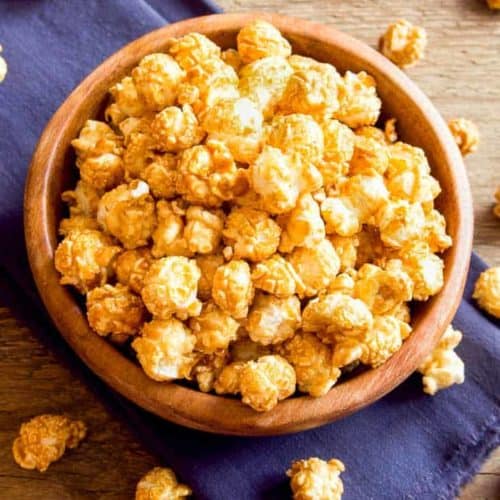 Ingredients
5

quarts

popcorn

4

ounces

butter

1

cup

brown sugar

1/4

cup

corn syrup

you can use light or dark

1/8

teaspoons

salt

1

teaspoon

vanilla

1

teaspoon

baking soda

2

cups

shelled peanuts
Instructions
Spray a large turkey roaster with cooking spray. Pop the corn in microwave, and remove all unpopped kernels and pour into the roaster. Pour two cups peanuts on the top and try not to let too many fall to the bottom. (If they fall to the bottom, they do not get syrup and will not adhere to popcorn.)

Melt butter in large saucepan (large pan; because it foams up at the last step and you need that extra size). To that, add Brown Sugar, Karo Syrup and Salt. Keep stirring and bring to a boil. Do not leave syrup unattended at any time. When it starts to boil, let it boil for 2 minutes undisturbed (no stirring allowed).

Make sure you time it otherwise the sugar could burn. Then, turn off the burner but leave the pan on heat. Add vanilla and stir slightly until it boils again. Remove pan from heat and add soda, stirring vigorously to distribute evenly. Be careful not to let it overflow because the soda will make it foam up. While it is still foaming up, pour syrup over peanuts/popcorn and use the large wooden spoon to mix thoroughly to ensure all pieces are coated with syrup. Put roaster in the oven for up to 1 hour, 15 minutes.

Stir mixture every 15 minutes until it begins to feel crunchy, then flatten popcorn down on cold counter top and let rest for about 30 minutes (or until cooled). After 30 minutes break into clumps and put in airtight jar or bag. Humidity will make product soggy if you leave overnight. If this should happen, just repeat oven procedure until it gets crunchy again. Be extremely careful when working with the hot syrup. Its temperature is very high and can cause serious burns if spilled. This snack can also be made way ahead of time if kept in an airtight container. It keeps very well! But… hide it or it will be gone before you know it. Thanks to dewdropflower for sharing this recipe!

Nutrition
Calories:
365
kcal
|
Carbohydrates:
49
g
|
Protein:
9
g
|
Fat:
16
g
|
Saturated Fat:
5
g
|
Cholesterol:
15
mg
|
Sodium:
274
mg
|
Potassium:
258
mg
|
Fiber:
6
g
|
Sugar:
18
g
|
Vitamin A:
245
IU
|
Calcium:
26
mg
|
Iron:
1.7
mg