If you like Cheetos then you are going to be in heaven with this Cheetos cheese popcorn! This Cheetos popcorn mix takes cheese popcorn to the next level.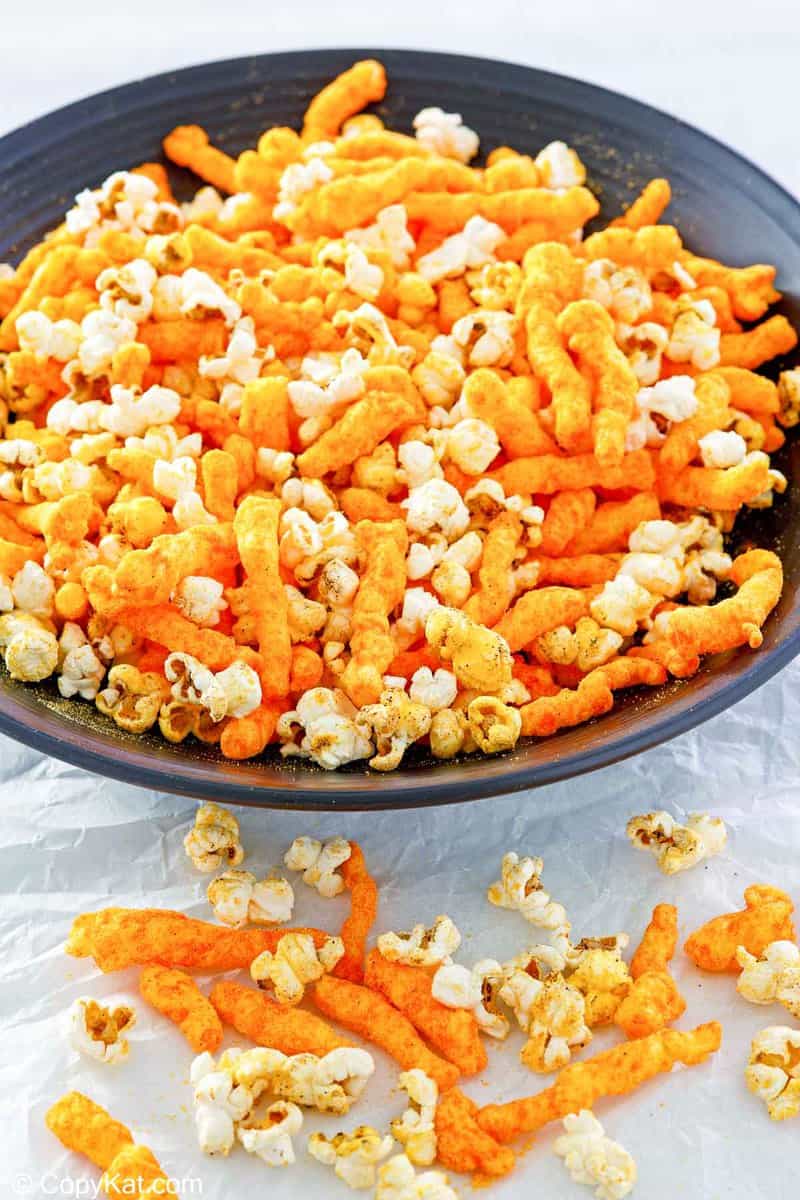 This post contains affiliate links. As an Amazon Associate, I earn from qualifying purchases.
What is Cheetos Popcorn?
In this recipe, you will be making homemade cheese popcorn mixed with an all-time favorite, Cheetos. When you make your own cheese popcorn you will get the best cheesy popcorn you've ever had.
I generally do a 5:1 ratio of popcorn to Cheetos, so there's plenty of popcorn with a little added crunch.
Is Cheese Popcorn Good?
Yes! Actually, it is more than good, it's amazing. When you mix homemade lightly salted popcorn with cheese you get the most delicious combination.
Plus this Cheeto popcorn mix gives you the perfect crunch between the hot homemade popcorn and the Cheetos that are mixed in.
Ingredients Needed for Cheetos Popcorn Mix
Do not forget to make the most cheesy popcorn mix for movie night or game day! You can make it with what you have in the pantry.
Plan ahead and check out the list of what you need for this Cheetos cheese popcorn recipe:
Coconut oil
Popcorn kernels
Seasoned salt
Cheddar cheese powder
Cheetos
Equipment and Ingredient Notes
Using the right equipment and ingredients will give you the best cheddar cheese popcorn with Cheetos. So let's get started. I have lots of great ideas and recommendations.
Popcorn Popper
Using a Whirley popcorn popper will give you some of the best popped popcorn. It tosses the popcorn while it is popping. This helps prevent the popcorn from burning and pops it evenly.
If you don't have a popcorn popper, then use a large heavy-bottomed pot. An enameled Dutch oven is the best to use, then either a stainless steel or aluminum stockpot.
Popcorn Seasoned Salt
To make the best tasting popcorn, put some seasoned salt in the oil ahead of time. This allows for all of the popcorn to get deliciously coated in seasoned salt. I like to use the Flavacol seasoned salt in mine.
Best Oil for Popping Corn
While you can use a few different kinds of oil to make popcorn, I recommend using coconut oil. Both popcorn oil or vegetable oil will work too.
Which Popcorn Kernel is the Best
If you want the perfect popcorn shape, make sure to use mushroom popcorn. It pops in the perfect round shape like you see at the gourmet popcorn shops. Plus it holds the flavor of the popcorn better.
Cheddar Cheese Powder for Popcorn
If you cannot find cheddar cheese powder for popcorn in your grocery store, the cheese mix from macaroni works perfectly and can be found anywhere. You can also get popcorn cheese powder on Amazon.
Which Cheetos to Use
You can use whichever Cheetos you enjoy to mix into the cheese popcorn. Try these instead of the regular crunchy cheddar cheese ones:
Cheddar Jalapeno
Flamin Hot
Fantastix
Puffs
How to Make Cheetos Popcorn
Place the oil, popcorn, and seasoned salt into a large pot over high heat.
Place a lid on the pot and gently shake the pot as the popcorn cooks.
When about 90% of the kernels have popped, remove the pot from the heat.
Place the popcorn in a large bowl and quickly sprinkle it with Cheddar cheese powder.
Stir to coat the popcorn with the cheese powder.
Add Cheetos and stir them into the cheese popcorn.
Serve immediately.
Serving Tips
Cheetos popcorn is really good when served warm. The Cheetos crisp perfectly this way. So I recommend eating this right away.
If you are going to serve this at a party, I recommend putting it in a crockpot on low to keep it warm.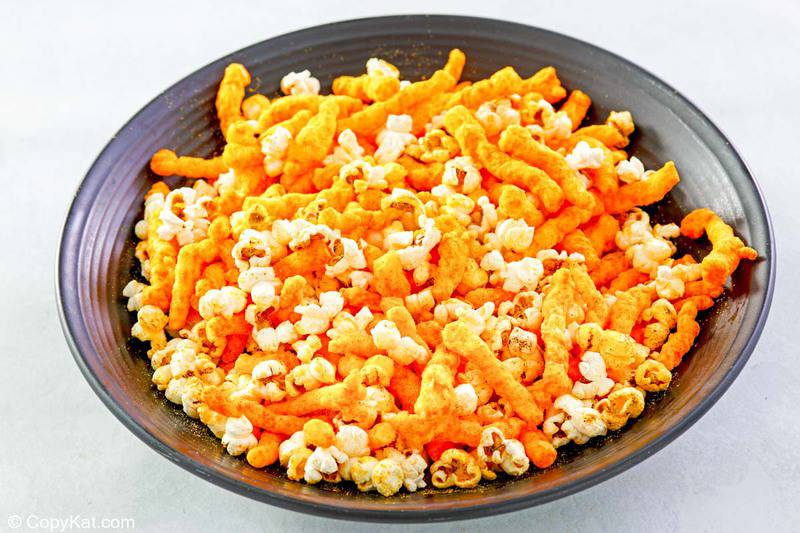 What to Serve With Popcorn
You can never have enough snacks for the perfect movie night. I like to mix it up with some more salty and sweet snacks.
Pretzels – Since this Cheetos popcorn recipe has the cheese covered, you can serve it with ranch pretzels for another salty option. You could even do chocolate covered pretzels to get the perfect salty and sweet snack.
M&M's – Chocolate is also a perfect pairing for Cheetos popcorn. You could even mix it into the popcorn if you don't mind your M&M a little melty.
Fruit Candy – Twizzlers are a good choice to serve with cheese popcorn. The strawberry taste will be a good way to refresh your palate.
How to Store Cheetos Popcorn
To keep your popcorn from going stale, store it in an airtight container and keep it in the freezer. Add a layer or two of plastic wrap on top of the container before you place the lid on to make sure that absolutely no air will get in.
Then when you are ready to eat it, just remove it from the freezer and you should be good to go!
Love popcorn? Try these recipes!
More Snack Recipes
Check out more of my easy snack recipes and the best DIY recipes here on CopyKat!
Ingredients
2

tablespoons

coconut oil

1/2

cup

popcorn kernels

1/2

teaspoon

seasoned salt

2

ounces

cheddar cheese powder (~⅓ cup)

or the cheese mix from a box of Kraft Macaroni and Cheese

3

cups

crunchy Cheetos

(not the puffs)
Instructions
Place the oil into a large heavy-bottomed pot over high heat.

Add popcorn and seasoned salt, cover with a lid, and gently shake the pot as the popcorn cooks.

When 90% of the popcorn has popped, remove from the heat.

Transfer the popcorn to a large bowl.

Quickly sprinkle with the cheddar cheese powder and stir well to coat the popcorn.

Add Cheetos and stir to combine. Serve immediately.
Nutrition
Calories:
131
kcal
|
Carbohydrates:
13
g
|
Protein:
1
g
|
Fat:
8
g
|
Saturated Fat:
2
g
|
Cholesterol:
0
mg
|
Sodium:
486
mg
|
Fiber:
0
g
|
Sugar:
3
g
|
Calcium:
105
mg