Spicy beef jerky is a wonderful snack. You don't have to buy beef jerky in the store, you can save a lot of money by making beef jerky at home.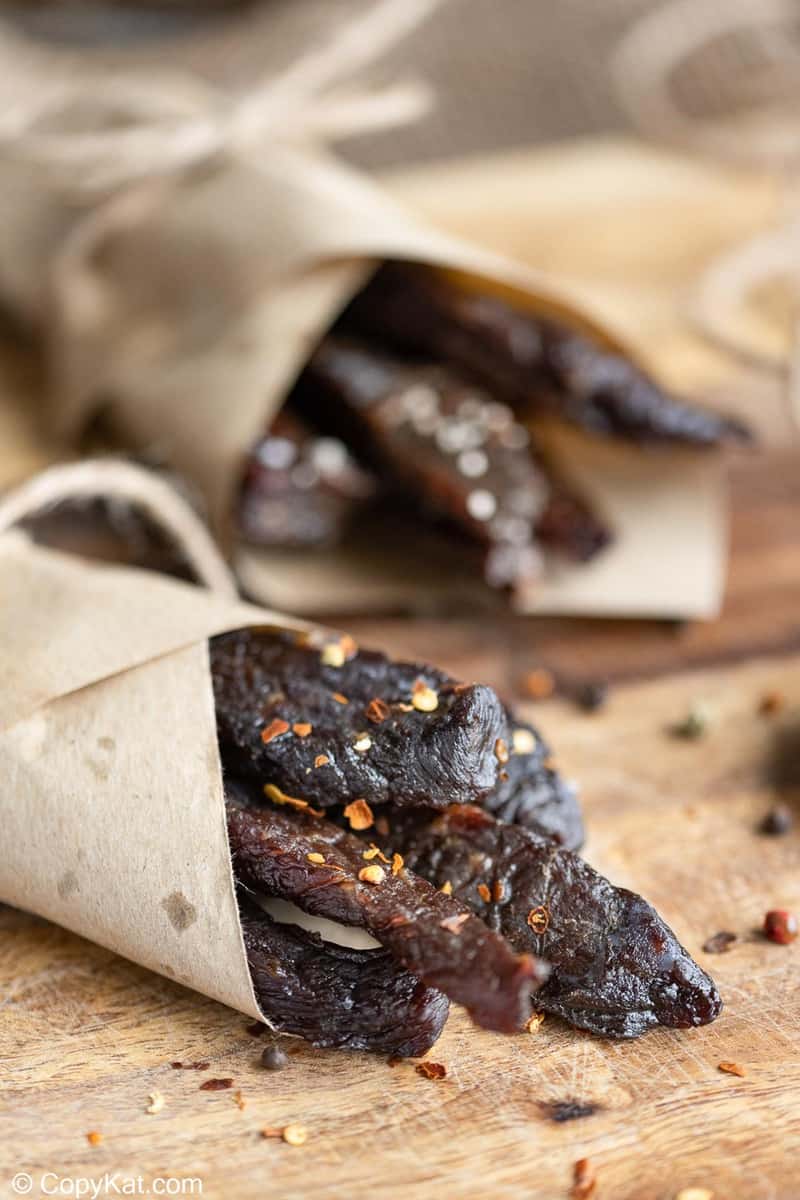 Homemade spicy beef jerky is easy to make, and it tastes so much better than store-bought jerky.
Spicy beef jerky is a wonderful snack. This jerky is very easy to make and tastes so much better than the store-bought kind. For this spicy beef jerky recipe, you need lean rump roast and a beef jerky marinade made from soy and teriyaki sauces, liquid smoke, garlic salt, sweet chili sauce, brown sugar, and black pepper.
Is Beef Jerky Healthy?
Because jerky is considered a snack food, you might have questions about just how healthy it is. However, jerky is high in protein and low in carbs, giving it a healthier nutritional value than many other snack foods. Healthy beef jerky is suitable for various diets, such as low carb and paleo diets. You can see a full list of the nutrients in healthy beef jerky by clicking here.
It's easy to make this beef jerky marinade recipe at home, where you can control the ingredients, especially sodium.
Beef jerky has a long shelf life and is very portable, making it an excellent choice for travel, backpacking, and other situations where you have limited access to fresh food and need a healthy protein hit.
Is Beef Jerky Keto?
Typical keto diets only permit carbs to account for 5% of daily calories. While beef jerky is an excellent source of lean protein, ingredients like sugar, honey, and soy sauce add a relatively high amount of carbs. This means that some flavors of beef jerky can contain nearly half of a keto eater's daily carb allowance. Fortunately for keto eaters, you can find low-sugar jerky or near-zero sugar jerky that still tastes delicious.
Is Beef Jerky Gluten-Free?
People often don't realize that soy sauce, an ingredient frequently found in beef jerky marinades, contains gluten. However, you can make gluten-free beef jerky by using tamari sauce instead of soy sauce.
Does Beef Jerky Go Bad?
Storage time for homemade beef jerky depends on whether you vacuum-seal it in packages or not. If you vacuum seal it, it will last about one to two months in your pantry and longer in the fridge. If not vacuum sealed, one to two weeks at room temperature and about one month in the refrigerator are realistic estimates.
If you don't store jerky properly, moisture can get inside the bag, and, sooner or later, you'll see some dark specs or furry things growing on the surface. If that happens, discard the jerky. Same thing if your jerky has become super hard or developed an off smell.
How Thick to Cut the Beef?
Slices of beef between 1/8–1/4 inch thick will give your jerky a good texture and make it easy to thoroughly dry your jerky.
For small batches of jerky, all you need is a jerky board and a sharp knife. Watch this short video that shows you how to slice beef this way.
If you plan to make large batches of jerky regularly, you might want to invest in a jerky slicer. A slicer gives you same-sized meat strips that will dry evenly.
Ingredients
Here's a list of what you need: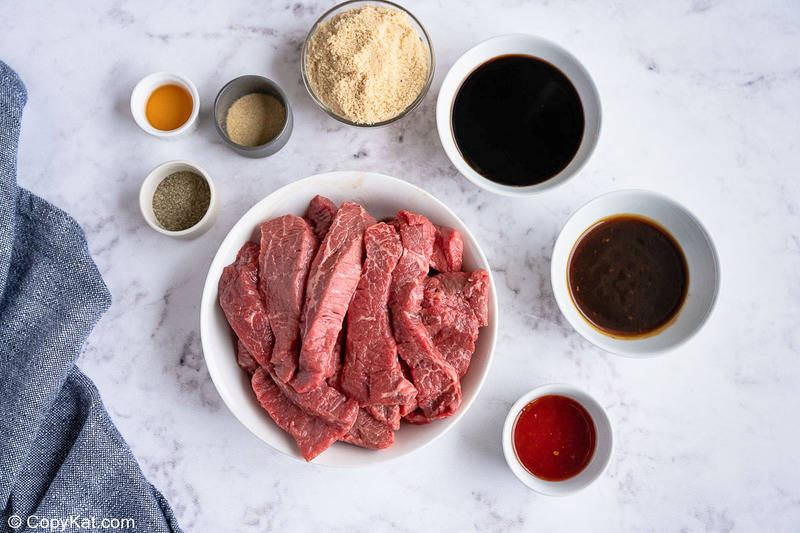 How to Make Spicy Beef Jerky
Slice beef into thin strips.
Mix soy sauce, teriyaki sauce, sweet chili sauce, garlic salt, liquid smoke, black pepper, and brown sugar together.

Pour marinade over beef strips.

Cover and let marinate in the refrigerator overnight.
Place the beef strips in a food dehydrator.

Follow the manufacturer's directions for drying jerky.

How to Make Spicy Beef Jerky in the Oven
If you do not have a food dehydrator, you can use this oven method:
Heat oven to 175 degrees.
Place the marinated beef strips on a wire rack that has been set on a jelly roll or sheet pan.
Dry the strips in the oven for 6 to 8 hours, turning two or three times during drying.
Don't want a spicy jerky? Try this teriyaki beef jerky recipe.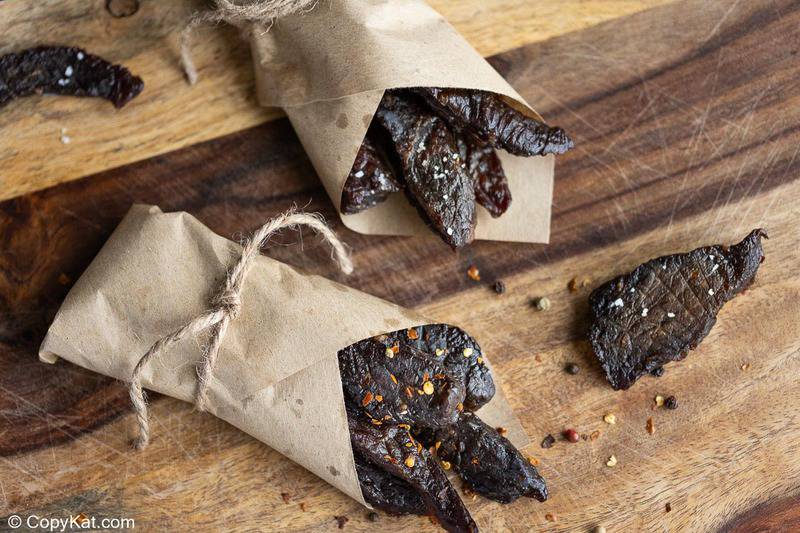 Favorite Snack Recipes
Popular Beef Recipes
Check out more of my easy snack recipes and the best beef recipes here on CopyKat!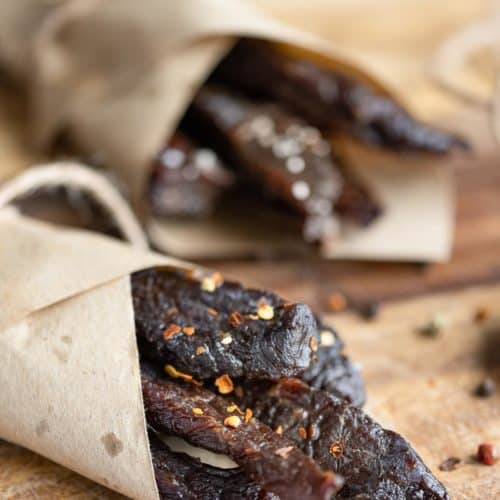 Ingredients
4

pounds

lean rump roast

sliced 1/8″ thick by 2 – 2 1/2″ wide strips

1/2

cup

soy sauce

1/4

cup

teriyaki sauce

1/2

teaspoon

garlic salt

1 1/2

teaspoons

liquid smoke

2

tablespoons

sweet chili sauce

1/4

cup

brown sugar

1

teaspoon

black pepper
Instructions
Mix together all ingredients and pour over sliced beef.

Cover and marinate in the refrigerator overnight.

If you are using a food dehydrator follow the manufacturer's directions.

If you do not have a dehydrator you may use your oven.

Turn the oven on low to 150 -175 degrees. The temperature should not go over 175.

Place the marinated beef strips on a wire rack that has been set in a jelly roll or sheet pan. The pan will collect the liquid and the cooling rack will let the air circulate for better drying. Do not overcrowd the pieces when placing the strips on the cooling rack.

Turn the strips two or three times during drying. This method will take 6 to 8 hours depending on the thickness of the meat.
Nutrition
Calories:
54
kcal
|
Carbohydrates:
1
g
|
Protein:
8
g
|
Fat:
1
g
|
Saturated Fat:
0
g
|
Cholesterol:
21
mg
|
Sodium:
793
mg
|
Potassium:
115
mg
|
Fiber:
0
g
|
Sugar:
1
g
|
Vitamin C:
17
mg
|
Calcium:
108
mg
|
Iron:
0.9
mg