Homemade Teriyaki Beef Jerky tastes incredible and is super simple to make. Save money and make your own with a few simple ingredients.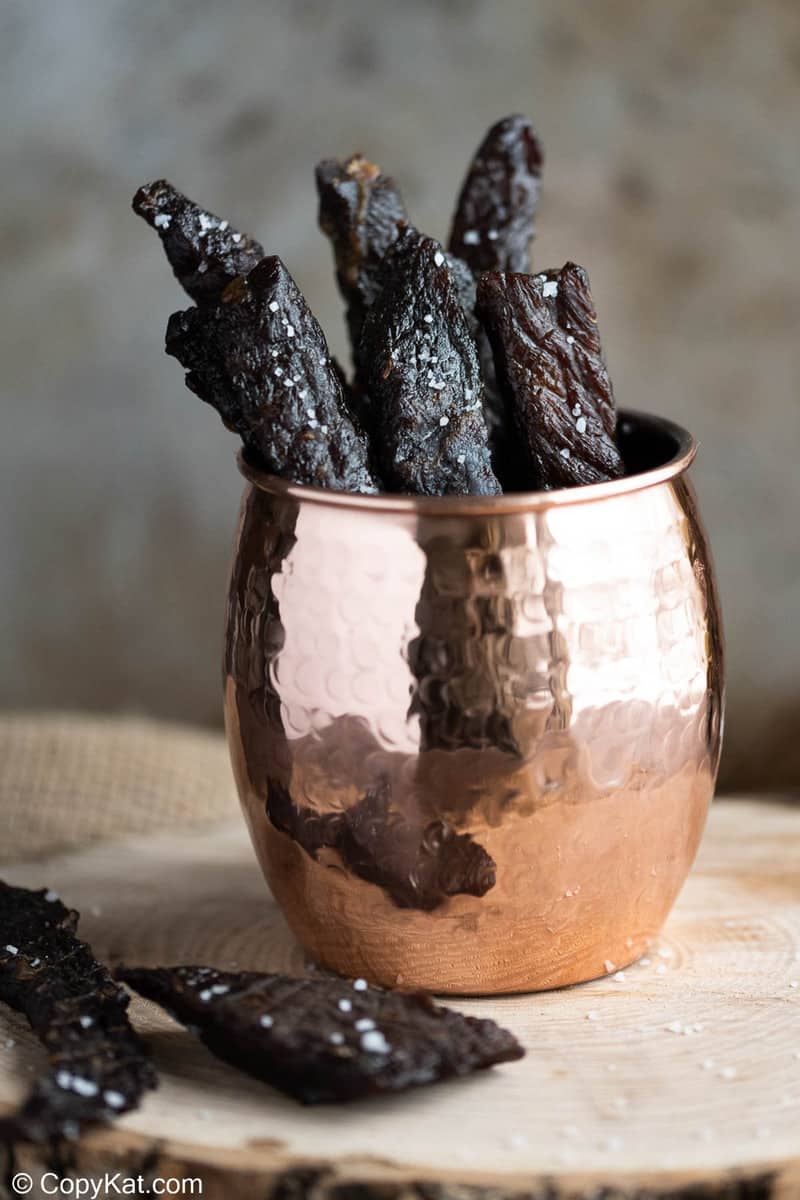 This is a tasty teriyaki beef jerky snack. It's healthy and low carb too!
Homemade teriyaki beef jerky tastes wonderful and is really easy to make. Save some money and make your own amazing jerky snack with just a few simple ingredients – beef, soy sauce, teriyaki sauce, liquid smoke, and brown sugar.
What Is Beef Jerky?
Jerky is lean meat that has been sliced into thin strips and dried at a low temperature (dehydrated) so that it does not spoil. Jerky is often prepared with a seasoned spice rub or marinade and commonly includes sweeteners such as brown sugar. Beef jerky is a healthy and nutritious snack that is high in protein and low in carbs.
What Is the Best Cut of Beef for Making Homemade Beef Jerky?
You want a lean cut of meat that with the least possible amount of fat. Fat will spoil and ruin jerky. Here's a list of cuts of beef that work very well:
Eye of Round: One of the best tender and most economical cuts of meat for making beef jerky.
Bottom Round (Rump Roast): Least tender of the rounds, but still makes excellent jerky.
Top Round: More tender than bottom round and less tender than eye of round.
Sirloin Tip: Second most tender of the rounds. A bit more expensive and not quite as popular for making beef jerky.
Flank Steak: More expensive but great jerky meat.
Ground Meat (90% lean meat): Makes jerky that is easier to chew with a very different texture. Click here to learn how to make ground beef jerky.
How to Slice Meat for Homemade Beef Jerky
Before slicing, trim away any visible fat. The way you slice your meat when making beef jerky makes for either a more tender jerky or a chewier jerky.
Slicing with the grain = chewy/tougher jerky
Slicing against the grain = less chewy/softer jerky
Tip: A jerky slicer will give you same-sized strips of meat that will dry evenly.
Tenderize Your Meat: You can slice the meat with the grain and tenderize it by beating it with a meat mallet to break up the muscle fibers and make the jerky a little less chewy.
For a more detailed description of how to prepare your meat for jerky, click on this link.
How Long to Dehydrate Beef Jerky?
When making dehydrator beef jerky, your aim should be to find that sweet spot where there is a nice chew to the jerky without it being too brittle. Generally, dehydrating jerky could take anywhere between 5–15 hours depending on the following factors:
Meat Thickness: A range between 1/8–1/4 inch will give you good texture without making it too difficult to thoroughly dry your jerky.
Dehydration Method: You can dry jerky in a food dehydrator, an oven, or even the sun. Dehydrator beef jerky is the quickest method.
Salt and Marinade: Salt draws moisture out of the meat and also helps draw flavor from the marinade or rub into the jerky. If you have a wet marinade, blot thoroughly before dehydration.

Dehydrator Temperature: To kill any pathogens, jerky needs to be heated all the way through to 160°F. Once this internal temperature has been reached, lower the heat to around 130–140°F.
How to Check If Your Homemade Beef Jerky Is Done
There are a couple of ways to check the jerky:
Bend Test:
Allow a piece of jerky to cool for 5–10 minutes then bend the jerky at a 90-degree angle. If any moisture is squeezed out, the jerky needs more drying time. If properly dried, the jerky will almost fray where it's bent and not crack or snap.
Chew Test:
After bending the jerky and everything seems okay, give the jerky a chew. The texture should be almost leathery and be chewy without being moist or soft. If it's brittle or sharp, it's been overdried.
Read about jerky doneness in more detail by clicking here.
You can make sweet teriyaki beef jerky easily anytime with our recipe.
Ingredients
Here's a list of what you need:
Teriyaki sauce
Soy sauce
Liquid smoke
Brown sugar
Lean Rump Roast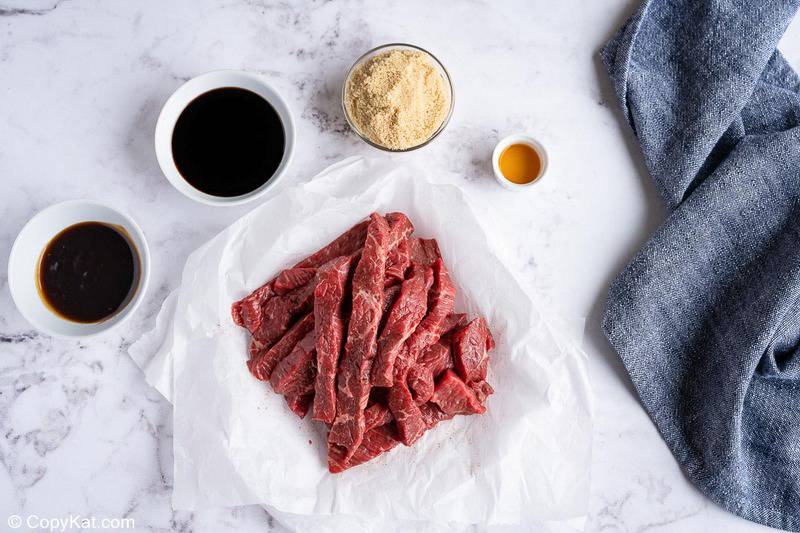 How to Make Teriyaki Beef Jerky
Slice beef into thin strips.
Mix soy sauce, teriyaki sauce, liquid smoke, and brown sugar together.

Pour marinade over beef strips.

Cover and let marinate in the refrigerator overnight.
Place the marinated beef strips in a food dehydrator.

Follow the manufacturer's directions for drying jerky.

How to Make Teriyaki Beef Jerky in the Oven
If you do not have a food dehydrator, you can use this oven method:
Heat oven to 175 degrees.
Place the teriyaki marinated beef strips on a wire rack that has been set on a jelly roll or sheet pan.
Dry the strips in the oven for 6 to 8 hours, turning two or three times during drying.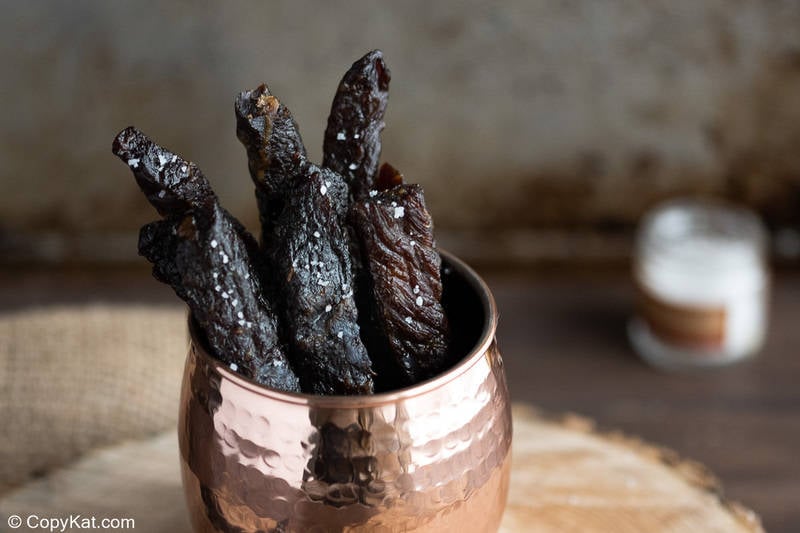 Popular Snack Recipes
Favorite Beef Recipes
Check out more of my tasty snack recipes and easy beef recipes here on CopyKat!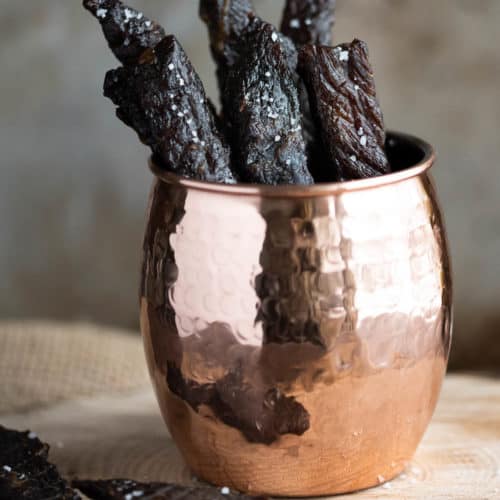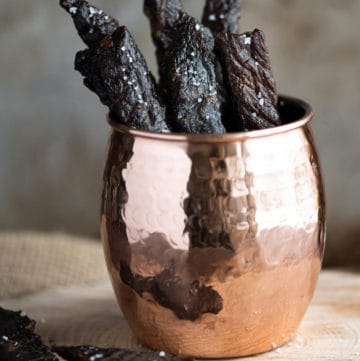 Ingredients
1/2

cup

Soy Sauce

1/4

cup

Teriyaki Sauce

1 1/2

teaspoon

Liquid Smoke

1/2

cup

Brown Sugar

3

pounds

Lean Rump Roast

(sliced 1/8″ thick by 2 – 2 1/2″ wide strips)
Instructions
Mix soy sauce, teriyaki sauce, smoke, and brown sugar together and pour over beef strips. Cover and let marinate in the refrigerator overnight. If you are using a food dehydrator, follow the manufacturer's directions.

If you do not have a dehydrator you may use your oven. Turn the oven on low, 150 -175 degrees. the temperature should not go over 175 degrees.

When placing the strips on the wire rack do not overcrowd the pieces. Turn the strips two or three times during drying. This method will take 6 to 8 hours depending on the thickness of the meat.
Recipe Tips for the Cook
Recipe by Judy Chatham 2000. 
Nutrition
Calories:
45
kcal
|
Carbohydrates:
2
g
|
Protein:
6
g
|
Fat:
0
g
|
Saturated Fat:
0
g
|
Cholesterol:
16
mg
|
Sodium:
620
mg
|
Potassium:
90
mg
|
Fiber:
0
g
|
Sugar:
2
g
|
Vitamin C:
12.8
mg
|
Calcium:
82
mg
|
Iron:
0.7
mg
Recipe by Judy Chatham 2000.