Benihana's Hibachi Steak is loved by all. You can recreate this dish at home in under 30 minutes. It's easier than you think to recreate this masterpiece.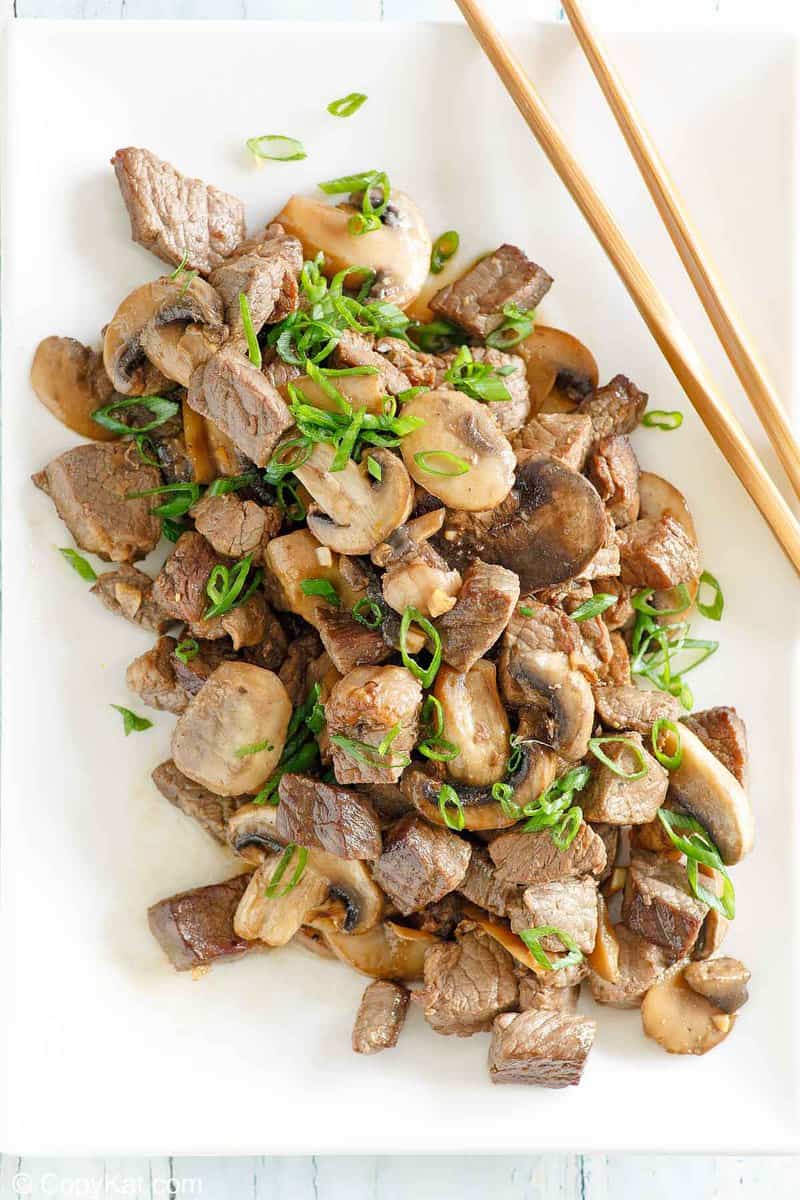 This post contains affiliate links. As an Amazon Associate, I earn from qualifying purchases.
Steak Hibachi
Benihana is known for its hibachi steak. Although going to Benihana is a fun outing, you can duplicate this steak at home. It starts in a skillet and finishes in a delicious soy-ginger sauce.
Not only does the sauce enhance the flavor of the steak, but it's also a great recipe for entertaining. The key is to select the best steak. You can watch a video to see how Benihana selects a steak.
The Benihana Story
Like all the best Japanese stories, the history of Benihana began with the descendant of a samurai warrior (Yunosuke Aoki) and a coffee shop in Tokyo. Just after the war, Aoki, a popular entertainer, had the idea to open a coffee shop with his wife, Katsu.
They called their shop Benihana, and because of food staple shortages, Aoki rode his bike more than twenty miles to buy real sugar for his shop.
The Tradition Continues
After college, Aoki's son Hiroaki (or Rocky, as he became known) moved to the U.S. to pursue his dream of opening his own restaurant. He wanted to combine his father's knack for doing something unusual with truly memorable food.
As Rocky didn't have very much money, he began life as an entrepreneur by selling ice cream in Harlem while going to school at night to study restaurant management. The ice cream venture turned out well thanks in part to the colorful Japanese cocktail umbrellas Rocky added to his treats. In this way, he managed to save up $10,000 so he could open his first Benihana restaurant in 1964.
The First Benihana
The original Benihana is still going strong on West 56th street in Manhattan. It features an authentic Japanese farmhouse look and delicious food cooked on steel teppanyaki grills right in front of the eyes of customers.
Highly trained teppanyaki chefs delight customers with theatrics and intricate knife work. You can watch a demonstration. The chefs slice and dice and dazzle your eyes. And, the food dazzles your taste buds. It's one of the best shows in New York City.
Homemade Hibachi Style Steak
Make your own Benihana hibachi steak at home. Although this steak dish is called hibachi steak, at Benihana the steak is actually cooked on a teppanyaki grill.
Don't have a teppanyaki grill? No worries – this recipe improvises with great results. However, it's advisable not to try to imitate the Benihana knife tricks!
Ingredients
To make this hibachi steak recipe, you will need:
Soy sauce
Chinese cooking wine
Sugar
Garlic
Fresh ginger
Toasted sesame oil
Sirloin steak
Soybean oil
Mushrooms
Salt
Pepper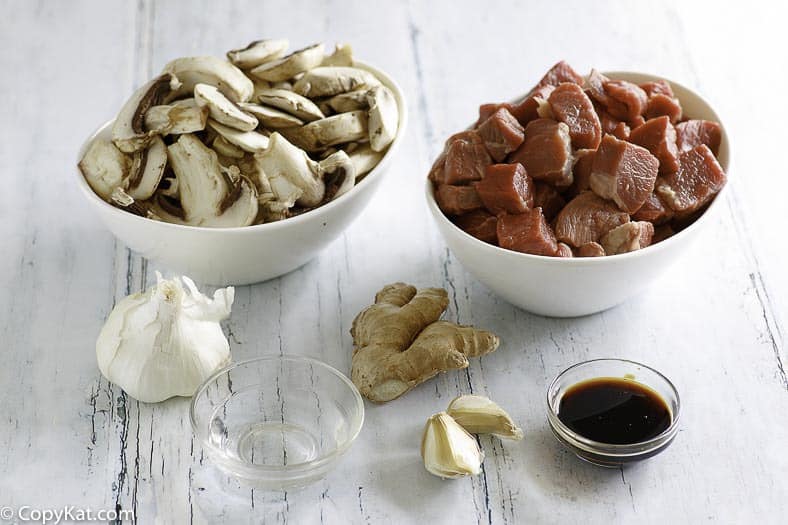 How to Make Steak Hibachi
Combine soy sauce, cooking wine, sugar, garlic, ginger, and sesame oil to make the marinade.
Place steak in the marinade and marinate for at least 1 hour before cooking.
Remove steak from marinade and cut it into bite-size pieces.
Heat a skillet to medium-high, add soybean oil, and then steak pieces.
You want to cook the steak on high heat, it won't take very long to cook the steak to perfection.
When the steak pieces are close to being cooked, add the mushrooms and season with salt and pepper.
Stir and continue to cook until mushrooms are softened and steak is cooked through.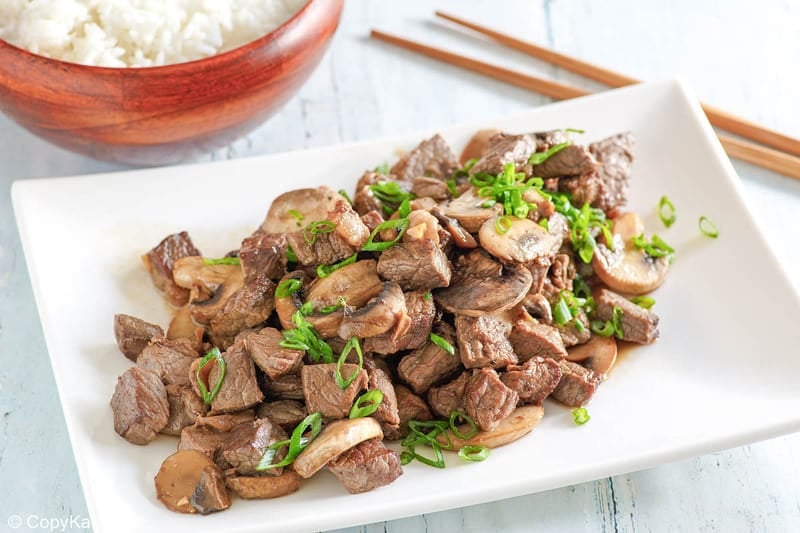 What is the difference between hibachi and teriyaki steak?
The real difference between the two is in the sauce. Both dishes are cut into bite-sized cubes, but teriyaki steak is cooked with a glaze. Teriyaki sauce is made with soy sauce, sake, mirin, sugar, and optional spices. Hibachi steak is not cooked with a sauce, but it is served with a sauce you can dip the meat into.
What cuts of beef are best for hibachi?
To make the best hibachi steak you will want to use a cut of beef that is tender and lean. Sirloin works very well, tenderloin also works well, it is tender and lean.
Can you cook this hibachi steak recipe on a griddle?
Ideally, you want to cook this steak on high heat on a griddle, but if you do not have a griddle you can use a skillet. I recommend either using a stainless steel skillet or a cast-iron skillet. You do not need to adjust the temperature for when you cook the steak in a frying pan.
Complete your meal with these side dishes
You could make some garlic butter, and cook benihana hibachi chicken on the grill, don't forget to finish it with a squeeze of lemon juice
Cook up some Benihana fried rice
Make up a Benihana salad and be sure to serve it with some ginger salad dressing
Make some homemade teriyaki sauce and serve it with your steak
Do you want to have your own typical restaurant experience at a hibachi restaurant? You can turn your own dining room tables into teppanyaki tables, now you just need to get a family member to practice their knife skills for your family!
How to Store and Reheat Hibachi Steak
You will want to store your steak in an airtight container for up to 5 days in your refrigerator.
If you know you will have some leftover steak, cook it very rare and then reheat the rare steak in a skillet. This way your meet still has a really nice texture when you serve it.
Love Japanese food? Try these recipes!
Easy Stir Fry Recipes
Be sure to take a look at more of the best Asian food recipes and easy recipes with beef.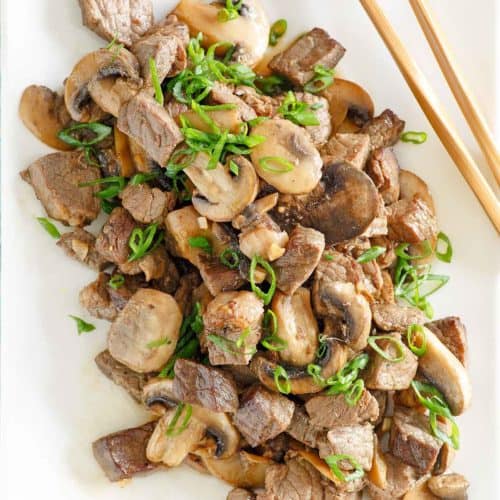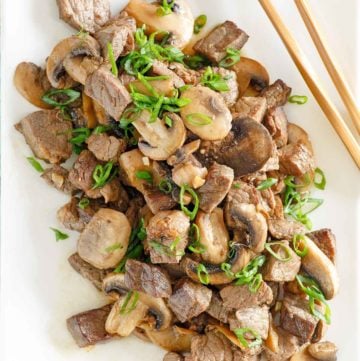 Ingredients
Steak Marinade
1/2

cup

soy sauce

1/4

cup

Chinese cooking wine

1

tablespoon

sugar

1

teaspoon

minced garlic

1

teaspoon

minced ginger

1/2

teaspoon

toasted sesame oil

4

teaspoons

soybean oil
Steak and Mushrooms
20

ounces

sirloin steak

8

large

white mushrooms

sliced thick

4

dashes

salt

4

dashes

ground black pepper
Instructions
Combine all marinade ingredients and place the steak in the marinade.

Marinate the steak at least 1 hour before cooking.

Remove the steak from the marinade and cut it into bite-size pieces.

Heat a skillet to medium-high.

Add oil and then the steak pieces. Stir occasionally as they are cooking so they will be cooked on all sides.

When the steak pieces are close to being cooked through, add the mushrooms. Add more soybean oil if needed.

Season steak and mushrooms with salt and pepper.

Cook until the steak is done and the mushrooms are tender.
Nutrition
Calories:
295
kcal
|
Carbohydrates:
13
g
|
Protein:
35
g
|
Fat:
11
g
|
Saturated Fat:
5
g
|
Cholesterol:
86
mg
|
Sodium:
2203
mg
|
Potassium:
705
mg
|
Fiber:
0
g
|
Sugar:
7
g
|
Vitamin C:
1.2
mg
|
Calcium:
50
mg
|
Iron:
3.3
mg