Benihana fried rice is so tasty. If you have been to Benihana, you know you should not skip the hibachi fried rice they serve. To me, it is the best menu item of all. Want to know the real secret to this? It's the Benihana garlic butter.
With a few simple ingredients, you can make the Benihana fried rice recipe at home. Thankfully there are no exotic ingredients in this recipe. You can find everything you need at home. Best of all you can turn into your own Teppanyaki chef with this easy recipe.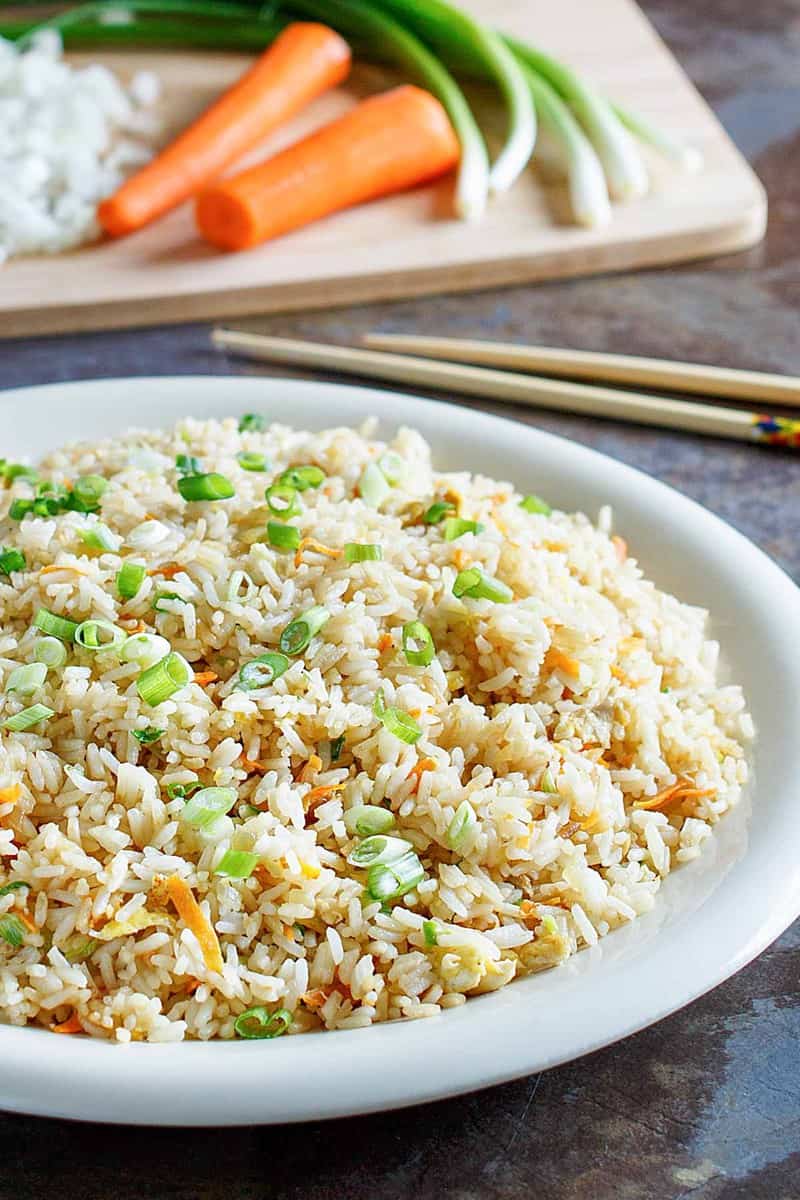 This post contains affiliate links. As an Amazon Associate, I earn from qualifying purchases.
Japanese Hibachi Fried Rice
Benihana has delicious fried rice and you can get it prepared with chicken if you want it was a main meal. It is up to you. In fact, it is one of my favorite menu items at Benihana. This rice is irresistible.
You can enjoy this special dish at home. It is easy to recreate this dish in your kitchen. Nothing tastes as good as freshly prepared food.
What Makes Benihana Fried Rice the Best Fried Rice?
Ordinary fried rice is deceptively tricky to make. Cooking it at home usually ends in overly salty clumps of soggy rice. However, hibachi fried rice from Benihana turns out perfectly light with an amazingly rich, garlicky flavor that is like no other fried rice.
Why This Is the Recipe You Must Try for Homemade Hibachi Fried Rice
No teppanyaki grill is necessary to make this Benihana recipe. Because you cook the vegetables in the dish separately from the rice, you can make this version of hibachi rice in regular pans at home without sacrificing any flavor.
Benihana Fried Rice Recipe Ingredients
To make hibachi fried rice, you'll need:
White rice
Water
Sesame seeds
Butter
Onion
Carrots
Scallions
Garlic butter
Vegetable oil – canola oil is preferred.
Eggs
Soy sauce
Salt
Pepper
To make the garlic butter, mix half a stick of butter, one bulb of roasted garlic (or a teaspoon of garlic powder), and a half tablespoon of soy sauce.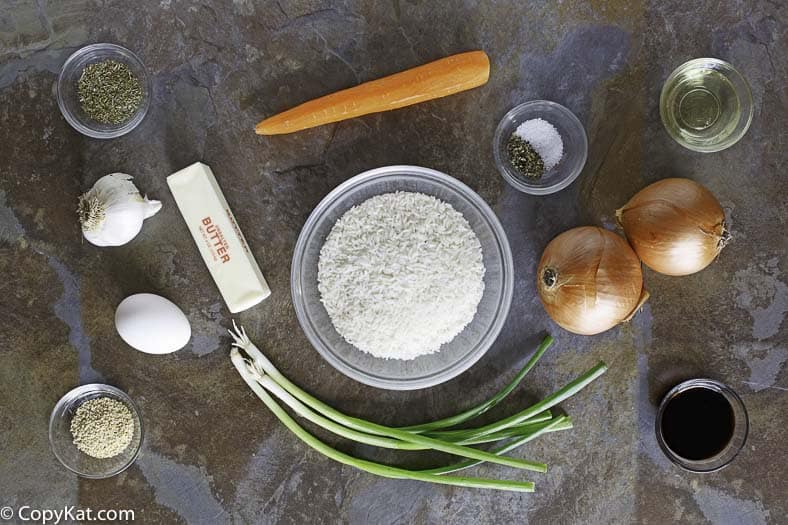 How To Make Benihana Fried Rice
To make fried rice like they do at Benihana:
Cook the rice, preferably the day before you make the fried rice. Fluff the rice and spread it on a baking tray to cool at room temperature. Store in the fridge in a covered container until you need it.
Preheat the oven to 350 degrees.
Toast the sesame seeds in the oven until light brown and fragrant, about 10 minutes. If in doubt, take them out. Sesame seeds can burn quickly.
In a large frying pan or wok over medium-high heat, melt the unflavored butter.
When the butter stops foaming, add the carrots and cook for a minute. Then add the onions and cook until they are transparent.
Toss the scallions with the other vegetables and heat through.
Spread the cooked vegetables on a plate to allow them to cool.
Heat a clean, large pan with a heavy bottom over medium heat.
Add vegetable oil to the hot pan and cook the eggs until they are set but still shiny.
Dump in the cooked, cold rice. Mix well.
Add the garlic butter and the cooked vegetables to the pan.
Stir to combine. When all the ingredients are hot, transfer to a serving platter.
Add-ins for Benihana Fried Rice
Feel free to add protein to the dish. Beef, chicken, and shrimp are great, but you can also use tofu to keep the dish vegetarian.
For this recipe, you need to cook the protein separately. Add the protein when you return the cooked veggies to the pan in step 11. No matter what you add in, I know you are going to find this the perfect copycat recipe.
Serving Suggestions for Benihana Rice
Hibachi fried rice is a great side dish for any Asian-inspired meal without additional protein. Try pairing it with Sweet and Sour Chicken or Spicy Asian Chicken Wings. With protein, this recipe makes a light meal on its own.
Benihana Rice Recipe FAQ
What Is the Difference Between Fried Rice and Hibachi Fried Rice?
Besides the fact that Benihana chefs cook the restaurant's fried rice on a teppanyaki grill and not in a wok, there are other differences.
Ingredients-wise, the Benihana Fried Rice recipe uses a lot of garlic butter, one of the biggest secrets to the dish's unique flavor.
In addition, since the teppanyaki grill doesn't get as hot as a wok, the dish doesn't have wok heir, or the "breathe of the wok," that slightly charred flavor that comes from cooking on very high heat.
What Kind of Cooking Oil Do They Use at Benihana?
At Benihana, they use safflower oil. Safflower oil has no taste and a very high smoke point, an ideal combination for cooking fried rice.
What Type of Rice Do They Use on a Hibachi?
You can use any long-grain rice, but basmati rice is a favorite. Just like any other fried rice recipe, you should use day-old rice.
If you don't have time to cook the rice the day before, you can make it an hour or two before cooking the fried rice. Once cooked, spread the rice out on a rimmed baking tray, and put it in the fridge until chilled. To prevent clumping, use your fingers to separate the grains of rice as much as possible before chilling.
How To Store Leftover Fried Rice
You can store extra fried rice in the fridge for up to five days. Let it cool and put it in a container with a cover.
You can freeze fried rice for up to three months in the freezer. Spread out the room temperature rise on a baking tray. Stick it in the freezer for about two hours or until frozen. Transfer to a freezer-safe container.
To reheat the Benihana Fried Rice straight from the fridge or the freezer:
The easiest method is using the microwave. Cook on HIGH for 3 minutes and stir it. Heat in one-minute increments until the rice is hot enough for you.
You can also reheat fried rice in a pan over medium heat. Add a little oil to the hot pan and pour in the rice. Use a spatula to stir. Cook until hot and serve.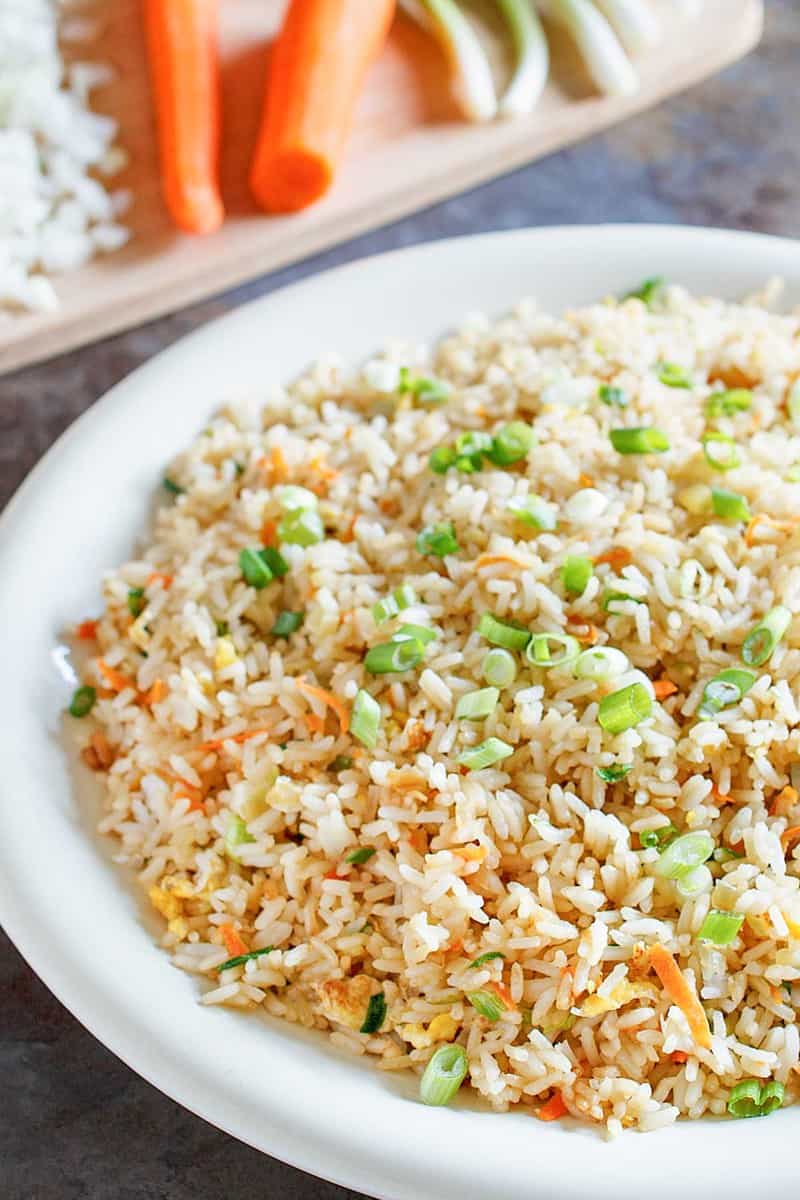 Recreate a Japanese Steakhouse at Home with These Recipes
Best Chinese Recipes
Be sure to take a look at more of my side dishes at restaurants and the best copycat recipes.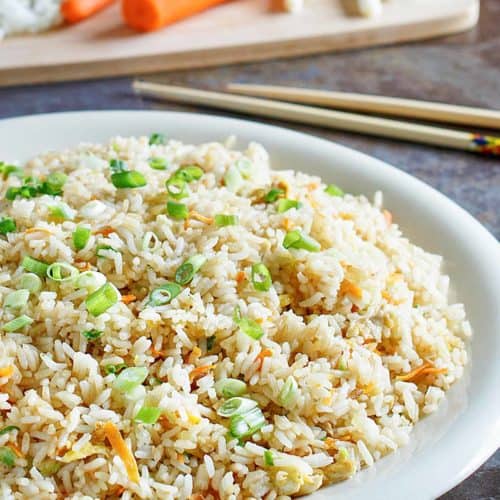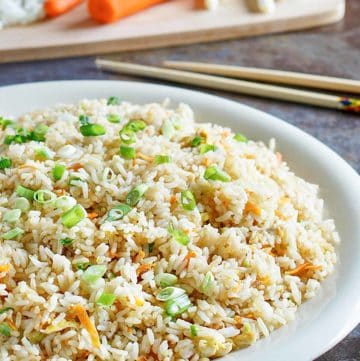 Ingredients
1

cup

white rice

2

cups

water

3

tablespoons

sesame seeds

5

tablespoons

butter

1

cup

chopped onion

1

cup

chopped carrots

2/3

cup

chopped scallions (green onions)

3

tablespoons

garlic butter

5

eggs

beaten

5

tablespoons

soy sauce

salt and pepper to taste
Instructions
Preheat the oven to 350 degrees F. Cook the rice in the water according to package directions. For best results, spread the cooked rice in a shallow metal pan and stick it in the freezer to cool quickly. Do not let it freeze, though. If you don't have time to chill the rice, just spread it out so it cools completely.

While the rice is cooking and cooling, spread the sesame seeds in a shallow baking pan. Bake until golden brown, 10 to 15 minutes, shaking pan occasionally for even color. Remove from the oven.

Melt the butter in a large skillet. Add the onions, carrots, and scallions. Cook, stirring from time to time, until the onions are translucent. Remove from the heat and set aside. Heat another large skillet or a wok if you have one. Add a splash of oil and swirl it around. Pour the eggs into the hot skillet. Cook as you would scrambled eggs. When the eggs are barely done, add the vegetables, rice, 2 tablespoons of the garlic butter (you can add more if desired) and sesame seeds and sprinkle with the soy sauce. Stir-fry until everything is mixed and hot. Season with salt and pepper to taste.
Nutrition
Calories:
530
kcal
|
Carbohydrates:
48
g
|
Protein:
14
g
|
Fat:
31
g
|
Saturated Fat:
16
g
|
Cholesterol:
264
mg
|
Sodium:
1570
mg
|
Potassium:
411
mg
|
Fiber:
3
g
|
Sugar:
4
g
|
Vitamin A:
6510
IU
|
Vitamin C:
8
mg
|
Calcium:
149
mg
|
Iron:
3.2
mg