Benihana fried rice is so tasty. If you have been to Benihana, you know you should not skip the Benihana fried rice they serve. To me, it is the best menu item of all. With a few simple ingredients, you can make the Benihana fried rice recipe at home. Thankfully there are no exotic ingredients in this recipe. You can find everything you need at home.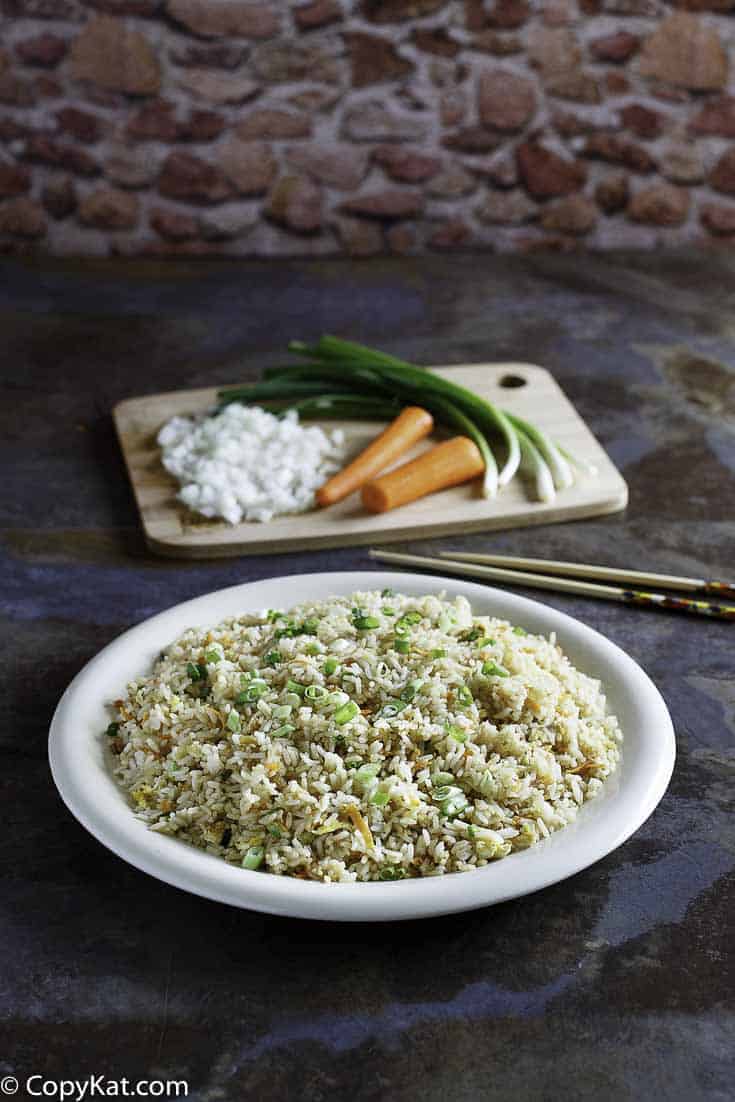 Benihana has delicious fried rice, you can get it prepared with chicken or plain. It is up to you. In fact, it is one of my favorite menu items at Benihana. This is made with basic ingredients you are bound to have at home. You will need rice, butter, safflower oil, carrots, onions, soy sauce, and garlic. This rice is irresistible.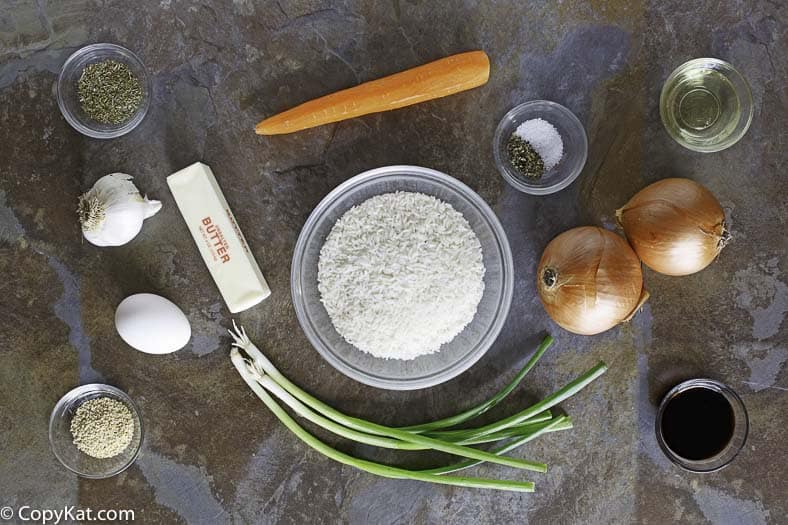 You can enjoy this special dish at home.  It is easy to recreate this dish at home.  You will need to have some rice cooked beforehand.  I like to make extra rice, and then use leftover rice to prepare this dish.   This dish uses fresh green onions and carrots. Nothing tastes as good as freshly prepared food. You may want to serve this dish with my Sweet and Sour Chicken, it would make a great side dish.
Recreate a Japenese Steakhouse at home with these recipes
Best Chinese Recipes
Be sure to take a look at more of my side dishes at restaurants and the best copycat recipes.
Ingredients
1

cup

white rice

2

cups

water

3

tablespoons

sesame seeds

5

tablespoons

butter

1

cup

chopped onion

1

cup

chopped carrots

2/3

cup

chopped scallions (green onions)

3

tablespoons

garlic butter

5

eggs

beaten

5

tablespoons

soy sauce

salt and pepper to taste
Instructions
Preheat the oven to 350 degrees F. Cook the rice in the water according to package directions. For best results, spread the cooked rice in a shallow metal pan and stick it in the freezer to cool quickly. Do not let it freeze, though. If you don't have time to chill the rice, just spread it out so it cools completely.

While the rice is cooking and cooling, spread the sesame seeds in a shallow baking pan. Bake until golden brown, 10 to 15 minutes, shaking pan occasionally for even color. Remove from the oven.

Melt the butter in a large skillet. Add the onions, carrots, and scallions. Cook, stirring from time to time, until the onions are translucent. Remove from the heat and set aside. Heat another large skillet or a wok if you have one. Add a splash of oil and swirl it around. Pour the eggs into the hot skillet. Cook as you would scrambled eggs. When the eggs are barely done, add the vegetables, rice, 2 tablespoons of the garlic butter (you can add more if desired) and sesame seeds and sprinkle with the soy sauce. Stir-fry until everything is mixed and hot. Season with salt and pepper to taste.
Nutrition
Calories:
530
kcal
|
Carbohydrates:
48
g
|
Protein:
14
g
|
Fat:
31
g
|
Saturated Fat:
16
g
|
Cholesterol:
264
mg
|
Sodium:
1570
mg
|
Potassium:
411
mg
|
Fiber:
3
g
|
Sugar:
4
g
|
Vitamin A:
6510
IU
|
Vitamin C:
8
mg
|
Calcium:
149
mg
|
Iron:
3.2
mg