Making Egg Foo Young at home is easier than you might have ever imaged. Arm yourself with eggs, some fresh veggies, and your favorite meats, and you will soon be making delicious take-out style egg foo young at home. No need to head out to a Chinese restaurant when you can cook so well at home.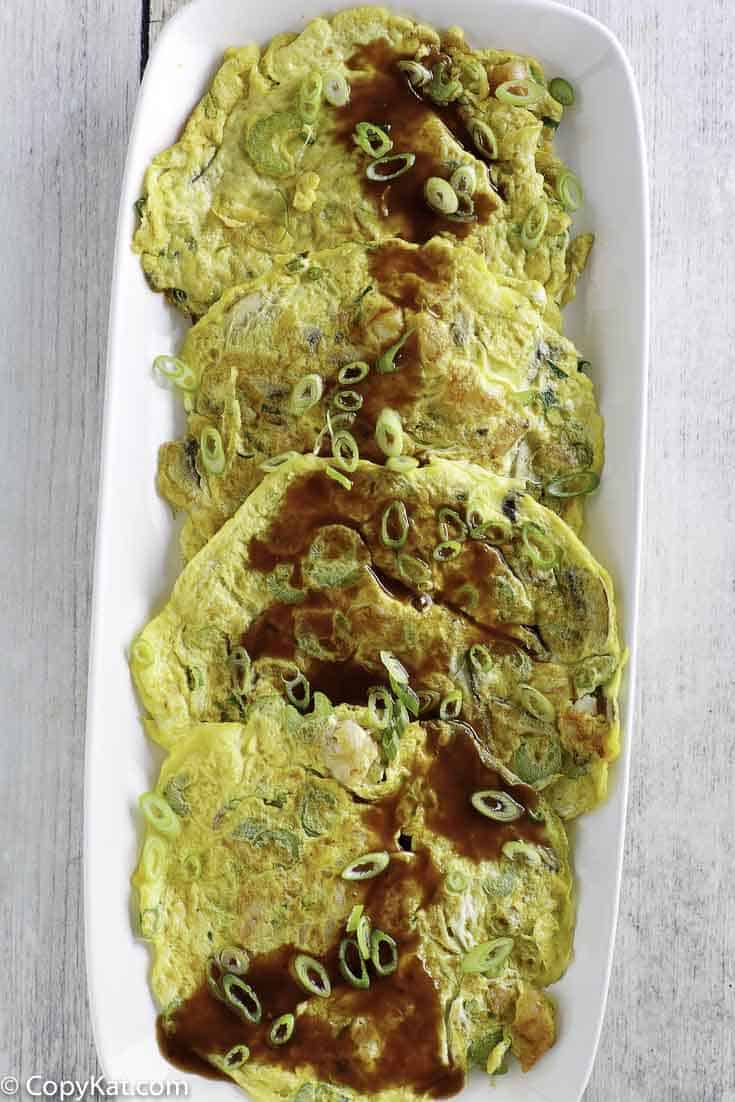 One of the best parts of making copycat recipes is you get to enjoy some of your favorite Chinese take out recipes like Cream Cheese Wontons, Chinese Spare Ribs, and Broccoli Beef. So wanting to grow your take-out food repertoire, let's add Egg Foo Young to your recipe war chest!
History of Egg Foo Young
This omelet style of a dish can be found in the Chinese American, Chinese British, and Chinese Indonesian cuisine. Like many dishes, this one has been adapted and changes depending upon where it is served. Interestingly this dish has many different spellings, you might see it on the menu as egg fooyoung, egg fu yung, egg foo yong, or even egg fu yung.
What is common is that egg foo young is served with fresh vegetables like bean sprouts, spring onions, mushrooms, cabbage, water chestnuts. Often this is served with meat like Chinese sausage, chicken, shrimp, or pork. So this is the perfect dish because you can adapt it to what you have on hand.
In the 1930s as Chinese American food was becoming popular and growing, a rich brown gravy began to be served with the egg foo young. This gravy is rich and full of umami.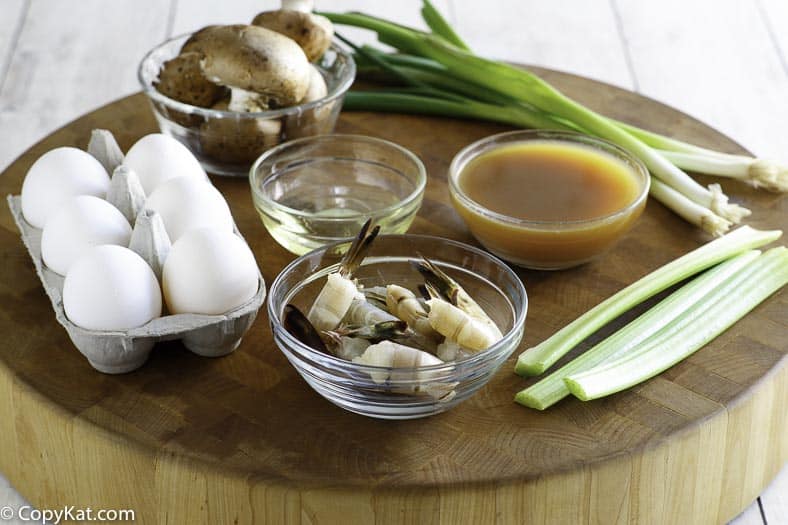 So Versatile – Customize to what you have on hand
This recipe is a great way to use up what's on hand, don't be limited by the ingredients that are suggested here, you can use a variety of fresh vegetables like:
Celery
Chinese Cabbage
Cabbage
Carrots
Spring Onions
Onions
Peas
Corn
Bean Sprouts
Now if you want to make the dish more hearty, you could add all sorts of meats like:
Chinese sausage
Cooked Chicken
Roasted Pork
Crab Meat
Shrimp
Lobster

Top off Egg Foo Young with Rich Gravy and Sliced Green Onions
The gravy served with this recipe is super easy to make. So don't go without the gravy to go with your homemade egg foo young!
To make your dish complete also top off your creation with slices of green onion. No one will know you didn't call for takeout on this recipe.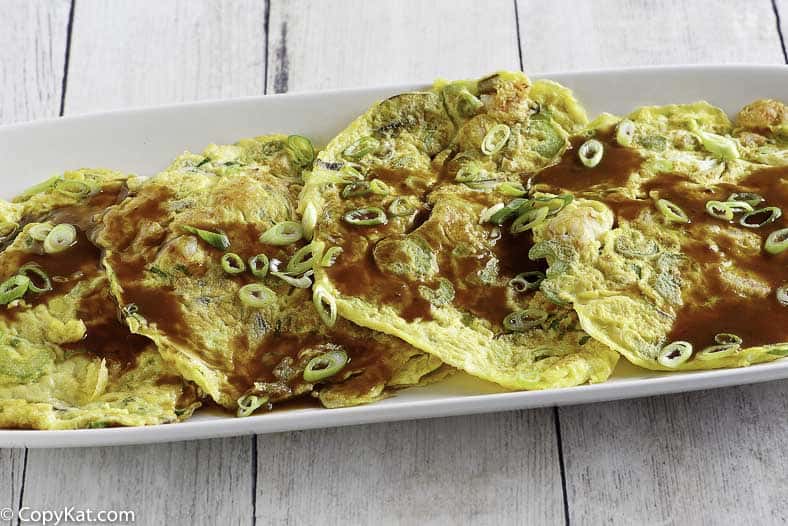 Looking for more Chinese American take-out favorites? Try these recipes
Chinese Sauce Recipes
Be sure to check out more of my easy Chinese food recipes and favorite copycat recipes.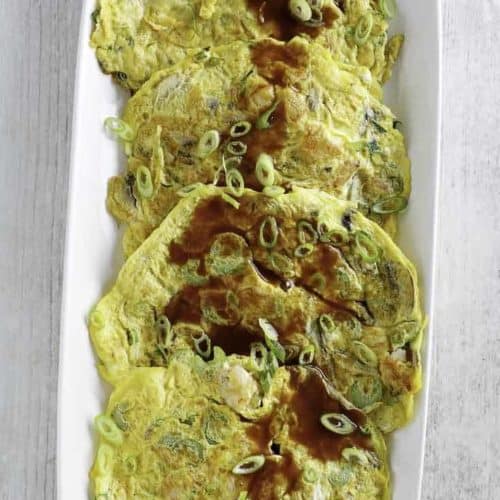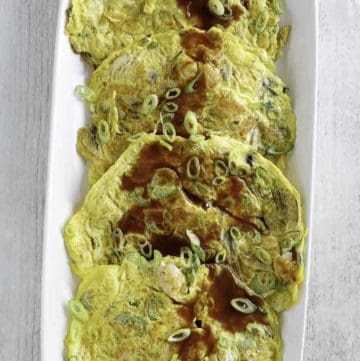 Ingredients
Egg Foo Young Gravy
1/2

cup

chicken stock

1

tablespoon

oyster sauce

1/4

teaspoon

sugar

1

teaspoon

soy sauce

1 1/2

teaspoons

cornstarch

4

teaspoons

water
Egg Foo Young
6

large

eggs

1/2

cup

cooked chicken or shrimp

1/2

cup

thinly sliced celery

1/2

cup

thinly sliced mushrooms

1/2

cup

thinly sliced green onions

whites only

1/4

cup

thinly sliced green onion tops

greens only

1/4

teaspoon

sesame oil

1

teaspoon

light soy sauce

Vegetable oil for frying
Instructions
Egg Foo Young Gravy
Make the sauce by combining the chicken stock, oyster sauce, sugar, and sauce in a small pan over medium heat. Cook until warm and bubbly.

Prepare cornstarch slurry by combining the cornstarch and water together in a small bowl. Stir to combine.

Add in the cornstarch slurry and stir until the sauce thickens. Turn off the heat.
Egg Foo Young
To make the egg foo young, in a large bowl add the eggs. Beat eggs together until the whites break down completely.

Stir in the cooked chicken or cooked shrimp, celery, mushrooms, sliced green onion whites, soy sauce, sesame oil into the egg mixture, and stir well.

In a heated wok add about a tablespoon of vegetable oil into the base. When the oil is hot stir it around coating the sides. Pour about a half cup of the egg foo young batter into the pan.

The eggs should bubble up when the batter is poured into the pan. Stir the uncooked eggs gently to the sides of the pan so they cook. The egg foo young will cook for about 2 minutes before you will need to flip the eggs to the other side.

Gently flip the egg foo young to the other side, and cook for another 2 to 3 minutes, or until this is a golden brown color.

Serve with brown gravy and top with green onion slices.
Nutrition
Calories:
289
kcal
|
Carbohydrates:
5
g
|
Protein:
13
g
|
Fat:
23
g
|
Saturated Fat:
4
g
|
Cholesterol:
322
mg
|
Sodium:
473
mg
|
Potassium:
284
mg
|
Fiber:
0
g
|
Sugar:
1
g
|
Vitamin A:
705
IU
|
Vitamin C:
4.2
mg
|
Calcium:
66
mg
|
Iron:
1.9
mg