Copycat Panda Express Honey Walnut Shrimp is one of the most popular menu items at Panda Express. You can recreate this dish at home with this copycat recipe.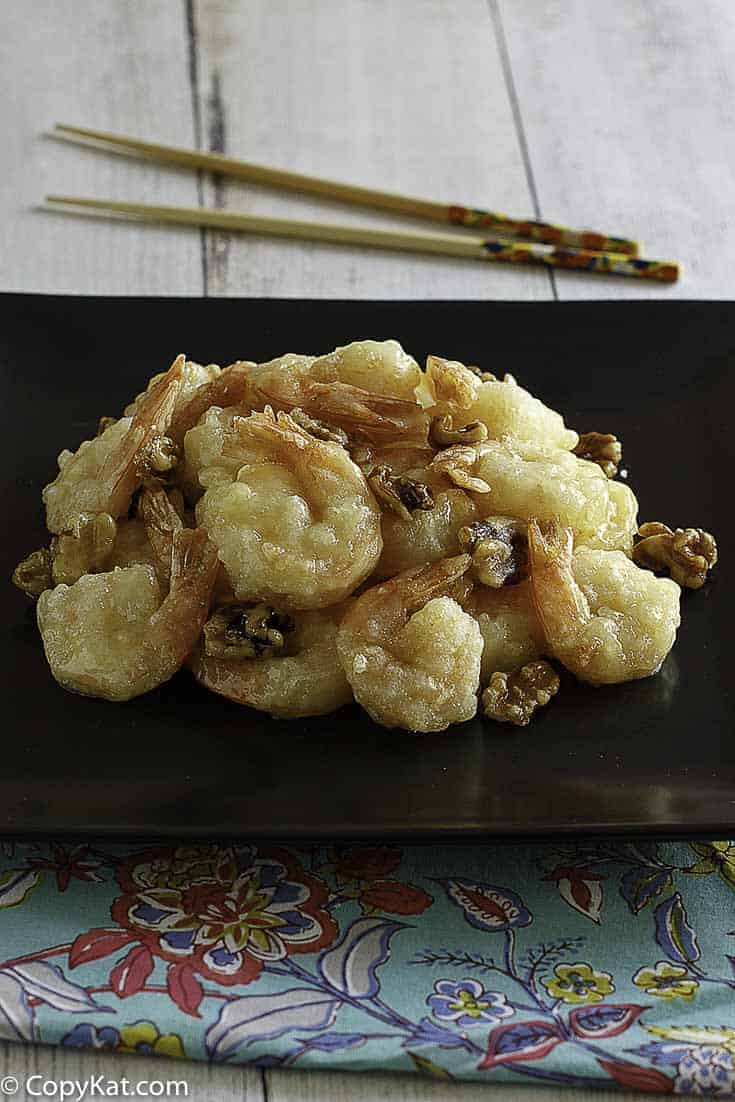 Do you love Panda Express Honey Walnut Shrimp? You really can make it at home. Best of all you can double or even triple this recipe so everyone has the portion they wished was served in the restaurant.
If you have never tried this the dish before you have been missing out on a wonderfully sweet and crunchy batter-dipped recipe that you are going to love. Candied walnuts add a really nice touch to the batter-dipped shrimp in a sweet and creamy sauce.
The ingredients are all easy to find at your local grocery store, so in no time at all, you can enjoy this shrimp recipe tonight.
What's in Honey Walnut Shrimp?
The ingredients in the Honey Walnut Shrimp are pretty easy, and in a pinch, if you wanted to leave the walnuts out the shrimp would stand well on its own. First, let me say, the ingredients are not at all traditional Chinese cooking ingredients.
You will need some sweetened condensed milk, lemon juice, honey, mayonnaise, tempura mix, sugar, walnuts, and shrimp. The sauce is made with sweetened condensed milk, lemon juice, honey, and mayonnaise. The sauce is super simple to make!
This post contains affiliate links. As an Amazon Associate, I earn from qualifying purchases.
The shrimp are battered with a standard tempura mix. You can use a store-bought mix or my tempura batter recipe.
I personally fry my shrimp in vegetable oil. For frying most dishes I typically use vegetable oil. You could use peanut oil or another oil for frying. My preference tends to be generic vegetable oil.
I use a deep fryer for this, but you can use a large pot and a candy thermometer to cook your shrimp. Fry your shrimp at 350 degrees Fahrenheit. This is a great temperature for delicate shrimp to cook.
Some recipes are great to make and enjoy the next day, this one is not one of those. I do not like the way it behaves when reheated. I find the sauce soaks into the shrimp, and it just isn't my favorite way to enjoy this Panda Express favorite.
Love Panda Express? Try these copycat recipes!
Popular Asian Food Recipes
Be sure to check out more of my easy Chinese food recipes and the best fast food copycat recipes.
Ingredients
1

cup

walnut pieces

1

cup

water

3/4

cup

sugar

10

ounces

tempura mix

Vegetable

oil,

for frying

1

pound

medium or large shrimp, peeled and deveined, tails removed

1

tablespoon

honey

1

tablespoon

sweetened condensed milk

2

teaspoons

lemon juice

3

tablespoons

mayonnaise
Instructions
Place the walnuts in a saucepan with water and sugar. Cook over medium to medium-high heat until the sugar begins to brown. Line a rimmed baking sheet with parchment paper or aluminum foil and pour the walnuts onto the paper or the foil and let dry for 20 to 25 minutes, spreading them out with a fork so they don't touch each other. When the walnuts are almost dry, begin to prepare the tempura according to the package directions.

Add enough oil to a pan to cover the bottom 2 to 3 inches; heat the oil to 350 ºF. Dip the shrimp into the tempura batter, covering the shrimp completely. Drop into the hot oil a few at a time and gently toss to make sure the shrimp cook evenly on all sides and they don't stick together. Scoop out any batter that floats away from the shrimp to keep the oil from breaking down. Remove the shrimp after about 2 minutes and transfer to a wire rack to drain.

To make the sauce, whisk together the honey, sweetened condensed milk, lemon juice, and mayonnaise. When all the shrimp are cooked, place it in a bowl and drizzle on the sauce. Stir to coat the shrimp, but be careful not to break off the crust. Sprinkle the candied walnuts over the shrimp and serve immediately. This recipe should be eaten in one sitting – this recipe does not reheat or freeze well.
Nutrition
Calories:
708
kcal
|
Carbohydrates:
69
g
|
Protein:
33
g
|
Fat:
34
g
|
Saturated Fat:
4
g
|
Cholesterol:
342
mg
|
Sodium:
1316
mg
|
Potassium:
379
mg
|
Fiber:
3
g
|
Sugar:
45
g
|
Vitamin A:
190
IU
|
Vitamin C:
6.4
mg
|
Calcium:
360
mg
|
Iron:
4.2
mg