You can make this classic egg drop soup found at most Chinese restaurants.  It is very easy to make, and best of all you do not even need to leave the house.  For more great Chinese restaurants check out The Thousand Recipe Chinese Cookbook by Gloria Bley Miller


Egg drop soup is a classic Chinese soup that is found at most Chinese restaurants. It features delicate strands of eggs floating around in a light, savory broth and is sometimes called egg "flower" soup for how the strands of eggs look like flower petals.
What is Egg Drop Soup made of?
This copycat Chinese soup recipe is made with chicken broth, eggs, sesame oil, green onion, and white pepper. It's so easy to make this soup – if you can boil water and scramble eggs, you can make egg drop soup. And, the best thing is that you do not even need to get in your car and drive to a Chinese restaurant.
You will be so excited to find out how simple it is to create this delicious soup, and, trust me, you will be making it a lot! It's a soup I turn to when I need something light, comforting, and warm. All you need to make this copykat egg drop soup recipe is about 15 minutes (tops) in your kitchen, a few simple ingredients, and a quick tip for how to drizzle those magical egg ribbons.
Making the perfect bowl of soup
Once your stock has come to a low simmer, use a whisk or fork and begin stirring the stock round and round to form a slow "whirlpool." Then gradually and gently drizzle in the eggs as you continue to stir. The eggs will turn into those beautiful little ribbons right before your eyes.
You might want to create that Chinese restaurant feel by serving your Chinese soup in pretty Chinese soup bowls and using Chinese soup spoons. And, don't forget the fortune cookies! You can amaze your family by creating your own customized messages.
Here's a main course to follow your egg drop soup.
– Chinese Imperial Palace General Tsos Chicken
And, two copykat Chinese Imperial Palace condiment recipes.
– Chinese Imperial Palace Chinese Mustard
– Chinese Imperial Palace Sweet and Sour Sauce
Two other links you might like.
– The WokLife Traditional Chinese Soups
– Family Style Chinese Cookbook: Authentic Recipes from My Culinary Journey Through China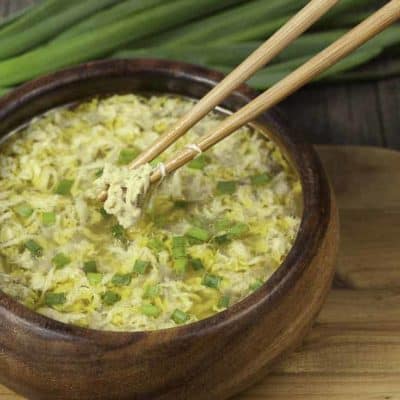 Ingredients
6

cups

chicken broth

1

egg

lightly beaten with 1 teaspoon sesame oil

1/4

teaspoon

white pepper

4

sliced green onion tops

salt to taste
Instructions
Bring the broth to a simmer over low medium heat. Very slowly stream in the egg, use a fork to pull strands of the egg gently. Do not stir vigorously; you will have a mess if you do. Add white pepper and salt. Continue to cook until egg is done. Serve promptly.
Nutrition
Calories:
18
kcal
|
Carbohydrates:
1
g
|
Protein:
1
g
|
Fat:
0
g
|
Saturated Fat:
0
g
|
Cholesterol:
20
mg
|
Sodium:
653
mg
|
Potassium:
165
mg
|
Fiber:
0
g
|
Sugar:
0
g
|
Vitamin A:
90
IU
|
Vitamin C:
13.4
mg
|
Calcium:
18
mg
|
Iron:
0.5
mg