Denny's French Toast is a favorite French Toast of so many people. You can recreate the famous French Toast at home.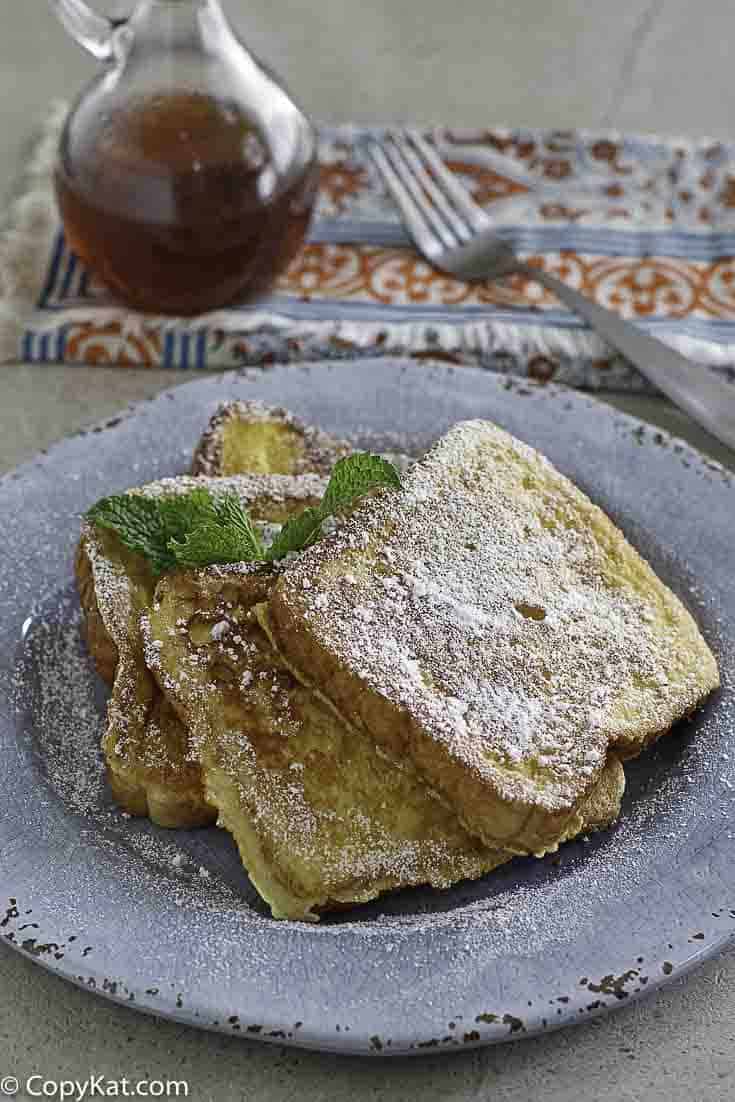 From Danny's Donuts to Denny's
In 1953, Harold Butler and a partner opened a donut stand and named it Danny's Donuts. Butler made a promise: "To serve the best cup of coffee, make the best donuts, give the best service, offer the best value, and stay open 24 hours a day." That one donut stand has been transformed into a restaurant chain with a slightly different name. There are now more than 1,700 Denny's, and each one is dedicated to keeping Butler's original promise. To read more about Denny's, click here.
America's Diner
Denny's is America's diner. It's a homey place where you can sit back, relax and enjoy delicious, hearty breakfast fare and a steaming mug of freshly-made coffee. You can park yourself in a comfortable booth or take a perch at the counter. One of my favorite things to eat for breakfast is French toast, and one of my favorite French toasts is served at Denny's. However, you don't always want to go out for breakfast, so I am going to tell you how to make Denny's French toast at home.
History of French Toast
Practically everyone who likes bread, milk, and eggs, loves French toast. But you may wonder how French toast came about. Contrary to what you might think, French toast was invented long before France existed as a country. This is not surprising as it was probably first created as a way to use up stale bread. The earliest reference to what we now call French toast dates way back to Roman times. If you would to learn more about the history of French toast, click here.
French Toast is Still a Great Way to Use up Old Bread
By old bread, I don't mean bread that is too old! If you have moldy bread, you should just throw it out. Serve this French toast with a few pieces of fresh fruit – blueberries are perfect. If you like this recipe, here's another delicious Denny's breakfast treat that you can try.
Love Denny's? Check out these copycat Denny's recipes
Denny's Pancake Puppies
Denny's Moons Over My Hammy
Denny's Chicken Fajita Breakfast Skillet
Bacon Maple Sundae
Denny's Fried Cheese Melt
Ingredients
4

eggs

2/3

cups

milk

2

tablespoons

all purpose flour

2

tablespoons

powdered sugar

1

teaspoon

vanilla

1/4

teaspoon

salt

8

slices

Texas Toast bread
Instructions
In a medium-size bowl beat together the eggs and the milk. Then beat

flour, powdered sugar, vanilla, and salt into the egg mixture. Strain the custard mixture using a wire mesh strainer into another bowl.

Heat a skillet or a griddle to about 350 degrees. Brush the skillet/griddle with butter. Place the bread into the custard mixture, then flip over the bread, and then place the bread onto the hot cooking surface. Cook for 1 to 2 minutes on each side. The bread should be golden in color when cooked through. Remove from skillet. Cut the toast diagonally, and sprinkle with powdered sugar, and top with butter.
Nutrition
Calories:
252
kcal
|
Carbohydrates:
33
g
|
Protein:
11
g
|
Fat:
7
g
|
Saturated Fat:
2
g
|
Cholesterol:
167
mg
|
Sodium:
471
mg
|
Potassium:
171
mg
|
Fiber:
1
g
|
Sugar:
8
g
|
Vitamin A:
305
IU
|
Calcium:
201
mg
|
Iron:
2.7
mg