There's something fun about strawberry pop tarts. Unwrapping those foil pouches, placing them in the toaster, and impatiently waiting for that enticing aroma to waft through the kitchen and for them to pop up. They always bring me back to when I was a kid. Pop tarts were a breakfast favorite of mine growing up. Warm, sweet, and crunchy.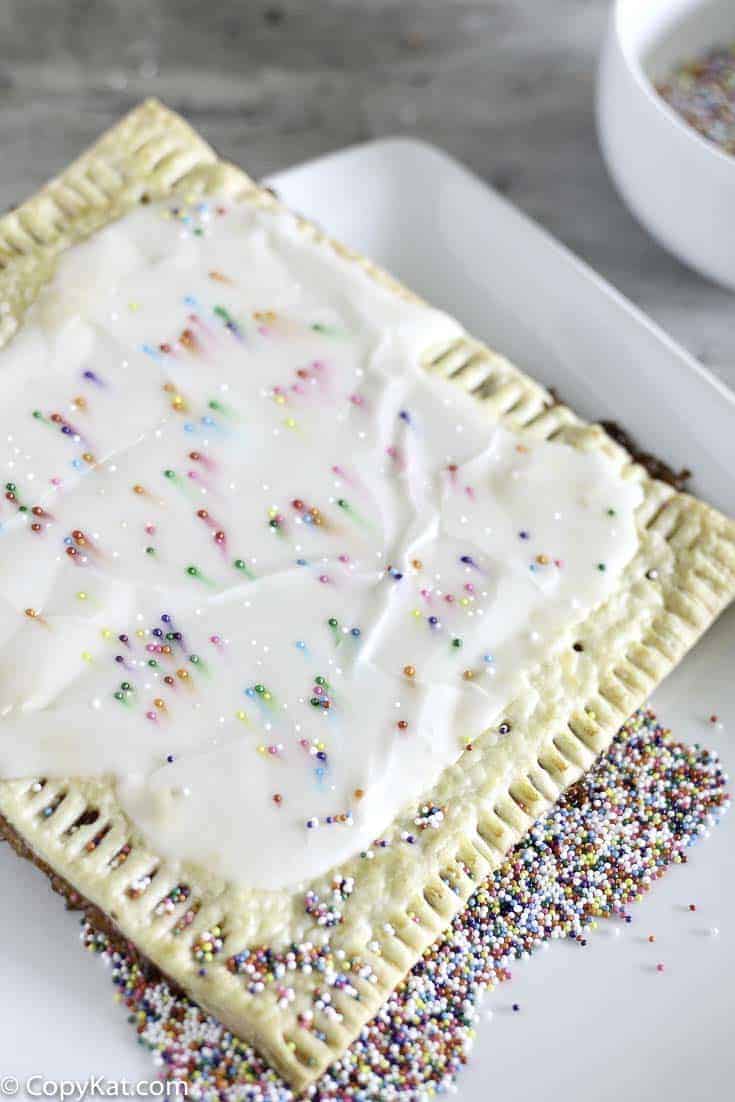 So I thought, why not super-size this classic breakfast favorite by making a giant pop tart? After all, if small pop tarts are good, giant homemade pop tarts must be even better, right?
This homemade strawberry pop tart has all the flavors of a classic pop tart; it's just bigger and tastier! You get a golden crust with a sweet strawberry filling finished off with a vanilla glaze and multi-colored sprinkles. If you prefer an unfrosted pop tart, you can just omit the vanilla glaze. Slice it up and share this giant pop tart for brunch with your friends.
Make Your Own Strawberry Jam
If you want to make your own strawberry jam, you will need to get that true pop tart thickness for the filling. This means cooking down the strawberries a lot. Your jam needs to be thick enough so it doesn't spread and seep out through any small fissures in the pop tart pastry.
You can use fresh strawberries, but I highly recommend using frozen strawberries for the best taste. When your jam is cool, it should be thick and pour out slowly from your bowl, but not so thick that it is practically solid.
Tips For Making the Best Giant Homemade Pop Tart
Prepare your pastry dough per my instructions and then pop it into the freezer for at least 15-20 minutes. This will make it easier to handle the top layer without breaking it.


Punch lots of holes in the top pastry before baking (see my instructions). If you only make a few holes to let steam escape, your pastry will puff up too much. The more holes the better in this case.

Lastly, I recommend using a pizza stone under your baking sheet if you have one. I find this helps to get the bottom crust nice and crispy. If you don't have a pizza stone, you can use another baking sheet. Place this second sheet in the oven to heat up before placing the baking sheet with the pop tart on top.

Click here

for some more ways to use a pizza stone that you've probably never thought of.
Need more pie in your life? Here are some other copykat pie recipes you could make for your brunch (or any other time you need a delicious dessert).
How to Make a Homemade Strawberry Pop Tart
This strawberry pop tart is much better than a traditional pop tart. By its giant nature, you won't feel cheated that there isn't enough filling. And, this tart doesn't need an extra trip through the toaster! It's what all pop tarts should be, only better because of its giant proportions.
My favorite way to serve this homemade strawberry pop tart? Leave it on the table and let everyone take pieces as they please! Let me know how everyone likes your giant pop tart.
Don't want to super size this breakfast toaster pastry?
You don't have to. Cut the large square into six pieces. Then bake for 20 to 25 minutes or until golden brown.
Ingredients
2

pie crusts

found in the refrigerator section of the grocery store

1

egg

1 1/2

tablespoons

whole milk

3/4

cup

strawberry jam

1

tablespoon

cornstarch

1

tablespoon

cold water
Poptart icing
1

cup

powdered sugar

2

tablespoons

water

1/4

teaspoon

vanilla

multi-colored sprinkles
Instructions
Preheat oven to 350 degrees. Line a baking sheet with parchment paper.

Roll out the pie crusts, and cut each sheet into a square.

Poke holes into one of the squares for venting, you could use a small frosting tip, or you can use a toothpick.

Lay the square without holes on the parchment-lined baking sheet.
Filling
In a large bowl add your jam, water, and corn starch, and microwave for 30-second intervals until smooth and well combined. Stir frequently. You can also do it stovetop by adding your water and corn starch to a pot, and heat until well combined. Add in your strawberry jam, and heat and stir until well combined and smooth.
Poptart assembly
Make an egg wash by combining 1 egg white, and 1 1/2 tablespoons of milk. Brush the egg wash over the

Brush the square on the baking sheet with the egg wash.

Add the filling to the square on the baking sheet.

Top with the pie crust with holes. Gently press the edges together. Trim and seal by using a pizza cutter to square up any uneven edges. Use a fork to crimp the edges together. This will seal in the jam.

Brush the top of the poptart with egg wash.

Bake at 350 degrees for 30 minutes or until pale golden brown. Remove from oven and allow to cool until just barely warm.
Frosting Instructions
In a small bowl combine powdered sugar, 1 1/2 tablespoons of water and vanilla. Stir until well blended.

Gently pour frosting over the pop tart. Add sprinkles and serve.
Nutrition
Calories:
189
kcal
|
Carbohydrates:
31
g
|
Protein:
2
g
|
Fat:
6
g
|
Saturated Fat:
2
g
|
Cholesterol:
11
mg
|
Sodium:
103
mg
|
Potassium:
39
mg
|
Fiber:
1
g
|
Sugar:
16
g
|
Vitamin A:
16
IU
|
Vitamin C:
1
mg
|
Calcium:
11
mg
|
Iron:
1
mg