Sloppy joes are meaty sandwiches that your whole family will love. These hearty sandwiches are the perfect quick and easy weeknight dinner. You can have dinner on the table in about 20 minutes!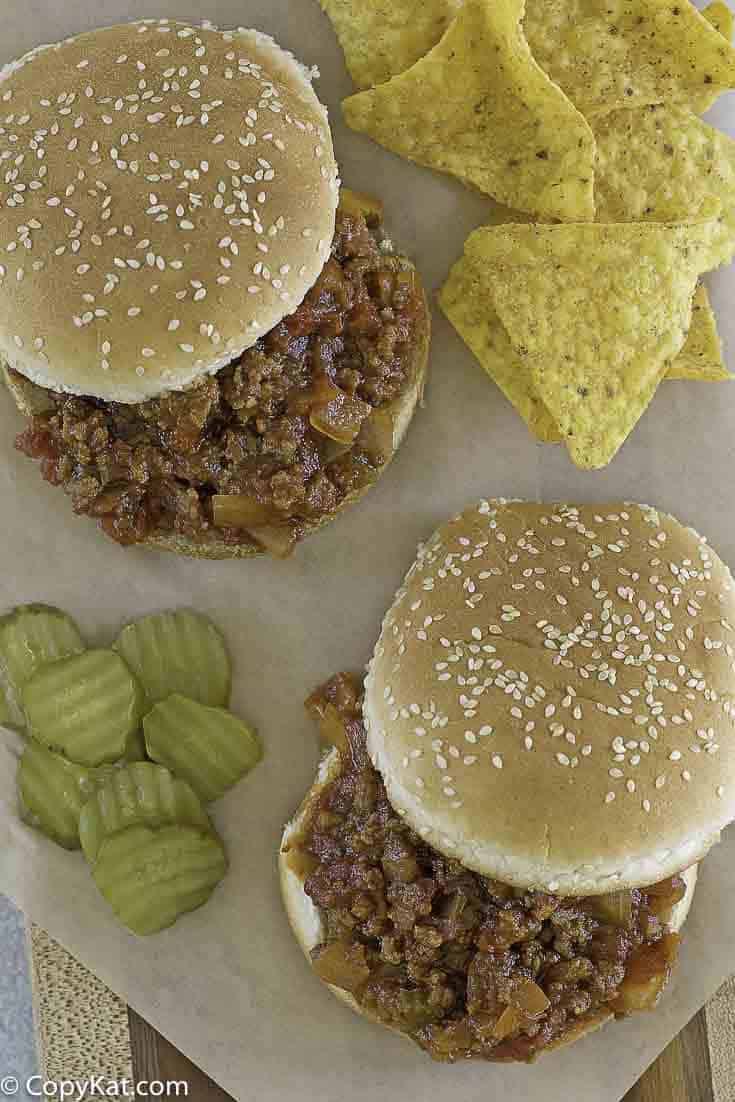 From the lunchroom to the dining room, there are few sandwiches that bring more smiles to the faces of both the young and the young-at-heart than Sloppy Joes. The rich, sweet, and tangy combination of spiced tomato sauce and well-seasoned ground beef has made this easy-to-prepare meal a favorite go-to for busy cooks across the country.
For anyone who only has memories of the overly-sweet Sloppy Joes served on cheap gummy rolls at their grade school cafeteria, it is time to take another bite of this American classic.
What is With the Name?
Like most iconic dishes, Sloppy Joes have a rich history. But the biggest Sloppy Joe mystery of them all may be what's up with the name?
True, eating a Sloppy Joe may be a bit messy, but that is not how the sandwich got its name, at least according to one version of the story. Legend says the dish originated at the historic Hemingway hangout, Sloppy Joes Key West in the 1930s.
Others believe this just another Key West fable and suggest that the original Sloppy Joe recipe came from a Sioux City, Iowa diner or even Havana, Cuba!
Can't I Just Open a Can?
You probably have seen several brands of canned Sloppy Joe sauce on supermarket shelves. While opening a can, is more convenient than making the sauce yourself, it can't compare in taste or quality of homemade Sloppy Joes. So, skip the can and spend a few extra minutes to make your own delicious and healthy alternative.
A Cook's Tips For Serving Less Sloppy Homemade Sloppy Joes
Remember to drain the grease completely after cooking the ground beef. This will not only make your meal healthy, but also easier to eat. Don't forget to simmer the sauce long enough for it to coat the back of a spoon before adding the drained beef.
Choose the right bun. Skip the prepackaged national brands if you can and instead opt for an oversized fresh-baked kaiser roll. Heartier rolls are better at containing meat.
Toast or grill the hamburger bun to prevent it from falling apart. Spread a little butter on the inside of the buns to make a barrier which will help keep the sauce from soaking into the bread.
Use the bottom of a small, shallow bowl to form a patty of cooked Sloppy Joe meat. Don't compress the meat too much. You still want the meat to be loose.
Place the bottom of the bun on top of the formed patty in the bowl. Put your hand on the bun and turn over the entire bowl. Slowly lift off the bowl, and you have a perfectly portioned Sloppy Joe.
What types of meat can use you in Sloppy Joes?
When you cook at home you can customize the recipe for your personal preference. I recommend using ground chuck for this recipe, you could ground turkey, ground chicken, or lean ground beef. The meat sauce is ideal for leaner types of meat.
Sauce Variations of Sloppy Joes
This recipe is for a traditional Sloppy Joe, but you can vary the recipe a bit. Want a sauce that is a bit smoky? You can add some chipotle, or liquid smoke. Want a little heat? A teaspoon or two of your favorite chili powder will perfect in here. I have added a teaspoon or two of mustard into the sauce, you can use either Dijon or regular yellow mustard. The possibilities are endless to the sauce.
What to serve with sloppy joes?
Of course, you just can't serve a sandwich, here are some side dishes that are also easy, and perfect for sloppy joes.
How to make Sloppy Joes
Making this childhood favorite is easy!! Kick the can to the curb and make this recipe from scratch. You will need to cook the ground beef until is browned, and then you can add in onions and celery to help beef up the recipe.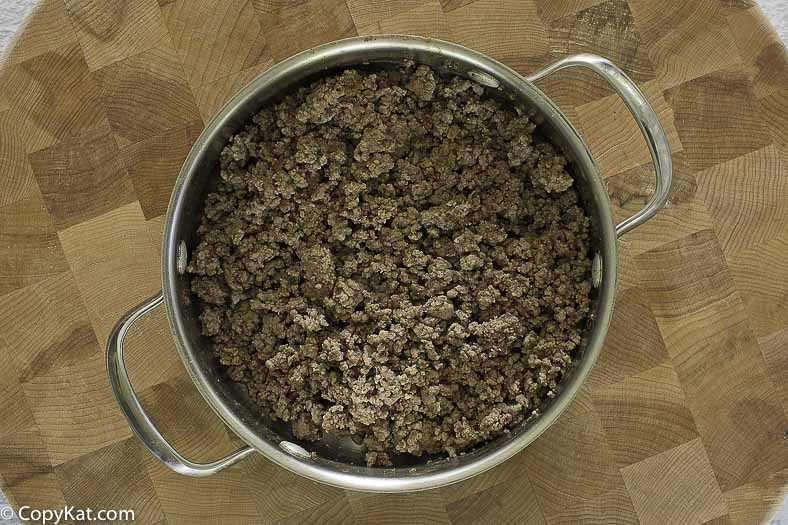 When the beef is just about done you should make the sauce. This sauce is so easy to make.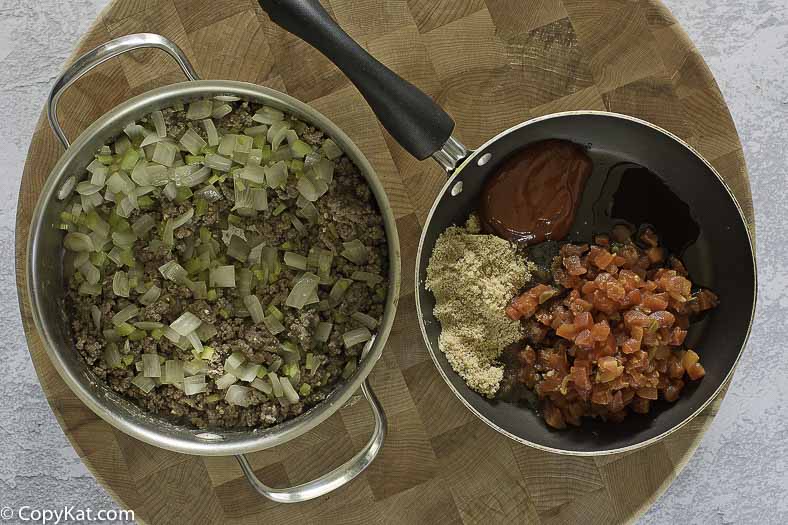 Toast those hamburger buns, and grab the toppings you desire, and you are on your way to one dinner everyone will love.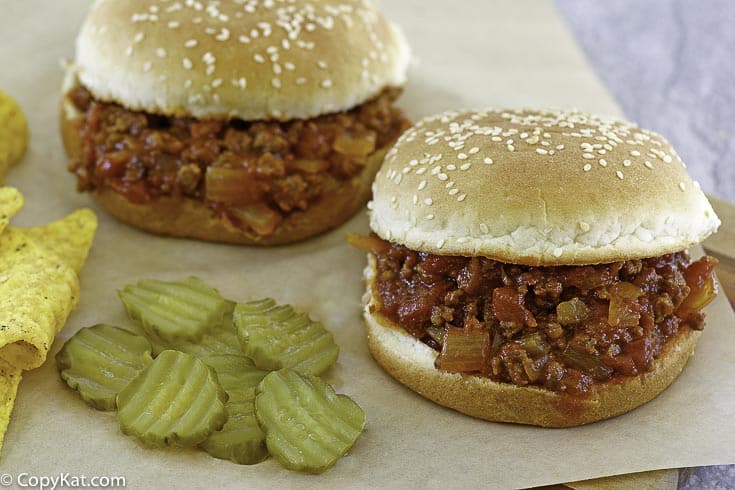 Easy oven roasted potatoes
Coleslaw that keeps
Outback Steakhouse Mac A Roo N Cheese
Check out the following Sloppy Joes recipe to impress your entire family.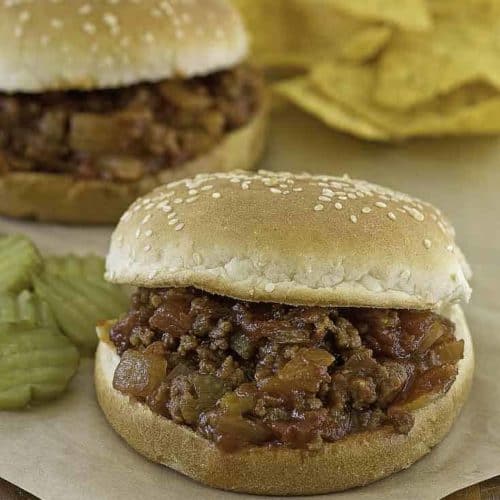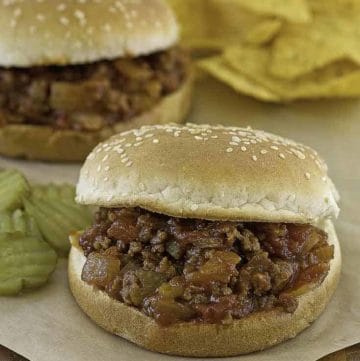 Ingredients
1

pound

ground meat

1

teaspoon

salt

1/4

teaspoon

pepper

3/4

cup

chopped celery

3/4

cup

chopped onion

1

teaspoon

garlic

3

tablespoons

brown sugar

1/4

cup

white distilled vinegar

1/4

cup

ketchup

14.5

ounces

chopped tomatoes

or tomato sauce

2

tablespoons

Worcestershire sauce

8

hamburger buns
Instructions
Sloppy Joe Sauce
Combine in a bowl vinegar, ketchup, tomatoes, brown sugar, and Worcestershire sauce.

Brown ground meat in a skillet over medium heat, stirring constantly. Season with salt and pepper. Cook meat until brown. Drain beef.

Add celery, onion, and garlic, and blend well. Cook celery and until they just being to soften. Add Sloppy Joe Sauce and simmer for 15 minutes.


Spoon over hamburger (toasted if desired) buns.
Nutrition
Calories:
621
kcal
|
Carbohydrates:
65
g
|
Protein:
29
g
|
Fat:
26
g
|
Saturated Fat:
9
g
|
Cholesterol:
80
mg
|
Sodium:
1472
mg
|
Potassium:
828
mg
|
Fiber:
3
g
|
Sugar:
22
g
|
Vitamin A:
280
IU
|
Vitamin C:
15.4
mg
|
Calcium:
232
mg
|
Iron:
6.8
mg