Outback Steakhouse Mac and Cheese is so popular because it's creamy, comforting, and a wonderful side dish for steak and chicken. This copycat mac and cheese recipe is always asked about and requested. It only takes about 30 minutes to make at home.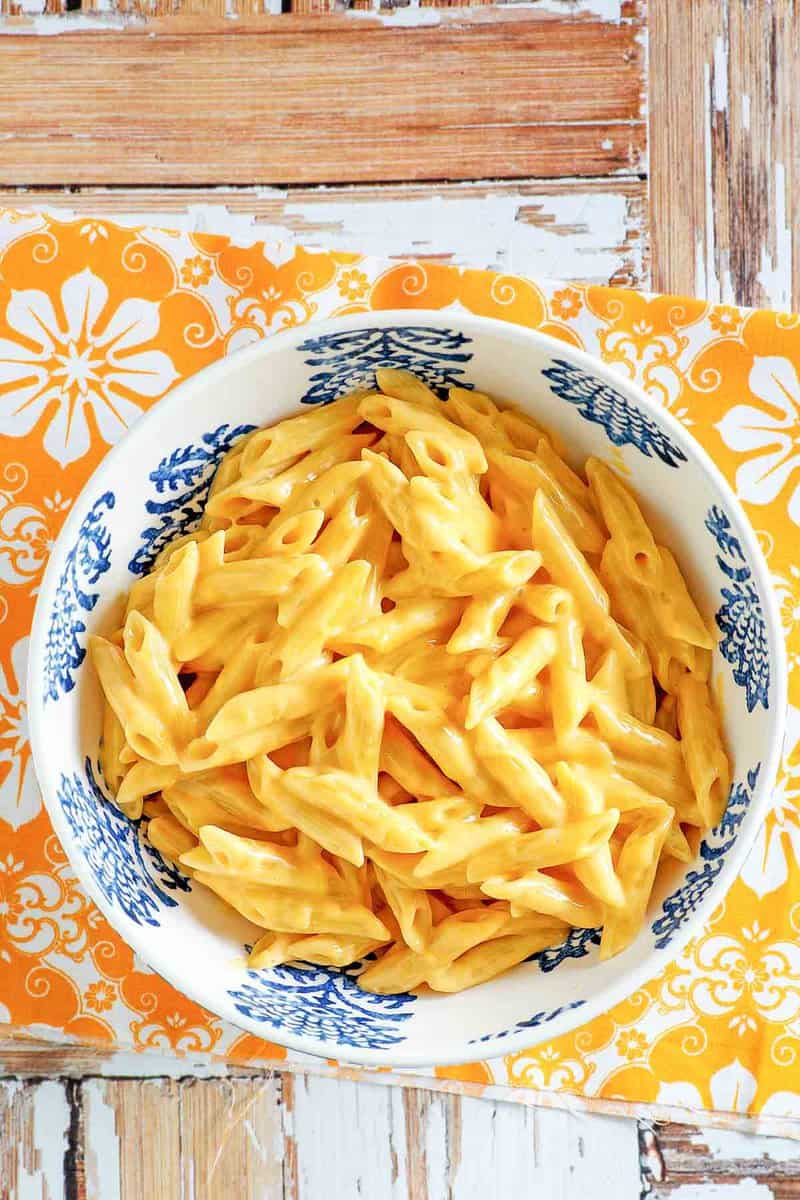 This post contains affiliate links. As an Amazon Associate, I earn from qualifying purchases.
What Makes the Outback Mac and Cheese So Good?
Outback Steakhouse serves many fantastic menu items, so who would order the macaroni and cheese? Plenty of people. And why not, when it tastes this amazingly rich and creamy.
But if you don't want to skip your tried and true favorites on the next visit to the restaurant, try making this Outback macaroni and cheese recipe at home.
Why This Recipe Is the One You Must Try
When it comes to homemade mac n cheese recipes, you can't get any easier than this copycat Outback mac and cheese. By using Velveeta cheese instead of the more traditional shredded cheddar, you don't need to worry about uneven melting. The creamy Velveeta cheese sauce is velvety and coats the pasta nicely.
The heavy cream helps create the ideal consistency for this dish. Once you have tried this recipe, you won't ever want to make boxed mac & cheese again. One bite and you'll taste how good it is!
Outback Steakhouse Mac A Roo and Cheese
If you have ever been to the Outback Steakhouse with kids, you have noticed Mac A Roo and Cheese as one of the kid's menu items. But why should children have all of the fun? When I order takeout, I will always add an order of Mac a Roo so I can have it at home. It's that good.
Outback Mac and Cheese Ingredients
To make steakhouse mac and cheese Outback style, you'll need:
Short Pasta or Macaroni
Velveeta Cheese
Heavy Cream
That's it! You will love this recipe as much as your kids do.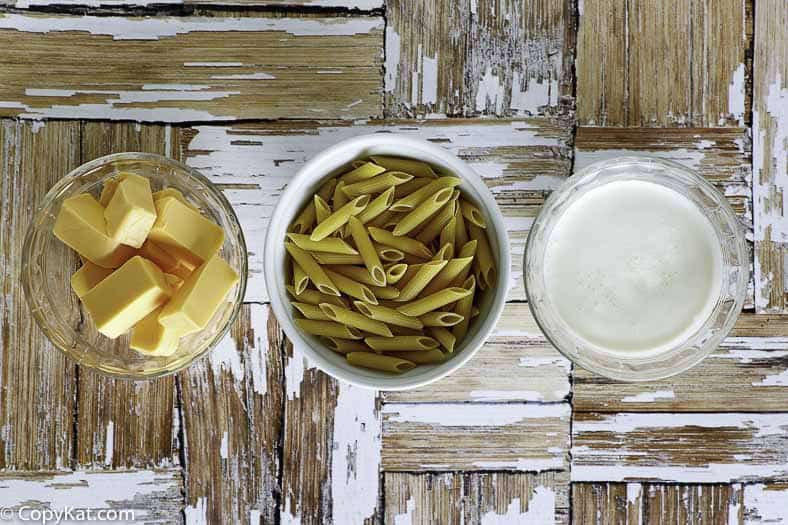 Ingredient Notes
Penne, shells, elbow macaroni noodles, and rigatoni pasta are popular choices, but you can use any short pasta you prefer.
You may want to swap the heavy cream for half-and-half or even milk to save on fat and calories.
How to Make Outback Steakhouse Mac and Cheese
To make Outback Steakhouse mac and cheese:
Bring a large pot of salted water to a rolling boiling.
Cook the pasta according to the package's instructions. You may want to add 30 or 60 seconds to the cooking time since this recipe works best when the pasta is a little softer than al dente.
While the pasta is cooking, chop the Velveeta into small cubes.
Set a small saucepan over low heat on the stovetop to warm.
Add the Velveeta cheese cubes into the saucepan.
Pour in the heavy cream.
Stir or whisk continuously until the cheese fully melts.
Drain the cooked pasta in a colander and return it to the large pot.
Pour the sauce over the pasta and stir to combine.
Serve hot.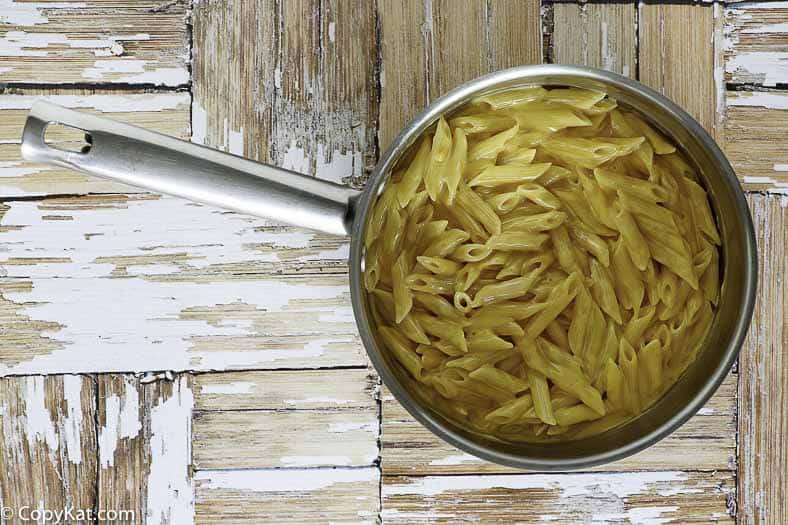 Recipe Notes
Be sure to cut the Velveeta into small pieces to make it easier to melt in the saucepan.
While melting the cheese and heavy cream together, keep the heat on low to prevent it from boiling or burning.
Make a big batch of the Mac and Cheese because it reheats nicely for other meals.
Recipe Variations
When it comes to customization, there are unlimited possibilities for making this dish your own. Get as wildly creative as you want, but here are a couple of easy ways you can adapt the basic recipe:
When you are starving, add a little meat to the recipe to make it a main dish. You can use any precooked meat you have on hand. Add some leftover bacon or sausages from breakfast or any extra cold cuts in the fridge.
Kick the flavor up a notch with a bit of extra seasoning. Hot sauce and chili powder are options. Or take your mac 'n cheese in a new direction with a couple of tablespoons of Pickapeppa or BBQ sauce.
What to Serve with Mac and Cheese
This Outback mac and cheese recipe works as both a side and the main course. Pair with fried chicken or grilled meat for a hearty meal, or enjoy with a side salad or steamed vegetable for something a little lighter
Leftover Mac and Cheese Recipe
Are you wondering what to do with leftover Outback macaroni and cheese? Try making Fried Cheesy Mac Patties:
Form the cold mac and cheese into hamburger-sized patties and place them on a wax paper-lined baking sheet.
Put the tray in the freezer for 20 minutes.
Dip the semi-frozen mac and cheese patties in an egg wash and then coat with Panko breadcrumbs.
Fry in 375°F oil until golden brown, about a minute per side.
Serve with your favorite pasta sauce.
How to Store Mac and Cheese
You can keep Outback Steakhouse Mac and Cheese in an airtight container in the refrigerator for up to five days. If you want to save it for longer, try freezing leftovers for up to three months.
A good hint is putting the mac and cheese in a single-serving microwavable container and then wrapping well in plastic and aluminum foil. Doing this will make the macaroni and cheese much easier to reheat.
How to Reheat Mac and Cheese
The easiest way to reheat this macaroni and cheese is in the microwave.
Add a splash of milk to the thawed mac and cheese and stir. Cover with a paper towel and heat on HIGH for 60 seconds. Stir and check the temperature. If the mac n cheese isn't warm enough, heat for another 30 seconds, and repeat as necessary.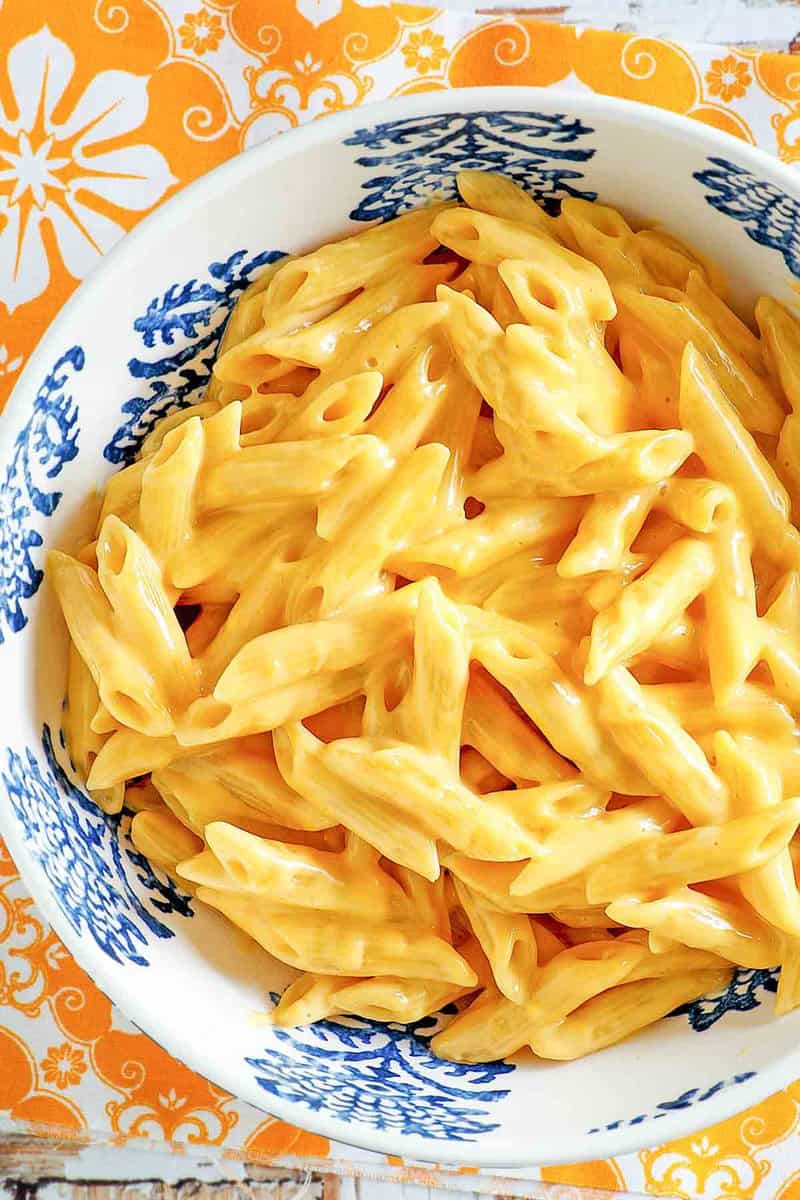 Do you love Outback Steakhouse? Make your favorites at home!
Be sure to check out these copycat Outback Steakhouse recipes that taste just like they do at the restaurant.
More Cheesy Side Dish Recipes
Because everyone loves cheese!
Take a look at more of my copycat Outback Steakhouse recipes and easy side dish recipes too.
What do you like to eat with your Mac 'N Cheese? Let us know in the comments below.
Did you make this recipe? Share it and remember to tag us on Instagram.
Sign up for our newsletter below so you don't miss any copycat recipes!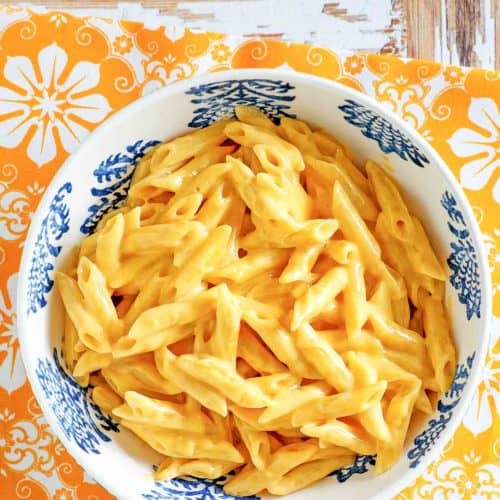 Ingredients
2

cups

dry penne pasta

8

ounce

Velveeta cheese

cut into small pieces

1/2

cup

heavy cream
Instructions
Cook pasta according to package directions.

Cut the Velveeta into small cubes so it can melt easily.

In a small saucepan, combine cubed Velveeta cheese and heavy cream.

Turn the heat to low. Cook and stir until all the cheese is melted.

Reduce the heat to simmer until you are ready to combine with the pasta.

Once pasta is done, drain and pour it back into the pot where it was cooked.

Add the cheese sauce to the pasta and stir to coat the pasta with the sauce.
Notes
Make sure you cut the Velveeta into small pieces to make it easier to melt in the saucepan.
While melting the cheese and heavy cream together, keep the heat on low.  You will not want this to boil or burn.
Make a big batch of the mac and cheese – it will never go to waste and it re-heats nicely for other meals.
Nutrition
Calories:
339
kcal
|
Carbohydrates:
29
g
|
Protein:
15
g
|
Fat:
17
g
|
Saturated Fat:
10
g
|
Cholesterol:
64
mg
|
Sodium:
912
mg
|
Potassium:
284
mg
|
Fiber:
0
g
|
Sugar:
5
g
|
Vitamin A:
995
IU
|
Calcium:
351
mg
|
Iron:
0.5
mg