The Outback Steakhouse Tiger Sauce is an amazing sauce to serve with roast beef. This creamy, slightly hot sauce goes so well with roasted meats.
Outback Tiger Dill Sauce
Whenever I make a prime rib roast, I think of making some of the Outback Steakhouse Tiger Dill Sauce. It is so easy to make, and it adds the right touch to many types of meat.
I like to serve this with corned beef, roast beef, and I have even put this on a sandwich before. The Outback Steakhouse menu has so many different recipes that I love to make.
What Is Tiger Sauce?
Tiger Sauce is the legendary white sauce Outback Steakhouse serves alongside its roast beef. The sauce has been a popular condiment of guests for years, and now you can make it at home with this Outback Tiger Dill Sauce for Roast Beef recipe.
What Makes Tiger Sauce so Good?
Horseradish isn't something that everyone loves, but it's hard to get enough for those who do. Tiger Sauce combines the sharpness of prepared horseradish sauce with the tang of sour cream and adds dill for another dimension of flavor.
What Makes This Recipe for Outback Steakhouse Tiger Sauce the One You Want to Try
This sauce offers just about the most return in flavor for the amount of effort out there. There is no need to buy a bottle of horseradish sauce when it is so easy to make this Tiger Dill recipe.
Tiger Sauce Ingredients
To make Tiger Sauce, you'll need just three ingredients:
Sour cream
Prepared horseradish
Fresh or dry dill
Prepared horseradish usually contains vinegar, salt, and sometimes sugar. Don't be confused. Prepared horseradish is not the same as prepared horseradish sauce or grated horseradish. Look for Bubbie's or Golds for the best taste.
How to Make Tiger Sauce
This sauce recipe is simple, but you need to plan ahead to allow the flavors to combine thoroughly.
Mix all of the ingredients in a bowl. Be sure that everything is fully incorporated.
Store covered in the fridge for at least 4 hours. If you want a more pronounced flavor, wait up to 48 hours before using it.
Possible Variations
If you don't have sour cream, you can use an equal amount of unflavored Greek yogurt or even mayonnaise with a teaspoon of white wine vinegar.
Try adding a tablespoon of Dijon mustard in place of the dill.
For a thinner sauce, add half & half or cream until your reach your desired consistency.
What Do You Put Tiger Sauce On?
This Tiger Sauce recipe is the perfect accompaniment for any cut of beef. It's commonly eaten with roast beef or prime rib, whether hot, cold, or sliced on a sandwich. However, you can get more creative than that if you want. Try this Tiger Sauce recipe on:
Tiger Sauce Recipe FAQs
What Is a Good Substitute for Tiger Sauce?
Whether you don't like the heat, are trying to cut back on fat, or just can't find all the ingredients you need to make Tiger Sauce, you can use one of the following substitutions:
Garlic Aioli is ideal if you want the creaminess of Tiger Sauce but don't like the flavor of horseradish. If making garlic aioli from scratch is too troublesome, just add a little grated garlic and a good squeeze of fresh lemon juice to store-bought mayonnaise. 
Horseradish Mustard is a good choice if you like horseradish but are looking to cut calories or stay away from dairy products. 
Horsey Sauce from Arby's is a less tangy and slightly sweeter version of Tiger Sauce. Folks who like things on the mild side may want to check out this quick and easy Horsey Sauce recipe.
Is the Outback Tiger Sauce a Hot Sauce?
No, this recipe is not considered a hot sauce. It is a modernized version of traditional horseradish sauce.
Is There Is a Tiger Hot Sauce That Is Sold in Bottles
You can find a hot sauce sold under the name "Tiger Sauce" in stores, but it's not the same. Outback Steakhouse doesn't sell its version of Tiger Dill Sauce in the supermarket.
How Long Does Tiger Sauce Last?
You can keep the Tiger Sauce in the fridge for up to a week, but the flavors will intensify the longer it sits. If you like a milder sauce, eat it sooner.
How to Store Outback Steakhouse Tiger Dill Sauce
Store the horseradish sauce in an airtight container in the fridge for up to a week.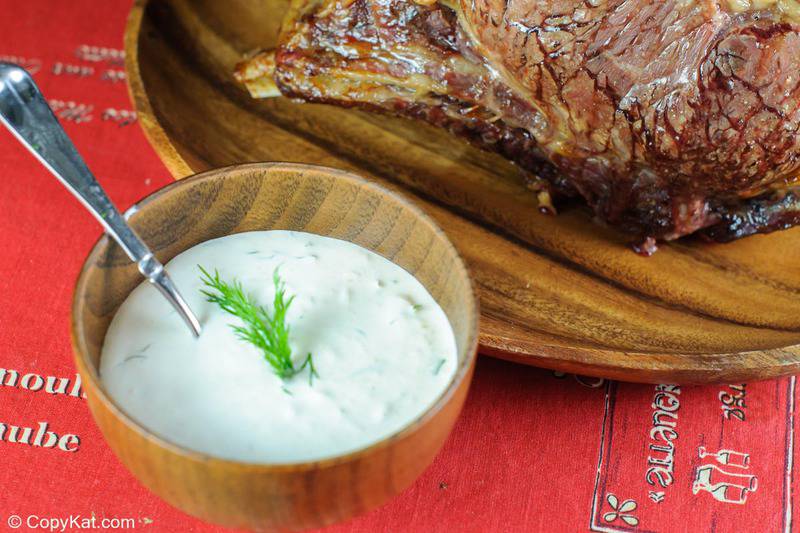 Love Outback Steakhouse? Make these copycat recipes!
Favorite Sauce Recipes
Be sure to check out more of my easy sauce recipes and the best copycat Outback Steakhouse recipes here on CopyKat!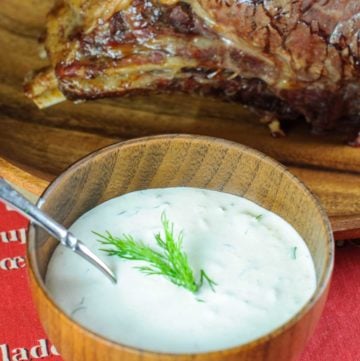 Ingredients
1

cup

sour cream

¼

cup

prepared horseradish

2

teaspoons

chopped fresh dill

or 2 teaspoons dry dill weed
Instructions
In a small bowl combine all ingredients and mix well.

Store refrigerated in an air-tight container for at least 4 hours before serving. Ideally, allow the flavors to mix together for a day or two before serving.
Nutrition
Calories:
47
kcal
|
Carbohydrates:
1
g
|
Protein:
0
g
|
Fat:
4
g
|
Saturated Fat:
2
g
|
Cholesterol:
11
mg
|
Sodium:
43
mg
|
Potassium:
47
mg
|
Fiber:
0
g
|
Sugar:
1
g
|
Vitamin A:
145
IU
|
Vitamin C:
1.7
mg
|
Calcium:
29
mg
|
Iron:
0.1
mg