Luby's Cafeteria Baked White Fish has been a favorite of mine for a long time, but they recently took this off the menu. Perhaps like you, I missed enjoying the dish, so I got to work on this one.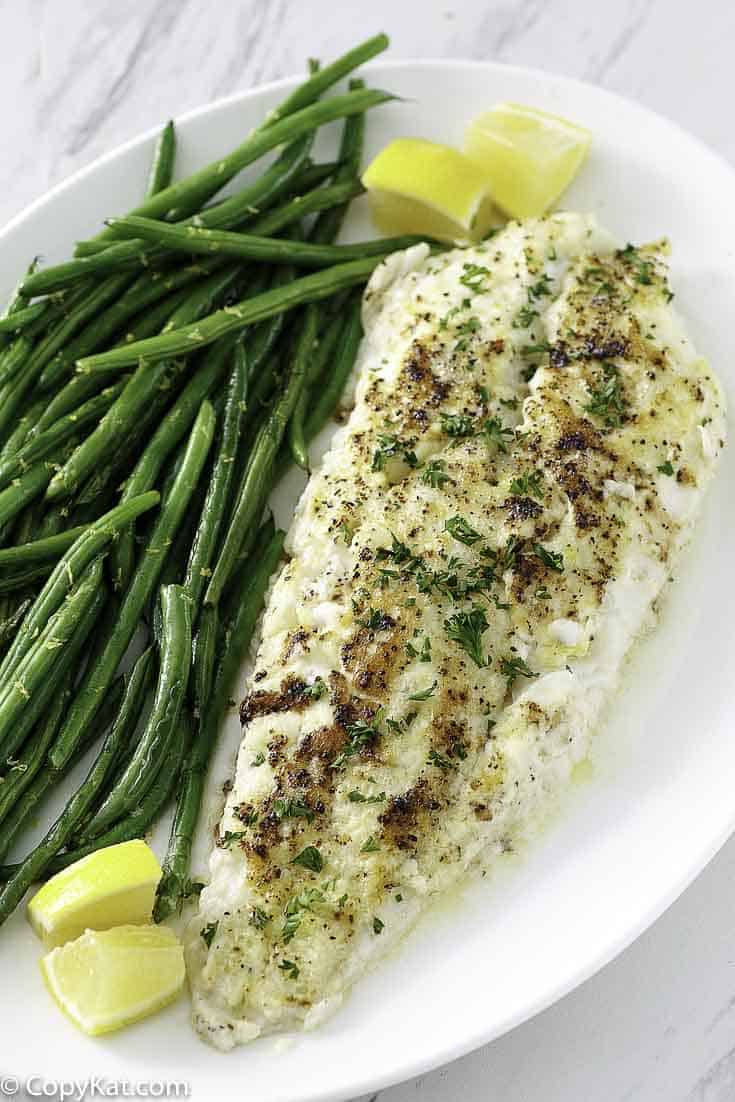 You are lucky if you have a Luby's nearby because Luby's is a cafeteria that serves up all sorts of wonderful home cooking. One of my favorite menu items has always been their baked white fish, but, unfortunately, it is no longer on the menu. Perhaps you're like me and miss enjoying this dish. Not to worry, I got to work on this copykat recipe so we can all eat this baked fish recipe at home.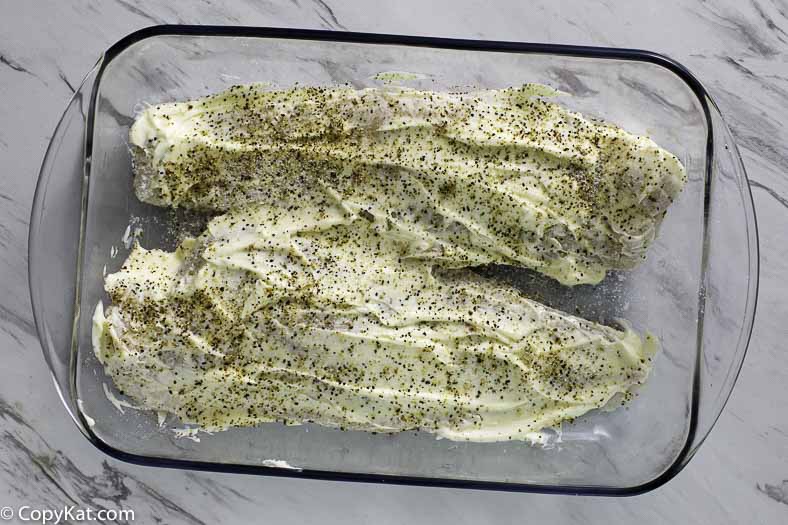 Baked white fish is one of the best fish recipes. However, it can be difficult knowing exactly how to cook fish fillets. Now you have a new recipe to arm yourself with. You can use any white firm-fleshed fish such as haddock, cod, or halibut. All this simple fish recipe needs (apart from the fish) is some basic seasoning – salt, pepper, and lemon pepper. And, perhaps you weren't aware of it, but mayonnaise provides a unique topping for this fish dish.
How to Bake Fish
You can put this baked fish meal together in no time. I like to start by patting each fish fillet dry with a paper towel, and then seasoning it with some salt and pepper. I then dredge the fish in flour, careful to shake off any extra.
I place the fish carefully into a baking dish, and then I cover the top of the fish with mayonnaise – I like the mayonnaise to be about 1/4 inch high. I then sprinkle lemon pepper over the mayonnaise and bake the fish for about 15 minutes or so at 350 degrees.
To finish the fish off, I turn on the broiler in my oven and pop the fish under it to allow the top of the fish to brown. The mayonnaise browns and almost forms a crispy crust on top – delicious!
Luby's Cafeteria Baked White Fish
How does this fish taste? Amazingly good! This dish is simple to make and is great for cooks of all levels from beginners to experienced.
What would you serve with this baked fish dish? I am partial to macaroni and cheese. Click here for some other ideas to go with this best fish recipe.
– Luby's Macaroni and Cheese
If you love Luby's Cafeteria, I have other copykat Luby's favorites for you to check out. And, I would be interested to hear what Luby's food you are particularly partial to. Let me know by sending me a comment.
Luby's Skillet Cabbage
Luby's Spaghetti Salad
Luby's Macaroni and Cheese
Luby's Chicken Durango
And here are three more copykat white fish recipes for you to enjoy.
If you love Luby's Cafeteria I have other Luby's favorites for you to check out.

Ingredients

24

ounces

white fish

(cod, haddock, white fish, or paiche)

salt and pepper

1/2

cup

all purpose flour

1

cup

mayonnaise

1

teaspoon

lemon pepper

Instructions

Preheat oven to 350 degrees. Blot excess moisture off of fish with paper towels. Season both sides of the fish with salt and pepper. Dredge fish in flour, and shake off excess flour. Place fish filets in a 9 x 13 inch baking dish. Gently spoon mayonnaise over the fish, spread mayonnaise over the fish evenly. Sprinkle lemon pepper over the mayonnaise. Add about 1/2 cup water to the baking dish. Bake fish for approximately 15 minutes. Then turn the broiler on your oven, and brown the mayonnaise on top of the fish.

Recipe Tips for the Cook

Make this Keto Friendly!

Want to make this recipe Keto friendly?  Dredge with almond flour instead of regular flour, and save those carbs! 

Nutrition

Calories:

602

kcal

|

Carbohydrates:

12

g

|

Protein:

36

g

|

Fat:

44

g

|

Saturated Fat:

7

g

|

Cholesterol:

108

mg

|

Sodium:

444

mg

|

Potassium:

541

mg

|

Fiber:

0

g

|

Sugar:

1

g

|

Vitamin A:

35

IU

|

Calcium:

21

mg

|

Iron:

1.8

mg