You can do something extra special with canned and creamed corn by adding bacon, onion, celery, and bell peppers to make this a terrific dish. Luby's Spanish Indian Baked Corn Casserole is the perfect dish to bring to a potluck dinner because it reheats so easily.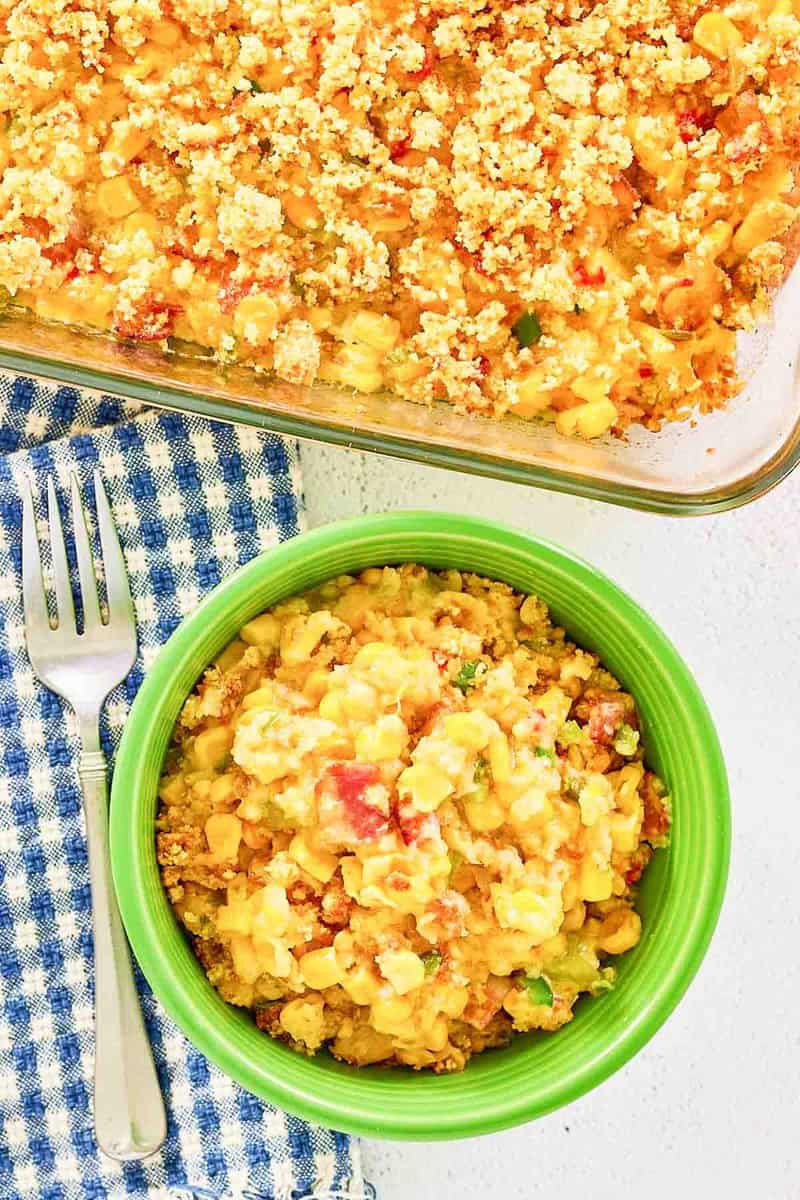 This post contains affiliate links. As an Amazon Associate, I earn from qualifying purchases.
What Makes the Luby's Spanish Indian Baked Corn Casserole So Good?
Corn is pretty amazing on its own, but start doctoring it up with veggies, bacon, and a crunchy cornbread topping, and you have something undeniably delicious!
Luby's Spanish Indian Baked Corn Casserole is the side dish people want to see on the table. It hits all the right flavors with sweet corn, spicy jalapenos, tangy pimentos, and salty bacon.
Why You Should Try This Corn Casserole Recipe
Do you want to be a hero at the next potluck? Take along this casserole, and get ready for the compliments. Spanish Indian Baked Corn Casserole is easy to make, cheap, and immensely satisfying.
It can feed a crowd, goes with just about any meat or poultry, and if you hold back just a little on the jalapenos, kids will want seconds.
Baked Corn Casserole Ingredients
To make this recipe, you'll need:
Cornbread
Onion
Celery
Green bell pepper
Bacon
Butter
Whole milk
Cream style corn, canned
Whole kernel corn, canned
Jalapeno pepper
Pimentos
Salt
Sugar
Ingredient Notes
Jiffy Cornbread Mix is highly recommended for this recipe, but you can use another brand of mix. If you have the time, you can also make the topping for this corn casserole without Jiffy mix or any prepackaged cornbread mix and opt for a from-scratch cornbread recipe using cornmeal and all-purpose flour.
Creamed corn and cream style corn isn't the same thing. Ensure the can of corn you use for this recipe is correct.
How to Make Corn Casserole
To prepare Luby's Spanish Indian Baked Corn Casserole:
Crumble the cornbread in a large bowl. You can spread it out on a baking sheet to dry slightly while preparing the rest of the casserole.
Preheat the oven to 350 degrees F (176 degrees C).
Dice the onions, celery, and green bell pepper.
Chop the raw bacon into half-inch pieces and cook bacon in a medium size pan or skillet over medium heat until crispy.
Drain all but one tablespoon of bacon fat and add the diced onions, celery, and green bell pepper to the skillet.
Reduce the heat to low and saute the vegetables until they just soften, about two minutes. Remove the skillet from the heat and set aside.
Split the fresh jalapeno pepper in half and remove the seeds.
Finely chop the de-seeded jalapeno pepper and the pimento and reserve for later.
Drain the can of whole kernel corn.
Melt half a cup of butter in a deep pan over low heat.
Add the whole milk, cream style corn, drained whole kernel corn, jalapenos, pimento peppers, salt, and sugar to the melted butter. Stir well and heat for a minute or two until warm.
Add the sauteed vegetables and bacon to the saucepan.
Stir in about half of the crumbled cornbread to the bacon-vegetable mixture. Keep stirring until the liquid starts to thicken a little.
Pour the thickened mixture into a lightly greased 8 X 11 X 2-inch pan. Gently shake the baking pan back and forth to flatten and corn mixture and get rid of any air bubbles.
Sprinkle the remaining cornbread crumble on top of the corn mixture and dot it with the remaining butter.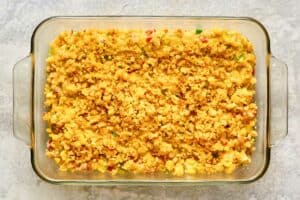 Bake in the preheated oven until the cornbread is golden brown.
Let the casserole rest on a wire rack for a few minutes to set before serving. If desired, garnish with chopped chives or fresh herbs.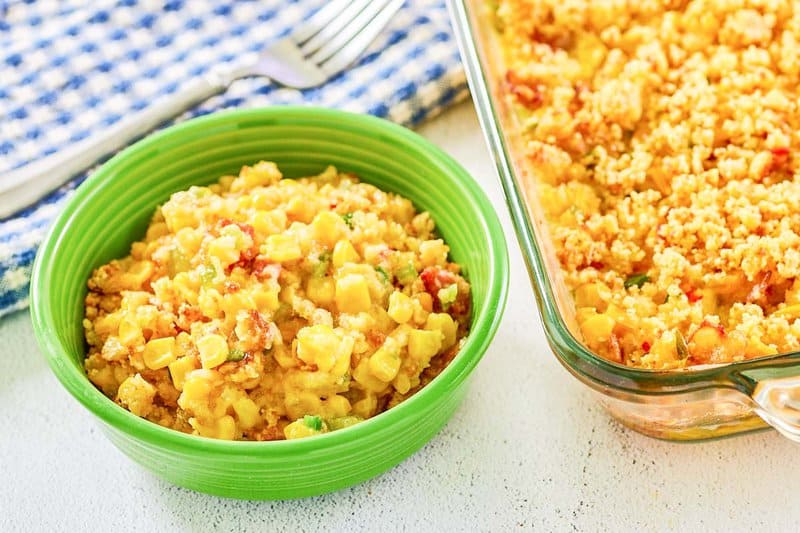 What to Serve It With
A corn casserole is tasty enough for the holiday table but easy enough for a weekend supper. It pairs well with a Thanksgiving turkey, a take-home supermarket rotisserie chicken, and even baked chicken tenders. Serve it alongside roast beef, pork chops, or a grilled steak.
How to Store This Corn Casserole Recipe
Let the corn casserole cool to room temperature then cover it with plastic wrap or aluminum foil or transfer it to a flat airtight container. Store the leftovers in the refrigerator for up to three days. You can also keep it in the freezer for up to a month.
Pre-portioning the casserole into servings makes it easy to choose how much to defrost. Frozen corn casserole will stay good for up to a month.
What Is the Best Way to Reheat Corn Casserole With Bacon
Reheating a thawed casserole in a 300-degree Fahrenheit oven for 20 to 30 minutes will give you the best results. Transfer the corn casserole to a baking dish and let it sit on the counter for about 20 minutes to come up to room temperature.
Cover with the baking dish aluminum foil and place it in the center rack of the oven. Start checking the casserole after 20 minutes and remove it from the oven when hot.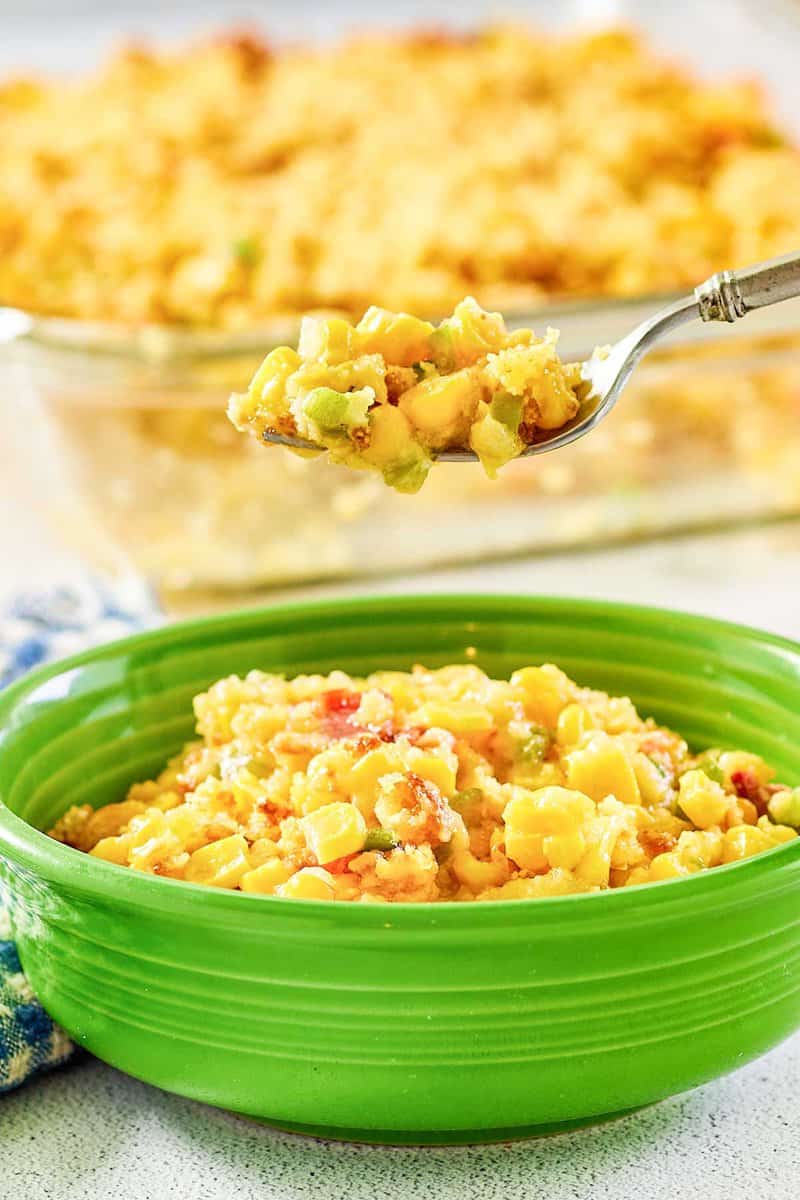 More Luby's Copycat Recipes
Favorite Side Dish Casserole Recipes
Check out more of my easy casserole recipes and the best copycat restaurant recipes on CopyKat!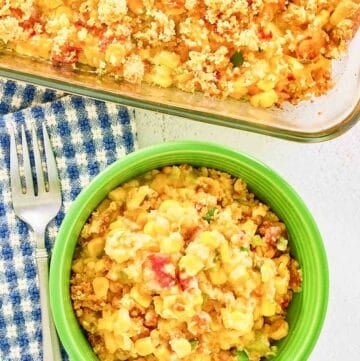 Ingredients
1

package

cornbread muffin mix

1/4

pound

bacon

chopped into 1/2-inch pieces

1/3

cup

diced onion

1/3

cup

diced celery

1/3

cup

diced green bell pepper

4

ounces

plus 2 tablespoons butter

divided use

1/4

cup

milk

1

13.5-ounce can

cream style corn

1

13.5-ounce can

whole kernel corn

drained

2

tablespoons

finely chopped fresh jalapeños

2

tablespoons

finely chopped jarred pimentos

1

teaspoon

salt

1

tablespoon

sugar
Instructions
Prepare the cornbread according to the package directions. When the cornbread has cooled, crumble it into pieces to yield about 2 cups of crumbled cornbread.

Preheat the oven to 350°F.

In a large skillet over medium heat, cook the bacon until crisp.

Add the onion, celery, and bell pepper and sauté for 2 minutes over low heat; set aside.

In a medium pan, melt 4 ounces of butter over low heat.

Add the milk, cream corn, whole kernel corn, jalapeños, pimentos, salt, and sugar and cook until heated through.

Add the sautéed bacon and vegetables and 1 cup of cornbread crumbs to the pan. Cook until heated through, stirring frequently.

Transfer the mixture to an 8×11-inch pan.

Moisten the remaining cornbread crumbs with the remaining butter and sprinkle them over the corn mixture.

Bake at 350°F until the crumbs are lightly browned.
Nutrition
Calories:
246
kcal
|
Carbohydrates:
24
g
|
Protein:
4
g
|
Fat:
15
g
|
Saturated Fat:
8
g
|
Cholesterol:
39
mg
|
Sodium:
576
mg
|
Potassium:
220
mg
|
Fiber:
2
g
|
Sugar:
7
g
|
Vitamin A:
725
IU
|
Vitamin C:
16.8
mg
|
Calcium:
31
mg
|
Iron:
0.7
mg