Try this easy green bean casserole with cheese instead of the classic one we so often make for a classic holiday side dish. This Thanksgiving green bean casserole recipe adds mushrooms and cheese to take a traditional dish up a notch or two. If you're looking for a side dish that's different from your everyday average vegetables, this homemade green bean casserole is it.
This post contains affiliate links. As an Amazon Associate, I earn from qualifying purchases.
Homemade Green Bean Casserole from Scratch
Green bean casserole with cheese is a great side dish to make for any dinner. One thing that I absolutely love about this green bean casserole from scratch (besides the flavor!) is how easy it is to make! If you are wondering how long to cook green bean casserole, it takes only about 15 minutes.
This is also an inexpensive green bean casserole with frozen green beans that should be within any cook's holiday budget. And, take this homemade cheesy green bean casserole to an office party or potluck, and it'll be a hit with everyone.
This casserole is bursting with mouthwatering savory flavors; you'll never want to make regular green bean casserole again! Green bean casserole with cheese is the one side dish your whole family will always agree on.
Cheesy Baked Green Bean Casserole: Do I Use Fresh, Frozen, or Canned Green Beans?
This best green bean casserole recipe uses frozen green beans. If you want to use fresh green beans, blanch them in boiling water for about 4 to 6 minutes, then strain into a large bowl filled with ice water to stop the cooking. Drain, pat dry, then proceed with the recipe.
You can also use drained canned green beans, although canned will provide a softer casserole. Fresh or frozen green beans will give you a bit more texture.
Are Green Beans Good For You?
Whatever type of green beans you choose, you will still be getting all of the health benefits they provide. They're full of nutritional goodness and antioxidants that help fight free radicals in the body to reduce cell damage.
Green Bean Casserole Ingredients
This is a green bean casserole without mushroom soup (or any kind of soup). This casserole recipe uses very simple ingredients:
Milk
Salt
All-purpose flour
Shredded cheddar cheese
Canned sliced mushrooms
Frozen French-style green beans
Butter for the pan
Can I Use Different Cheeses?
Yes, by all means. Try substituting asiago and parmesan cheeses for the Cheddar. Blue cheese or goat cheese also work well. And, Swiss cheese gives this simple green bean casserole an amazing creamy taste that's anything but simple.
You can even turn this casserole into a three-cheese green bean casserole with, for example, sharp Cheddar, smoked gouda, and Colby Jack.
Note: Always buy a fresh block of cheese and shred it yourself. Pre-bagged shredded cheese contains a preservative that prevents the cheese from melting properly.
How to Make Green Bean Casserole from Scratch
Nothing could be simpler than making this best green bean casserole from scratch. You basically cook the beans, mix all the ingredients together, and then transfer them to a buttered baking pan. Add some cheese to the top and pop your homemade green bean casserole in the oven for about 15 minutes.
Here are the recipe steps:
Whisk together the milk, salt, and flour.
Add cheddar cheese, mushrooms, and green beans.
Transfer the mixture to a buttered baking dish and sprinkle cheese on top.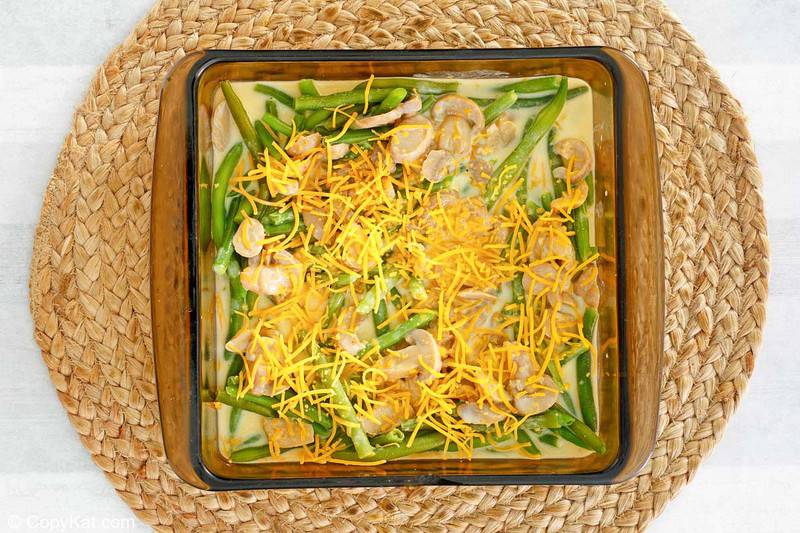 Bake at 350 degrees for 15 minutes.
Green Bean Casserole Recipe Cooking Variations and Ingredient Substitutions
Add some shredded cooked chicken or some chunks of ham and call it a main dish casserole. It's perfect served up with some cornbread.
Top it with some French's Crispy Fried Onions. Crispy, salty onion strips add crunch and flavor to the creamy vegetables. Or, try panko breadcrumbs or crushed crackers and fried onions with some melted butter for more satisfying crunchiness.
Everything's better with cheese… and bacon! So, add in some crispy bacon.
Add some chopped jalapeños for a bit of kick.
If you want a richer and creamier texture, you can substitute heavy cream for the milk.
For a casserole for those who are lactose intolerant, try using almond milk instead of regular milk. This recipe uses Cheddar cheese which scores very low on the lactose scale.
Check out the 9 different cheeses lactose intolerant people can eat. These cheeses clock in at about 2 to 3% lactose. Compare this to whole milk with approximately 4.8 % lactose.
If you want to hide some other veggies for your kids to eat, this is your chance. Any leftover veggies that you want to use up can be added to your green bean casserole with cheese. They won't even notice they're eating them!
What Meals Does Green Bean Casserole Go With?
If you are wondering what goes well with this cheesy green bean casserole, you can serve it with a variety of main dishes. This easy green bean casserole with cheese is commonly served as a side dish with meals at holiday times.
It pairs really well with roasted chicken, turkey, or ham. However, feel free to serve this with any favorite protein – pork, steak, burgers. You name it; this easy green bean casserole goes with it!
Can You Make Green Bean Casserole Ahead of Time?
Absolutely! If your holiday season is super busy (and who isn't?), you can totally prepare this make-ahead green bean casserole. Just add the cheese topping before you put it in the oven.
Green bean casserole make ahead – you have so much work to prepare for the holidays, so why not make life simpler and do some prep work ahead of time?
Once you've assembled the casserole, you can cover and refrigerate it for up to 2 days. Top with shredded cheese before baking. If you are baking straight from the fridge, add a few minutes to the cooking time.
Can You Freeze Green Bean Casserole?
Yes. Assemble the casserole in a heat- and freezer-safe dish but don't top it with the shredded cheese. Wrap the container in plastic wrap and cover with foil. Freeze for up to 4 months.
CopyKat Tip: To avoid your casserole dish getting stuck in your freezer, use a foil pan instead. Or, line the casserole dish with foil to enable you to lift the whole frozen casserole out of the pan when it is thoroughly frozen. Then, you can place it right back in the pan when you're ready to bake.
If baking straight from the freezer, remove the plastic wrap and foil. Top with shredded cheese and bake for about 45 minutes.
Note: If you use a glass baking dish, be sure to bring it to room temperature before placing it in a hot oven. While many dishes are quite safe to go straight from the refrigerator or freezer to the oven, glass dishes are not, and they can explode.
Reheat individual leftover servings in the microwave.
More Green Bean Recipes
Favorite Thanksgiving Recipes
Check out more of my easy side dish recipes and the best Thanksgiving dinner recipes here on CopyKat!
Ingredients
1

cup

milk

1/4

teaspoon

salt

2

teaspoons

all-purpose flour

1/2

cup

shredded cheddar cheese, divided

1

can

sliced mushrooms

9

ounces

frozen French style green beans, cooked and drained

butter for the pan
Instructions
Preheat the oven to 350°F.

In a mixing bowl, whisk together the milk, salt, and flour. Stir in 1/4 cup cheddar cheese, the mushrooms including their liquid, and the green beans.

Transfer the mixture to a shallow, buttered baking pan, top with the remaining cheese, and bake for 15 minutes.
Nutrition
Calories:
117
kcal
|
Carbohydrates:
8
g
|
Protein:
6
g
|
Fat:
6
g
|
Saturated Fat:
4
g
|
Cholesterol:
20
mg
|
Sodium:
263
mg
|
Potassium:
228
mg
|
Fiber:
1
g
|
Sugar:
5
g
|
Vitamin A:
680
IU
|
Vitamin C:
7.8
mg
|
Calcium:
194
mg
|
Iron:
0.8
mg