Panko Bread Crumbs are a key ingredient in many dishes, they make a crispy coating to many of our favorite dishes. Did you know you can make them at home? Homemade panko isn't an exact match for panko crumbs that you buy in the store, but they are an excellent substitute.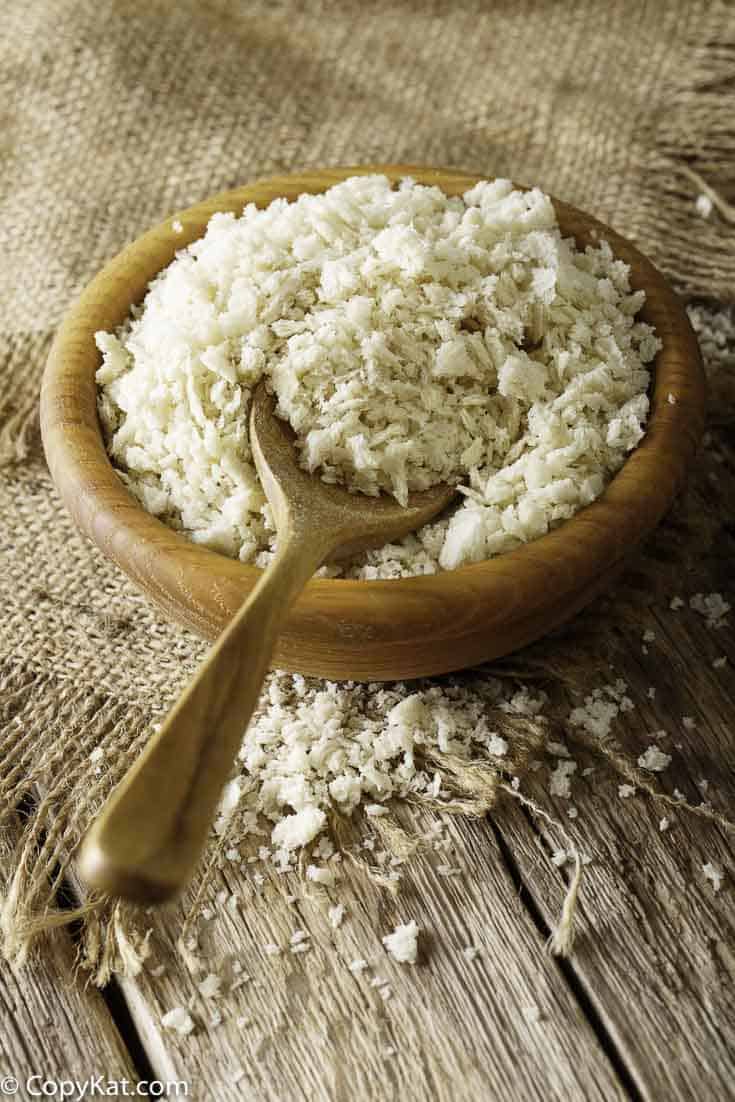 What are Panko Breadcrumbs?
If you've never heard of panko before, you'll be happy to know that it's not anything weird or complicated. Panko is a type of breadcrumb, but keep reading to find out that panko is a little bit different from regular bread crumbs.
Genuine panko breadcrumbs are made from a particular kind of crustless bread. They are never made from whole wheat bread. The word panko comes from Japanese, and panko is used a lot for light breading in Japanese cuisine.
Why are Panko Breadcrumbs Different?
If you already knew about panko, you're probably wondering why panko is different from standard breadcrumbs. Panko is lighter, has a crispy texture, a delicate crunch, and is flakier than traditional breadcrumbs.
Because panko is lighter, it absorbs less oil and grease making breaded fried foods less heavy. The flakes on the outside of whatever your bread with it are so crunchy. You are going to love how these crumbs taste.
What is in Panko?
Typical store-bought panko ingredients are wheat flour, yeast, oil, and salt. Most brands of panko at the grocery store are vegan, but, as you can see, panko is not gluten-free.
Can you make gluten-free panko bread crumbs? Yes, you will either use gluten-free bread or rice/corn Chex.
What are Some Other Substitutes for Panko breadcrumbs?
You can certainly substitute regular breadcrumbs for panko in most recipes – it won't be quite the same though. Other substitution ideas are cracker crumbs, matzo meal, crushed cornflakes, crushed dry stuffing mix, crushed melba toast, crushed pretzels, crushed tortilla chips, or crushed potato chips.
Homemade Panko Recipe Ingredients
A loaf of white bread is all you need to make Japanese breadcrumbs. Yep, just one simple ingredient!
How to Make Panko
Remove the crust from the bread.
Grate the bread by hand or chop it finely in a food processor by pulsing it 1 to 2 times.
Place grated bread onto a baking sheet lined with parchment paper.
Bake at 350°F (150°C) for 5 to 7 minutes. Be extra careful not to let the panko brown.
Remove Panko breadcrumbs from the oven and let them cool completely before using or storing.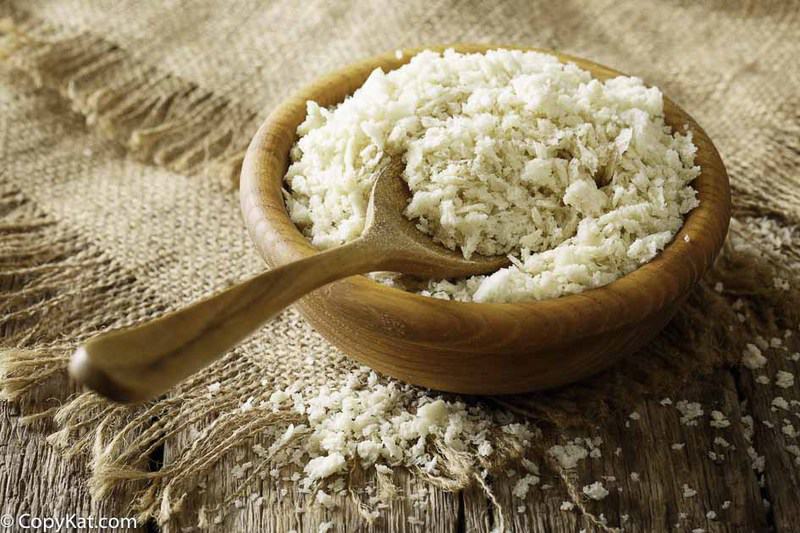 Other Uses of Panko Bread Crumbs
As a crunchy topping for casseroles – Panko adds a little bit of texture to just about any kind of casserole – main dish casseroles, baked pasta casseroles, veggie side-dish casseroles, and bean casseroles. For example, use panko instead of French fried onions or regular breadcrumbs on your favorite green bean casserole. Combine panko with Parmesan cheese and some Italian seasonings and sprinkle generously over any savory casserole heading into the oven.
To thicken soups and sauces – Panko can thicken a soup or sauce by absorbing the extra liquid and adding a bit of interesting texture in the process.
As a binder – Some cooks use panko as a binder instead of eggs. This is good for vegans and anyone with an egg allergy. Panko is an excellent binder for meatballs.
Regular Breading – these are an excellent coating for a pork cutlet, pork chops (pork Tonkatsu), chicken cutlets (Chicken Katsu), fried shrimp, or other types of seafood. You could also use these to coat vegetables that you air fry or deep fry.
How to Store Panko
Be sure to store any leftover crumbs in a dry place. An airtight container is a great way to store these until you need to use them later.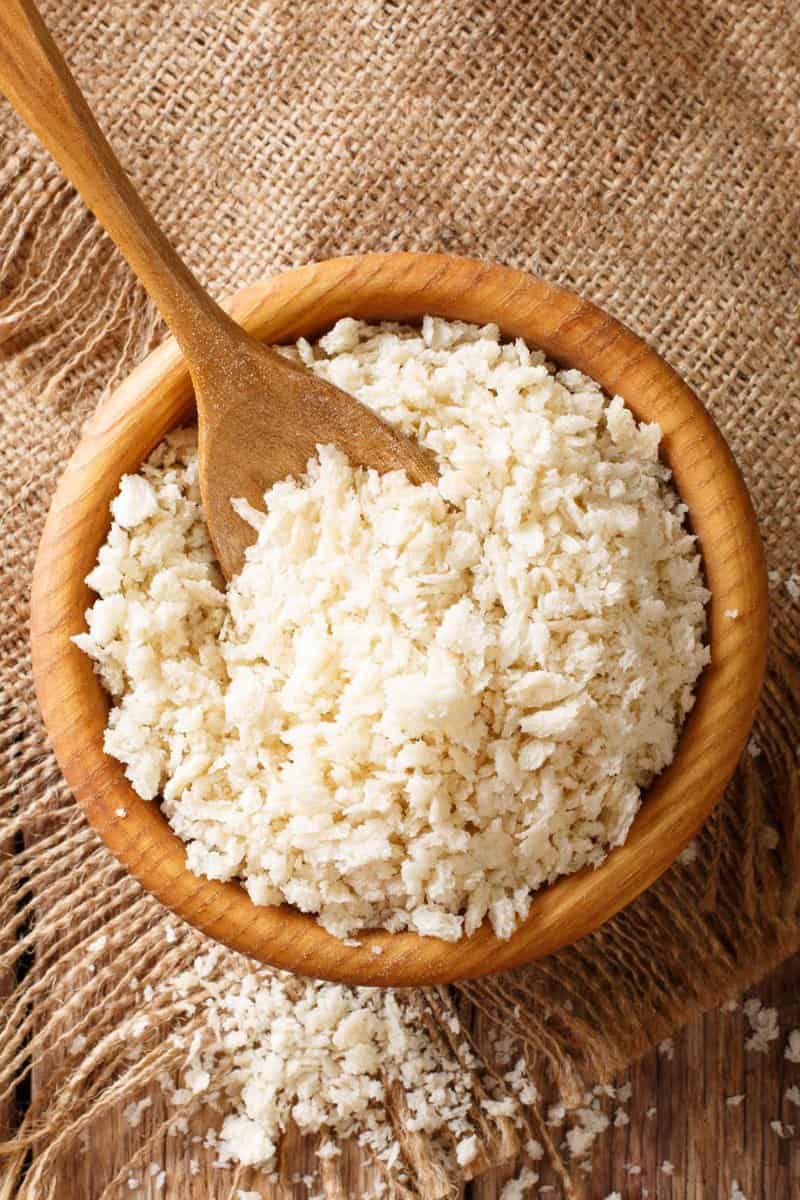 Favorite Recipes with Panko
Popular Japanese Recipes
Be sure to check out more of my Asian recipes and the best DIY recipes here on CopyKat!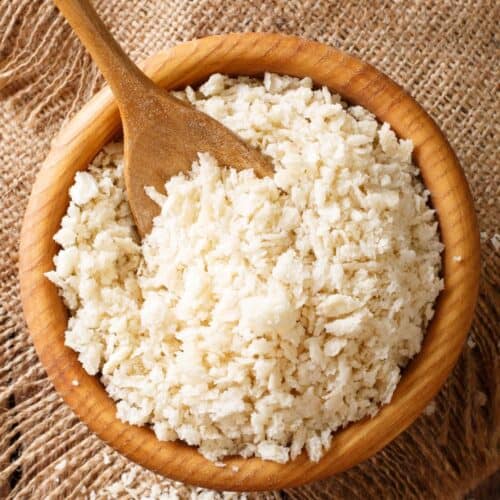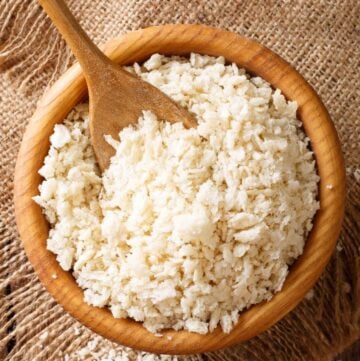 Ingredients
22

ounces

white bread

you can use a different sized loaf of bread
Instructions
Preheat the oven to 350°F (150°C).

Grate bread by hand or pulse 1 to 2 times in a food processor.

Place bread onto a baking sheet lined with parchment paper. 

Bake for 5 to 7 minutes. Be extra careful not to let the panko brown.

Remove Panko bread crumbs from the oven. Let cool and store in glass jars.
Nutrition
Calories:
206
kcal
|
Carbohydrates:
38
g
|
Protein:
7
g
|
Fat:
2
g
|
Saturated Fat:
0
g
|
Cholesterol:
0
mg
|
Sodium:
382
mg
|
Potassium:
89
mg
|
Fiber:
2
g
|
Sugar:
3
g
|
Calcium:
203
mg
|
Iron:
2.8
mg