You may have wondered how you can make bread crumbs. So often recipes call for bread crumbs, and you may feel like you need to rush out to the store and go purchase some breadcrumbs. Did you know you can prepare these at home?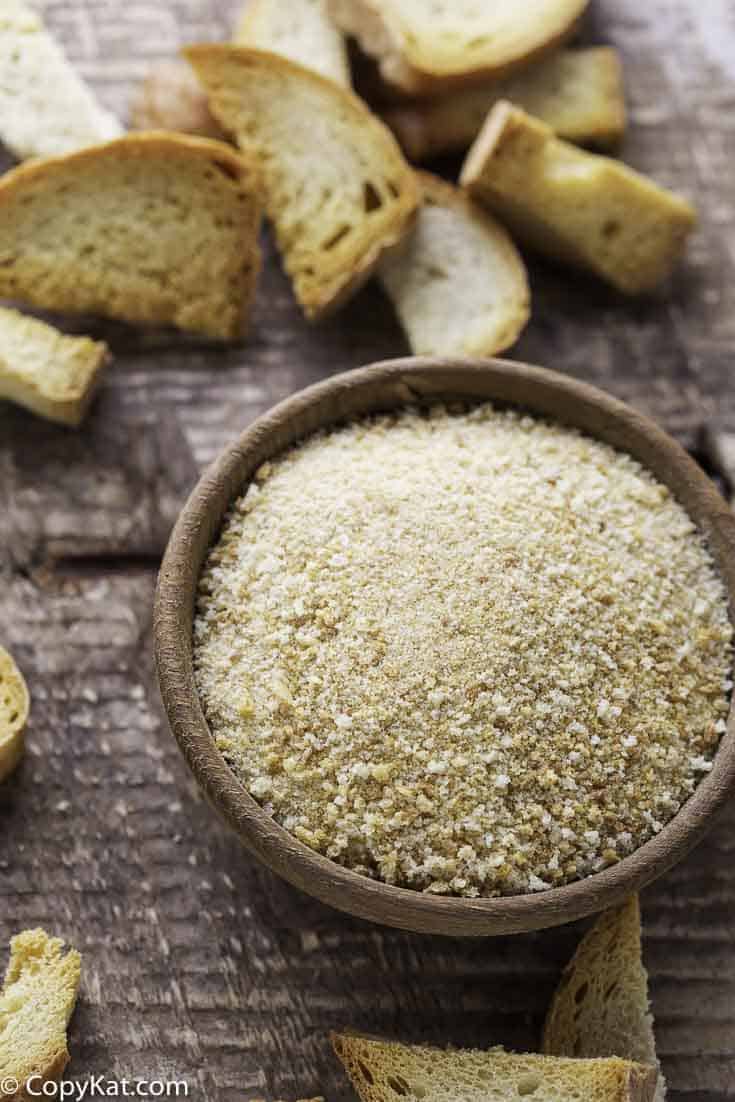 How many times have you decided to make a particular recipe that needs breadcrumbs, only to realize that you are out of them? Instead of sighing and rushing out to the store for just one thing, learn how to make breadcrumbs at home. It's really easy, and, if you make a big batch, you can store them so you'll never run out again.
The Many Uses of Breadcrumbs
Breadcrumbs are very versatile – they can thicken sauces, bind together meatballs, serve as a coating for chicken, and make a wonderful filler for quiches and frittatas.
Breadcrumbs can also help lighten a heavy dish such as a meatloaf because they give lots of structure but aren't too heavy. Here are some other ways to use breadcrumbs that you may not have thought of.
Making a Crisp Topping with Breadcrumbs
When used as a topping, I sometimes like to coat the crumbs with a little melted butter before I sprinkle it onto what's going to get baked. This way the topping crisps just a bit.
Making Breadcrumbs Saves You Money
Want a way to use up that stale loaf of bread? Turn it into breadcrumbs. I know that store-bought breadcrumbs don't cost that much, but why not save money where you can? Any type of bread is suitable, and you can leave the crusts on or not as you choose.
How Do You Make Homemade Breadcrumbs?
All you need is some bread and some spices. It's really easy – just follow my recipe and instructions at the bottom of this ramble about breadcrumbs. Below are some other questions you may have about making breadcrumbs.
How Do You Make Fresh Breadcrumbs?
It's so easy to make fresh breadcrumbs, you need bread that has just turned stale, if you use fresh bread, you will need to place it in an oven at about 300 degrees until slightly crispy, but not brown. Rip the bread into pieces and then place the bread into a food processor and pulse a few times. Store these breadcrumbs in a zip-top bag in the freezer.
How Do You Make Dry Breadcrumbs?
Start by tearing stale bread into small pieces, then you can place the bread into a food processor, pulse several times until the bread is ground down into small pieces. Then place the breadcrumbs in a single layer on a cookie sheet with a rim. Place the cookie sheet into a 300 degree and toast for about 10 minutes. If you do not need the breadcrumbs immediately allow them to cool, and then store in an air tight container.
How Do You Make Breadcrumbs Quickly?
This will answer all three questions. How to make breadcrumbs fast – if you're in a rush and don't have the time to follow my recipe, you can make breadcrumbs in about five minutes. This method also tells you how to make breadcrumbs in a toaster and how to make dry breadcrumbs.
To make about one cup of breadcrumbs, toast four slices of bread in a toaster or toaster oven until dry but not burned. Let cool then crumble in a blender or food processor to your desired level of crumbliness. I put mine in my Blendtec and blend on speed 9 for 20-30 seconds.
How to Make Breadcrumbs Without an Oven
If you don't have a an oven you can use a large skillet to toast the bread in. Simply tear into small pieces, then pulse a few times a food processor, and then spread the crumbs in a skillet over medium heat until the bread begins to brown and it becomes fragrant.
How to Make Breadcrumbs in the Microwave
You will want to cut the bread into strips or tear into small pieces. Then lay the bread on a plate or other microwave safe container and heat on high for about 5 minutes or until crunchy. Pour the crunchy bread pieces into a zip top bag, and break them with your hands into smaller pieces.
How to Make Breadcrumbs by Hand
Making bread crumbs in the oven takes a long time. It's much easier and quicker to make them in the microwave. Here's how to do it.
If you don't want the crust turned into crumbs, remove it. Place four slices of bread on a plate and microwave for 1-1/2 to 2 minutes until the bread is hot and steamy.
Flip it over, so it doesn't stick to the plate, and put back in the microwave for another couple of minutes. When the bread has cooled, just crumble it by hand.
If you find any spots that are still slightly moist, just throw them back into the microwave. If you have the time, throwing the bread in a food processor will make fine crumbs fairly quickly.
I'm usually in such a rush, getting a food processor out is a bother, and I have the bread crumbed using my hands in the time it takes to assemble the processor.
The Best-Tasting Homemade Breadcrumbs
This takes a little more time but you end up with breadcrumbs that are homemade and taste delicious.
More Pantry Staple Recipes
Be sure to check out more of the best copycat recipes and easy homemade bread.
Instructions
Preheat the oven to 250 to 300 degrees F.

Lay bread slices on a baking sheet in a single layer. Bake for about 15 minutes, turn the slices over, and bake for an additional 15 minutes.

The bread should be perfectly crisp when you remove it from the oven. It should snap when you break up the pieces of bread.

You can season the bread crumbs before storing. You can add some dried parsley (fresh parsley will make the bread crumbs soggy, and make them spoil) or Italian seasoning. I like to add about 1/2 teaspoon of spices to 1 cup of bread crumbs.

Store your bread crumbs in an airtight container in the freezer for up to six months. You don't need to let the bread crumbs thaw before using.
Nutrition
Calories:
453
kcal
|
Carbohydrates:
83
g
|
Protein:
17
g
|
Fat:
5
g
|
Saturated Fat:
1
g
|
Cholesterol:
0
mg
|
Sodium:
871
mg
|
Potassium:
305
mg
|
Fiber:
7
g
|
Sugar:
10
g
|
Calcium:
232
mg
|
Iron:
5.9
mg