You might have wondered what in the world is Velveeta cheese, while I can fully solve this mystery, I can show you how to make cheese just like it. Smooth and creamy this cheese can't be beat when it comes to its melting ability.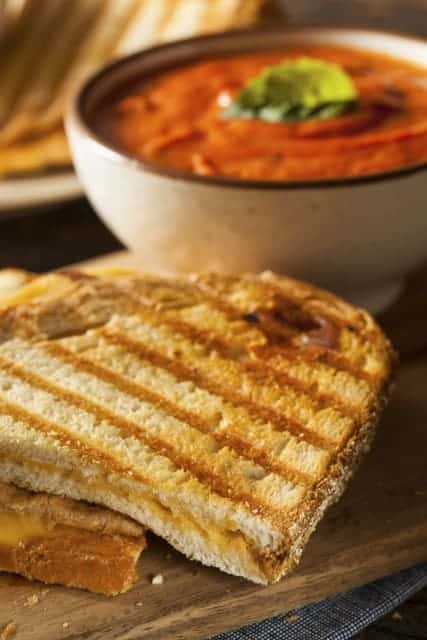 I know what you are thinking, why in the world would you want to make Velveeta cheese? I honestly find it a great cheese for certain recipes. Honestly, would Rotel dip be as good without it? I think that answer is resoundingly no. I think it makes a delicious grilled cheese sandwich. You might wonder why I would duplicate something that feels the need to call itself both "cheese" and "food" on the package. I just wanted to see if you could make it at home, and do a better job.
So how this basically works is that you grate a couple of types of cheeses together, by using Colby cheese you get a beautiful shade of orange that is familiar. By adding Parmesan cheese you need a sharper flavor. The dry milk powder adds a nice intensity to the milky flavor we love as cheese. We blend together heated milk and gelatin to give these cheese something to melt into. This warm mixture is then poured into a loaf pan and in a couple of hours you get a wonderful loaf of smooth creamy cheese.
The taste isn't exactly the same, but it is a good try, the texture is there, and it melts perfectly. So you want to make it through the possible Velveeta cheese shortage of 2014, want to impress your friends when you whip up a batch of Rotel dip this recipe will do nicely.
Want to try out some recipes using Velveeta Cheese?
Quick and Easy Broccoli Rice Casserole
Rotel Cream Cheese Dip
Ingredients
1

teaspoon

gelatin

1

tablespoon

water

12

ounces

Colby cheese

2

ounces

Parmesan cheese

1/4

teaspoon

paprika

2

tablespoons

dry milk powder

2/3

cup

milk
Instructions
Prepare gelatin by sprinkling gelatin over water in a small dish. The gelatin will set up in a couple of minutes. Grate 12 ounces Colby cheese. In either a heavy-duty

mixer

or food processor add the grated Colby cheese, grated Parmesan cheese, paprika, and dry milk powder.

Heat 2/3 cup of milk until just below a scald add gelatin to milk and whisk gelatin in until it has dissolved completely. Pour warm milk into either a heavy-duty mixer or food processor. Process cheese until smooth. Line a small loaf pan with plastic wrap. Pour cheese into loaf pan. Cover the top with plastic wrap. Place cheese in the refrigerator and allow to gel. It will take about 3 hours for the cheese to set up.

This makes 1 one pound loaf of cheese. Please note, in the video I left out the paprika, I suggest you add it. When setting up for the shoot I simply forgot the paprika.
Nutrition
Calories:
216
kcal
|
Carbohydrates:
3
g
|
Protein:
14
g
|
Fat:
16
g
|
Saturated Fat:
10
g
|
Cholesterol:
47
mg
|
Sodium:
390
mg
|
Potassium:
121
mg
|
Sugar:
2
g
|
Vitamin A:
585
IU
|
Vitamin C:
0.2
mg
|
Calcium:
422
mg
|
Iron:
0.4
mg