Quick and easy broccoli cheese rice casserole is a great recipe, it is a side dish you can put together in little time. This comfort food is perfect for family gatherings. This easy side dish has been a part of my holiday gatherings for as long as I can remember.
My easy broccoli rice casserole is a perfect dish because even people who do not enjoy vegetables will eat this great casserole. I know the first time you try this, you will want to make it a part of your family dinners.
To use fresh broccoli, you can simply steam it in a steamer for a couple of minutes before using it. No matter if you use fresh or frozen broccoli, this cheesy broccoli rice casserole is going to become a family favorite.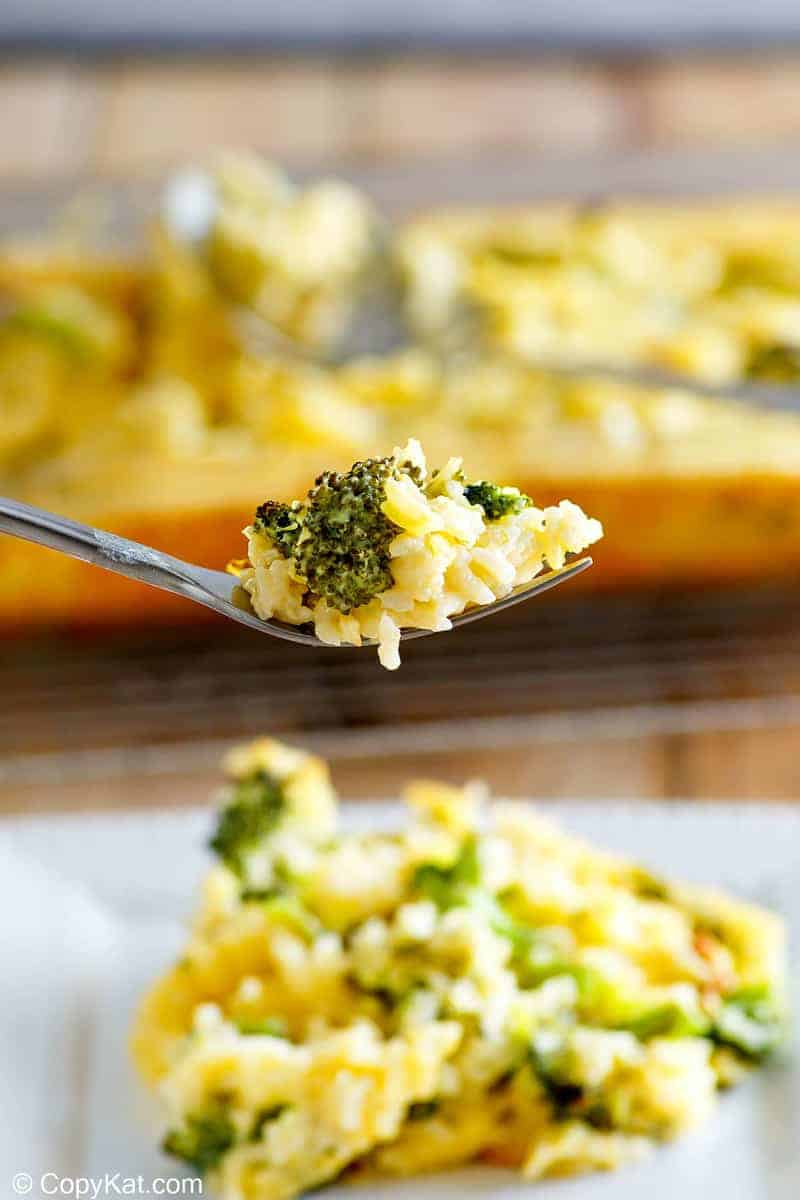 Broccoli Cheese Rice Casserole
Quick and Easy Broccoli Rice Casserole is a dish that is perfect for the holidays, or perhaps even a potluck dinner. Making this casserole is one of the best ways that you can get even finicky eaters to take in some broccoli.
I have to tell you a little story about this Broccoli Rice Casserole recipe. This is a variation of the recipe that my Grandmother used to make.
This is one of the rice casserole recipes my grandmother would always make. I can't imagine a holiday without this broccoli-rice casserole. When I would start to host my own holiday dinners with my family this broccoli rice casserole recipe is the one that I use. Year after year this dish shows up as one of my favorite Thanksgiving recipes.
She used instant rice (Minute Rice) in her dish, but my preference is for regular long-grain rice. I think it has a better texture and it reheats better than instant rice. If you wanted to, you could use brown rice.
I made this dish for a potluck when I had very little in the house, and it was a big hit. I know it isn't the most sophisticated dish, but for me, I know a dish is a winner when the dish comes back empty.
Ingredients for Broccoli Rice Casserole
Here's a list of what you need:
Broccoli florets
white onion
salted butter or unsalted butter, both work well.
Velveeta cheese
Cream of chicken soup – you could use other canned soups like cream of mushroom soup, or cheddar cheese soup
Cooked white rice – you can use Minute rice, this is a great way to use leftover rice, or you can use long grain rice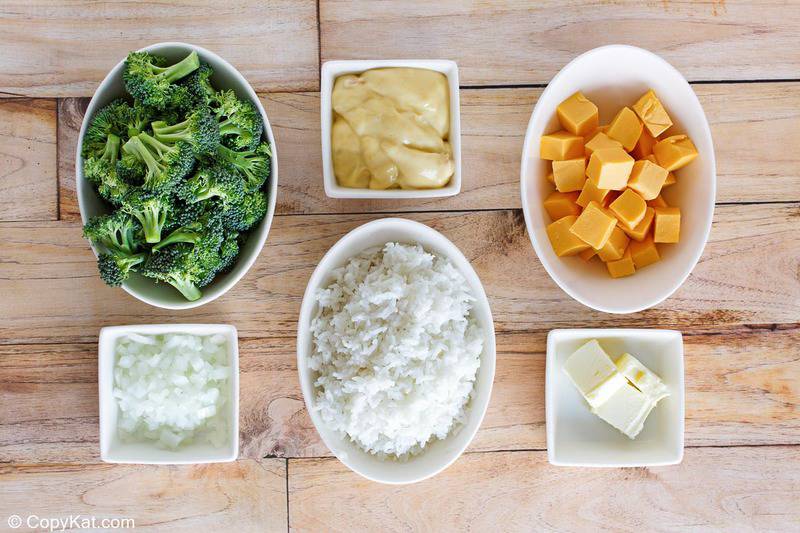 CopyKat Ingredient Tips
You can use either fresh or frozen broccoli, your choice. I love to pick up fresh broccoli and make it for dinner, and if there is some leftover, I will use it for this dish.
For this recipe, I like to use the store brand of American cheese. While I do like Velveeta brand cheese, I often think that store brands will work well. Store brands like Aldi's Clancey, or HEB brand are wonderful.
How to Make Broccoli Cheese Rice Casserole
If you are using fresh broccoli, steam until just done.
In a medium saucepan, cook the onion in the butter until transparent.
Add the cheese, soup, broccoli, and rice to the onions and stir through to melt the cheese and heat it all.

You can serve this dish now or you can put it in a baking dish, cover, and refrigerate.
When you are ready to serve, uncover it, and bake at 350 degrees for about 20 minutes or until hot and bubbly.

This dish reheats well, for me that is important. As I do a lot of cooking on the weekends and reheat dishes throughout the week when I have dinner.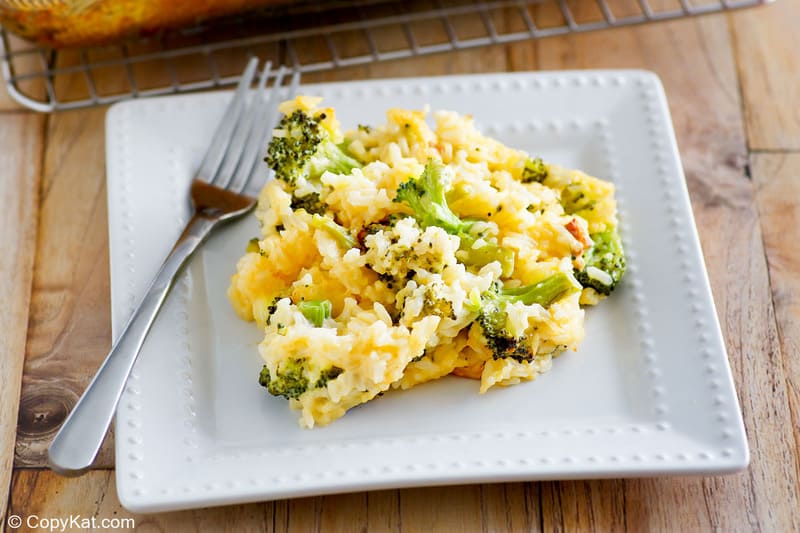 Variations on Broccoli Rice Casserole
There are many different ways to switch up this recipe. Turn this into a main dish by adding some leftover cooked chicken. You can also add even more vegetables or switch them completely. You can also swap out the cheese.
Here are 5 ways you can modify this classic rice casserole
Add cooked chicken – mix in 1 to 2 cups of cooked chicken
Add leftover ham – mix in 1 to 1 1/2 cups of cooked ham pieces
Add a tablespoon of pimiento – this will add a nice savory note to this recipe
Add cauliflower – swap half of the broccoli with cooked cauliflower
Switch the cheese to Meximelt cheese – make your broccoli rice casserole with a bit of spice
How to Store Rice and Broccoli Casserole
It's hard to imagine you will have any left of this casserole but in case you do, let's cover how you can store this recipe.
In the refrigerator – this will store in an airtight container for up to 3 days.
In the freezer – store in an airtight container for up to 3 months.
Frequently Asked Questions about Broccoli Rice Cheese Casserole Recipe
Do You Have To Cook Rice Before Putting It In A Casserole?
Yes, in this recipe the rice must be fully cooked before adding it to the recipe.

How do you reheat broccoli rice and cheese casserole?
The best way to reheat this recipe is to reheat it in the oven at 350 degrees. The best way to reheat this recipe is to reheat it in the oven at 350 degrees. Be sure to cover a baking dish with aluminum foil, and you may even want to add some additional cheese on top.

If you have 4 or more portions heat for about 20 minutes, if you have 2 portions 10 to 15 minutes is all that is needed.
Can I prepare Broccoli Rice casserole the night before?
Yes, you can. Simply mix all of the ingredients together. Place into your baking dish, and cover with foil. Cook in a 350-degree oven the day you wish to serve. You will need to add 5 to 7 minutes of cooking time.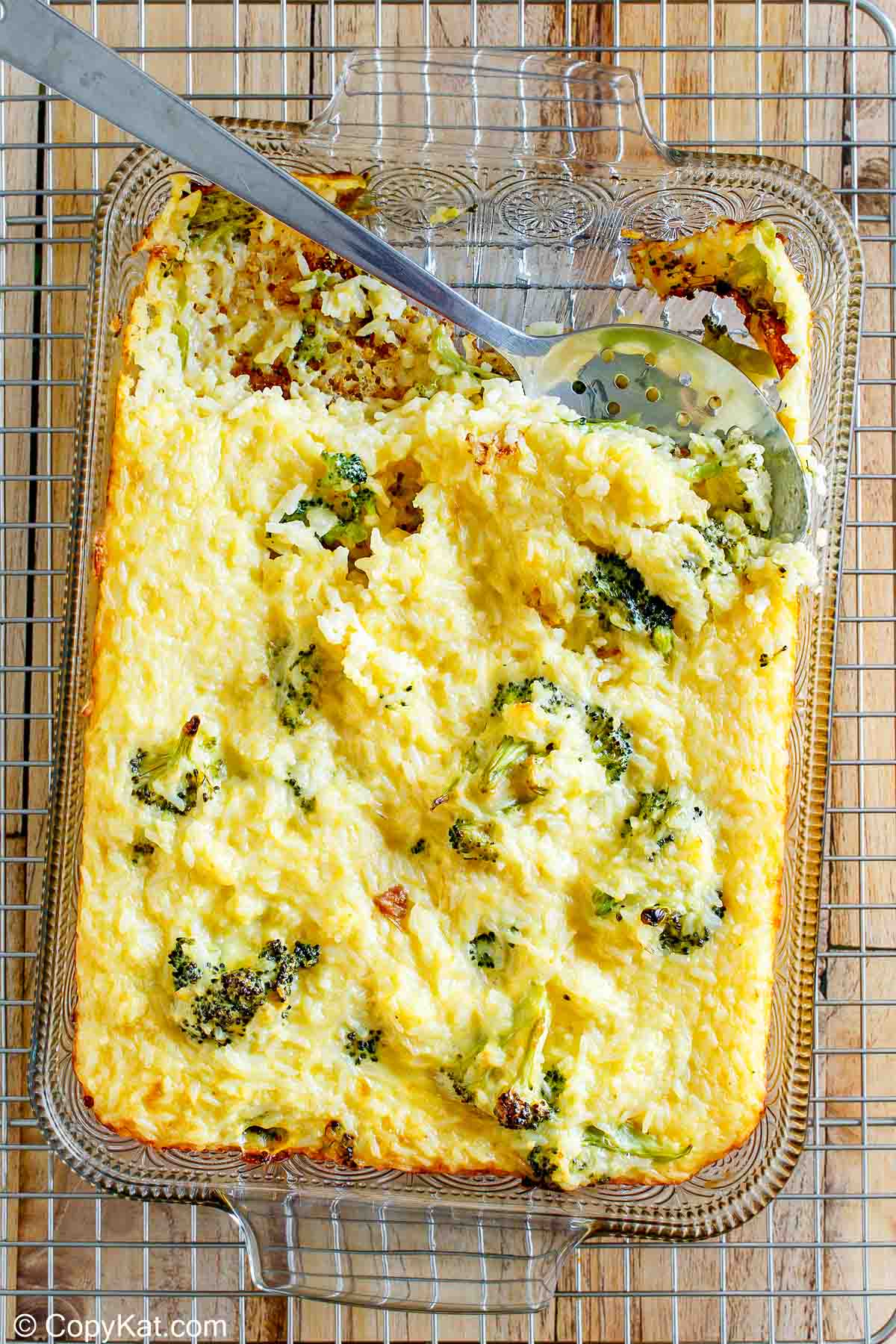 Favorite Casserole Recipes
More Rice Side Dishes
Be sure to check many other great rice side dish recipes and easy casserole recipes here on CopyKat.com.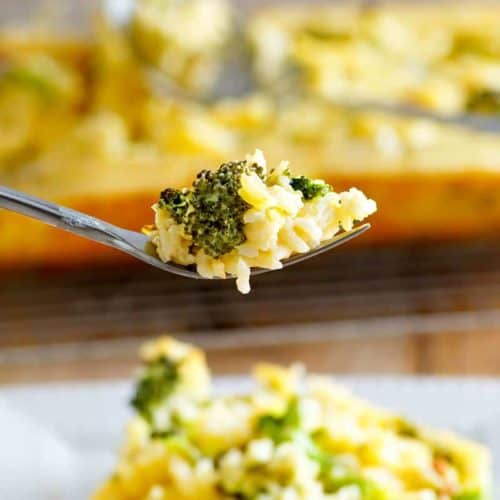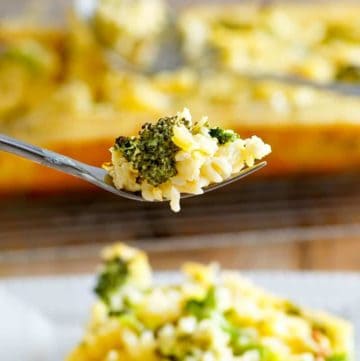 Ingredients
16

ounces

chopped broccoli

fresh or frozen

3

tablespoons

butter

1/2

cup

chopped onion

1

cup

Velveeta cheese

diced

10.75

ounces

cream of chicken soup

1 can

2

cups

cooked white rice
Instructions
Place the broccoli into a steamer and steam for 5 to 7 minutes, until it turns bright green.

In a medium saucepan, melt the butter. Add the chopped onion and sauté until the onion becomes translucent.

Add the cheese, cream of chicken soup, broccoli, and rice and stir until the cheese is melted and the mixture is heated through.

You can serve this dish now, or you can put it in an 8-inch square baking pan, cover, and refrigerate. When you are ready to serve, uncover and reheat in a 350°F oven for about 20 minutes, until hot and bubbly.
Nutrition
Calories:
179
kcal
|
Carbohydrates:
19
g
|
Protein:
8
g
|
Fat:
7
g
|
Saturated Fat:
4
g
|
Cholesterol:
23
mg
|
Sodium:
535
mg
|
Potassium:
309
mg
|
Fiber:
1
g
|
Sugar:
3
g
|
Vitamin A:
775
IU
|
Vitamin C:
51.3
mg
|
Calcium:
204
mg
|
Iron:
0.5
mg