Stick of butter rice side is super easy to make, and it is just as tasty as it is easy. Don't be surprised if your guests really enjoy this rich and savory rice dish.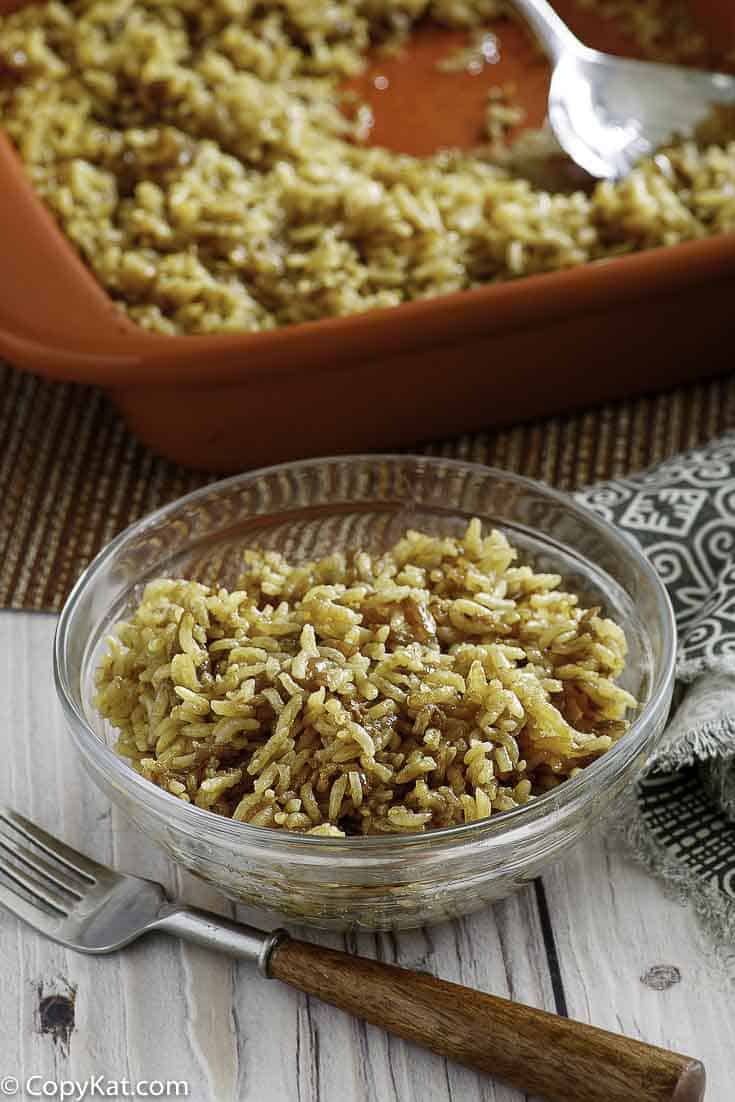 If you are always looking for a simple side dish this recipe is for you. It requires just five ingredients – a can of French onion soup, a can of beef consommé, a stick of butter, Worcestershire sauce, and uncooked rice.
Some people call this recipe French onion soup rice or beef consomme rice, and others just call it stick of butter rice. Whatever you call it, this rice side dish is super simple to make, and it is just as tasty as it is easy.
Who says that rice has to be boring? Don't be surprised if your guests really enjoy this dish. And, it's a dish that's perfect for taking along to a potluck dinner.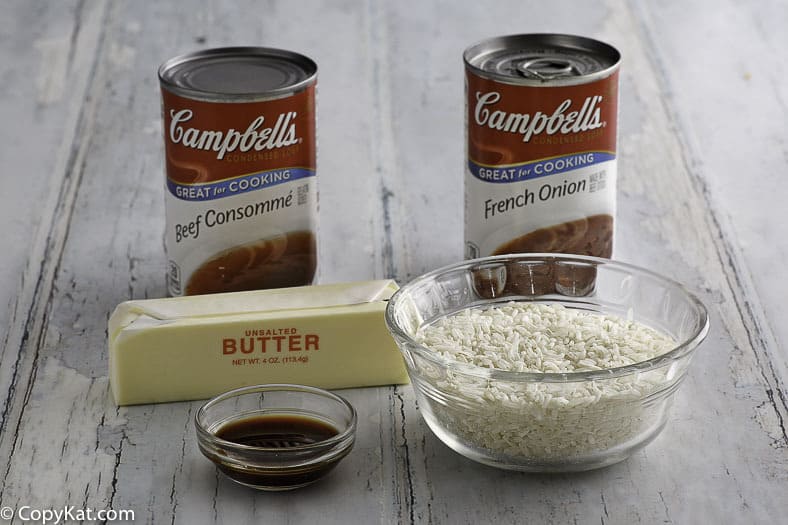 Recipe Variations
Thanks to all of you great cooks who sent in some interesting variations.
With canned mushrooms – Use 1 can French onion soup or beef consommé and 1 can mushroom stems and pieces (do not drain).
With mushroom soup and cheese – Substitute the French onion soup for a can of golden mushroom soup and a small can of onions. When almost done, grate cheddar cheese on top and return to oven.
With pork chops – Place browned pork chops on top before baking. This gives you a wonderful one-pot meal. The French onion flavor in the pork chops is great. No need to add the butter as the fat from the pork chops will substitute.
Enjoy Stick of Butter Rice
Enjoy this great-tasting stick of butter rice side dish. It's so delicious that every single helping will get eaten. The canned soup means it's an easy-peasy dish to make. And including a teaspoon of Worcestershire sauce adds a little extra zest.
If you are a beginner cook you may want to give this recipe a try. All you need to do is put all of the ingredients into a small baking dish, cover the dish, and pop it right into the oven. You can cook this recipe with all of the confidence that it will turn out great.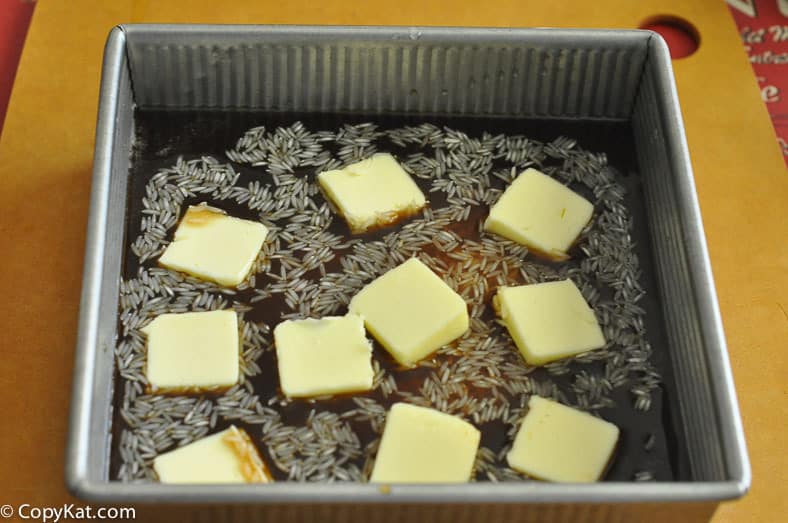 More cooking tips for Stick of Butter Rice
Want to make double the recipe? You may not need to double the time, but I would plan on adding 10 to 20% more time. You may also choose not to double up on the butter.
Want to use brown rice? You will need to cook it much longer unless it is par-boiled brown rice. I would plan on cooking it twice as long.
Can't find condensed French onion soup? I think that regular French onion soup would work well.
Want to cut down on salt? Swap out the beef consommé for 2 packets of sodium-free beef bouillon.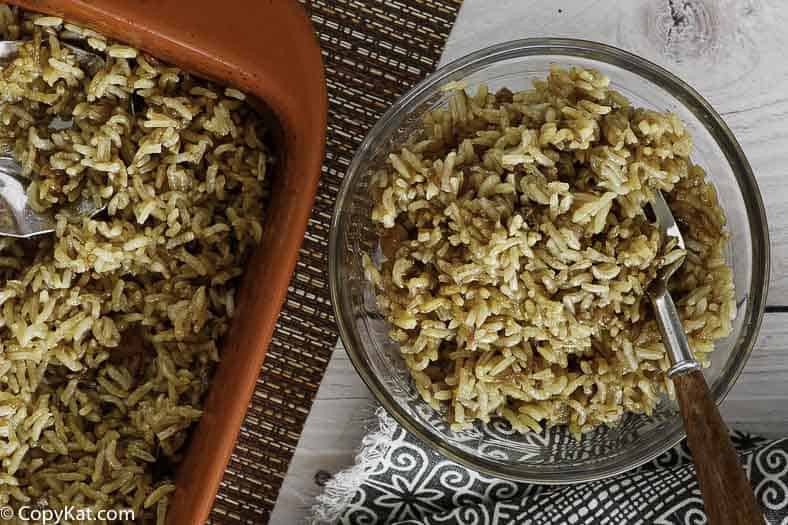 Looking for easy rice dishes? Check out these recipes
Serve Stick of Butter Rice with these main dishes
Be sure to take a look at more of my easy side dish recipes and the best budget-friendly meals.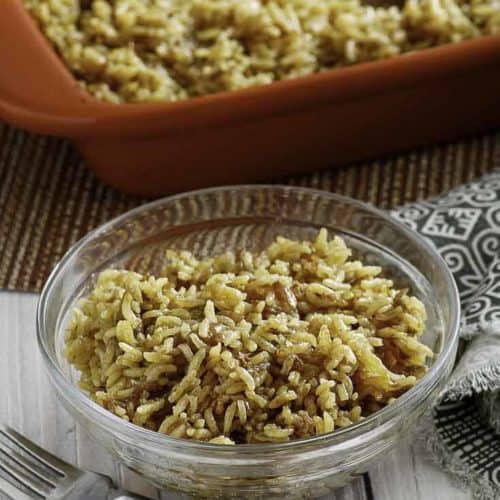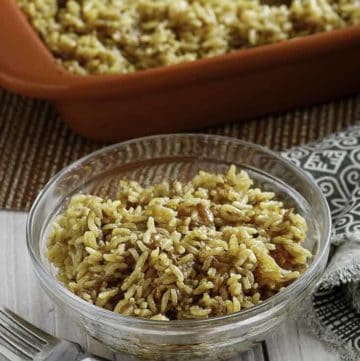 Ingredients
1

cup

long grain rice

10

ounces

condensed French Onion soup

1 can

10

ounces

beef consume

1 can

4

ounces

butter

thinly sliced

1

teaspoon

Worcestershire sauce
Instructions
Preheat oven to 425 degrees. In an 8 x 8 or a one quart baking dish add 1 cup of rice, 1 can French Onion soup, 1 can beef consume soup, 1 teaspoon Worcestershire sauce. Cut 1 stick of butter into about 9 thin slices and place over rice. Cover dish with foil. Bake for approximately 45 minutes, remove foil and continue to bake for another 15 minutes.
Nutrition
Calories:
271
kcal
|
Carbohydrates:
27
g
|
Protein:
4
g
|
Fat:
16
g
|
Saturated Fat:
10
g
|
Cholesterol:
42
mg
|
Sodium:
483
mg
|
Potassium:
340
mg
|
Fiber:
0
g
|
Sugar:
1
g
|
Vitamin A:
470
IU
|
Calcium:
25
mg
|
Iron:
0.4
mg