It's hard to beat baked pork chops and rice. Pork chops are cooked with rice and tomato soup to make an easy dinner! Plus this recipe is very versatile, you can use your favorite type of soup!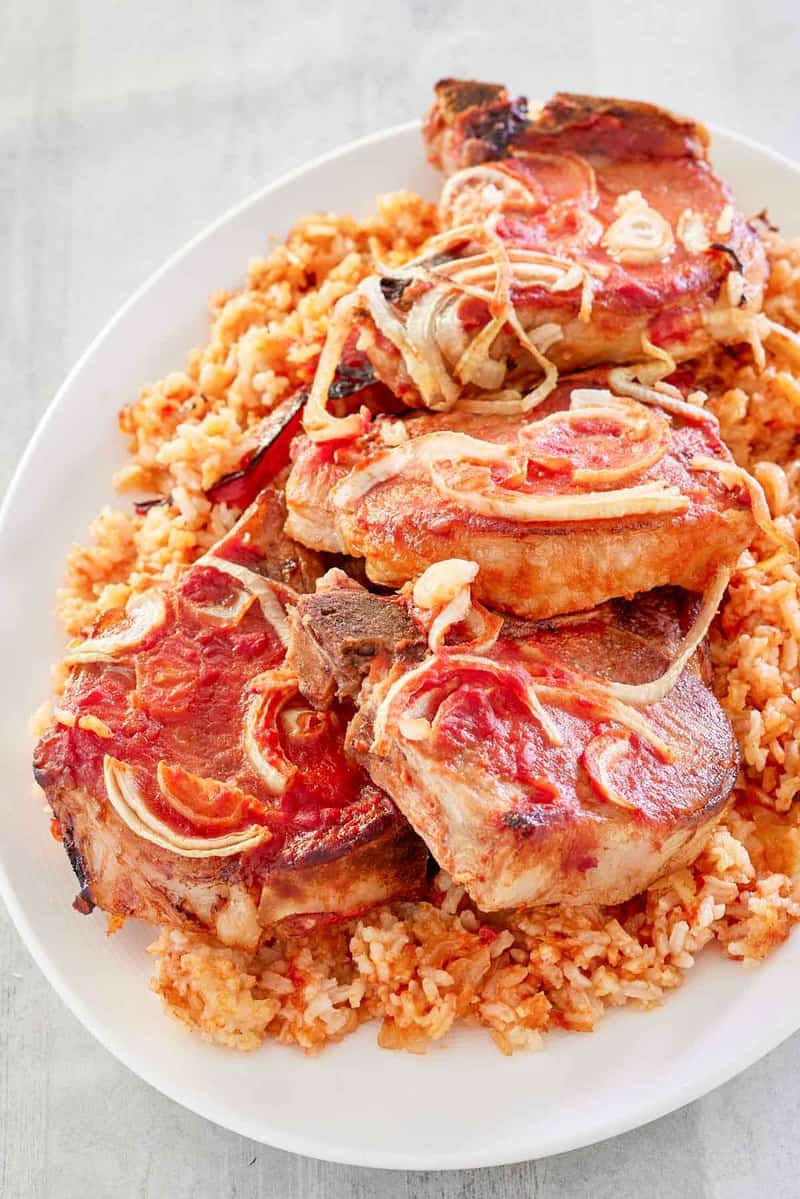 This post contains affiliate links. As an Amazon Associate, I earn from qualifying purchases.
Pork Chop Casserole with Rice
Baked pork chops and rice is a comfort meal everyone craves. Tender pork chops are packed full of flavor with onions and canned soup. This recipe makes a delicious casserole to serve to your family.
Why Pork Chops and Rice are the Perfect Combination
Who doesn't love a meal that is complete in just one dish? Cooked rice, combined with pork chops that are lightly browned, and your favorite can of soup means you will have a heaping helping of this comfort food.
What Makes Baked Pork Chops and Rice So Good?
I love this recipe because it is a wonderful and easy dinner that you can put together and get a great comfort food meal. It is a great pork chop rice recipe that is just a pure delicious hearty home-cooked meal.
Since there are only a few ingredients for this pork chop and rice casserole, it is not overly complicated to make, which makes it perfect to make for those busy weeknights.
Why This is the Recipe You Must Try For Baked Pork Chops and Rice
From the uncomplicated recipe to the final product, you truly cannot go wrong. Plus the cream of tomato soup makes this recipe, amazing. This recipe can be used for boneless or you can use it on pork chops with a bone.
The soup creates the perfect base for the pork chop casserole with rice. It cooks the rice wonderfully all the while giving it the added flavor that sets this dish apart from other pork chops and rice recipes.
Ingredients You Need to Make Baked Pork Chop and Rice Casserole
Take a look at this comprehensive list of ingredients to make sure you have the necessities before you get started. Don't worry there is nothing too crazy, so chances are you have everything you need.
Pork Chop and Rice Casserole Ingredients
Uncooked rice – long-grain white rice is preferred
Vegetable oil
Pork chops – you can use boneless pork chops or bone-in pork chops
Onion
Salt
Cream of tomato soup
Water
How to Make Pork Chops and Rice
Begin by preheating your oven to 350°F.
Then in a small pan cook the rice according to the directions on the box packaging.
While the rice is cooking, heat the vegetable oil in a skillet over medium-high heat.
Once the oil is hot, add the pork chops to the skillet and cook them until they are browned on both sides of the pork.
After the rice is done cooking, place it in the bottom of a 9×13-inch baking dish.
When the pork chops are finished cooking, place them on top of the rice.
Sprinkle the onion slices and salt on top.
Now combine the water and the cream of tomato soup in a small bowl and then pour it over top of the pork and rice.
Once the soup has been added, cover the dish with aluminum foil.
Place the dish in the oven and let it bake for 1½ hours.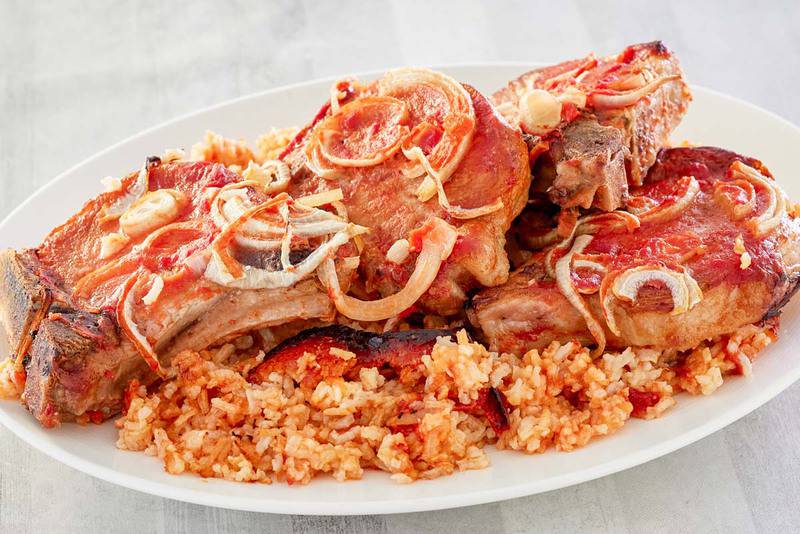 Recipe Variations
Since this recipe is very simple there is not much to do to change it up. However, if you want to give this dish a little different flavor profile you can always switch out the tomato soup for your favorite creamy soup. Here are some of my favorites:
Cream of mushroom soup
Cream of mushroom with garlic soup
Cream of chicken soup
Cheddar cheese soup
Creamy tomato basil soup
Also, if you are not a fan of rice or are looking for an alternative, cauliflower rice or quinoa would be great substitutes for the rice in this recipe.
Seriously, the possibilities for this recipe are endless!
What Goes With Pork Chops and Rice?
You can eat this meal as it is or you can spice it up a bit and add some sides. Here is a list of a few of my favorite sides to serve with baked pork chops and rice.
Steamed broccoli
Fresh green beans
How to Store Leftover Pork Chops and Rice
When you are done eating and are ready to pack up the leftovers, you can either place the dish covered in the fridge covered with tinfoil, or you can transfer it all to an air-tight container and keep it in the fridge for 4 to 5 days.
If you wish to freeze the leftovers, place all of the rice in the bottom of a freezer-safe ziplock bag and then the pork chops on top after it has cooled down completely. Then just close it up and keep it in the freezer for up to 3 months.
How to Reheat Leftover Pork Chops and Rice
The best way to reheat this seared pork chop recipe would be in the oven at 350°F until it is heated through. Your other option would be the microwave for 45 to 60 seconds until you reach your desired temperature.
If you are reheating the frozen leftovers, pull them out 24 hours ahead of time and let them thaw in the fridge.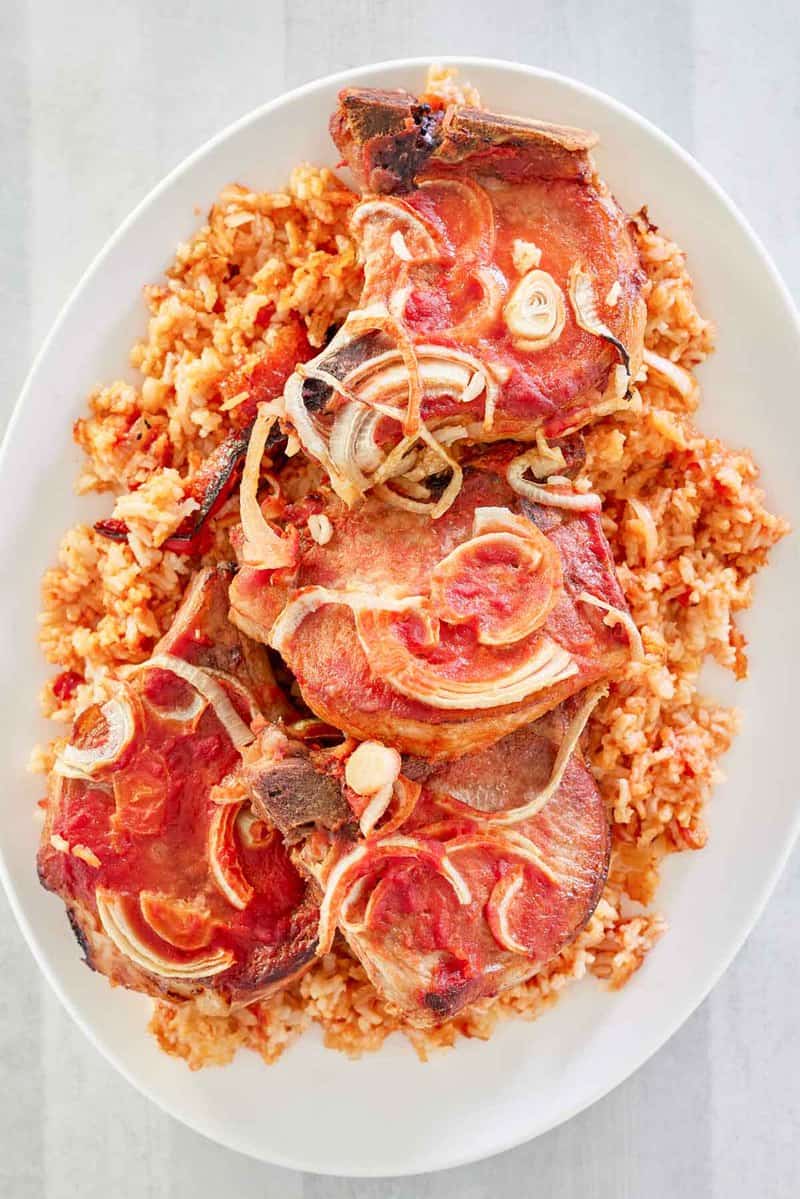 Do you love pork chops? Try these recipes!
Favorite Dinner Casserole Recipes
Check out more of my easy casserole recipes and the best recipes for pork on CopyKat!
Ingredients
1/2

cup

uncooked rice

2

tablespoons

vegetable oil

2

pounds

pork chops

1

onion

sliced

1/2

teaspoon

salt

10 1/4

ounces

cream of tomato soup

1

cup

water
Instructions
Preheat the oven to 350°F.

Cook the rice according to the package directions.

While the rice is cooking, heat the oil in a skillet over medium-high heat.

Add the pork chops and cook until browned on both sides.

Place the cooked rice in the bottom of a 9×13-inch casserole dish.

Place the browned pork chops over the rice.

Scatter the onion slices on top of the pork chops and sprinkle with salt.

Combine the soup and water and pour the mixture over the pork chops.

Cover and bake for 1½ hours.
Nutrition
Calories:
494
kcal
|
Carbohydrates:
32
g
|
Protein:
51
g
|
Fat:
16
g
|
Saturated Fat:
5
g
|
Cholesterol:
151
mg
|
Sodium:
678
mg
|
Potassium:
1320
mg
|
Fiber:
1
g
|
Sugar:
7
g
|
Vitamin A:
285
IU
|
Vitamin C:
11.4
mg
|
Calcium:
38
mg
|
Iron:
1.8
mg