Panda Express Super Greens is a healthy vegetable side dish. You can make this delicious Chinese vegetable stir-fry with broccoli, kale, and cabbage at home with this easy copycat recipe. Enjoy the best stir-fried veggies tossed with a flavorful and light garlic sauce.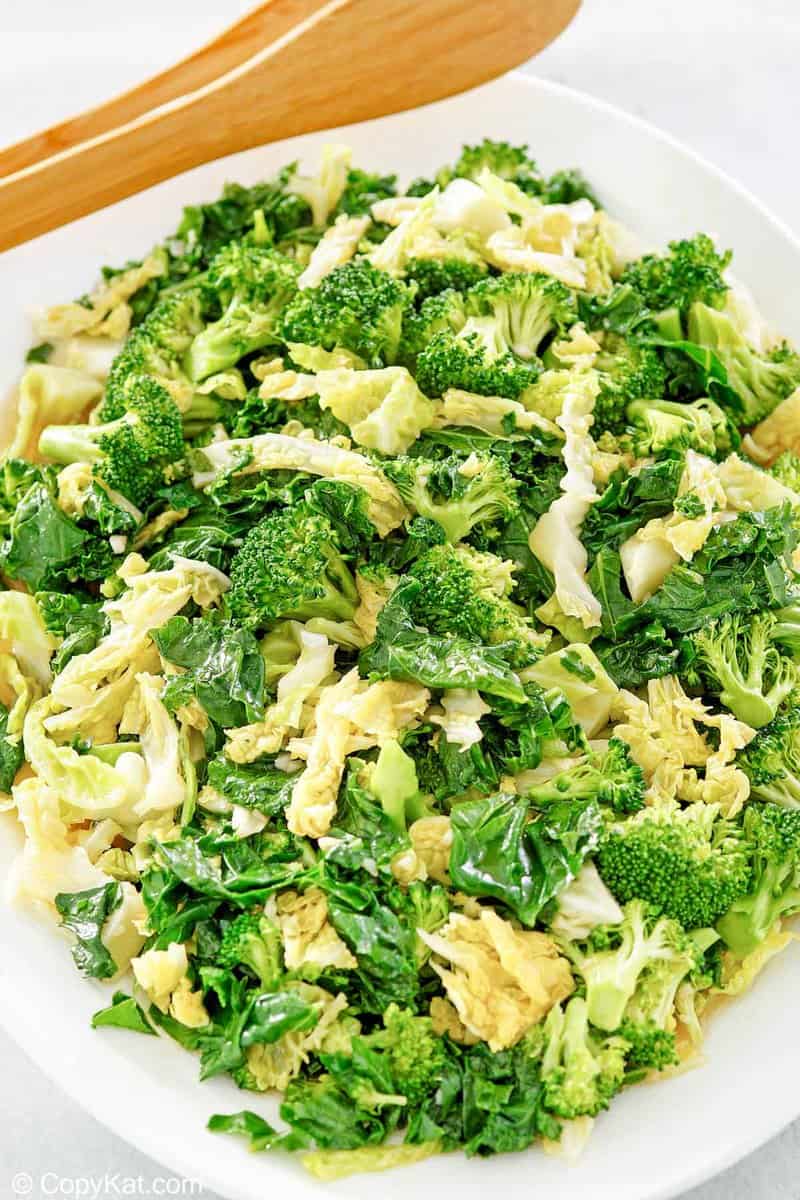 This post contains affiliate links. As an Amazon Associate, I earn from qualifying purchases.
Delicious and Healthy Chinese Vegetable Dish
Be honest. You and your family aren't eating enough vegetables. But that can all change when you start serving Panda Express Super Greens.
What Makes Panda Express Super Greens So Good?
Everyone knows that kale, broccoli, and cabbage are packed with vitamins and nutrients that your body craves, but they aren't exactly everyone's favorite things to eat. But this easy-to-make veggie stir-fry not only makes these veggies taste good but makes them second helping-worthy.
Why This is the Best Copycat Recipe for Panda Express Super Greens
This Panda Express recipe proves that making great-tasting Asian-inspired food at home doesn't have to be complicated. You can have these Panda Express vegetables on the table in minutes, and since they have such a mild flavor, they'll go with just about any main course.
Recipe Ingredients
To make this healthy super greens Panda Express recipe, here's a handy list of ingredients:
For the sauce, you will need:
Water
Vegetable base or bouillon
Cornstarch
For the stir fry, you will need:
Broccoli
Kale
Green cabbage
Garlic
Salt
Vegetable oil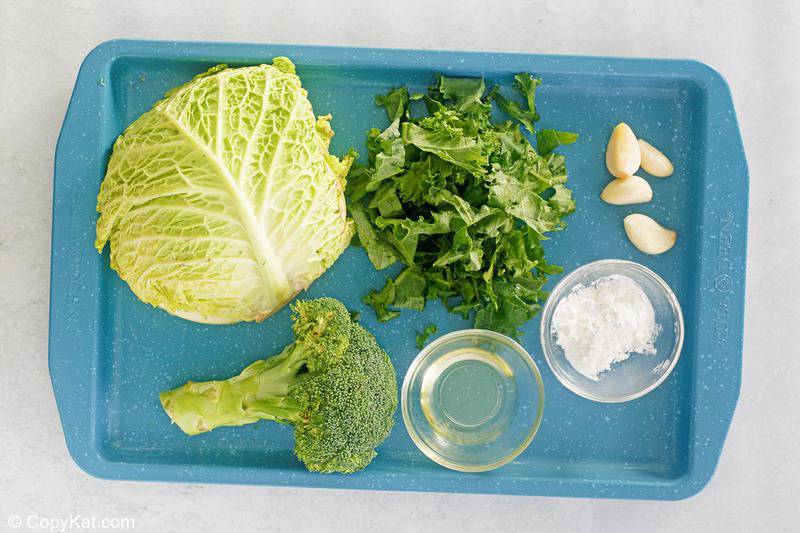 Ingredient Substitutions
Go ahead and experiment with the stock in the sauce. Instead of a base or bouillon cube, you can use a premade homemade or canned vegetable stock. If you don't care about keeping the recipe vegetarian friendly, you can use chicken or pork stock as well for a fuller, more savory flavor.
In this Super Greens Panda Express recipe, you're not locked into using broccoli, kale, and green cabbage. Any hearty veggies will do. Broccoli rabe, bok choy, Swiss chard, and water spinach are all excellent choices as well.
How to Make Panda Express Super Greens
The two components of this dish are the sauce and the vegetables. Make the sauce first, so it will have time to rest before using it.
To make the sauce:
Heat the water in a small saucepan over medium heat until simmering.
Add the vegetable base or bouillon cube and whisk vigorously to dissolve.
Sprinkle in the cornstarch and constantly whisk to avoid lumps. The sauce needs to simmer for at least a minute or two to cook out the raw cornstarch flavor.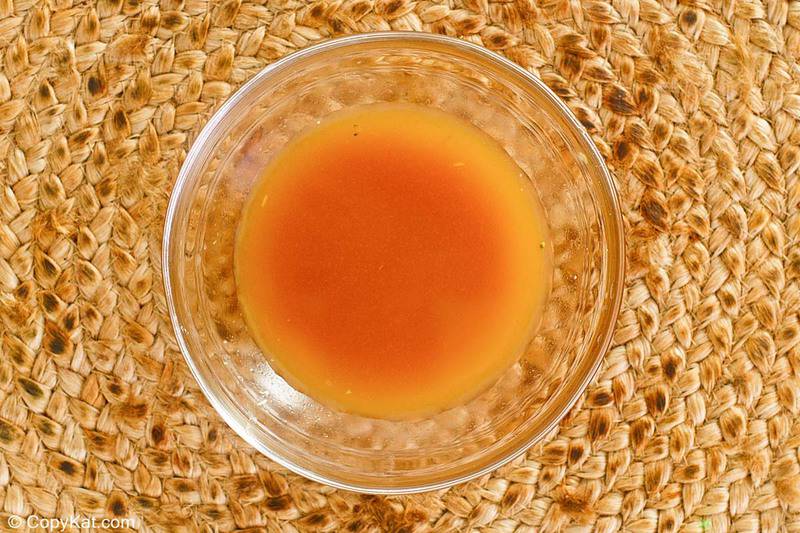 To complete the recipe:
Rinse the vegetables and dry them thoroughly.
Cut the vegetables into bite-sized pieces. Remember, the green cabbage will shrink after cooking, so cut it into larger pieces.
Bring a large stockpot with 2/3 full of water to a boil over high heat and add a pinch of salt.
Cook the broccoli in the water until the florets turn bright green.
Then add the cabbage and kale and cook for a few seconds.
Strain the vegetables and run them under cold water to stop them from carry-over cooking.
Heat a large pan or wok over medium-high heat. When the pan is hot, add the vegetable oil and quickly saute the garlic until fragrant.
Add the blanched vegetables and sauce to the pan and toss well.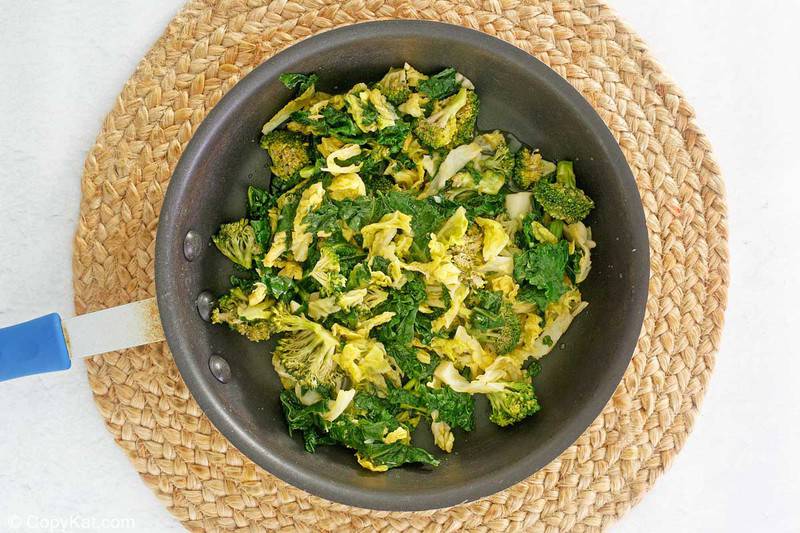 Once the sauce thickens, remove the pan from the heat and serve the vegetables immediately.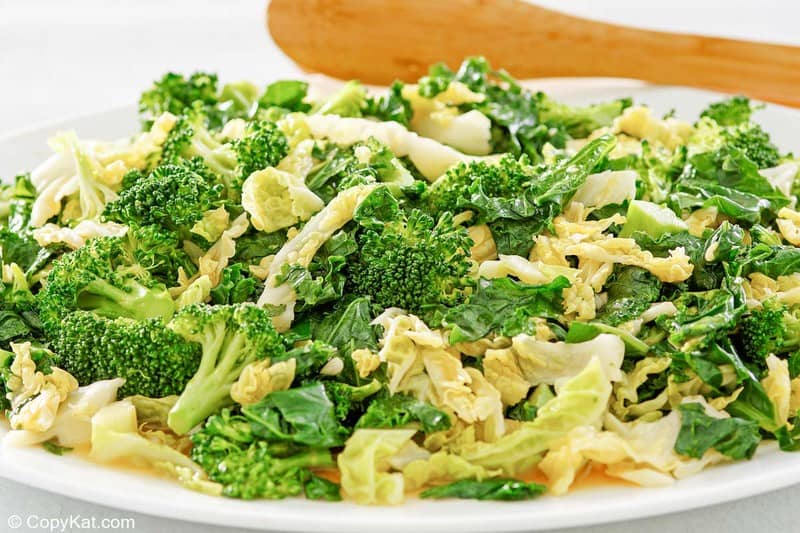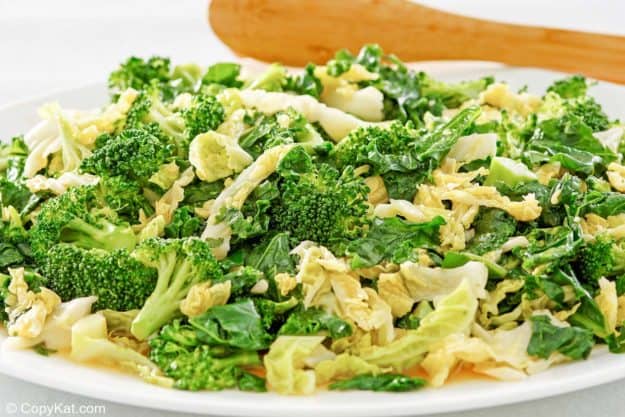 Recipe Variations
You can play fast and loose with the sauce in this recipe. Just about any bottled stir-fry sauce will be great. If you like a bit of heat, use Szechuan-style sauce for pure spice or Thai-style sweet chili sauce for something a little more balanced.
Try sautéing some thinly sliced beef, chicken, shrimp, or tofu and adding to the vegetables for additional protein and flavor.
How to Serve Panda Express Super Greens
Plate the vegetables over rice or quinoa. You can also mix the veggies with Asian noodles.
What Goes Well With Super Greens?
This recipe is natural alongside any Chinese main course, but it works equally well when you serve it with a roasted pork tenderloin or baked salmon.
How to Store Leftover Stir-Fried Vegetables
The super greens Panda Express stir-fry will keep in the fridge for up to three days after cooking.
You can store the sauce separately in an airtight container for about a week. Just be sure to stir the sauce well before using it.
Freeze leftovers if you want to keep them longer than a few days. Most people find it most convenient to freeze the stir-fry in a freezer bag and store it on its side.
Both refrigerating and freezing vegetables will make them less firm, but the flavor should remain about the same.
How to Reheat Panda Express Super Greens
If you are reheating from frozen, let the vegetables thaw completely in the fridge overnight. It's best not to thaw in the microwave because nuking them will soften the vegetables further.
To reheat the stir-fry:
Heat a pan on the stove over high heat.
Add a little water to the pan and dump in the vegetables.
Stir to ensure even heating, and remove the vegetables from the pan as soon as they are warm to avoid overcooking.
More Panda Express Copycat Recipes
Favorite Chinese Recipes
Check out more of my easy vegetable side dish recipes and the best Chinese food recipes here on CopyKat!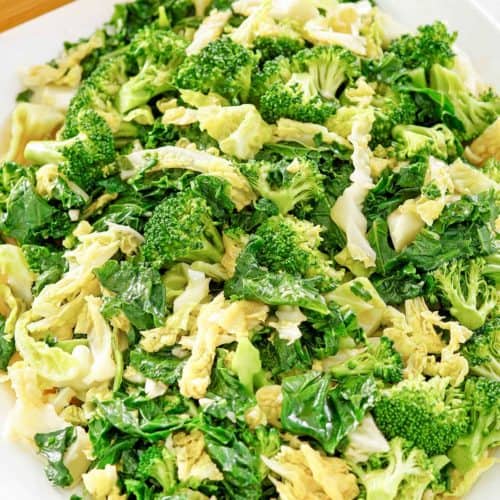 Panda Express Super Greens
Panda Express Super Greens is a healthy side dish of broccoli, cabbage, and kale with a light garlic sauce. Make it at home with this easy copycat recipe.
Print
Pin
Rate
Add to Collection
Go to Collections
Ingredients
Super Greens Sauce
1¼

cups

water

2

teaspoons

vegetable base

or 1 cube of vegetable bouillon

2

teaspoons

cornstarch
Vegetables
1

pound

broccoli florets

½

pound

kale

¾

pound

green cabbage

2

teaspoons

salt

2

teaspoons

minced garlic

2

tablespoons

vegetable oil
Instructions
Super Greens Sauce
Prepare the sauce before you begin to cook the vegetables.

In a small mixing bowl, combine water, vegetable base, and cornstarch. Whisk vigorously until the mixture is well-blended.
Vegetables
Wash broccoli florets, and break them into bite-sized pieces.

Wash kale and chop leaves into bite-sized pieces.

Wash green cabbage and cut it into large slices.

Fill a gallon-sized pot ¾ full of water and add 2 teaspoons of salt. Bring the salted water to a boil.

Add broccoli to the boiling water. Cook until the broccoli turns bright green.

Add the kale and cabbage. Cook for about 15 seconds.

Remove the pot from the heat and drain the vegetables.

Heat a wok or large skillet to medium-high heat.

Add vegetable oil.

Add minced garlic and cook for about 10 to 15 seconds. The garlic should become fragrant.

Add the sauce and cook until it thickens.

Add drained vegetables and stir until the vegetables are coated with sauce.
Nutrition
Calories:
51
kcal
|
Carbohydrates:
10
g
|
Protein:
3
g
|
Fat:
1
g
|
Saturated Fat:
1
g
|
Polyunsaturated Fat:
1
g
|
Monounsaturated Fat:
1
g
|
Sodium:
830
mg
|
Potassium:
394
mg
|
Fiber:
3
g
|
Sugar:
2
g
|
Vitamin A:
3227
IU
|
Vitamin C:
100
mg
|
Calcium:
89
mg
|
Iron:
1
mg