Go into your favorite Chinese restaurant and if you are lucky they will serve up those delicious crispy fried wonton strips. You can make these at home in just minutes, and you never have to worry about who is going to get the last crunchy chip.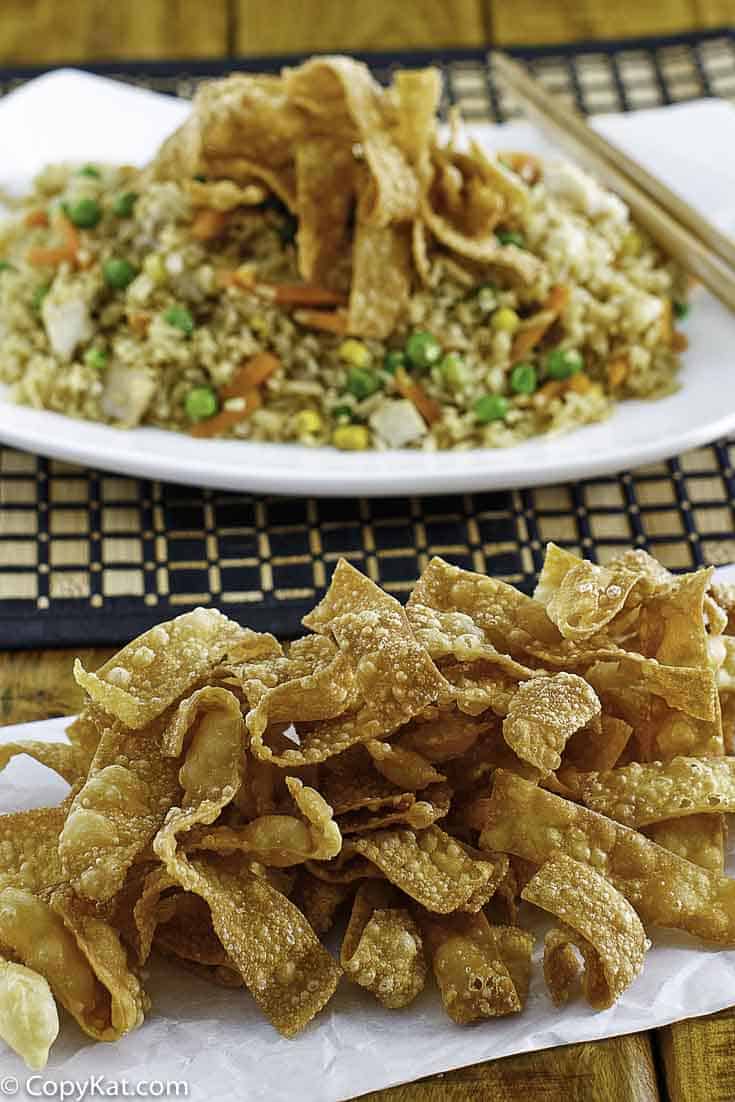 Fried wonton strips are one of those snacks few people will readily admit to loving. Yet, who hasn't double-checked a Chinese take-out order to make sure that the restaurant didn't forget to include a waxy bag or two of the deep-fried goodness?
If you can't get enough of fried wonton strips, then you need to try this incredibly simple and satisfying recipe so you can make them at home!
Finding the Right Wrappers
Right from the start, let's clear up a common misconception. Although you will hear this tasty snack referred to as fried wonton strips, wonton wrappers are not the main ingredient. Instead, this recipe calls for a similar yet slightly thinner eggroll wrapper.
Depending on who you talk to, you may hear the term eggroll skins or eggroll wraps. Don't worry, these are different names for the same thing. However, you will want to be careful to avoid purchasing summer or spring roll wrappers because those are different, and they won't work for this recipe.
Up until a few years ago, the biggest hurdle to frying up a batch of golden wonton crisps was the inability to find eggroll wrappers in the supermarket. Most grocery stores carry these in the produce section, I often find these near the tofu.
Today with the internet, any ingredient is available with a single click. Of course, you can find wrappers at Asian cuisine specialty stores online like HMart, but they are also available from most mainstream online grocery stores and Amazon.
But what if you are craving them now, and can't wait for delivery? The good news is that most supermarkets now sell eggroll wrappers — the trick is knowing where they are in the store.
While you may think that heading directly to the Foreign Foods section is your best bet to find them, think again. It is probably better to make a beeline to the Frozen Foods department since unless there is a sizeable Chinese community in your area, there won't be enough demand for fresh ones,
Wonton Strips Crispy and Fresh
Without a lot of ingredients, good technique is necessary for great-tasting fried wonton strips. That means making sure you have your frying technique down pat. A counter-top fryer makes things much cleaner and more manageable, but you can use a thick-bottom pot on the stove if you don't have one.
But the one thing you absolutely can't get by without is a thermometer. The secret to light, airy, and less greasy fried wonton strips is cooking small batches at the ideal temperature of 350 degrees. Frying at too low a temperature will make the wonton strips oily, while too high a temperature can lead to burning.
Serving Suggestions For Fried Wonton Strips
Serve on a salad. Fried wonton strips are a great substitute for croutons and are essential for making an authentic Chinese Chicken Salad.
A chip alternative. Wider-cut wonton strips are great for snacking. Want to add more flavor? Try dipping them into Joe's Crab Shack Dipping Sauce.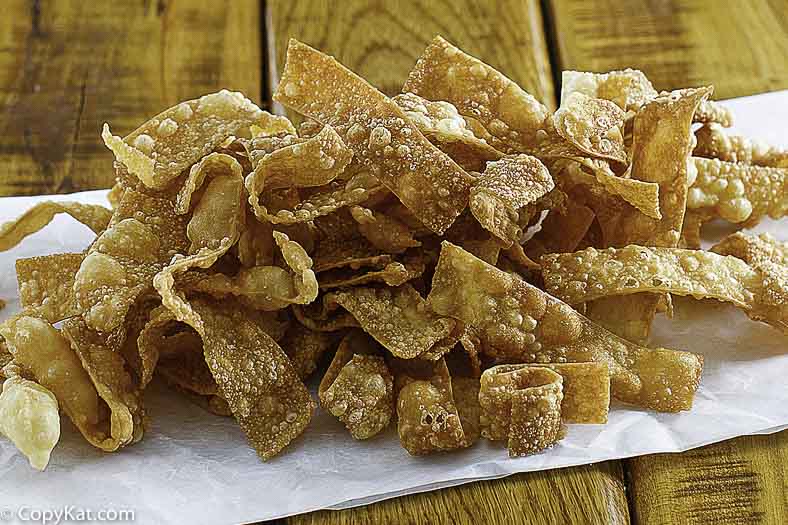 Check out these other recipes which use eggroll wrappers:
Do you love more Asian-inspired recipes? Be sure to check these out!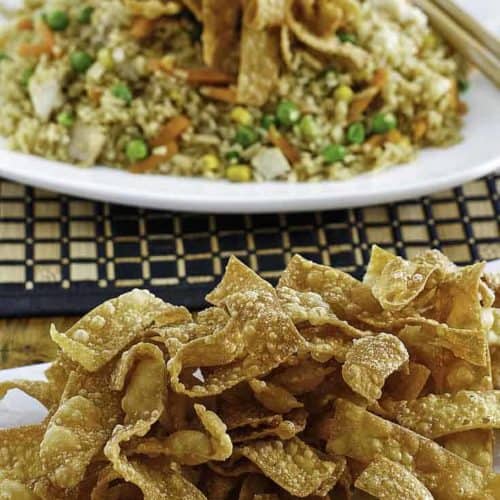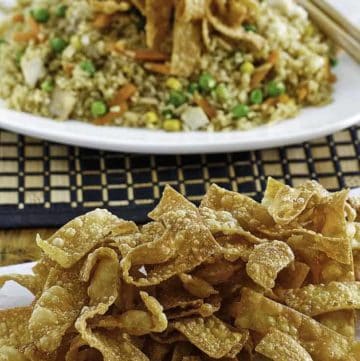 Ingredients
10

eggroll wrappers

oil for frying
Instructions
Fill a pot with enough vegetable oil so the oil is about 4 inches deep.

Preheat oil to 350 degrees.

Use a sharp knife to cut the wrappers into 1/4 to 3/8 inch strips.

Fry a few strips at a time until they turn golden brown. When placing them into the hot oil, be sure to break up the strips so they do not cook in clumps.

When strips are golden brown, it will only take about 30 seconds place on a wire rack to drain. These are best when served warm.
Notes
Remember to follow us on Instagram to stay up-to-date with our latest recipes!
Equipment
Nutrition
Calories:
394
kcal
|
Carbohydrates:
9
g
|
Protein:
2
g
|
Fat:
39
g
|
Saturated Fat:
3
g
|
Cholesterol:
1
mg
|
Sodium:
93
mg
|
Potassium:
13
mg
|
Fiber:
1
g
|
Calcium:
8
mg
|
Iron:
1
mg