Chinese Spare Ribs are one of the Chinese Takeout favorites. Armed with a couple of ingredients from the Asian section of your local grocery store you won't have to go out for Chinese food anymore. You really can make delicious Chinese BBQ spare ribs at home.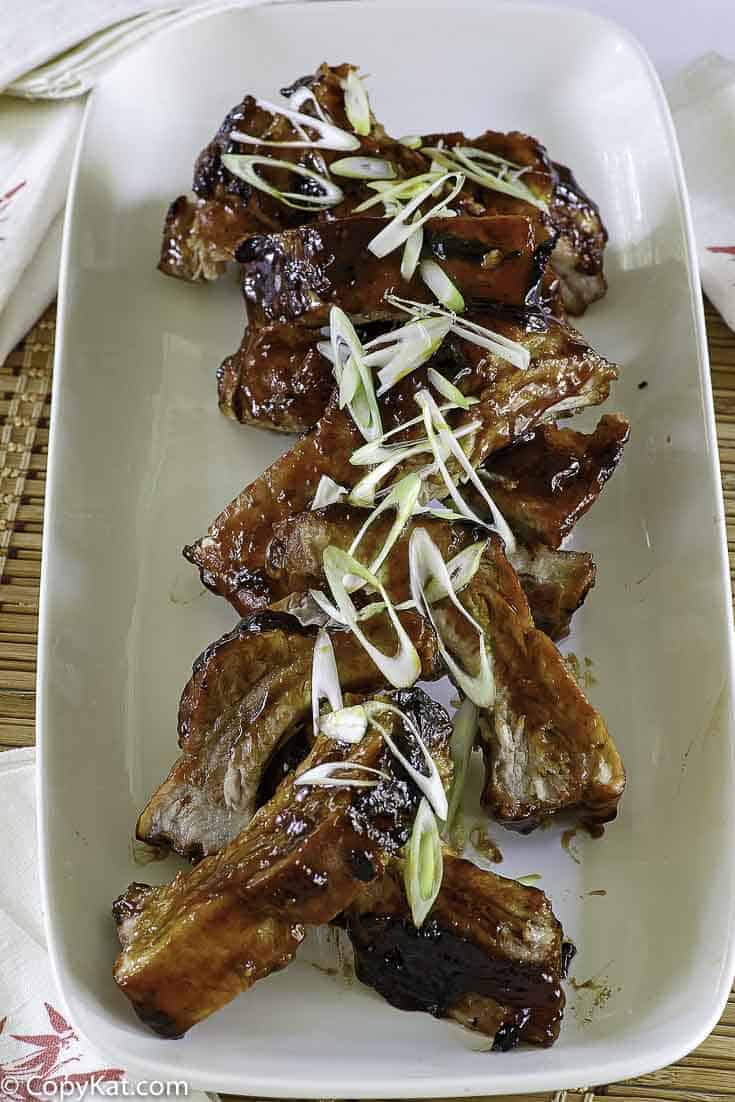 Chinese Spare Ribs is a classic Chinese take-out dish we all love to eat, but few people attempt to cook by themselves. It can seem a bit too intimidating for those without experience cooking Asian food.
The good news is besides using a few unfamiliar ingredients, Chinese Spare Ribs are just Chinese BBQ ribs. They're as easy to make at home as any other rib dishes.
This straightforward recipe teaches you how to make Chinese Spare Ribs, and gives you the confidence you need to try out this delicious dish at home!
Getting the Right Ingredients
Like any other recipe, getting great results depends on using the best ingredients you can find. Let's take a closer look at some of the more exotic ingredients in this dish to help you understand what they are and where you can buy them:
Hoisin is an Asian sauce that is popular for marinating the meat in many pork and duck dishes. It contains mostly fermented soybean paste seasoned with chili peppers, garlic, honey, sesame oil, and five-spice powder (see below). You can find hoisin sauce at most grocery stores in the Asian or imported section. People who do not eat soy or gluten products can buy no-soy and gluten-free hoisin sauces but may need to order online.
Toasted Sesame Oil comes from sesame seeds and has a distinctively nutty taste. There are several different types of sesame oil available, so make sure that you use toasted sesame oil for this recipe. Toasted sesame oil has a low smoke point, meaning that it will begin to burn at a much lower temperature than other oils. Don't use toasted sesame oil for frying to avoid excessive smoke and a possible fire. Toasted sesame oil is widely available.
Mirin is a sweet rice wine from Japan people use mainly for cooking. In this recipe, mirin replaces the traditional Chinese Shaoxing rice wine that can be very difficult to find in the US. Outside of areas with large Asian populations, even mirin may be hard to buy. In this case, dry sherry is an acceptable substitution. Avoid using any product with "aji-mirin" on the label. This is a mirin-flavored seasoning only.
Five Spice Powder is a blend of spices Chinese cooks often use as a dry rub. The name comes from the five different tastes in Chinese philosophy. These are sweet, sour, salty, bitter, and pungent, often referred to with the Japanese term "umami." There are many different five-spice powder blends, but many include star anise, Chinese cinnamon, cloves, Sichuan peppercorns, and fennel seeds. You can also feel free to make your own.
You will also need these common ingredients:
Soy sauce
Fresh garlic
Honey
Ketchup
Pork spare ribs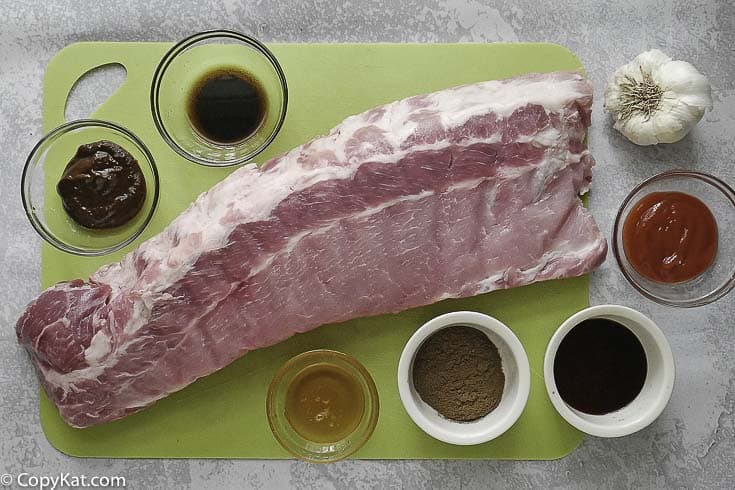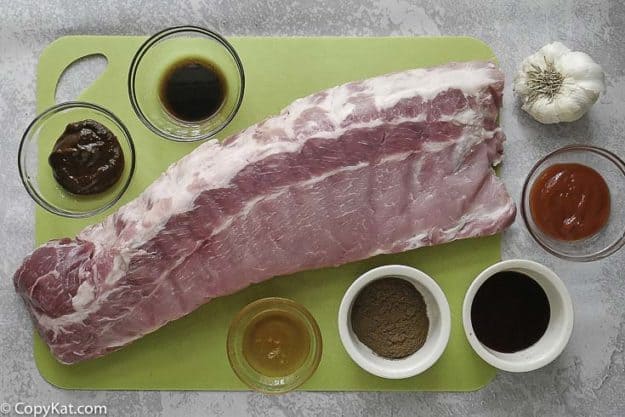 Choosing and Preparing Chinese Spare Ribs
The cut of ribs you use in this recipe is critical. Traditional spare ribs come from the lowest part of the ribcage near the belly. This cut has a much higher ratio of fat-to-meat than other ribs and guarantees juicy meat and a luscious mouthfeel. These recipes use ribs that come with the bones.
You can also use St. Louis style ribs which come from the same area of the ribcage as spareribs, but are trimmed square. These are very tender because there is so much marbling of fat in the meat.
As with any other rib dish, you want to allow the flavor of your marinade to soak thoroughly into the meat. It is best to allow eight or more hours for marinating. Although, you can do a quick marinate of at least an hour if you are in a rush.
Remember to cut the rack of ribs into individual pieces before marinating to get the most flavorful results.
How to Make Chinese Spare Ribs
In a large bowl, combine Hoisin sauce, sesame oil, soy sauce, rice cooking wine, five-spice powder, chopped garlic, honey, and ketchup.
Cut the ribs into individual pieces on a cutting board.
Pour glaze over pork spare ribs and marinate for at least 1 hour.
Place ribs on a wire rack resting on a foiled lined baking sheet. Be sure to place the ribs meat side down, and fat side up.
Bake at 375 in the oven for about 40 to 50 minutes.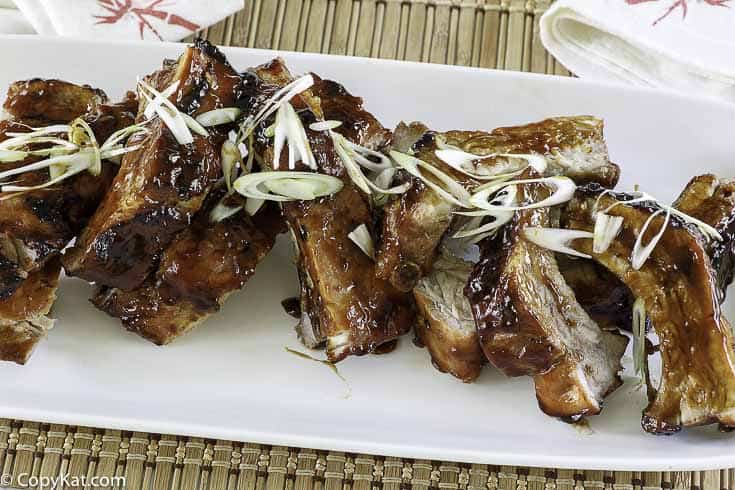 What to serve with Chinese Pork Ribs
Your options are limitless when it comes to what to serve with this recipe. I like to serve this with crunchy Asian coleslaw, egg rolls, and some crispy wontons.
How to store and reheat leftover pork ribs
I like to store my leftover spareribs in an airtight container for up to five days. Then I like to reheat them in a moderate oven at 350 degrees. I wrap the ribs in foil, place them on an aluminum baking sheet, and reheat until they are warm, this takes about 10 to 15 minutes.
More Chinese Take Out Recipes
One of the best things about going to a Chinese restaurant is sharing dishes. With this recipe, you can start your adventure in Chinese cooking. Why not create other Chinese dishes for a more authentic experience? Try these favorite Chinese classics:
Popular Ribs Recipes
Be sure to check out more of my easy Chinese Food recipes and the best pork recipes.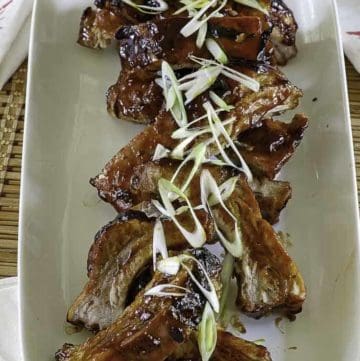 Ingredients
1

tablespoon

Hoisin sauce

1

teaspoon

toasted sesame oil

2

tablespoons

soy sauce

2

tablespoons

mirin

or dry sherry

1/2

teaspoon

five spice powder

2

tablespoons

chopped garlic

2

tablespoons

honey

2

tablespoons

ketchup

2

pounds

pork spare ribs
Instructions
In a medium sized bowl combine Hoisin sauce, sesame oil, soy sauce, rice cooking wine, five spice powder, chopped garlic, honey, and ketchup.

Stir until the sauce if fully blended.

Pour over pork spare ribs and marinate for at least 1 hour. These taste better if you can allow them to marinate a little longer.

Place ribs on a wire rack on a foil lined baking sheet. Try to place the ribs fat side up. Discard any leftover marinade.

Bake at 375 for about 40 to 50 minutes.
Nutrition
Calories:
341
kcal
|
Carbohydrates:
11
g
|
Protein:
30
g
|
Fat:
18
g
|
Saturated Fat:
3
g
|
Cholesterol:
111
mg
|
Sodium:
562
mg
|
Potassium:
519
mg
|
Fiber:
0
g
|
Sugar:
9
g
|
Vitamin A:
40
IU
|
Vitamin C:
1.1
mg
|
Calcium:
40
mg
|
Iron:
1.6
mg