Panda Express Chow Mein is one of their most requested side dishes. You can make this at home and when you do, it tastes even better than it does in the restaurant.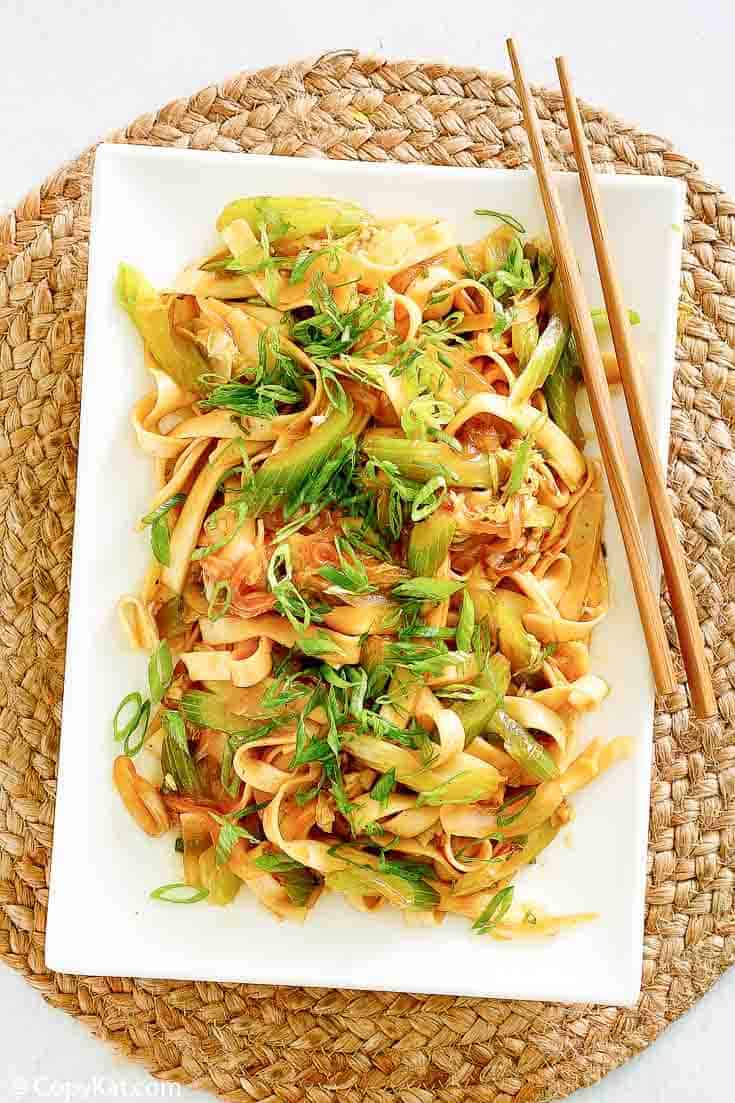 Recreating the Authentic Taste of Panda Express Chow Mein at Home
Chow mein is a relatively simple recipe, but it does require using a few techniques and ingredients American cooks may not know. Don't let that scare you off. Making chow mein at home isn't difficult; it is just different.
The one ingredient that can make or break your homemade chow mein is the type of noodles you choose. Proper chow mein noodles are soft and springy, even after frying. This consistency is only possible because real chow mein noodles contain potassium/sodium carbonate or sodium bicarbonate. Unfortunately, ordinary Italian spaghetti. just won't work for this recipe. Dried chow mein noodles are available in the ethnic section of most major supermarkets. However, if you can't find them, you can use noodles labeled yakisoba. Yakisoba is a thinner, Japanese version of Chinese chow mein noodles.
Two less commonly known ingredients that go into the chow mein sauce recipe are oyster sauce and hoisin sauce. Oyster sauce is a slightly sweeter version of soy sauce, and it does contain oysters. An excellent vegetarian substitute is mushroom-based soy sauce. Hoisin sauce is a thick and salty, bean-based sauce. It adds a unique flavor to chow mein, but in a pinch, you can substitute teriyaki sauce. Both oyster sauce and hoisin sauce are very popular sauces and are available from major brands like La Choy.
Besides new ingredients, great chow mein requires knowing how to stir fry the correct way. The good news is that you don't need a wok, but a heavy-bottom pan is necessary. A large cast-iron or steel skillet will help to retain and distribute heat evenly. The secret to a great stir fry is high heat and not overcrowding the pan unless you want to wind up with steamed noodles. Depending on how much you are cooking and your pan's size, you may have to stir fry in batches.
Make Panda Express Chow Mein Your Own
Once you master the basics of making chow mein, feel free to experiment. Use almost any fresh vegetables that you have on hand. Some popular choices are shredded carrots, hearty greens, pea pods, and broccoli. To make the dish even more hearty, add thinly sliced beef or chicken, shrimp, or tofu.
Tips For Making Panda Express Chow Mein at Home
Use an oil with a high smoke point. Neutral oils such as canola or grapeseed oil are good choices because they won't impart any unwanted flavors to the dish. You can use slightly less oil if you want, but watch out for sticking.
Serve it with style. Garnish with sliced scallion and sesame seeds for a restaurant-quality presentation
To keep up with all of our new recipes, be sure to follow us on Facebook.
Ingredients
Here's what you need to make chow mein:
Soy sauce
Sugar
Cooking wine
Oyster sauce
Hoisin sauce
Garlic clove
Fresh ginger
Green onions
Sesame oil
Lo mein or Yakisoba noodles
Cooking oil (vegetable, olive oil, or oil of your choice)
Napa cabbage
White onion
Celery

Ingredient Notes
If you live in a large metropolitan area you can find lo mein noodles in the refrigerated section of your grocery store. Many large grocery stores carry these noodles. I went to my Asian market to get mine, they are inexpensive, and they make a large amount if you use the whole bag.
If you can't find the fresh noodles there is a dry variety, Yakisoba that will work well. I don't suggest using pasta noodles, you really need this type of noodle the wheat flour holds up better than the noodles in the Italian pasta.
This recipe contains cabbage. If you have it available, I think the napa cabbage tastes better. If you don't have it on hand, you can use regular green cabbage. It's your choice but I think the napa is closer to what is served.
This dish is made up of a lovely Asian sauce. You can find these ingredients at your local grocery store. Any store with a tiny Asian section will have these ingredients. This recipe makes a delicious stir fry sauce that you will love in any stir fry recipe.
We are going to use cooking wine and I like to pick this up in the Asian section of my store. If you don't have that on hand, a dry Sherry will work.
You will also need Oyster sauce, Hoisin sauce, ginger, garlic, and green onions.
Don't worry, you can use the Oyster sauce and the Hoisin sauce in many other dishes. They add a lot of flavor to sauces, and they make some most excellent ribs.
How to Make Panda Express Chow Mein
In a small bowl, whisk together soy sauce, sugar, cooking wine, oyster sauce, hoisin sauce, garlic, ginger, green onions, and sesame oil.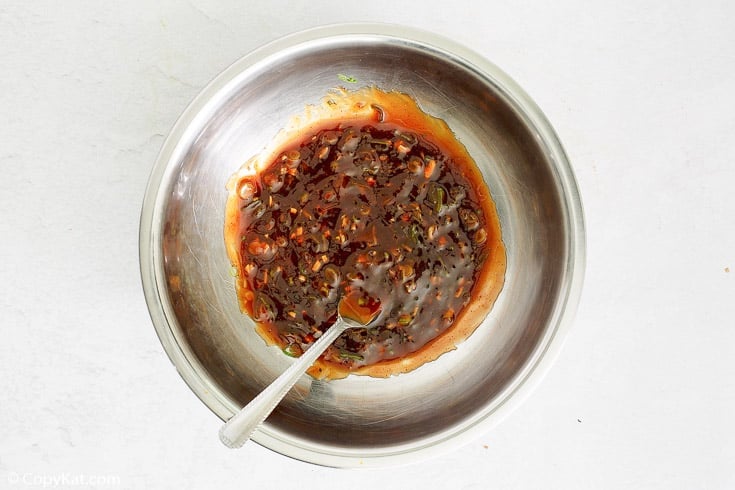 Prepare noodles according to package directions. When noodles are done, drain them.
Chop cabbage and slice the onion and celery.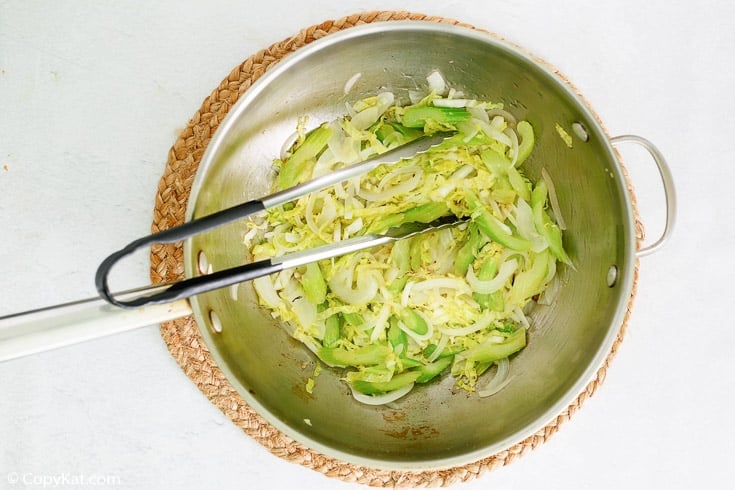 Heat cooking oil in a wok or large skillet over medium-high heat.
Add onion and celery, and cook, stirring often, until tender.
Stir in cabbage until heated through.
Add noodles and 1/2 cup of sauce. Stir until well combined and the noodles are heated through.
Serve immediately.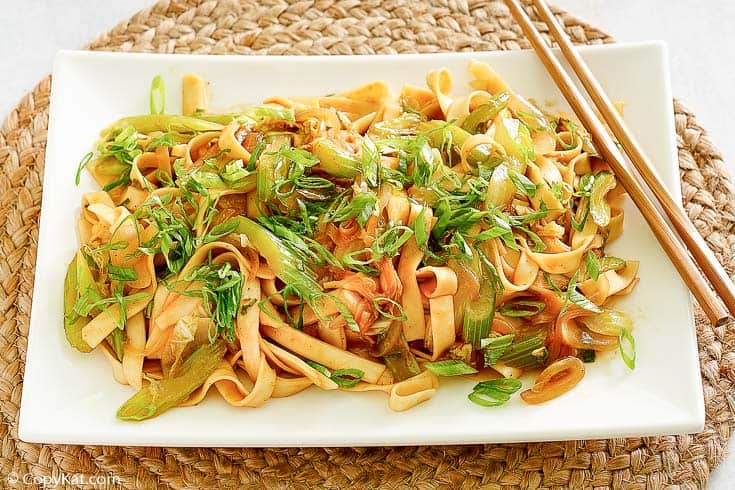 Love Asian food? Try these recipes
Most Popular Panda Express Copycat Recipes
Be sure to take a look at more of my easy recipes for Chinese food and the best copycat fast food recipes.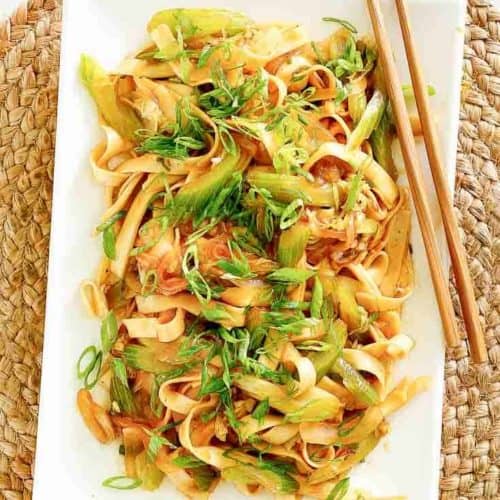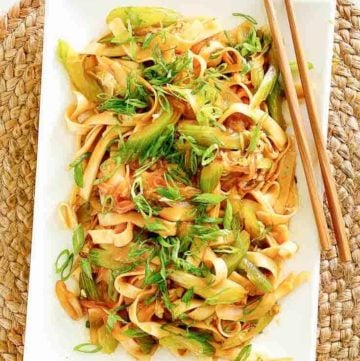 Ingredients
Lo Mein Sauce
1/2

cup

soy sauce

1/4

cup

sugar

2

tablespoons

cooking wine

2

tablespoons

oyster sauce

1

tablespoon

hoisin sauce

1

garlic

clove chopped

2

teaspoons

fresh ginger minced

2

tablespoons

green onions minced

1/4

teaspoon

sesame oil
Chow Mein Ingredients
14

ounces

lo mein noodles

or 2 packages of Yakisoba noodles (dry) prepared without seasoning packages

2

tablespoons

cooking oil

(use vegetable, olive oil, or oil of your choice)

2

cups

napa cabbage

sliced

1

large

sliced white onion

3

celery stalks

cut diagonally into 1/4 inch slices
Instructions
In a small bowl, whisk together soy sauce, sugar, cooking wine, oyster sauce, hoisin sauce, garlic, ginger, green onions, and sesame oil; set aside.

Prepare lo mein noodles by placing in boiling water. Cook according to package directions. When noodles are done, drain them.

Heat 2 tablespoons of oil in a wok or large skillet over medium-high heat. Add onion and celery, and cook, stirring often, until tender, about 3-4 minutes, the onions will begin to become translucent. Stir in cabbage until heated through, about 1 minute. Add noodles, and 1/2 cup of sauce, stir until well combined and the noodles are heated through, about 2 minutes. Serve immediately
Nutrition
Calories:
208
kcal
|
Carbohydrates:
38
g
|
Protein:
5
g
|
Fat:
3
g
|
Saturated Fat:
0
g
|
Cholesterol:
0
mg
|
Sodium:
930
mg
|
Potassium:
113
mg
|
Fiber:
1
g
|
Sugar:
7
g
|
Vitamin A:
115
IU
|
Vitamin C:
5.9
mg
|
Calcium:
23
mg
|
Iron:
0.4
mg