Chinese donuts seem to be a menu item found on most Chinese buffets. It is easy to recreate these sugar donuts at home.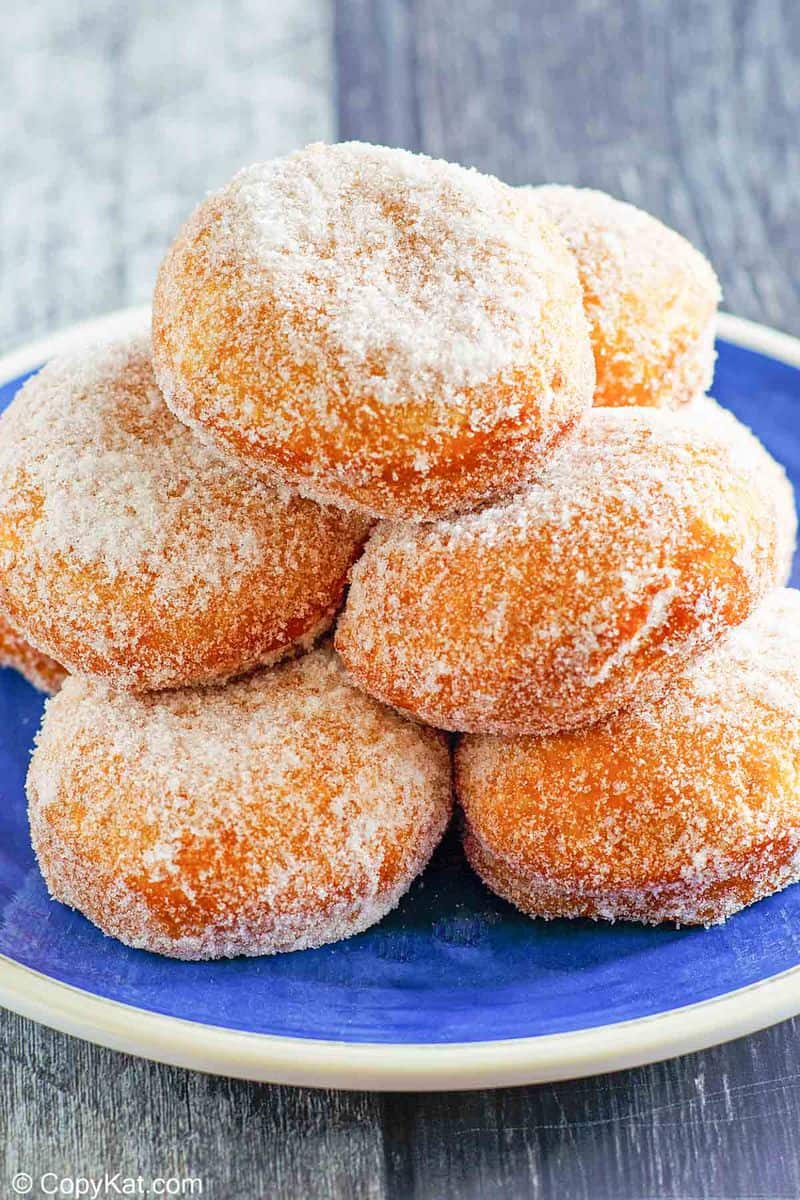 This post contains affiliate links. As an Amazon Associate, I earn from qualifying purchases.
Chinese Sugar Donuts
Chinese Buffets are known for a standard set of dishes. You are always going to see fried rice, sweet and sour chicken, and even a great crab casserole. For some reason, often by the fried wontons, you are going to find some donuts. Those sugar donuts are delicious and very easy to make at home.
While Chinese Buffet Style Donuts may not be the world's healthiest treat, they are quite delicious. You may want to try these not just as a dessert with a meal, but you may want to try them for a weekend breakfast or afternoon snack.
What are Chinese Donuts
These are like donuts, they are typically balls of dough that are deep-fried and then rolled in white granulated sugar. You can find these puffy donuts at many Chinese restaurants. They may have gotten their origin from Youtiao, the actual Chinese deep-fried dough that is often served for breakfast. In China these are made in a different shape, they are made in a long shape, so it's easy to see how they were Americanized in many restaurants.
What does a Chinese donut taste like?
When you get these in most restaurants they taste like ordinary donuts. So if you have never tried one, and want to try them, this is an easy recipe for you. When you make one of these donuts you don't need to make frosting because you roll it in granulated white sugar.
Recipe Ingredients
You only need 2 simple ingredients and some oil for frying. Here's a list of what you need for this Chinese donuts recipe:
Refrigerated canned biscuits
Sugar
Frying oil like canola or vegetable oil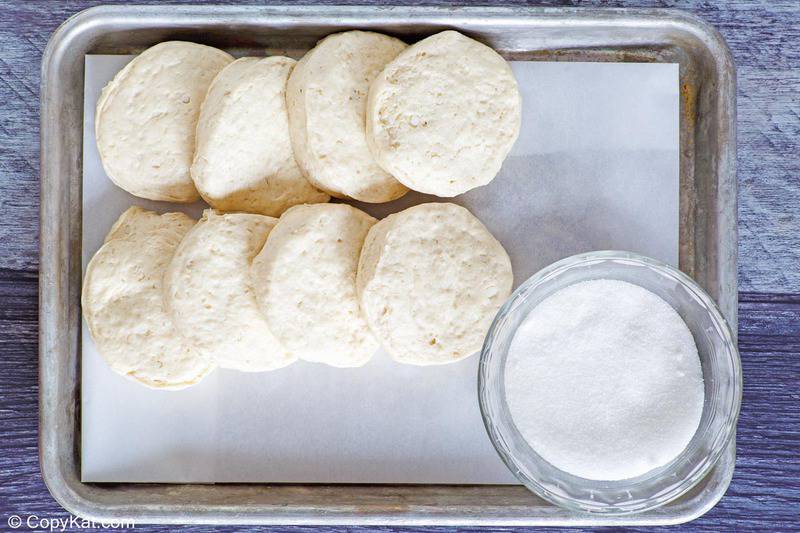 Ingredient Notes
For the canned biscuits, I don't recommend purchasing ones that are expensive. In fact, by the least expensive that you can. Definitely, do not purchase the flaky ones if you want to recreate this recipe at home.
I recommend using plain vegetable oil. Other types of oil would work, you could use corn oil, soybean oil, or even peanut oil.
How to Make Chinese Donuts (Sugar Donuts Chinese Buffet Style)
Add enough oil to a deep fryer or large heavy bottomed pot so that it is a few inches deep. Heat the oil to 350 degrees.
Place a couple of biscuits in the oil and cook until lightly browned on one side, about 1 to 1½ minutes.
Turn the biscuits over to brown on the other side.
When both sides of the donuts are golden brown, transfer them to a wire rack or paper towels and drain for 15 seconds, you will want to remove off the excess grease.
Dredge the donuts in sugar while they are still warm.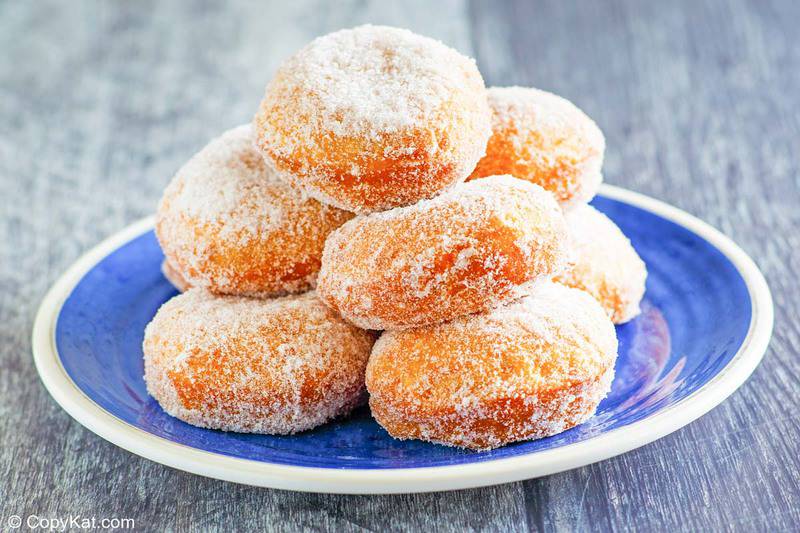 How do you eat a Chinese doughnut?
You would eat them as you would any donut, keep in mind these round donuts do not have holes in them, so you should enjoy them one bite at a time!
How to Store and Reheat Chinese Doughnuts
These donuts do not store very well. You can enjoy them immediately for the best flavor and texture, if you want to enjoy them later, I recommend storing them in an airtight container at room temperature for up to 48 hours. I do not like to store these in the fridge, because I feel like it will give you poor results, they seem to get too hard if you refrigerate the leftovers. If you have an air fryer, you should reheat them for about 60 seconds at 350 degrees.
Do you love donuts? Check out these recipes!
More Easy Dessert Recipes
Be sure to take a look at more of my Chinese cuisine recipes and the best desserts.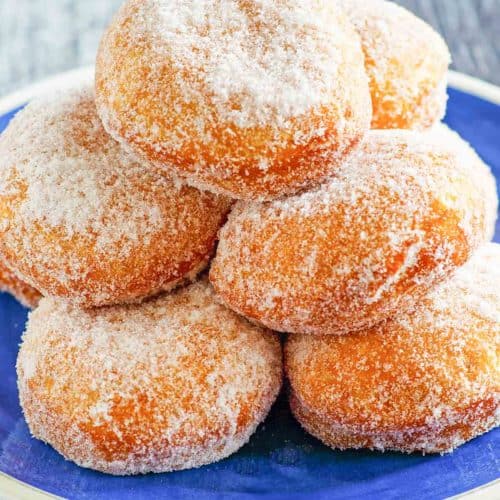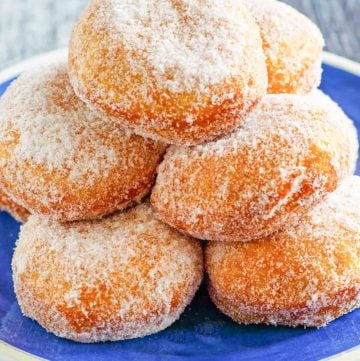 Ingredients
1

can

refrigerated biscuits

oil

for frying

1/3

cup

sugar
Instructions
Add enough oil to a deep fryer or large, deep heavy pot so that it is a couple of inches deep.

Heat the oil to 350 degrees.

Place 2 to 3 biscuits in the oil and allow them to lightly brown on one side, about 90 seconds. Be sure to fry only a couple at a time or the oil may cool too much and the donuts will absorb too much oil.

Turn the biscuits over to brown on the other side.

When the donuts are golden brown on both sides, transfer them to a

wire rack

or paper towels to drain for 15 seconds.

Pour sugar into a small bowl.

Dredge the warm donuts in the sugar.
Nutrition
Calories:
293
kcal
|
Carbohydrates:
29
g
|
Protein:
2
g
|
Fat:
18
g
|
Saturated Fat:
1
g
|
Cholesterol:
0
mg
|
Sodium:
435
mg
|
Potassium:
103
mg
|
Fiber:
0
g
|
Sugar:
8
g
|
Calcium:
23
mg
|
Iron:
1.5
mg