Enjoy this easy two-ingredient Pineapple Angel Food Cake, it's light, fluffy, and tropical.  Pair it with some fresh fruit or even whipped cream for a dessert that will delight your family.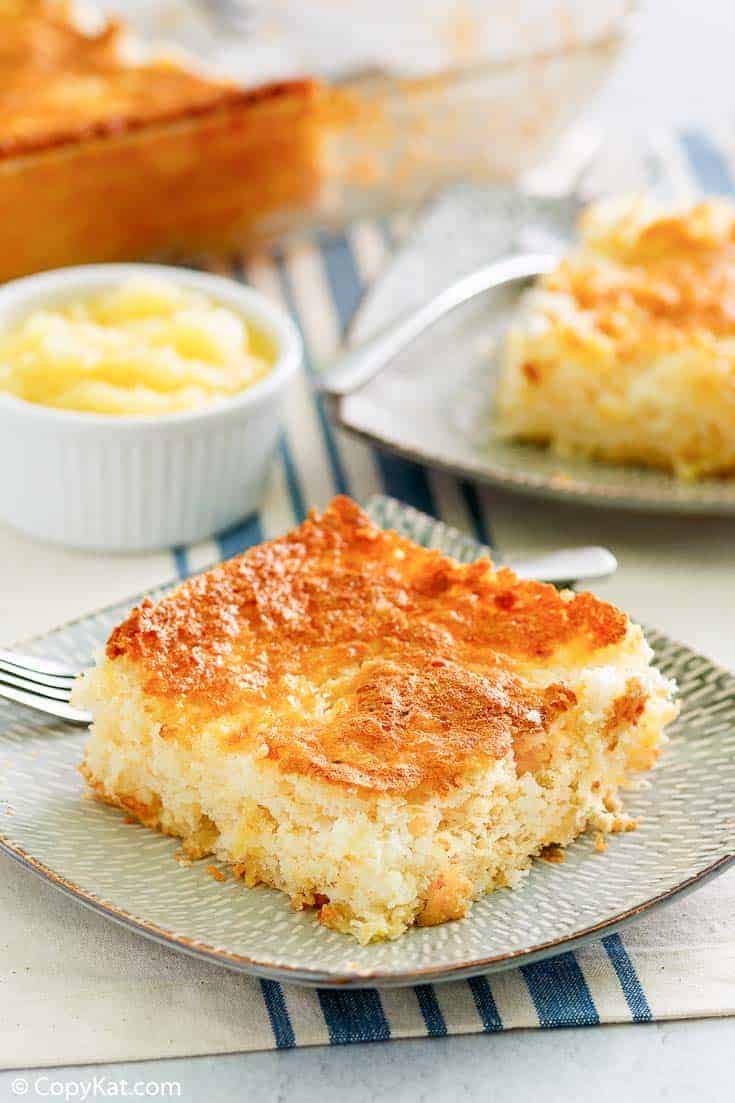 Light, airy, and just a tad sweet, angel food cake is has been a favorite cake for generations, but some people find it a bit on the bland side. The ridiculously simple Pineapple Angel Food Cake recipe below ups the deliciousness factor of this classic dessert considerably, and it only takes one additional step and less than a minute! Stock up on the three shelf-stable ingredients needed for this recipe, and you can always whip up something sweet!
Which Pans Can I Use For Baking an Angel Food Cake with Pineapple?
Bakers traditionally use tube pans for baking angel food cakes, but why, and is it worth spending your money on one?
Besides adding a little more interest to an angel food cake's appearance, there is a real purpose behind the design of a tube pan. Many angel food cake recipes contain far less flour than other cakes. While less flour increases the fluffiness of the cake, it also significantly decreases the cake's stability. The tube in the middle of the pan provides additional support for the batter to cling to, keeping the cake from collapsing in the oven.
In addition to providing a helping hand during the baking process, many tube pans have a removable bottom section. The removable portion of the pan helps avoid the bottom of the cake from sticking and tearing in half when trying to remove the cake from the pan. Oh, and those three strange-looking nubs on the rim of some tube pans are there to elevate the upside-down cake from the surface of the counter as it cools.
There is an open space in the middle of a bundt pan, can I substitute it for a tube pan?
No. Angel food cakes are light and airy, but bundt pans were designed for dense cakes. Not only are many bundt pans too short to allow an angel food cake to raise correctly, but their scalloped or decorative sides can cause the delicate angel food cake to stick to the pan too well.
Urgh, do I have to run out a buy a tube pan before I try this recipe?
Nope. The good news is that you don't have to as long as you have a non-non-stick baking pan. Non-stick cookware will not work because it will stop the batter from climbing the sides, and you will end up with a flat, dense, and undercooked mess. If you want to try to recreate the look of a traditional angel food cake without a tube pan, Epicurious has a hack for that!
Tips for Making and Serving Angel Food Cake With Pineapple
Let it stick. You don't hear it every day when it comes to baking, but don't do anything to prevent the cake from sticking. Wax paper and greasing the pan are big no-no's.
Go full tropical. Serve with a dollop of whipped cream and some shredded coconut to get more of a Caribbean vibe.
Want to know as soon as we post a new recipe on our site? Follow us on Facebook to stay up-to-date!
Ingredients
Here's what you need to make the cake:
Angel Food Cake Mix
Can of Crushed Pineapple
Vanilla
That's it! Just 3 simple ingredients.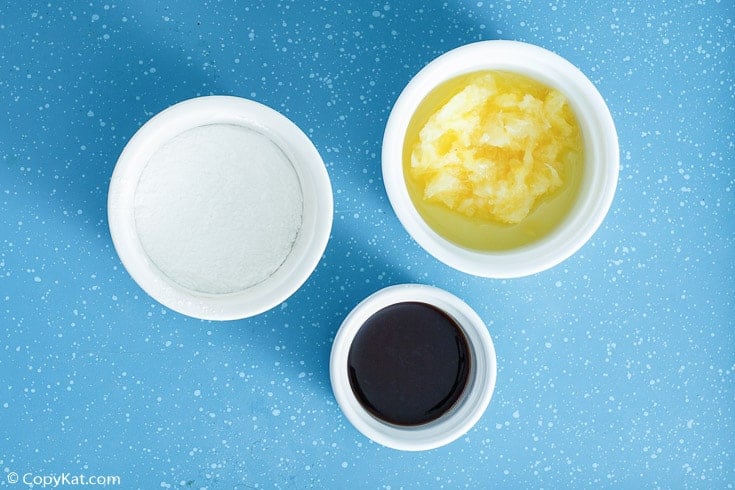 How to Make Pineapple Angel Food Cake
In a medium-sized bowl, stir together the angel food cake mix, vanilla, and crushed pineapple including the juice in the can.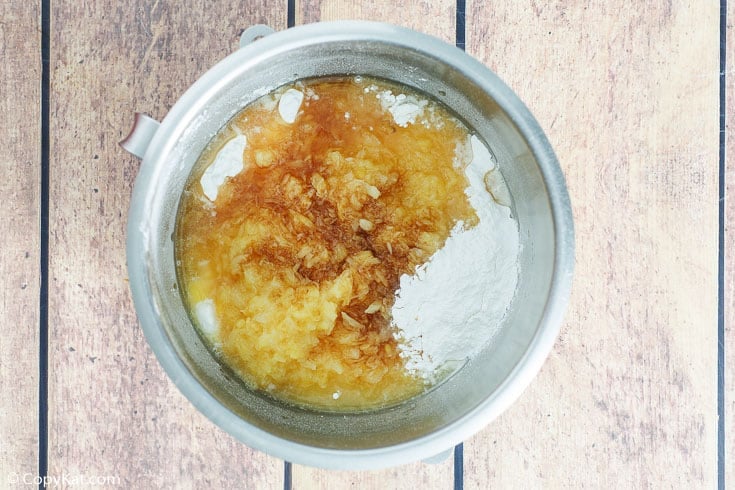 Place batter into a ungreased 9 x 13 inch pan.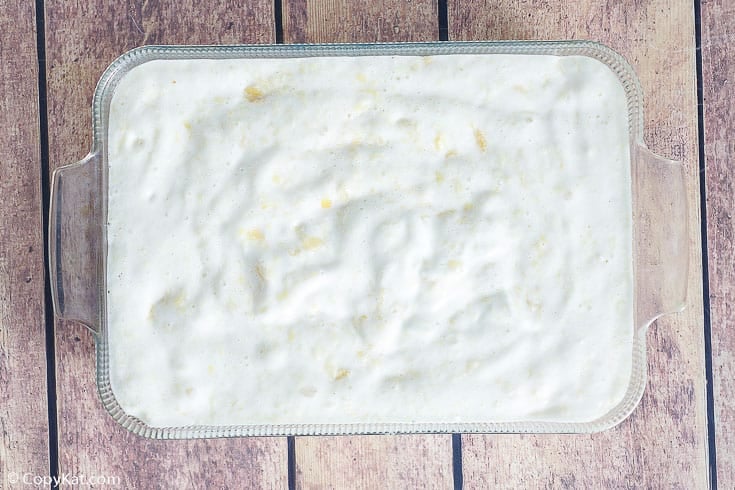 Bake at 350 degrees for 30 to 35 minutes.
Allow the cake to cool then slice and enjoy!
Popular Cake Recipes
More Family Dessert Recipes
Be sure to take a look at more of the best cake recipes and favorite family recipes.
Ingredients
1

box

Angel Food Cake mix

- use one step mix

20

ounces

crushed pineapple

packed in its own juice, do not use packed in syrup

1

teaspoon

vanilla
Instructions
Preheat oven to 350 degrees.

In a medium-sized bowl, mix together the angel food cake mix, vanilla, and can of crushed pineapple including the juice in the can by hand and place into a ungreased 9 x 13 inch pan. Bake for 30 to 35 minutes.
Notes
Toppings for pineapple angel food cake 
a dollop of whipped cream and shredded coconut 
a dollop of whipped cream and some crumble macadamia nuts
a dollop of whipped cream and a maraschino cherry 
Nutrition
Calories:
242
kcal
|
Carbohydrates:
57
g
|
Protein:
3
g
|
Fat:
0
g
|
Saturated Fat:
0
g
|
Cholesterol:
0
mg
|
Sodium:
466
mg
|
Potassium:
121
mg
|
Fiber:
1
g
|
Sugar:
42
g
|
Vitamin A:
30
IU
|
Vitamin C:
5.4
mg
|
Calcium:
96
mg
|
Iron:
0.3
mg