Wouldn't you like to try the best ever peach pie filling dump cake recipe? You can! So quick, easy, and tasty, it won't take you any time at all to prepare this easy dessert recipe. Just 4 ingredients too! If you are looking for peach pie filling recipes, this is one you must try.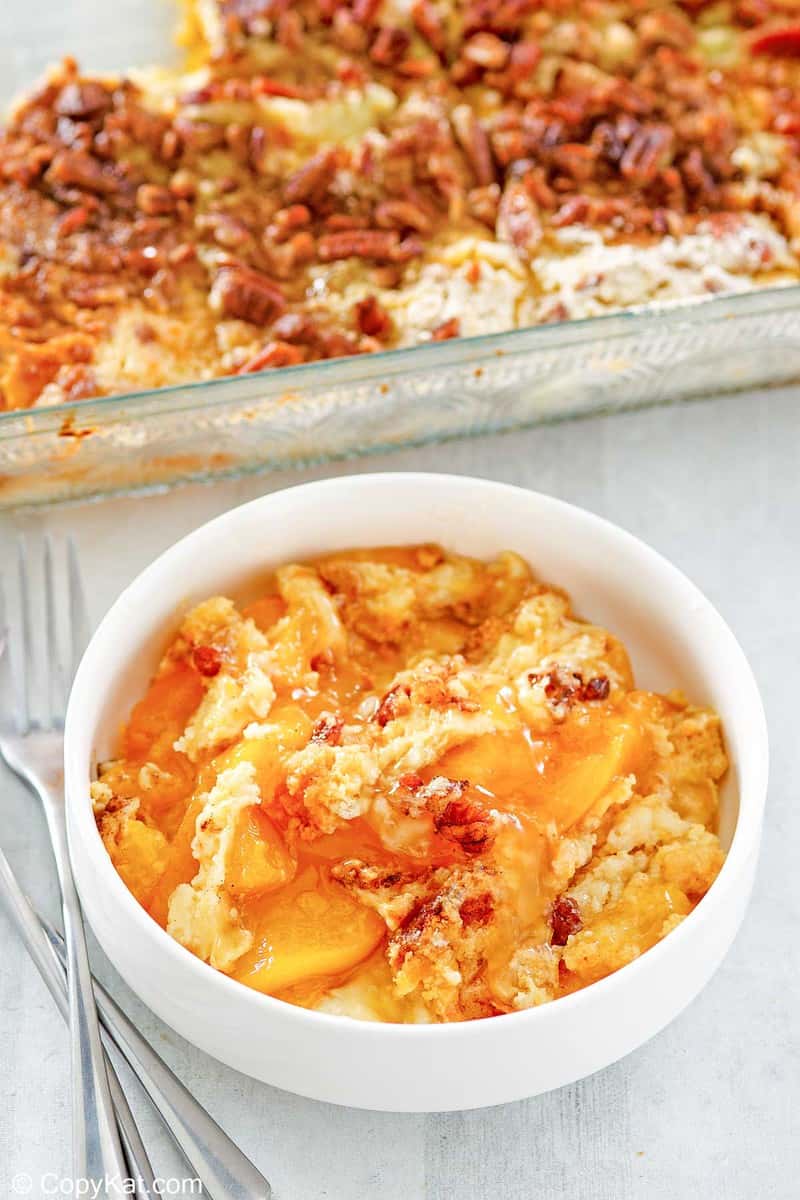 Peach Pie Filling Dump Cake
Peach dump cake made with peach pie filling has to be one of my favorite desserts over this summer. Peaches are the quintessential summer fruit.
A buttery tender crust lies on top of pie filling. It doesn't get much easier to prepare a delicious cake mix recipe.
This is a great summertime recipe, but honestly, you could make peach cobbler dump cake any time of year. I know you will find this to be one of the most delicious desserts you will make!
What Makes Peach Filling Dump Cake So Good?
This recipe for peach dump cake sounds too easy to be good, yet somehow it is additively delicious. The addition of the pecans and ground cinnamon on top pumps up this Peach Dump Cake's yum factor.
This is the perfect recipe for young bakers because there is no messy measuring or complicated technique to master.
What's the difference between a cobbler and a dump cake?
While a dump cake and a cobbler may seem similar, they are, in fact, very different. Dump cakes typically use drained canned fruit as a base covered with a layer of dry cake mix.
Cobblers, on the other hand, usually have a pie-type, syrupy filling and a crust made from a biscuit-like dough. In the US, most cobblers are sweet, but savory cobblers, like tomato and cheese, are common in the UK.
How Does a Dump Cake Work?
The magic of dump cakes is how you can cook the topping without adding any liquids. There is more than enough moisture to hydrate the cake mix between the melted butter and the fruit while the dump cake is baking in the oven.
Peach Dump Cake Recipe Ingredients
This recipe is made with simple ingredients. And there's no need to measure anything! All you need is:
Boxed cake mix like a white cake mix or a yellow cake mix
Peach pie filling
Butter
Nuts
Plus cinnamon if you desire.
It may be hard to find an easier dessert recipe!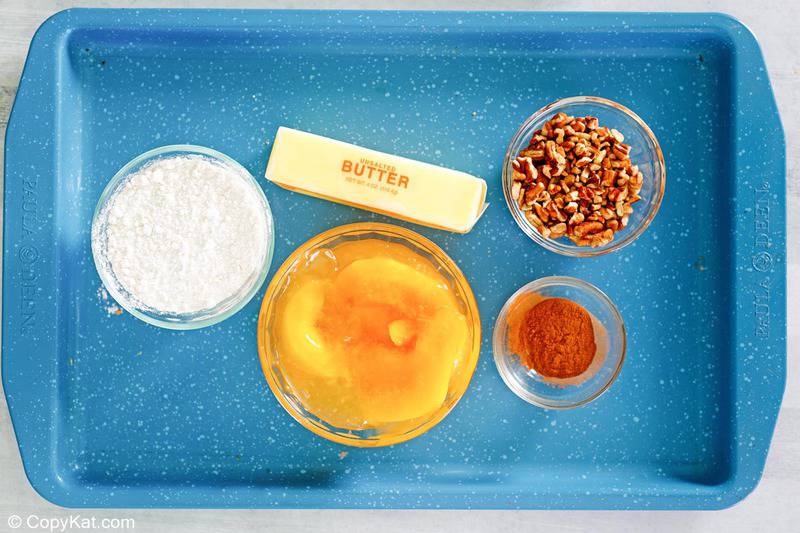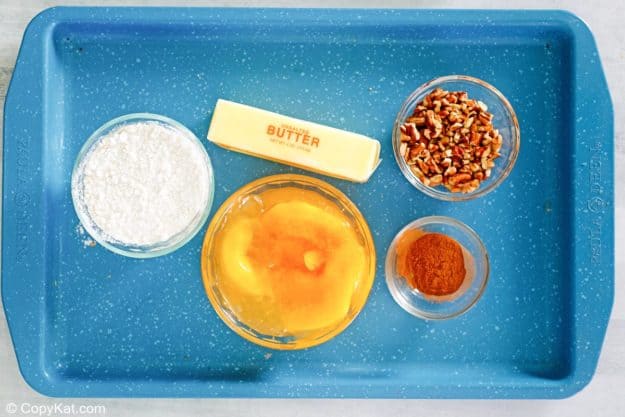 How to Make Peach Dump Cake
Spread two cans of peach pie filling in the bottom of a 9 x 13-inch baking pan that you have sprayed non-stick spray into the bottom of the pan.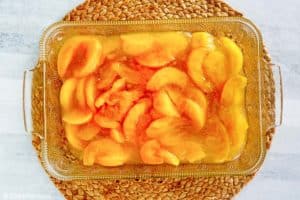 Sprinkle a box of cake mix on top of the peaches. See, no measuring!
Gently pat the dry cake mix onto the peaches.
Drizzle melted butter onto the cake mix.
Top with nuts.
If you like, sprinkle cinnamon on top.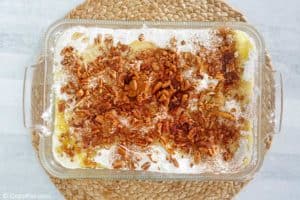 Pop this into the oven and all you need to do is wait for one delicious summer peach dessert!
Serve and enjoy!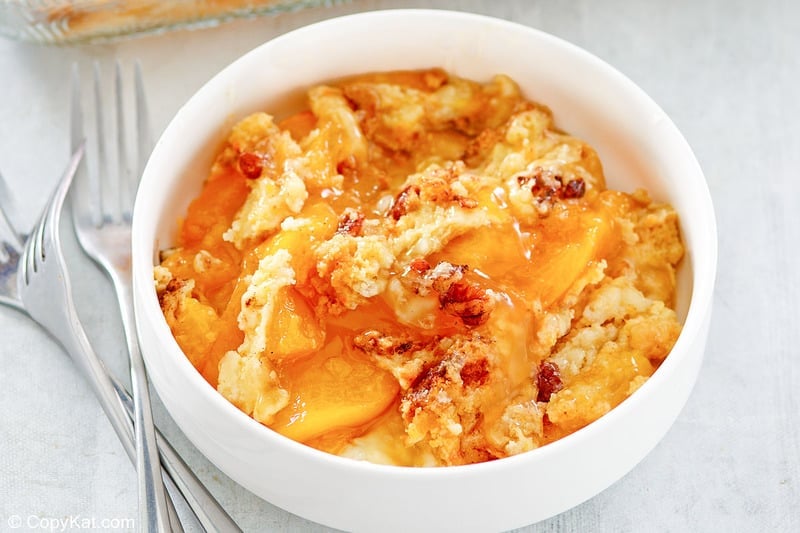 Variations for Peach Dump Cake with Cake Mix
You can make this peach dump cake recipe with different types of cake mixes. Some suggestions are:
French vanilla cake mix
Butter Pecan cake mix
Yellow cake mix
White cake mix
Spice cake mix
Dump Cake Peach Pie Filling Alternatives
I like to use two cans of pie filling, I love the thick texture and the flavor of the pie filling.
You could easily swap one can of pie filling for a can of canned sliced peaches that you cut up. The canned fruit can have light or heavy syrup. The heavy syrup will mean your peaches will be a bit thicker, than those of the light syrup.
Or you could use two cans of canned peaches in syrup. You can use fresh or frozen peaches as well. Don't stop there you could use two cans of cherry pie filling or even blueberry pie filling.
How to Use Frozen Peaches in Peach Dump Cake
You will need about 30 ounces of frozen peaches.
Empty them into a bowl to thaw.
After they have thawed, add 1/4 cup of sugar and 1/2 teaspoon of cinnamon.
Continue to prepare the recipe by adding the cake mix and the butter.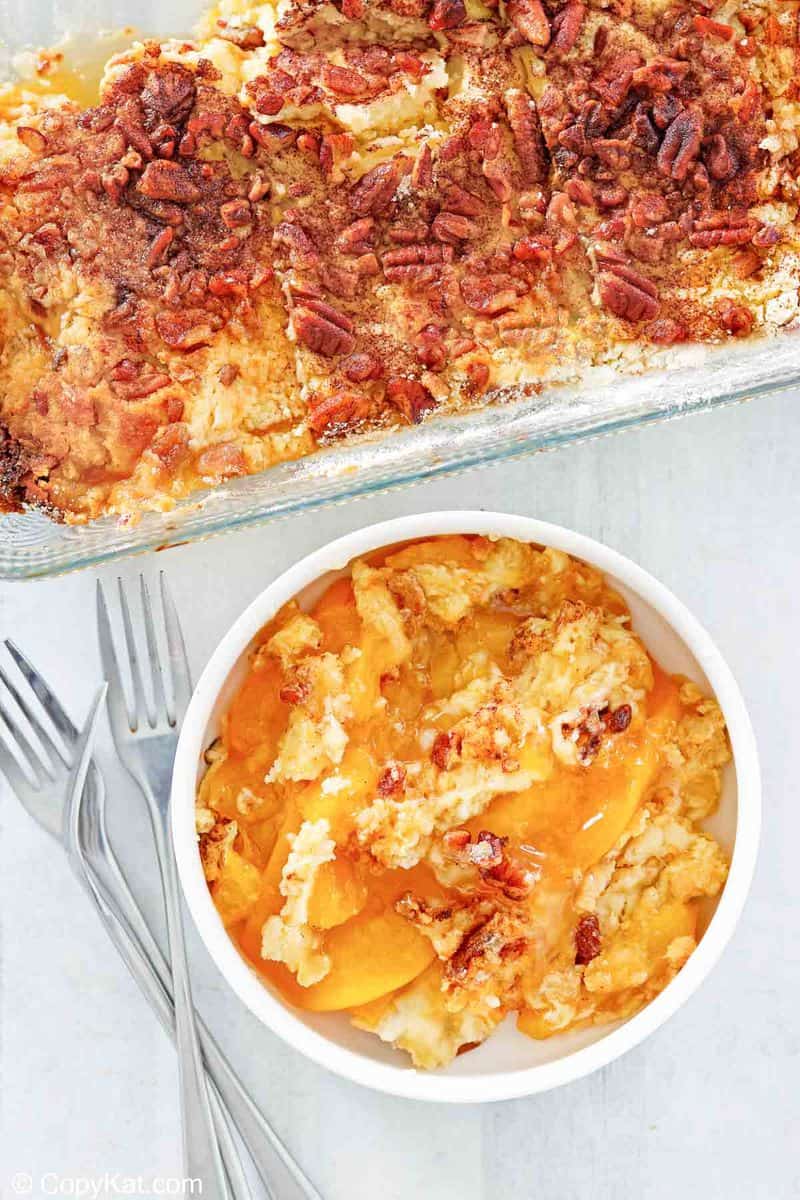 Optional Toppings for Peach Dump Cake
You can add nuts such as walnuts, almonds, or even pecans to the top. Sprinkle on as many as you would like.
Everyone loves this when you serve it with a scoop of vanilla ice cream!
You could also sprinkle ground nutmeg, cinnamon, or cinnamon sugar on the top.
Add the toppings before you bake and you will bake those flavors right into the cake!
One thing is for certain you are doing to love a very gooey decadent bite of this amazing cake.
Does Peach Dump Cake Have to be Refrigerated?
You can leave the Peach Dump Cake tightly wrapped on the counter for a day or two, but you can extend the storage time to up to five days if you put any leftovers in the fridge.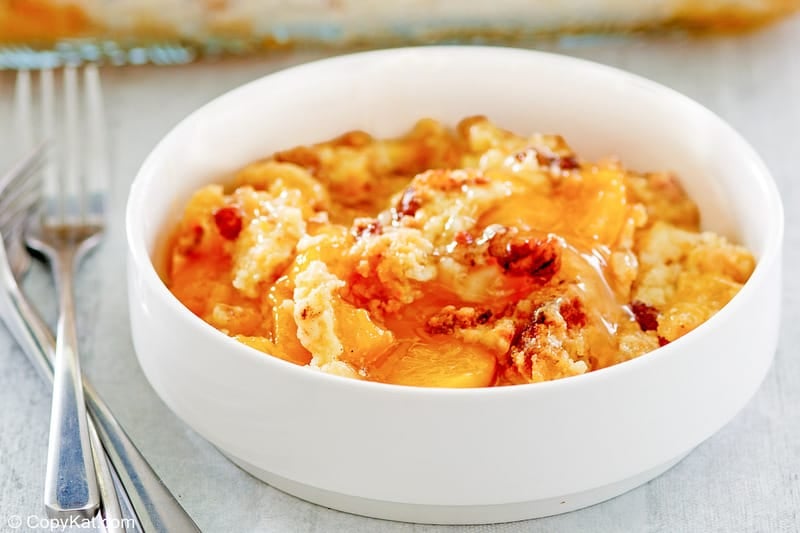 Love dump cake? Try these exciting cake mix recipes!
Popular Cake Recipes
Check out more of my easy cake recipes and the best summer recipes here on CopyKat!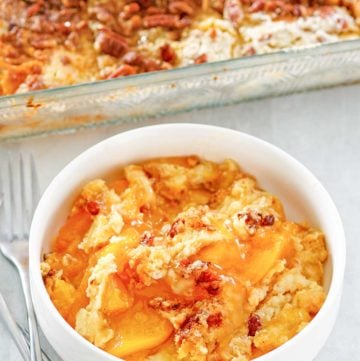 Ingredients
1

box

cake mix

2

cans

peach pie filling

4

ounces

butter

½

cup

pecans

1

teaspoon

ground cinnamon

(optional)
Instructions
Preheat oven to 350 degrees.

Spray a 9 x 13-inch baking sheet with non-stick spray.

Place two cans of peach pie filling in the bottom of a 9 x 13-inch baking dish.

Sprinkle 1 box of dry cake mix over the pie filling. Gently pat the dry cake mix over the peaches.

Melt 4 ounces of butter and evenly pour the melted butter over the cake mix.

Add pecans to the top of the cake and sprinkle with cinnamon if desired.

Bake for 40 to 50 minutes or until the cake has set, and the top is browned, and the peaches have become bubbly.
Notes
Top with whipped cream or even vanilla ice cream! Be sure to refrigerate left over cake! 
Nutrition
Calories:
354
kcal
|
Carbohydrates:
62
g
|
Protein:
2
g
|
Fat:
12
g
|
Saturated Fat:
6
g
|
Cholesterol:
20
mg
|
Sodium:
428
mg
|
Potassium:
82
mg
|
Fiber:
2
g
|
Sugar:
32
g
|
Vitamin A:
260
IU
|
Vitamin C:
2
mg
|
Calcium:
102
mg
|
Iron:
1
mg