Heath Bar Cake has rich toffee flavor and a crumb topping with candy pieces.
What's better than a homemade cake from scratch? No frosting is needed, you will top your cake with Heath candy bars.
There is something that is just somehow more sophisticated about the word "toffee" than the word "caramel." Many kids were gobbling up Snickers and Whatchamacallit chocolate bars growing up, but it seemed only adults ate Heath bars. Maybe it was the candy's simplicity that kept kids away, or perhaps the blame rests on greedy parents who never told their children how delicious the bars. For whatever reason, Heath bars remained the domain of folks who could see over the counter at the grocery store.
This Heath Bar Cake recipe recreates the flavor of the candy bar and then goes above and beyond by topping it with a layer of crushed candy. No matter when you discovered the joy of Heath bars, you are sure to love this cake. And, don't be stingy. Go ahead and share this cake with the little ones. You can still keep the candy bars a secret!
What Makes This Recipe Special?
Many Heath Bar Cake recipes are floating around on the internet, but most of them use a chocolate cake mix and whipped cream with a sprinkling of Heath bar pieces on top. This recipe is very different. It is based on a classic crumble topping.
If you are not familiar with making a crumble topping, it is pretty easy to do, and you don't even need a stand mixer.
In a large bowl (remember, you will be adding the rest of the ingredients to this bowl after making the crumble), combine the butter, flour, and brown sugar. The butter should be very cold and cut into small cubes.
Quickly use your hands to push all the ingredients into a solid block. Make sure there are no dry bits on the bottom of the bowl or stuck to the outside of the block.
Use the back of a fork to start breaking apart the block into a crumble, not crumbs.
Reserve a cup of the crumble and place it in the fridge.
Continue with the recipe with the remaining crumble.
Tips for Making a Heath Bar Cake from Scratch
Keep the Heath bars in the freezer. Popping the chocolate bars in the freezer overnight makes them easier to break into small pieces. Place the frozen bars in a plastic bag and hit them with the back of a heavy spoon. Don't smash the bars too hard. You want the pieces to be about the same size as your crumble.
Keep things light. Use a light-colored baking pan for this recipe. Darker pans will bake the cake faster and color the exterior, two things you don't want in this recipe. If you only have dark-colored baking pans, there is no need to buy a new one for this recipe. All you need to do is wrap the outside of the entire pan with tinfoil with the shiny side facing out.
Keep the cake covered on the counter for 2-3 days. If you plan on storing it longer, let the cake cool completely and then wrap well with plastic wrap and then with tinfoil, and store flat in the freezer for up to 2 months. Allow frozen Heath Bar Cake to thaw on the counter before eating.
Check out our other creative cakes on YouTube!
Ingredients
Here's a list of what you need
Butter
Brown sugar
All-purpose flour
Baking soda
Salt
Vanilla extract
Egg
Milk
Nuts
Heath candy bars
How to Make Heath Bar Cake
Combine butter, brown sugar, and flour until the mixture is crumbly.

Put aside 1 cup of the crumb mixture.
Add baking soda, salt, vanilla, egg, milk, and nuts.
Spread the cake mixture into a 9 x 13 pan.
Sprinkle the reserved 1 cup of crumbs on top.
Sprinkle crushed Heath bars on top.

Bake at 350 degrees for 30 minutes.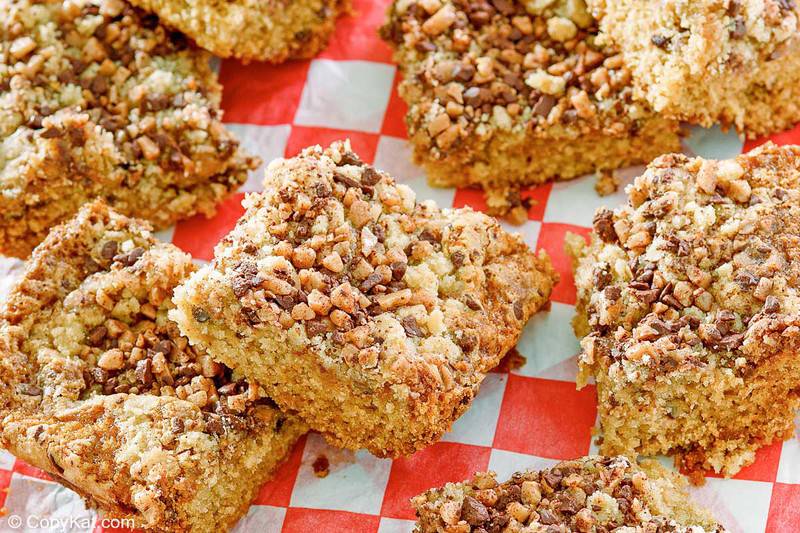 Love homemade cakes? Try these recipes!
Favorite Dessert Recipes
Check out more of my easy cake recipes and the best dessert recipes here on CopyKat!
Ingredients
¼

pound

butter

2

cups

brown sugar

2

cups

all-purpose flour

1

teaspoon

baking soda

¼

teaspoon

salt

1

teaspoon

vanilla extract

1

egg

1

cup

milk

½

cup

nuts

chopped

8

Heath candy bars

crushed
Instructions
Preheat oven to 350 degrees.

Combine butter, brown sugar, and flour until the mixture is crumbly.

Set aside 1 cup of crumb mixture.

Add baking soda, salt, vanilla, egg, milk, and nuts.

Spread cake batter into a 9 x 13 pan.

Sprinkle reserved 1 cup of crumbs evenly over the batter.

Sprinkle crushed Heath bars on top.

Bake at 350 degrees for 30 minutes.

Allow the cake to cool to room temperature before slicing.
Nutrition
Calories:
170
kcal
|
Carbohydrates:
27
g
|
Protein:
2
g
|
Fat:
6
g
|
Saturated Fat:
2
g
|
Cholesterol:
18
mg
|
Sodium:
117
mg
|
Potassium:
69
mg
|
Fiber:
0
g
|
Sugar:
18
g
|
Vitamin A:
145
IU
|
Calcium:
33
mg
|
Iron:
0.8
mg