Ambrosia Cake has mandarin orange layers and fluffy pineapple frosting. This old-fashioned dessert is perfect for holidays and special occasions.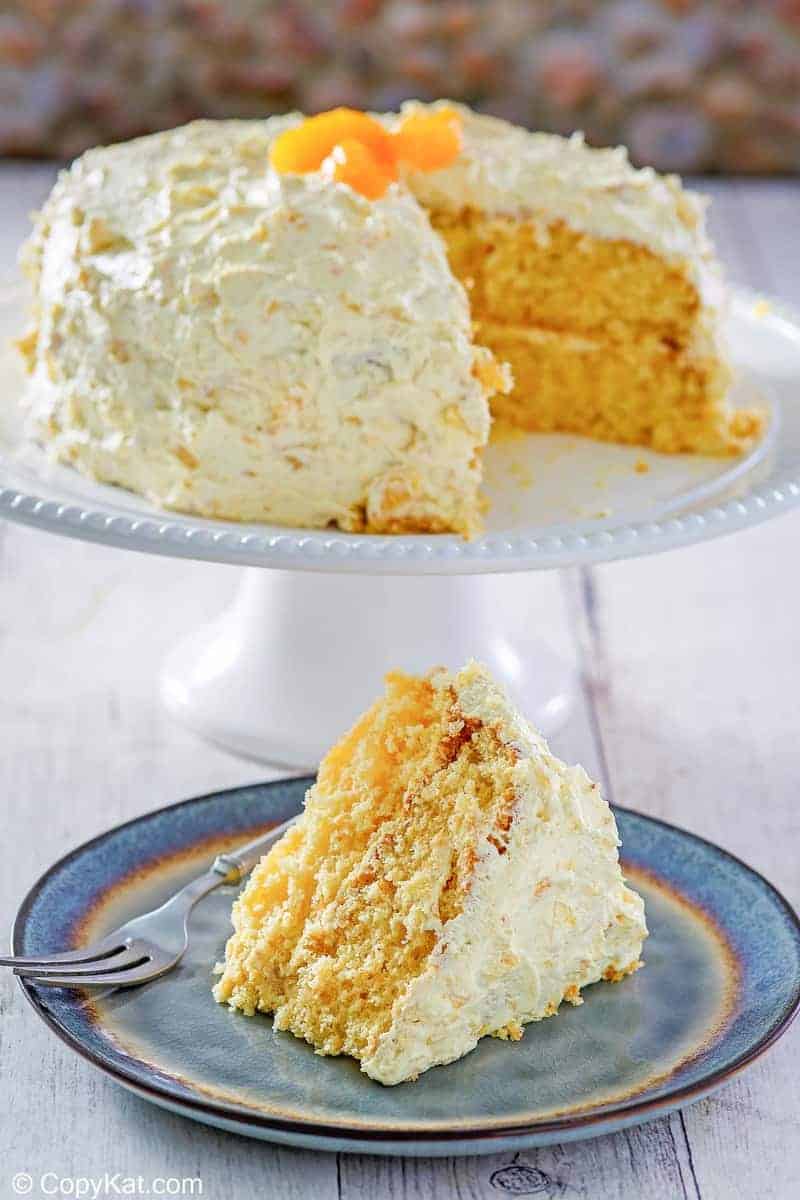 Fruity Cake Recipe
Some cakes are good. Others, like this ambrosia cake, is food fit for the gods. If you have an affinity for traditional ambrosia fruit salad, you will love this ambrosia cake recipe. It pairs the sweet tartness of mandarin oranges and crushed pineapples with an airy yellow cake.
A creamy vanilla frosting ties it all together. Yum! And the best part of making an ambrosia cake is that it is as easy as baking a cake mix recipe. So, the next time you want to celebrate or just eat something darn good, give this ambrosia cake recipe a try. You, and those you choose to share it with, won't be disappointed.
What's Yellow Cake Mix?
Root around your cupboard, and you are bound to find a few boxes of cake mix. At least one is probably a yellow cake mix, but what exactly is a yellow cake?
First off, yellow cake is one variety of vanilla cake. The other one is white cake. The main difference between the two is that yellow cake contains whole eggs, while white cake only has egg whites.
That means that yellow is more decadent than white cake. In a pinch, white cake mix will undoubtedly work in this recipe. Or you may prefer to make your own yellow cake mix using this recipe or one of your favorites.
Cake Baking 101
Too often, even for experienced bakers, cake expectations don't exactly match reality. There are plenty of pitfalls you need to avoid. So, if you are new to baking cakes or just want better results, follow these tips.
Read the instructions on the box carefully, especially when it comes to the cake pans' dimensions. Make sure you are using the correct baking time for the cake pans you are using. You should also note that instructions on the back of most cake mix boxes are for light-colored metal pans. Darker colored cake pans usually require baking at a lower temperature, so consult the manufacturer's information.
The last thing you want is for the cake to stick to your pans. To help prevent that from occurring, you should thoroughly grease the interior of the pan with cooking spray and then apply a light dusting of flour. For added protection, you can cut out a circle of parchment paper and lay it at the bottom of the cake pans before greasing and flouring them.
Place the rack in the middle of your oven, and be sure to preheat. Don't allow the cake pans to touch each other or any of the walls of the oven. Let the cakes bake undisturbed.
Remove fully cooked cakes from the oven and cool on a rack for about 30 minutes while still in the cake pans. Then you can carefully flip the pans over and let the cakes cool completely on the rack before decorating.
Tips For Storing and Preparing Ambrosia Cake
Store the ambrosia cake in the fridge. Ambrosia cake is much better fresh, but it will keep 24 hours in the refrigerator. Place in a cake keeper to prevent it from picking up fridge funk.
Shredded, sweetened coconut is a great addition. Generously sprinkle the shredded coconut on top of the frosted cake.
Friend us on Facebook to see our latest recipes!
Ingredients
Here's a list of what you need:
Yellow cake mix
Eggs
Vegetable oil
Water
Mandarin oranges
Crushed pineapple
Instant vanilla pudding
Cool Whip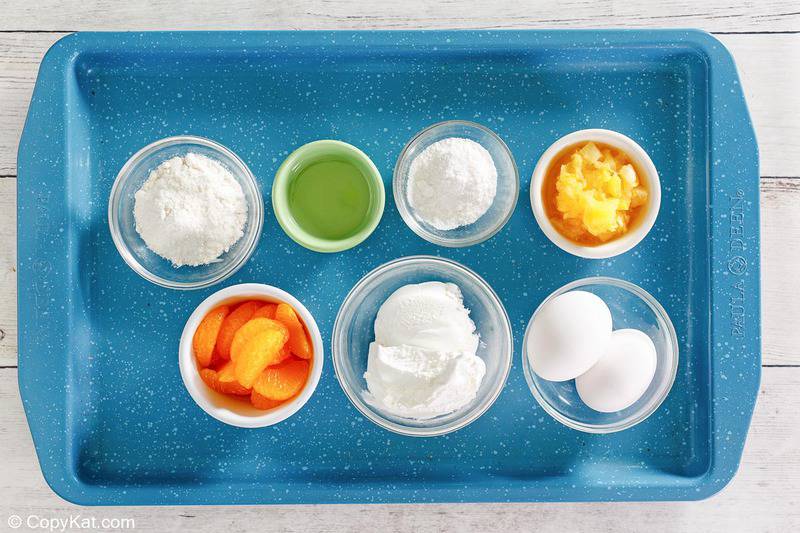 How to Make Ambrosia Cake
Place yellow cake mix, eggs, oil, water, and mandarin oranges in a mixing bowl and beat well.
Pour batter equally into 2 greased cake pans.

Bake at 350 degrees for 30 to 35 minutes.
Remove cake layers from pans and cool completely.
Combine crushed pineapple, instant vanilla pudding, and Cool Whip.

Spread the frosting on the top and sides of cake layers.

Refrigerate cake until serving.
Love cake? Check out these great recipes!
Favorite Christmas Desserts
Be sure to check out more of my easy cake recipes and the best Christmas dessert recipes here on CopyKat.com!
Recipe source: Virginia McDowell. Jefferson City, Mo. 1980.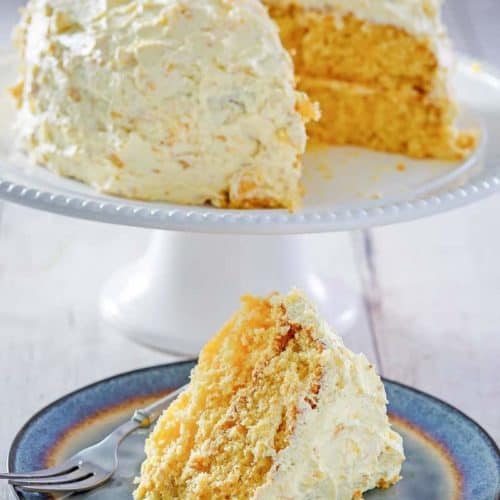 Ingredients
Cake Ingredients
1

box

yellow cake mix

2

eggs

1/2

cup

vegetable oil

1/2

cup

water

8

ounces

mandarin oranges

drained
Frosting
8

ounces

crushed pineapple

drained

1

box

instant vanilla pudding

8

ounces

Cool Whip
Instructions
Cake Instructions
In a bowl combine the yello cake mix, the eggs, vegetable oil, water, and drained mandarin oranges.

Pour batter evenly into 2 greased and floured cake pans.

Bake at 350 degrees for 30-35 minutes.

Remove cake layers from the pans and cool completely.
Frosting Instructions
Combine the drained crushed pineapple, instant vanilla pudding, and Cool Whip. Spread the frosting on the top and sides of the cake layers.
Nutrition
Calories:
163
kcal
|
Carbohydrates:
26
g
|
Protein:
1
g
|
Fat:
6
g
|
Saturated Fat:
4
g
|
Cholesterol:
15
mg
|
Sodium:
194
mg
|
Potassium:
52
mg
|
Fiber:
0
g
|
Sugar:
16
g
|
Vitamin A:
105
IU
|
Vitamin C:
3.4
mg
|
Calcium:
63
mg
|
Iron:
0.6
mg