Who knew Mountain Dew could turn an ordinary cake into something extra special? You can make one of the most requested cake recipes around my house, this citrus-flavored cake is irresistible.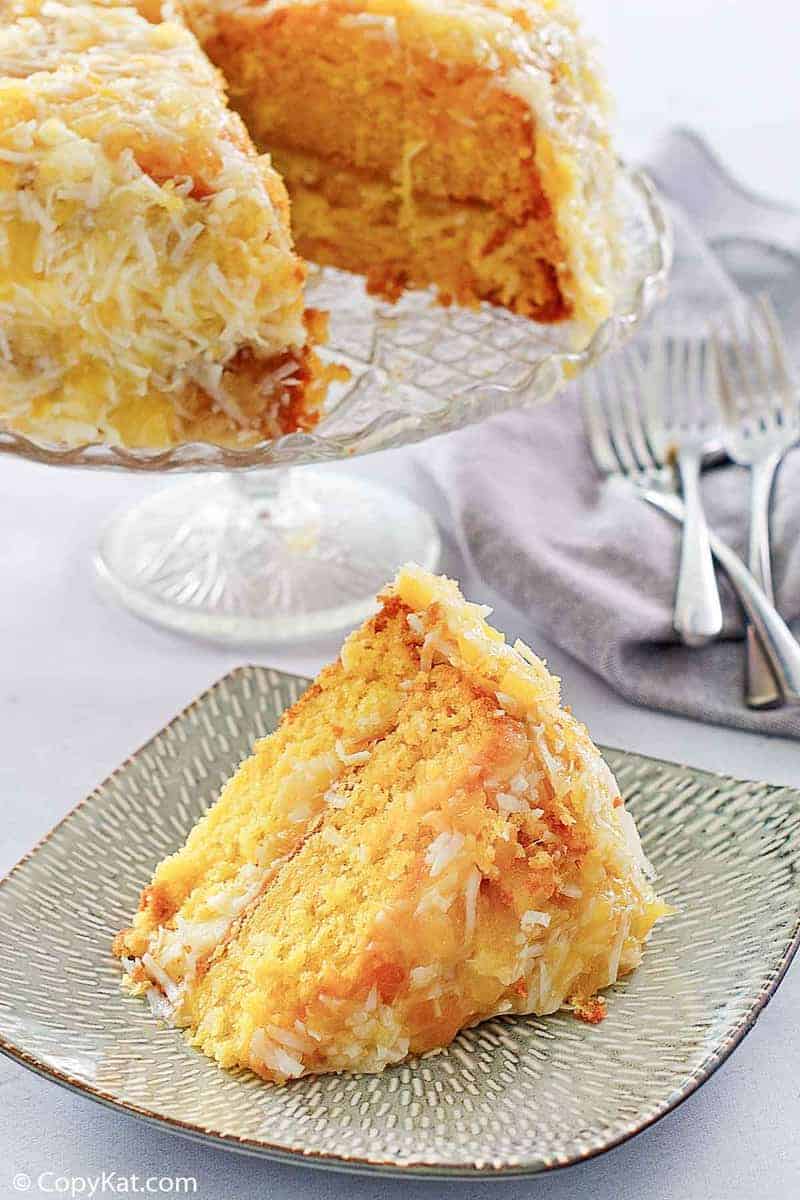 Sure, Mountain Dew might be one of your favorite beverages, but adding it to a cake batter is just plain whack-o-doodle, right? Not so fast! If you have never tried a slice of Mountain Dew Cake before, you'll probably be shocked just how much zing the citrus-flavored soda brings to the party, and how moist and airy the cake turns out. It is no wonder that my family loves this tried and true recipe so much, or that people always ask if I am going to bring 'that cake' to the next potluck dinner! Cast your doubts aside, and give this simple to make recipe a shot. You are only a few hours away from starting your own family tradition!
The Science Behind the Soda
Okay, so it may be a little unorthodox to use soda in a cake, but it makes perfect sense when you think about it. To understand why, let's take a closer look at the largest components of soda: Sugar, flavoring, and carbonated water. Nothing there seems particularly out of the ordinary when it comes to dessert.
Now, look at the directions on the back of the standard cake mix box. The first thing most mixes ask you to do is add water to the box's contents. It is an easy enough step that you probably never thought about, but what's the purpose behind it? Well, the sole reason for adding water is to hydrate the dry ingredients and start to bring all of them together into a batter.
Water is not exactly bursting with flavor or really doing much else to make the cake better, but soda can. Mountain Dew adds additional flavoring and increases the spring of the batter, in much the same way that adding seltzer to tempura batter creates a light and crispy crust. With all the benefits of using soda, it is no longer a question of why this recipe uses soda, but why others don't!
Tips For Baking and Serving Mountain Dew Cake
No Mountain Dew, no problem. Not everyone loves the taste of Mountain Dew, and despite the lovely yellow hue that it adds to the cake, some people don't feel comfortable consuming tartrazine, the dye that gives the drink its unique color. Feel free to substitute Sprite, 7-Up, or one of your favorite sodas.
Try experimenting with other cake mix flavors. Are you in the mood for chocolate cake or perhaps red velvet? You can use the same basic cake recipe below and switch out the lemon cake mix for the one you prefer. One particularly good combination is a chocolate cake with Dr. Pepper.
The cake is done when it is done. The cooking time on the back of the cake mix box may be a little off due to the changes. Start checking the cake for doneness at around 20 minutes. Check if the cake is ready to come out of the oven by poking a hole in the cake's center with a toothpick. When the toothpick comes out clean, the cake is done.
Serve with fresh berries. A slice of Mountain Dew Cake with citrus glaze is pretty sweet, so many people enjoy it with fresh berries such as raspberries or sliced strawberries to help balance out the flavors.
Join us on Facebook now when a new recipe is available.
What Makes a Mountain Dew Cake so Appealing?
The soda adds extra flavor and color to your standard cake mix. And when you top this cake with a frosting made with crushed pineapple, it's even more memorable. This cake is made simply with cake mix, pudding mix, eggs, oil, and good ol' Mountain Dew.
Mountain Dew Once Had Ties to Moonshine
The soda that is branded as Mountain Dew evokes pristine alpine conditions. However, the name Mountain Dew is infamous in Kentucky, but not for the soda. Rather for the kind of drink that great-great uncle Fred used to make up on the side of a mountain…Moonshine.
The name Mountain Dew was slang for mountain-brewed whiskey. Here's a snippet from the popular old country song which shows how Mountain Dew was viewed back then.
"Well my brother Bill's got a still on the hill where he runs off a gallon or two. Now the buzzards in the sky get so drunk they can't fly from smellin' the good ole mountain dew."
Mountain Dew the Soda Started out as a Whiskey Mixer
In 1932 in Knoxville, Tennessee, the Hartman brothers, Ally and Barney, decided to bottle a lemon-lime soda for use as a whiskey chaser. To emphasize the intended use of the drink, they dubbed it Mountain Dew. Ok, enough history, back to cake!
Why Put Soda in Cake?
Since sodas are very sugary beverages, maybe they should really be considered as dessert. So putting them in dessert makes sense. They add flavor to cake mixes and the carbonation makes cakes lighter, fluffy, and moist. When you take a bite, you can almost feel the bubbles popping on your tongue.
Ingredients
Here's what you need:
Lemon cake mix
Instant vanilla pudding
Vegetable oil
Eggs
Mountain Dew
All-purpose flour
Crushed pineapple
Butter
Sugar
Cornstarch
Coconut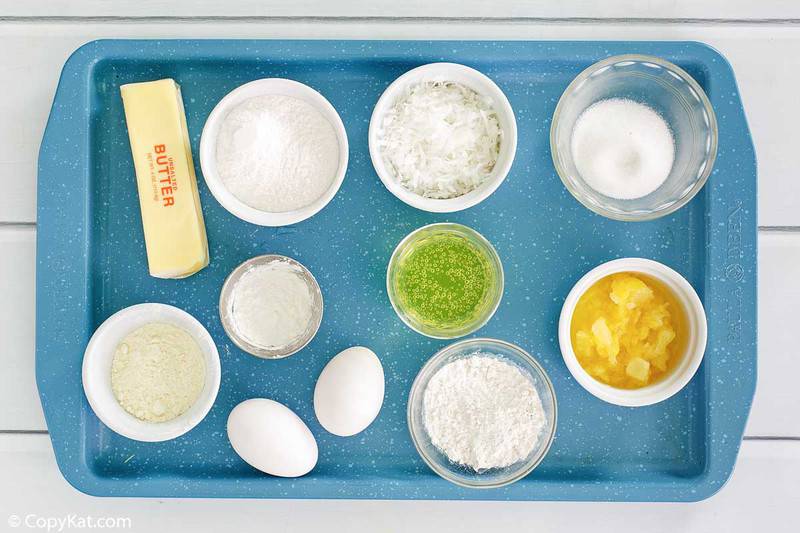 How to Make Mountain Dew Cake
Place cake mix, pudding mix, oil, eggs, Mountain Dew, and flour in a large mixing bowl. Mix until smooth.
Pour batter into two greased and floured 9-inch cake pans. Find out how to measure the size of a cake pan.
Bake at 350 degrees for 20-25 minutes.
Remove cake from pans and cool completely.

Place butter in a medium-sized pan over medium heat.
After the butter melts, add crushed pineapple, sugar, and cornstarch.
Cook until hot and bubbly then add the coconut and stir to combine.

Allow the frosting to cool then spread over the cooled cake.
Making this cake from scratch is fun and a great way to enjoy a uniquely-flavored cake. You can use Mountain Dew or another favorite soda of yours (maybe Mello Yello or 7-Up) and a boxed cake mix. Whichever soda you choose, the cake is sure to become a new family favorite.
It's simple to make and its taste is out of this world. If you don't let your kids drink sodas, they will look upon this cake as an awesome treat. It's so moist and delicious – the perfect dessert for a special occasion.
Are you looking for other fun cakes to make? Try these
Popular Pies with Coconut or Pineapple
Love to make homemade desserts? Be sure to check out more of my easy cake recipes and the best pie recipes.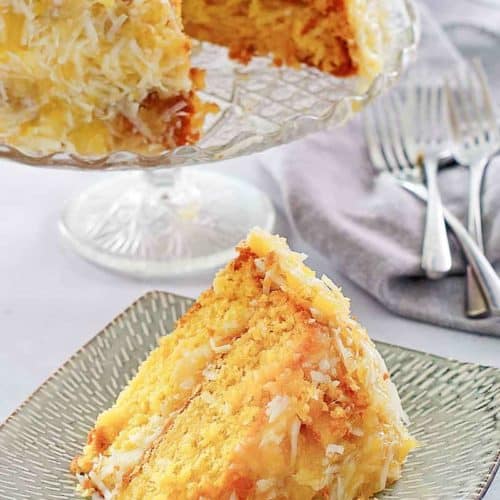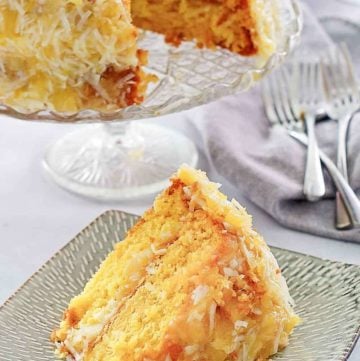 Ingredients
1

box

lemon cake mix

1

box

instant vanilla pudding

4 serving size

1

cup

vegetable oil

4

beaten eggs

10

ounces

Mountain Dew

Sprite

2 1/2

tablespoons

all purpose flour
Frosting
1

20-ounce

can crushed pineapple

2

ounces

butter

1

cup

sugar

1

cup

coconut

3

tablespoons

cornstarch
Instructions
Cake
Preheat the oven to 350 degrees.

In a medium-sized mixing bowl combine the lemon cake mix, instant vanilla pudding, vegetable oil, eggs, and all purpose flour stir to combine. Then add the soda and mix by hand until the batter is smooth.

Bake at 350 degrees for 20-25 minutes, if using 9-inch rounds.  Refer to the box of cake mix for other cooking times.  Cool the cake completely before frosting.
Frosting
Place 2 ounces of butter in a medium-sized pan over medium heat. Add 20 ounces of crushed pineapple, sugar, and cornstarch. Cook until hot and bubbly. Then add the coconut. Allow the frosting to cool, then spread over cooled cake.
Notes
This is a fun cake to make, you can use Mountain Dew or another favorite soda of yours, and a boxed cake mix. Source Virginia McDowell. Jefferson City, Mo. 1991.
Nutrition
Calories:
167
kcal
|
Carbohydrates:
35
g
|
Protein:
1
g
|
Fat:
2
g
|
Saturated Fat:
1
g
|
Cholesterol:
27
mg
|
Sodium:
194
mg
|
Potassium:
49
mg
|
Fiber:
0
g
|
Sugar:
25
g
|
Vitamin A:
50
IU
|
Vitamin C:
2.2
mg
|
Calcium:
53
mg
|
Iron:
0.6
mg