Pineapple upside down cake is a favorite of many. There is something about the caramelized pineapple sitting on top of a fluffy homemade cake that is hard to beat. Did you know this cake is easy to make from scratch?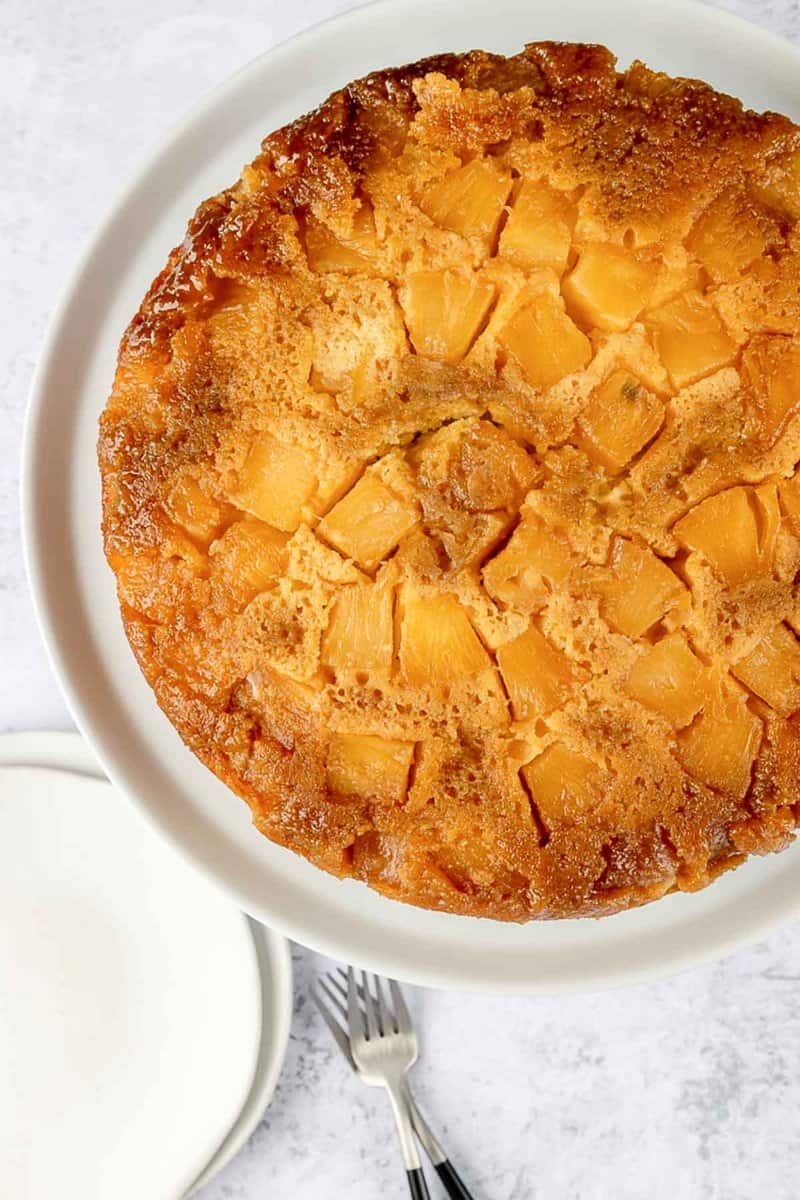 This post contains affiliate links. As an Amazon Associate, I earn from qualifying purchases.
Why Is a Pineapple Upside Down Cake So Delicious?
Sweet and moist, old fashioned pineapple upside down cake has been delighting diners since the 1920s with its flavor and unique appearance.
Today, pineapples may not be as rare of a treat as in decades past, but this cake is still guest-worthy! Try making this Southern Pineapple Upside Down Cake from scratch. It is easier than you think!
Why Making a Pineapple Upside Down Cake From Scratch Tastes So Much Better Than a Mix
Homemade always tastes better than boxed when you know what you are doing. Making the cake batter yourself allows you to do it correctly by creaming the butter with the sugar, then taking your time incorporating the dry ingredients in stages.
Believe it or not, working this way makes a huge difference in developing the correct texture in the finished cake.
What Makes this the Best Pineapple Upside Down Cake Recipe
True southern pineapple upside down cake is made from scratch. This old-fashioned cake has been made for generations with simple ingredients without preservatives.
While a traditional pineapple upside down cake is made in a skillet, this recipe calls for it to be baked in a cake pan. Homemade cake is a little easier to make in a cake pan and not everyone has a cast-iron skillet.
Why You Should Try This Easy Pineapple Upside Down Cake
This version of Pineapple Upside Down Cake makes a few changes to the traditional recipe. One of the most noticeable changes is using pineapple chucks instead of the more common pineapple slices or pineapple rings.
By using chunks, you can get a more even layer of pineapple across the top. An additional change is the use of egg whites to create a lighter and more delicate cake base than other recipes.
If you miss the maraschino cherries and nuts that some other recipes include, feel free to add them to the topping.
Ingredients for Pineapple Upside Down Cake
To prepare this classic pineapple upside down cake recipe from scratch, you'll need:
Unsalted butter
Dark brown sugar
White granulated sugar
Pineapple
All-purpose flour
Baking powder
Salt
Eggs
Vanilla extract
Whole milk
You can use fresh pineapple on this cake. You can also use canned pineapple for this cake. The important thing to do is to make sure the pineapple is well-drained. Having pineapple that is too wet will make the batter not turn out well.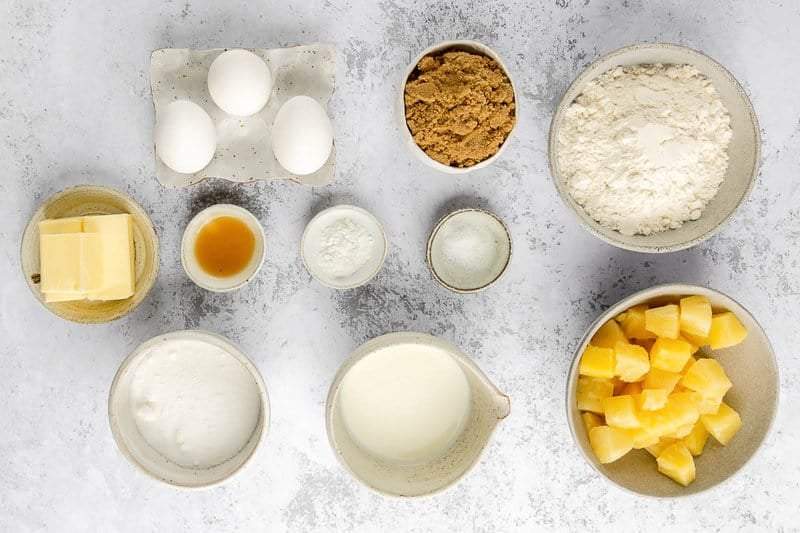 Use the Correct Pan For the Best Results
You don't need any strange equipment to make a simple Upside Down Pineapple Cake, but if you have a deep 9-inch cake pan for baking, you will see neater results.
The cake may rise above the top rim if your pan isn't deep enough. Although it is not a disaster, and you can trim the bottom to level the cake, you will lose some of it in the process. You can even use an oven-safe skillet with straight sides in a pinch.
How to Make Pineapple Upside Down Cake from Scratch
To prepare this Pineapple Upside Down Cake recipe from scratch:
Preheat the oven to 350 degrees F.
Drain the pineapple chunks in a colander in the sink.
Melt four tablespoons in the cake pan in the preheating oven.
While the butter is melting, whisk together the flour, baking powder, and salt in a large mixing bowl.
When the butter melts, remove the cake pan from the oven. Stir the brown sugar into the melted butter and add the well-drained pineapples to the bottom in a single layer.
In another large bowl, cream together the butter and the white sugar until it is fluffy and light.
Add two whole eggs and one egg white to the creamed butter and whisk to combine.
While stirring the mixture, pour in the dry ingredients. Mix well.
Pour in the milk and stir.
Add the rest of the dry ingredients and mix the batter until smooth.
Pour the batter on top of the pineapple topping and level.
Bake the cake for 45 to 50 minutes. Do the toothpick test before removing the cake from the oven.
Cool the cake on a wire rack in the pan. When it is room temperature, run a sharp, thin knife around the sides to help release the cake. Invert a large cake dish or serving platter on top of the cake pan and flip the cake pan over while holding the cake dish securely against the pan.
How To Serve Old Fashioned Pineapple Upside Down Cake
Slice and serve the cake on a plate. Top it with vanilla ice cream or whipped cream.
What To Serve With Pineapple Upside-down Cake
Southern Pineapple Upside Down Cake is sweet enough on its own, but topping it with shredded coconut, sliced bananas, or crushed macadamia nuts, is a nice touch.
How To Store Pineapple Upside Down Cake
Store the cake in a cake keeper or stick a few toothpicks into the top of the cake and cover loosely with plastic wrap.
If your home is on the cool side, you can keep Pineapple Upside Down Cake on the counter overnight, but it is a much better idea to put it in the fridge where it will stay fresh for up to three days.
How To Store For Longer Than Three Days?
You can freeze this recipe for up to two months, but it won't have the same texture and flavor as fresh Pineapple Upside Down Cake. To store in the freezer for up to two months, wrap the cake loosely in waxed paper and then in aluminum foil.
Let the cake thaw overnight in the fridge and bring it to room temperature before serving.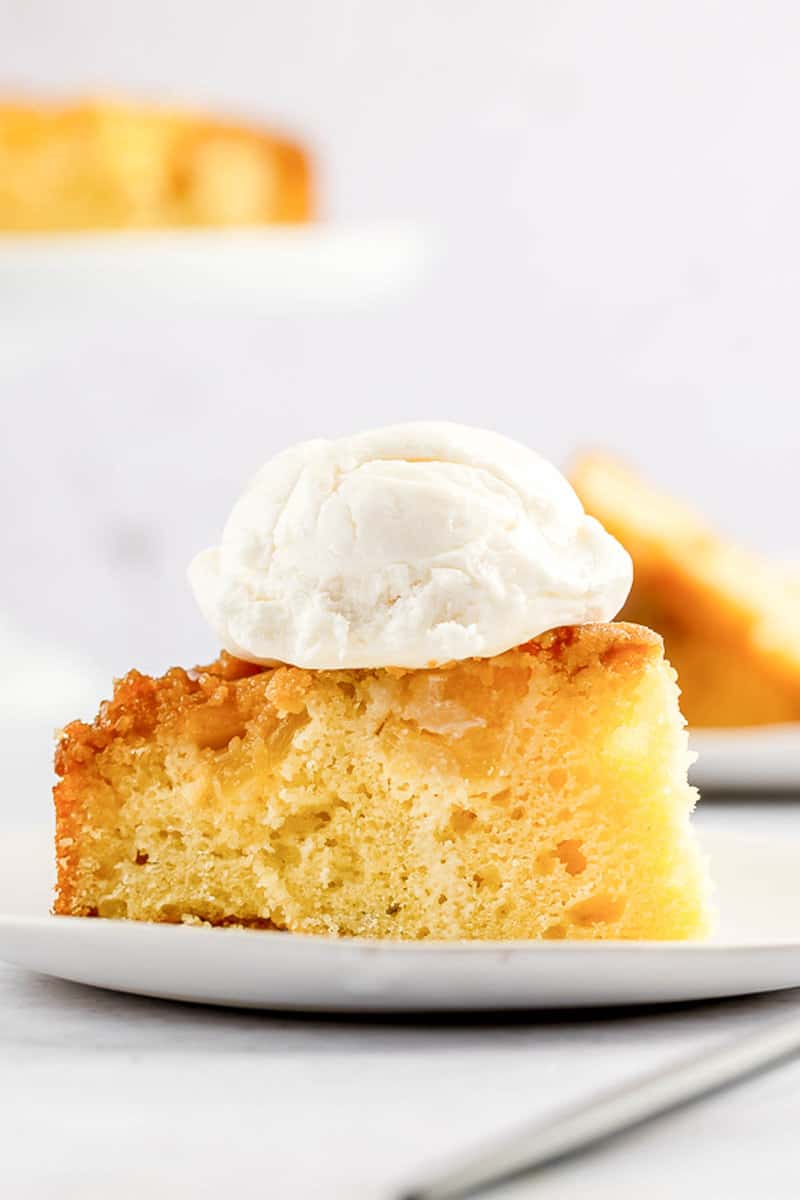 Popular Cake Recipes
Favorite Pineapple Recipes
Check out more of my easy cake recipes and the best Thanksgiving dessert recipes here on CopyKat!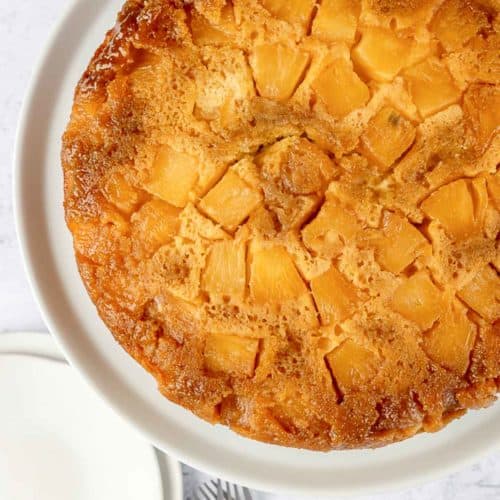 Ingredients
11

tablespoons

unsalted butter

1/2

cup

dark brown sugar

plus 1 tablespoon

1

20-ounce can

pineapple chunks

drained

1 1/2

cups

all-purpose flour

1 1/2

teaspoons

baking powder

1/2

teaspoon

salt

3/4

cup

sugar

1

egg white

2

eggs

1

teaspoon

vanilla extract

1/3

cup

whole milk
Instructions
Preheat oven to 350 degrees.

Place 4 tablespoons of butter in a 9-inch round cake pan with deep sides. Place in the oven until the butter melts.

Remove the pan from the oven and stir brown sugar into the melted butter. Spread the mixture evenly across the pan.

Drain pineapple well if you are using canned and spread the pineapple evenly across the pan. 

In a bowl, combine the flour, baking powder, and salt.

In another bowl, cream together 7 tablespoons of butter and the 3/4 cup of white sugar until light and fluffy.

Add two large eggs and one egg white to the butter mixture. Beat to combine.

Add half of the dry ingredients into the creamed butter and mix well.

Add 1/3 cup of milk into the batter. 

Stir in the remaining dry ingredients. Mix until the batter is well blended.

Drop the batter over the pineapple. Gently spread batter over the pineapple. 

Bake for 45 to 50 minutes or until a toothpick is inserted and comes out clean. Place cake on a wire cooling rack.

When the cake has cooled to room temperature, invert it onto a plate and serve.
Notes
Serve this cake when it's warm with a scoop of vanilla ice cream.
Nutrition
Calories:
409
kcal
|
Carbohydrates:
60
g
|
Protein:
5
g
|
Fat:
17
g
|
Saturated Fat:
10
g
|
Cholesterol:
83
mg
|
Sodium:
179
mg
|
Potassium:
235
mg
|
Fiber:
1
g
|
Sugar:
39
g
|
Vitamin A:
600
IU
|
Vitamin C:
33.9
mg
|
Calcium:
79
mg
|
Iron:
1.6
mg