Pineapple cookies with icing are a wonderful treat with tropical flavor. These frosted pineapple cookies are soft, filled with pineapple, and perfect for Christmas cookie exchanges and holiday gifts.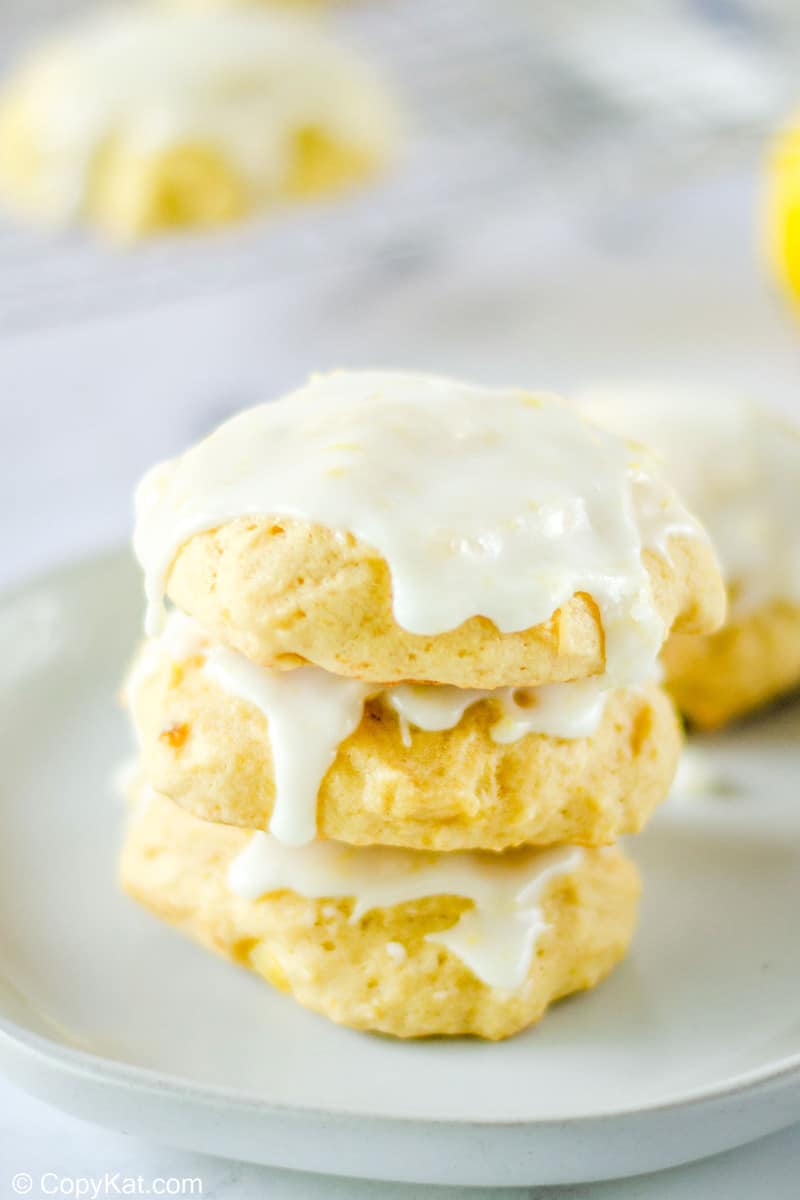 This post contains affiliate links. As an Amazon Associate, I earn from qualifying purchases.
Old Fashioned Pineapple Drop Cookies
Frosted Pineapple Cookies are buttery cookies are made with canned pineapple and remind me of all of the good things you expect in a fruit cookie. The icing is made with pineapple juice too!
They are simple drop cookies so there is no rolling or cutting out dough. Just mix up the dough, drop scoops of it on a baking sheet, bake, cool, and spread icing on top. Easy peasy!
Whether you are six or 60, a good cookie is guaranteed to make you smile. And these Frosted Pineapple Cookies are darn good. Topped with a pineapple-infused glaze and filled with bits of pineapples, these tropical-flavored sugar cookies are perfect for holiday parties and will be a hit at any cookie exchange! The best part is that they are super easy to make. But remember to bake a double batch to ensure there's plenty to go around.
The Great Crispy vs. Soft Cookie Debate
Are you a crispy cookie or a soft cookie person? Crispy cookies have an addictive crunch and can withstand dunking, but then there are the softer cookies with their airy texture and slight chewiness. Really, you can't go wrong with either one!
The Frosted Pineapple Cookie recipe below is halfway between a crispy and a soft cookie. But with a few minor changes, you can make it as crunchy as a cracker or as pillowy as cake.
For soft cookies, start by switching out the AP flour for an equal amount of cake flour. Cake flour has less gluten than AP flour and lets the cookie rise better. If you don't have any cake flour, you can make a good substitute by measuring out the two cups of AP flour and removing four tablespoons. Add four tablespoons of cornstarch to the AP flour and sift together before using.
Another secret for softer cookies is to replace the butter with vegetable shorting. It may not be the healthiest option, but you can't argue with the results!
For thin, super crispy cookies, replace the brown sugar with an equal amount of white sugar and leave out the egg. Space these cookies further apart on the baking sheet to prevent them from spreading into each other.
How to Evenly Coat the Pineapple Sugar Cookies with Glaze
The pineapple glaze that tops these cookies is optional, but it's so simple and delicious, there is no reason to skip it.
There are several ways to apply the glaze to the cookies, and the easiest way is to drizzle spoonfuls of the glaze over the cookies. It might not look professional, but the cookies will still taste amazing, so who cares?
Another method is to pour the glaze directly over the cookies. Put the cookies on a wire cooling rack with a rimmed baking tray. Thin out the glaze with a tablespoon or two of warm water and pour slowly over each cookie. The results look amazing, but you will wind up wasting some glaze.
A compromise between the two methods is dipping the tops of the cookies into a bowl of glaze. It's messy and a little tedious, but the results are pretty good.
Tips for Making and Storing Pineapple Drop Cookies
Let the pineapples drain well. The drier the crushed pineapples are, the better the cookies will turn out.
Remember never to pack your measuring cups. Never use your measuring cup to scoop the flour from the bag. Doing this will pack down the flour, increasing the amount in the recipe, and you'll wind up with dry cookies. Instead, sift your flour and then spoon it into the measuring cup.
Store any extra pineapple cookies in an airtight container on the counter. The cookies should stay fresh for up to five days.
Check out our latest posts on Facebook for more great recipes!
Recipe Ingredients
Here's a list of what you need:
Crushed pineapple
Butter
Brown sugar
Egg
Vanilla extract
All-purpose flour
Baking powder
Baking soda
Salt
Powdered sugar
Lemon zest
How to Make Pineapple Cookies
Drain the crushed pineapple reserving the juice for the icing.
Place the butter and brown sugar in a mixing bowl.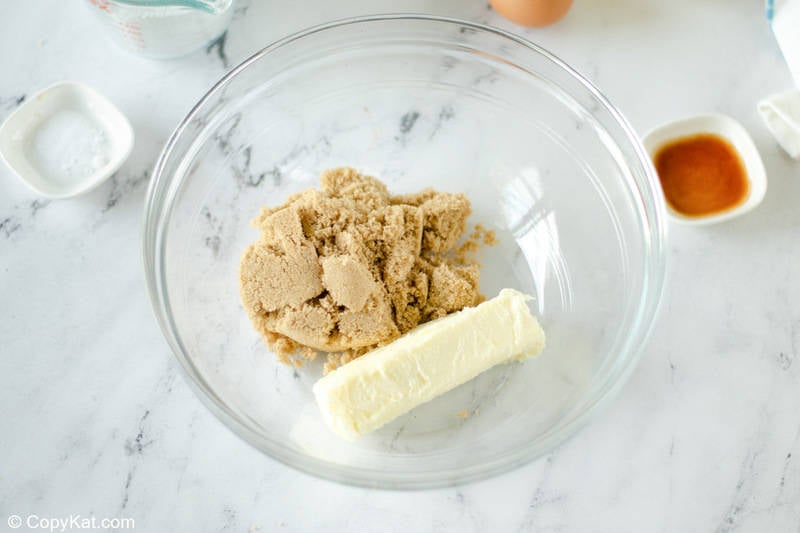 Cream the butter and brown sugar until light and fluffy.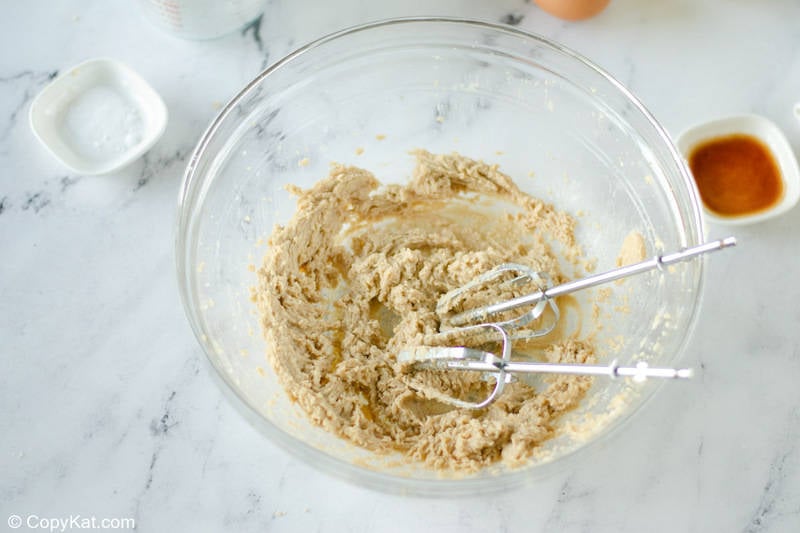 Add egg, pineapple, and vanilla.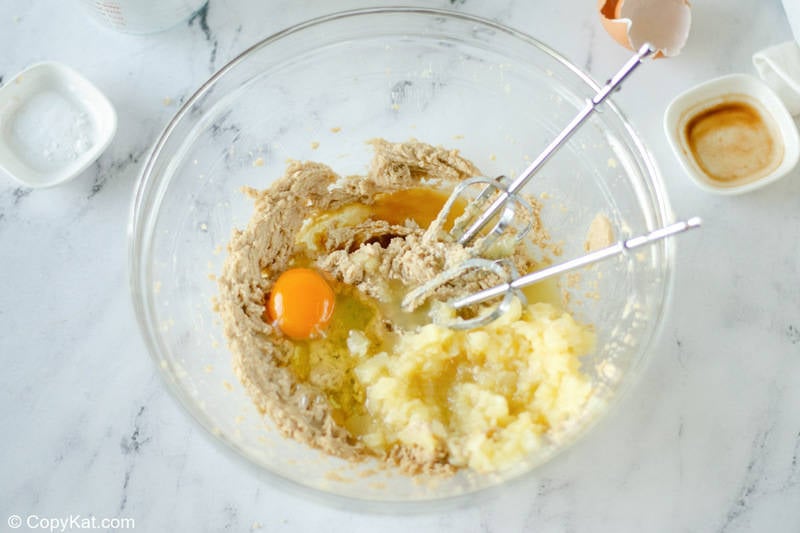 Beat until well combined.
In another bowl combine flour, baking powder, baking soda, and salt.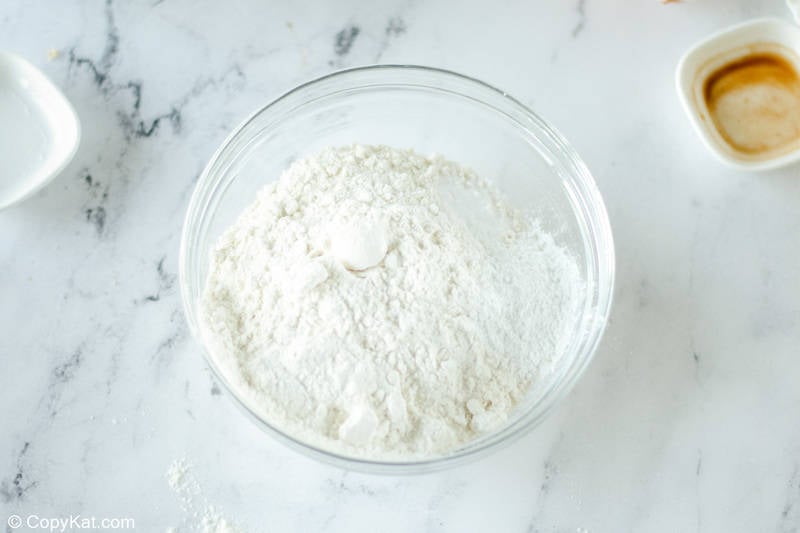 Add the dry ingredients to the creamed butter and sugar and mix well.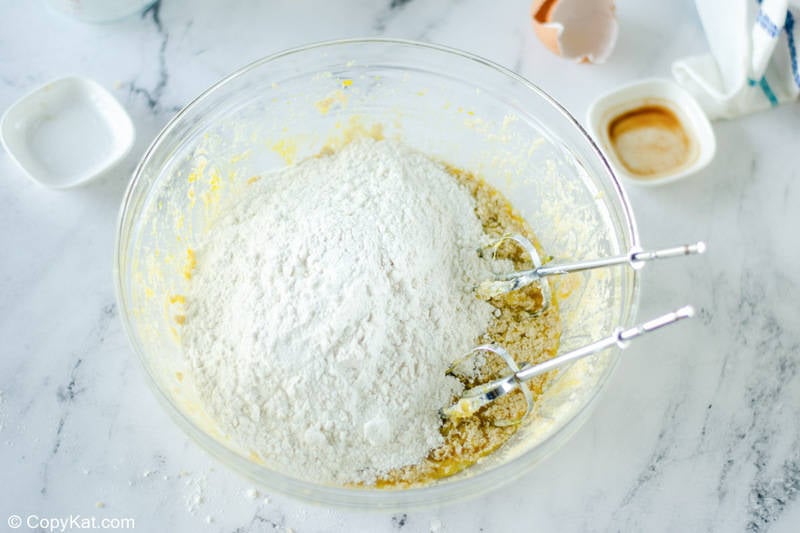 Mix until thoroughly combined.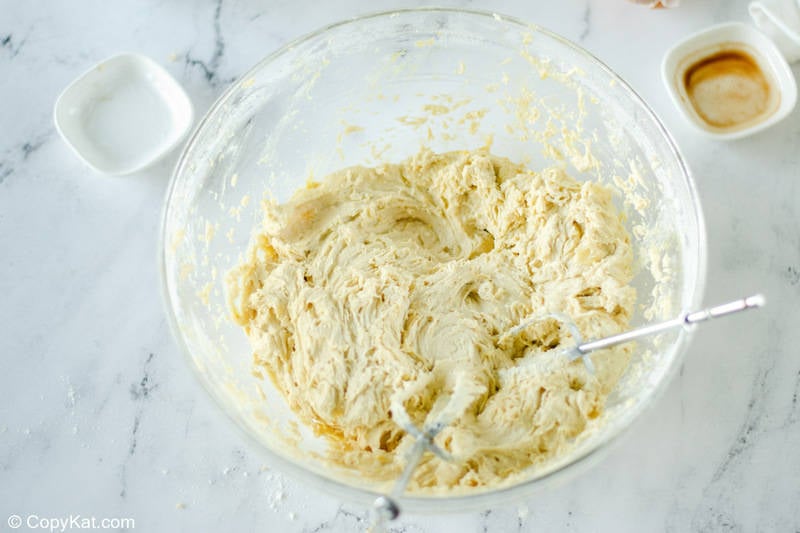 Use a cookie scoop to drop cookie dough onto a greased or parchment paper lined baking sheet.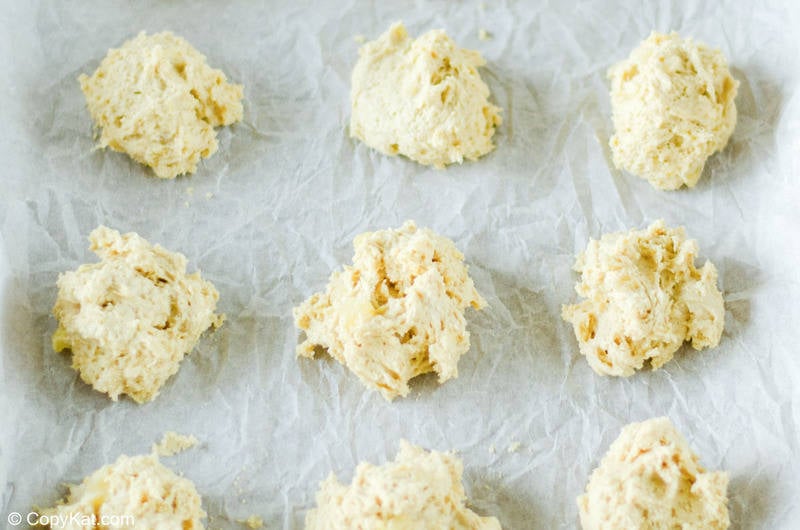 Bake at 325 degrees for 17 to 20 minutes or until golden. Transfer the cookies to wire racks to cool.
Place powdered sugar, lemon zest, and some of the pineapple juice in a small bowl.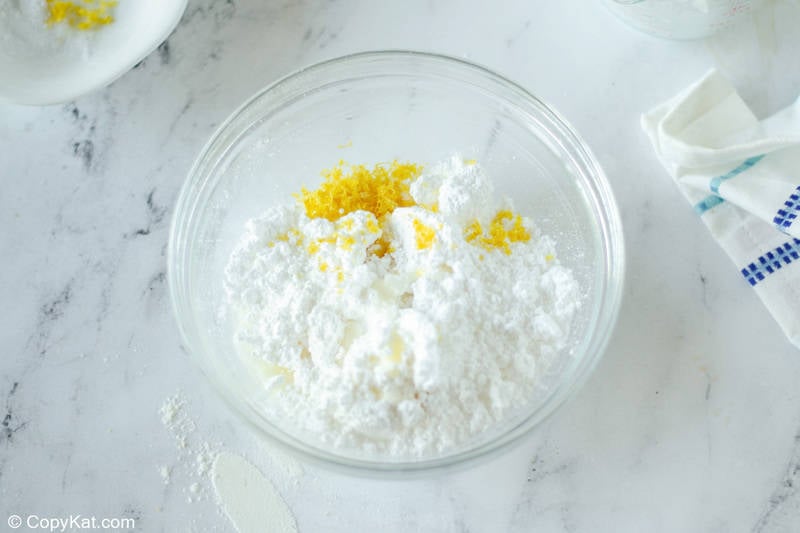 Stir to combine. Add more pineapple juice, a little at a time, until it reaches spreading consistency.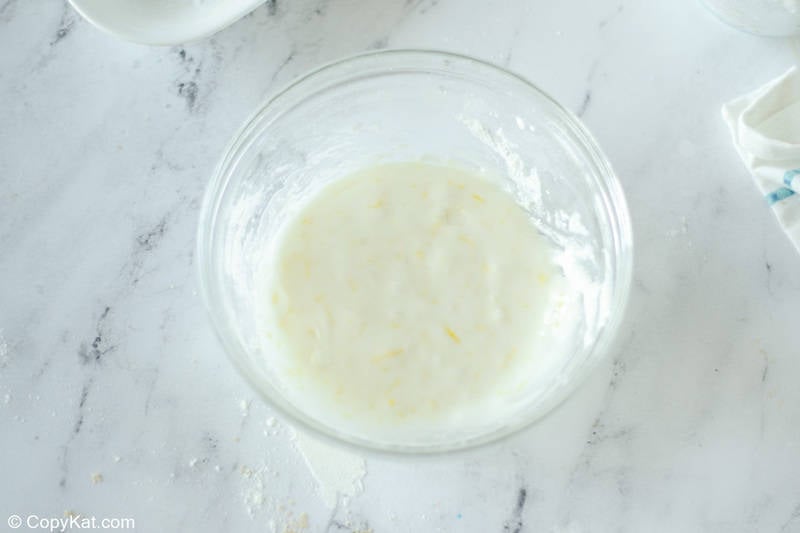 Spread the icing on the cooled cookies.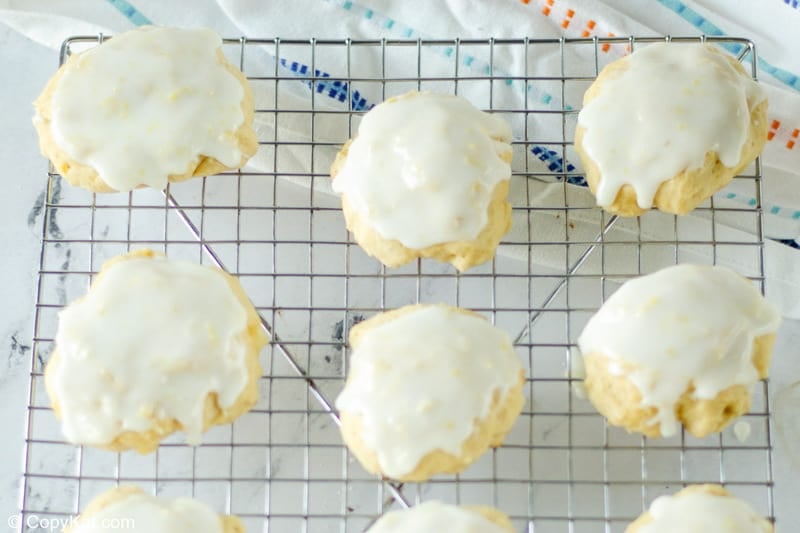 Christmas Cookie Recipe
Growing up, it wasn't Christmas until some lady in my family made Hello Dolly Bars, Chex mix, peanut butter balls, and pecan sandies. So for me, the holidays are marked by those recipes. It was hard to resist the urge not to pull from one of those and to try something new.
I'm glad I made them! I've added these pineapple drop cookies to my must-make Christmas cookies list.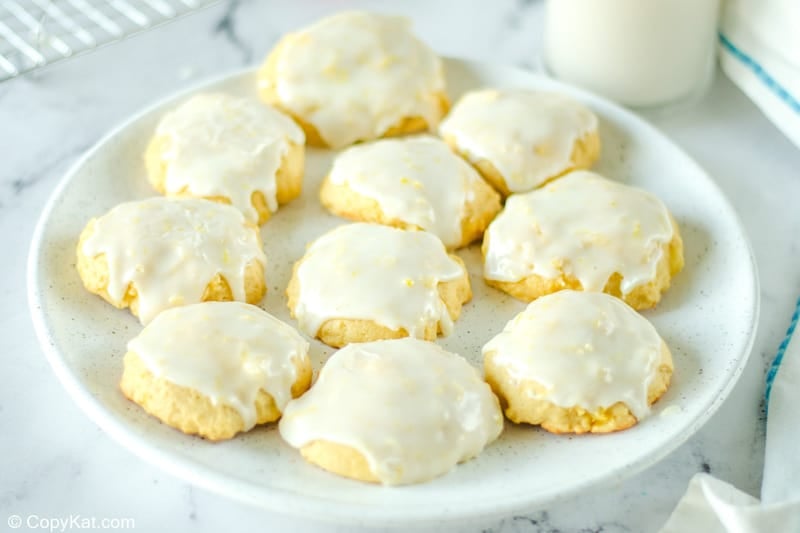 How to Store Pineapple Cookies
You should store these in an airtight container. They will last for about 3 to 5 days. After five days they begin to get a little soft.
How to Freeze Pineapple Cookies with Icing
When I freeze these cookies, I like to wrap them in plastic wrap, and then place these into an airtight container. Placing them into a container keeps them from getting broken. These will last for up to 3 months in the freezer.
Love pineapple desserts? Try these recipes!
Favorite Cookie Recipes
Check out more of my easy cookie recipes and the best Christmas treats recipes here on CopyKat!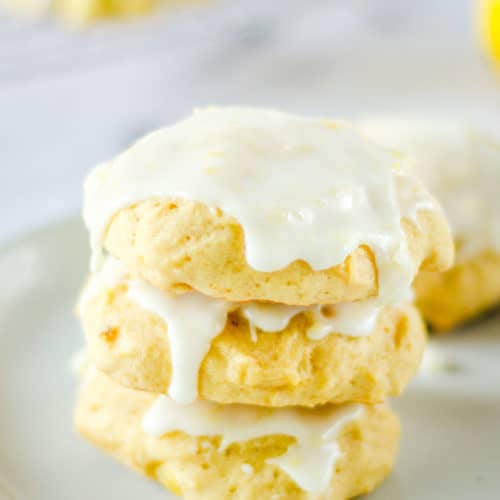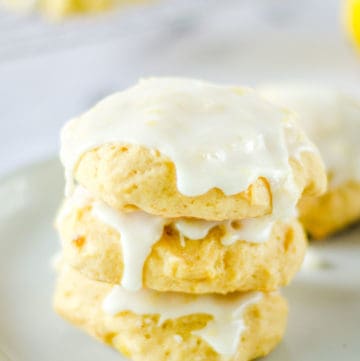 Ingredients
8

ounces

crushed pineapple

1/2

cup

butter

1

cup

brown sugar

packed

1

egg

1

teaspoon

vanilla extract

2

cups

all-purpose flour

1 1/2

teaspoons

baking powder

1/4

teaspoon

baking soda

1/2

teaspoon

salt

1 1/2

cups

confectioners sugar

1/4

teaspoon

teaspoon lemon zest
Instructions
Preheat oven to 325 degrees.

Drain pineapple reserving 3 tablespoons of juice for the frosting.

In a mixing bowl, cream together butter and brown sugar until light and fluffy.

Beat in egg, pineapple, and vanilla.

In another bowl combine flour, baking powder, baking soda, and salt and stir or whisk until thoroughly mixed.

Gradually add dry ingredients to the creamed butter and sugar.

Use a cookie scoop to drop cookie dough onto the baking sheet about 2 inches apart. These cookies will spread.

Bake at 325 degrees for 17 to 20 minutes or until golden.

Transfer cookies to wire racks to cool.

Place powdered sugar, lemon zest, and 2 tablespoons pineapple juice in a small bowl. Stir to combine. Add more pineapple juice, about ½ teaspoon at a time, if needed to achieve spreading consistency.

Spread the frosting on the cooled cookies.
Nutrition
Calories:
72
kcal
|
Carbohydrates:
13
g
|
Protein:
0
g
|
Fat:
2
g
|
Saturated Fat:
1
g
|
Cholesterol:
8
mg
|
Sodium:
49
mg
|
Potassium:
31
mg
|
Fiber:
0
g
|
Sugar:
8
g
|
Vitamin A:
65
IU
|
Vitamin C:
0.4
mg
|
Calcium:
12
mg
|
Iron:
0.3
mg