If you're a fan of cheesecake and pineapple, then this pineapple pie recipe is sure to become a new favorite. The layers of sweet pineapple and creamy cheesecake in a flaky crust is simply irresistible. Whether you're hosting a party or just looking for a sweet indulgence, this Pineapple Cheesecake Pie is sure to satisfy your cravings.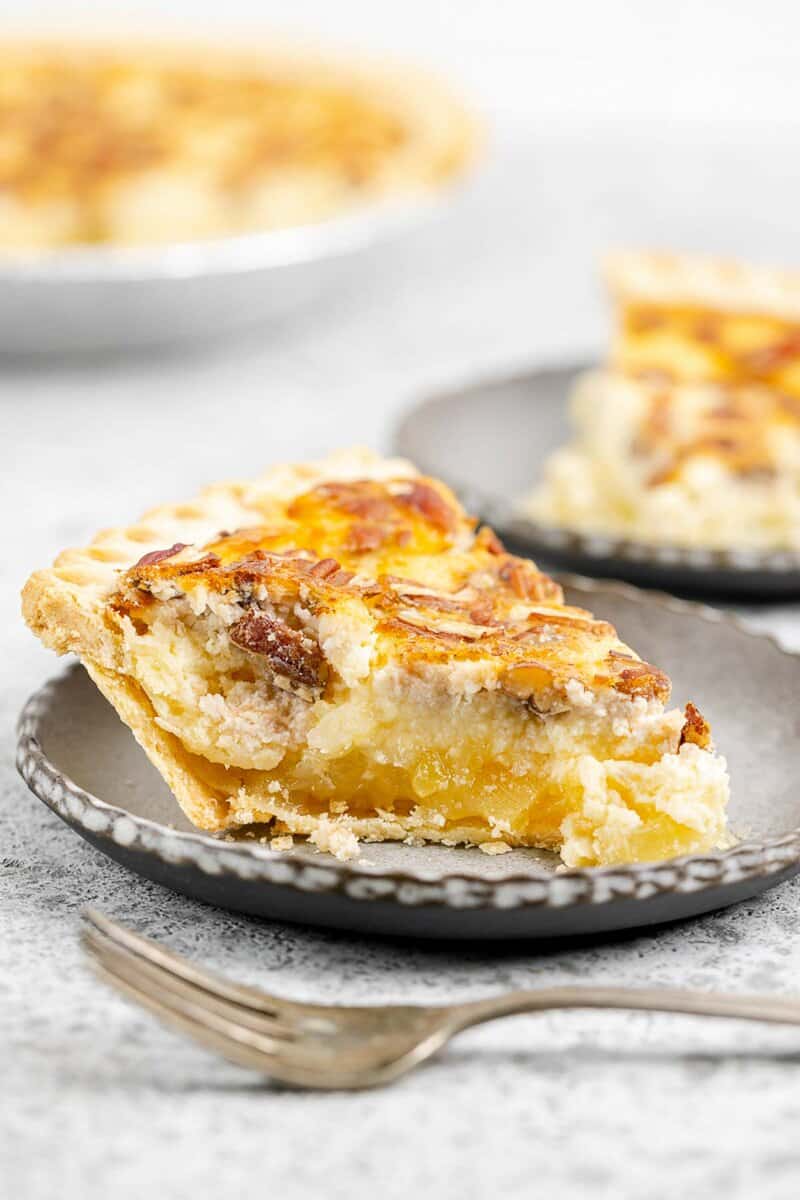 This post contains affiliate links. As an Amazon Associate, I earn from qualifying purchases.
What Makes This Pineapple Pie So Good?
Think of this pie as a less dense, upside-down version of cheesecake with pineapple topping, and you have a pretty good idea of how high on the yum factor it scores. The sweet and tart pineapples cut through the decadence of the cream cheese to transform this pie into a rich but refreshing dessert.
One taste and you can tell how the flavor of sweet pineapple and creamy cheesecake go so well together.
Why You Should Try This Recipe For Pineapple Pie
You don't have to worry about water baths, cake tins with removable bottoms, or any other special techniques or equipment that make making regular cheesecake such a hassle. You don't have to chop up a fresh pineapple either.
Going with a prepared pie shell makes this Pineapple Pie recipe so incredibly easy that you won't think twice about baking it on some random Thursday.
Pineapple Cream Cheese Pie Ingredients
For this Pineapple Pie recipe with cream cheese, you'll need these simple ingredients:
Sugar
Cornstarch
Canned pineapple – crushed
Cream cheese
Salt
Eggs
Whole milk
Vanilla extract
Pie shell, unbaked
Pecans, roughly chopped
For simplicity, choose a pre-made pie shell, or go all out and make your own crust. You could also use a pre-made graham cracker crust, homemade graham cracker crust, cookie crumble crust, or even go crustless!
You can add some lemon zest or a teaspoon of lemon juice to the cheesecake filling for a light citrus touch.
How to Make This Pineapple Pie
To prepare the filling:
Set the cream cheese on the counter to soften.
Whisk together a half-cup of sugar and all the cornstarch.
Set a saucepan over medium heat.
Pour the can of crushed pineapples, including any liquid, into the saucepan.
Stir the sugar and cornstarch mixture into the crushed pineapples.
Continue to stir until the crushed pineapples begin to thicken. Remove the pineapple pie filling from the heat and set aside to cool.
Add the softened cream cheese, salt, and the remaining sugar to the bowl of a stand mixer or a large bowl.
Reduce the mixer speed to low, and add one egg at a time while continuing to mix.
Add the whole milk and vanilla extract to the rest of the filling and mix for ten more seconds.
To fill the pie shell:
If using a refrigerated pie crust, place it in a pie pan, fold under the edge, and crimp it into your preferred shape.
Spread the warm, thickened crushed pineapples on the bottom of the prepared pie crust.
Cover the crushed pineapples with the cream cheese mixture and smooth it to the edge of the pie with an offset spatula.
Sprinkle the pecans on top of the cream cheese mixture.
To bake the Pineapple Pie:
Preheat the oven to 400 degrees F.
Place the pie in the preheated oven and bake for ten minutes. Turn the heat down to 350°F and bake pineapple pie for 50 more minutes.
Cool the pie in the pie tin on a wire rack.
Once the pie reaches room temperature, wrap the pie and place it in the fridge to chill.
Serve well chilled.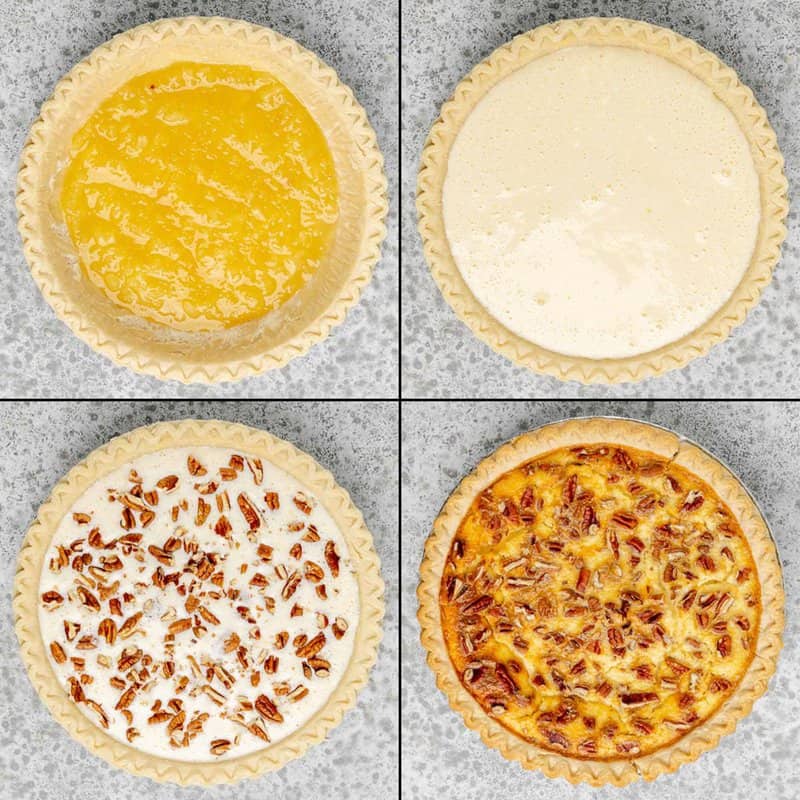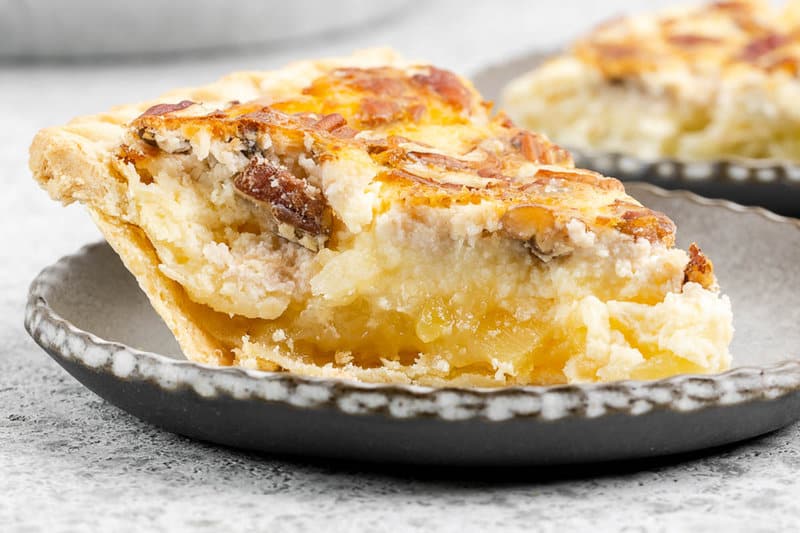 What to Serve With It?
Try topping the chilled pie with Cool Whip whipped topping or homemade whipped cream and crumbled sugar cookies, chopped dried pineapple slices, or fresh pineapple chunks.
Do you want a more tropical vibe? Then don't add the crushed pecans before baking, and instead sprinkle a thin layer of desiccated coconut and a few halved maraschino cherries on top of the chilled pie.
How to Store
You need to keep this pie cold to prevent it from spoiling. To prevent the cream cheese filling from drying out, you will need to cover the top or put it in an airtight container like a pie storage container. The freshly made pie or leftovers will last up to 3 days in the refrigerator.
To freeze the pie, wrap it with a layer of plastic wrap and then a layer of aluminum foil. Store it in the freezer for up to 3 months. Thaw it in the fridge overnight.
How Long Will Pineapple Cream Cheese Pie
Pineapple Pie should last three days in the fridge, but the crust may get a little soggy if the pineapple mixture doesn't set up enough.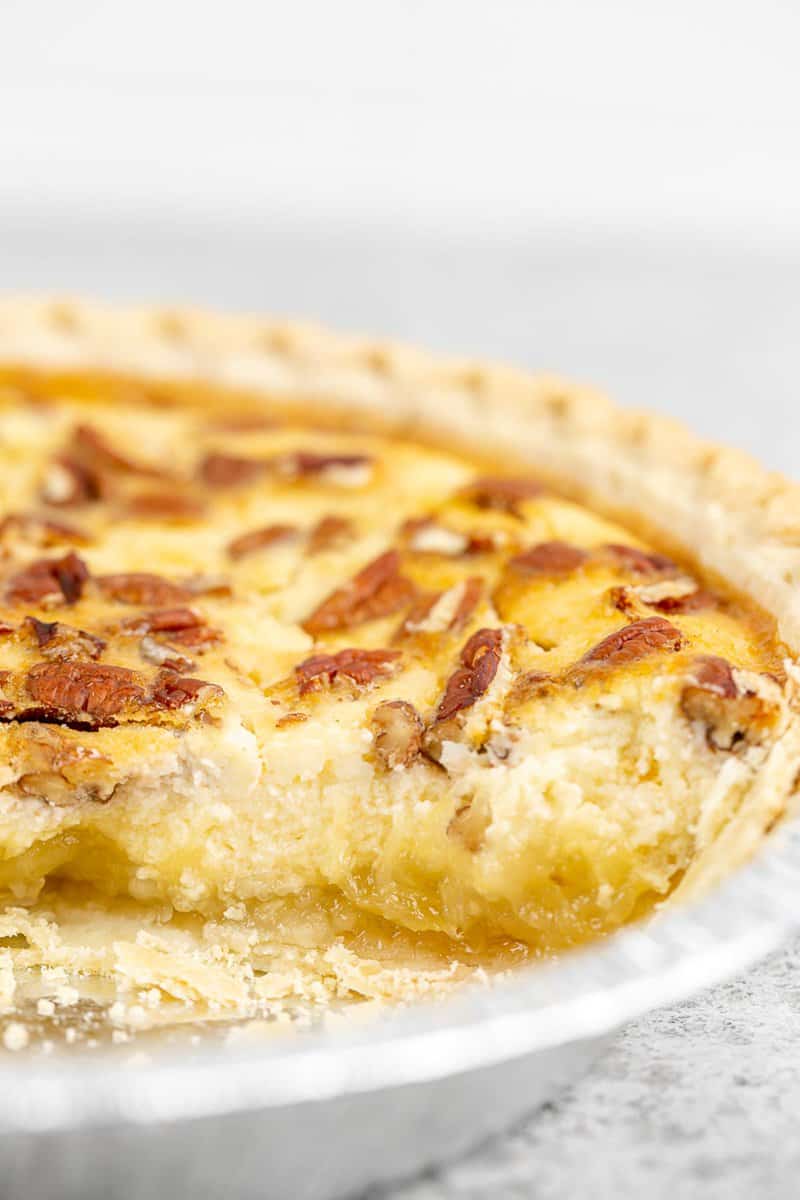 More Pineapple Recipes
If you love pineapple, these recipes are for you!
Favorite Fruity Pie Recipes
Check out more of my easy pie recipes and the best Thanksgiving dessert recipes on CopyKat!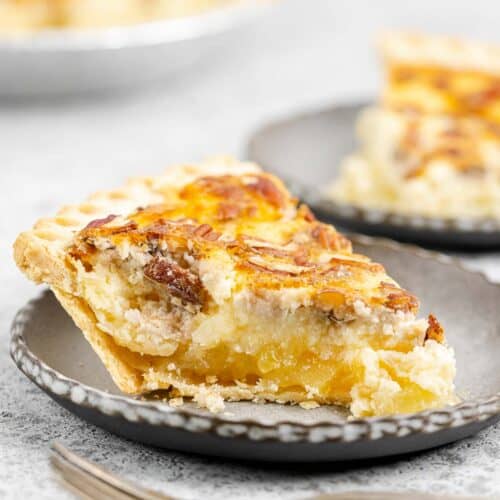 Ingredients
1

tablespoon

cornstarch

1

cup

sugar

divided use

1

can (9 ounces)

crushed pineapple

8

ounces

cream cheese

softened

1

teaspoon

salt

2

eggs

1/2

cup

milk

1/2

teaspoon

vanilla extract

1

unbaked pie shell

1/2

cup

roughly chopped pecans
Instructions
Preheat the oven to 400°F.

Combine the cornstarch and 1/2 cup of sugar in a saucepan. Add the pineapple and cook over medium heat, stirring constantly, until thick and clear. Remove from the heat and let the mixture cool to room temperature.

Combine the cream cheese, salt, and the remaining 1/2 cup of sugar in a mixing bowl. Mix well. Add the eggs one at a time, beating well after each addition. Blend in the milk and vanilla.

When the pineapple mixture has cooled, transfer it to the pie shell. Pour the cream cheese mixture over the pineapple and sprinkle the pecans on top.

Bake for 10 minutes. Reduce the oven temperature to 350°F and bake for an additional 50 minutes. Let the pie cool to room temperature. Then refrigerate until ready to serve.
Nutrition
Calories:
392
kcal
|
Carbohydrates:
45
g
|
Protein:
6
g
|
Fat:
21
g
|
Saturated Fat:
8
g
|
Cholesterol:
73
mg
|
Sodium:
492
mg
|
Potassium:
188
mg
|
Fiber:
1
g
|
Sugar:
31
g
|
Vitamin A:
480
IU
|
Vitamin C:
3
mg
|
Calcium:
67
mg
|
Iron:
1.3
mg