Get ready to impress your guests with homemade Wingstop Cajun Fried Corn! Corn on the cob is deep fried to perfection and coated with a mouthwatering blend of Cajun spices, resulting in a flavorful side dish that's sure to be a hit. Whether you're hosting a backyard barbecue or simply looking for a unique twist on classic corn on the cob, this easy Wingstop Cajun fried copycat recipe is for you.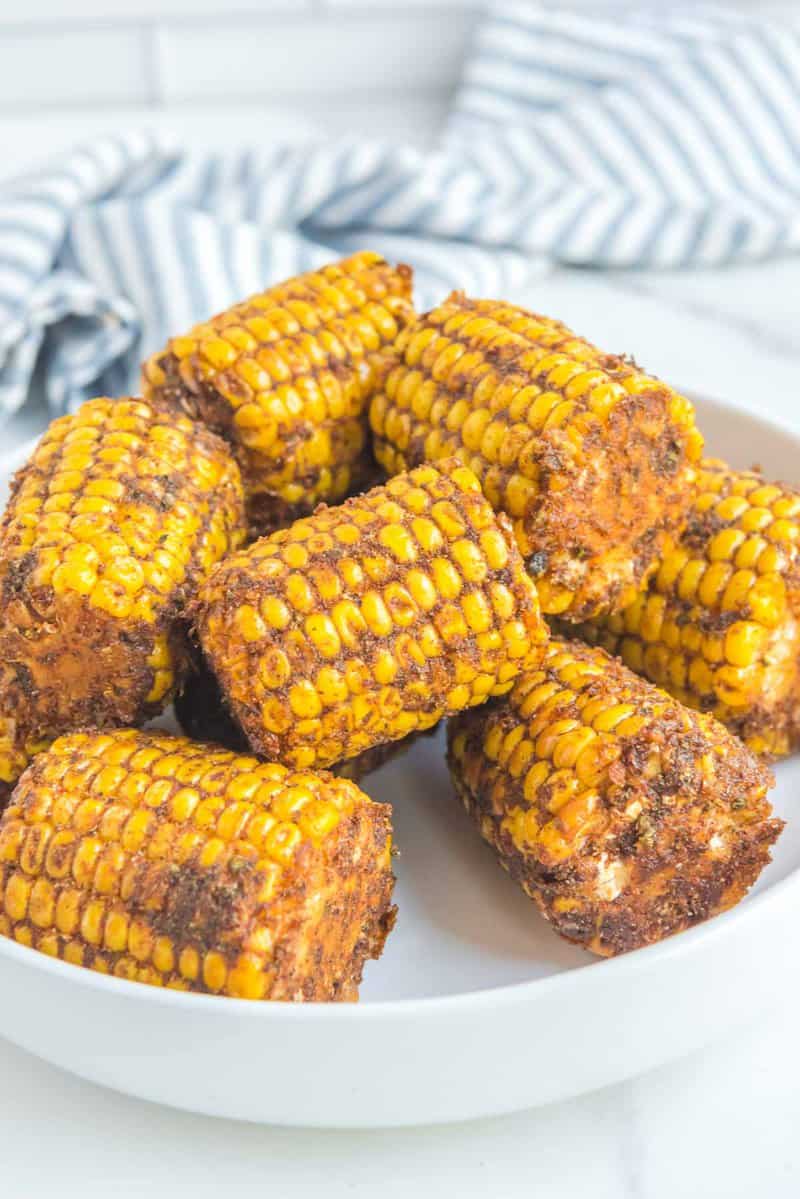 This post contains affiliate links. As an Amazon Associate, I earn from qualifying purchases.
What Makes Wingstop Cajun Fried Corn So Good?
Fried corn off the cob is an old-school Southern recipe, but the fried Cajun corn Wingstop serves is on the cob, making it much more unique. It's a delicious side dish for chicken and grilled meat.
The spices used in this Cajun Fried Corn recipe bring just the right amount of heat to balance out the slightly sweet corn kernels for a simple to make, yet complex and addictive side.
Why You Should Try This Fried Cajun Corn Wingstop Recipe
Between the novelty and flavor of these fried corn cobs, be warned that they are going to be very popular at your next cookout. You may want to make a few batches!
Unlike other recipes for fried corn on the cob, this version doesn't use any batter, so Cajun Fried Corn is never heavy or overly greasy but still undeniably delicious.
Wingstop Cajun Fried Corn Ingredients
To prepare the seasoning for this Wingstop Cajun corn recipe, you'll need:
Garlic powder
Onion powder
Smoked paprika
Dried oregano
Black pepper
Cayenne pepper
Dried thyme
Salt
To fry the corn, you'll need:
Vegetable oil
Frozen mini corn cobs, thawed
For the mini corn cobs in this Wingstop cajun fried corn recipe, you need to use regular corn cobs that are cut into smaller pieces and not the baby corn you may find in a Chinese stir-fry.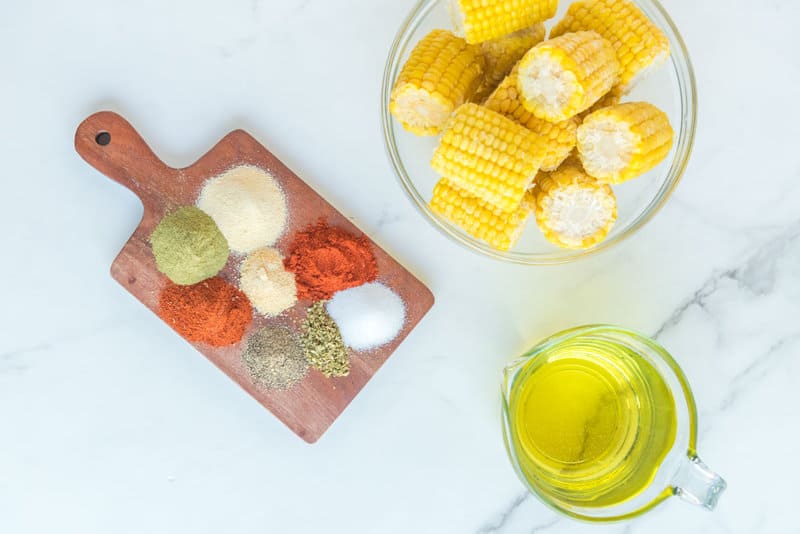 How to Make Cajun Corn Wingstop Style
To make deep fried corn on the cob:
Put the thawed mini corn cobs on the counter to come up to room temperature.
In a large mixing bowl, whisk together all the seasonings. Place the bowl aside for later.
Pour about five inches of oil into a deep pot with a heavy bottom. Attach a deep-fry thermometer to the side, ensuring the probe is suspended midway into the oil. Of course, you can also use a countertop deep fryer if you have one.
Bring the oil to 350°F over medium-high heat.
Once the oil is 350°F, use tongs to put a few mini corn cobs into the hot oil. Depending on the size of the pot or fryer, you will want to fry only three to five pieces at a time to avoid overcrowding and causing the oil temperature to drop too much.
Cook the corn until the kernels brown slightly and the edges get crispy, about three to four minutes.
Remove the fried corn cobs from the oil with the tongs and place them on the paper towel-lined wire rack.
Fry the remaining mini corn cobs.
After frying all the corn cobs, put them in the large mixing bowl with the seasoning mix. Drizzle two tablespoons of oil over the top of the corn and toss well to coat.
Serve immediately in a basket or bowl.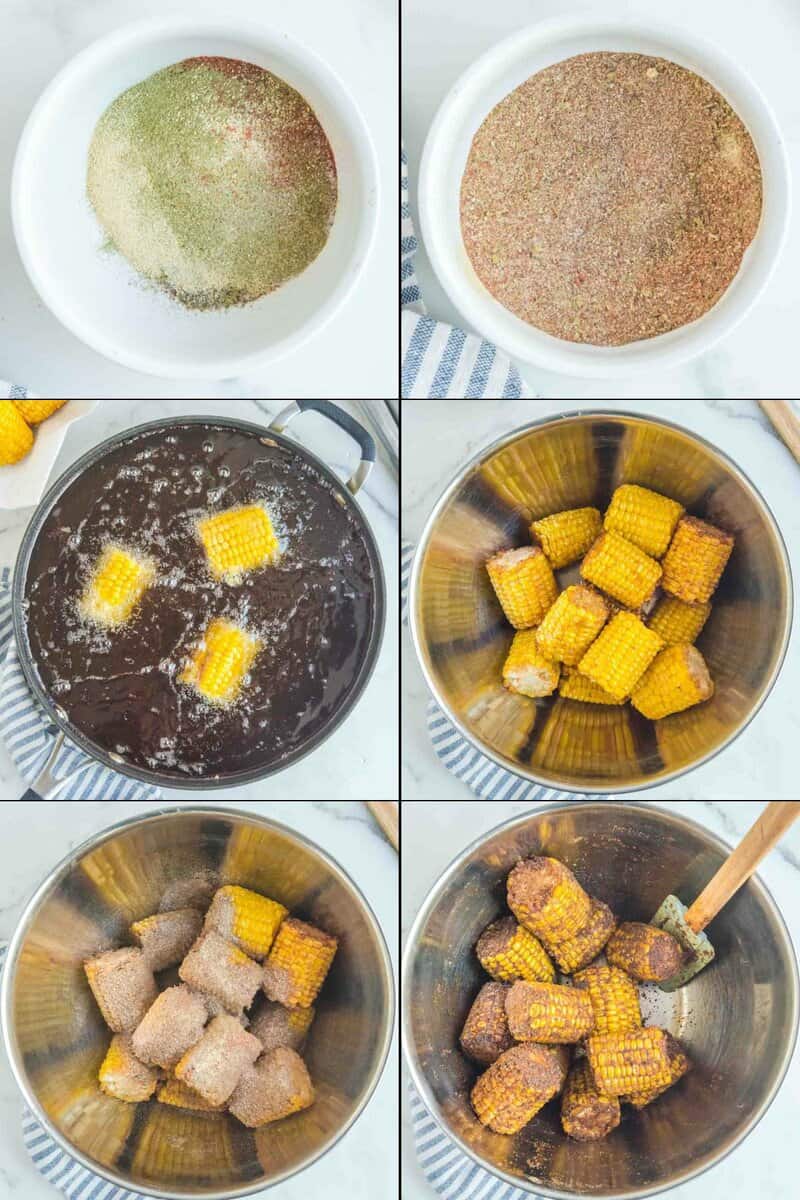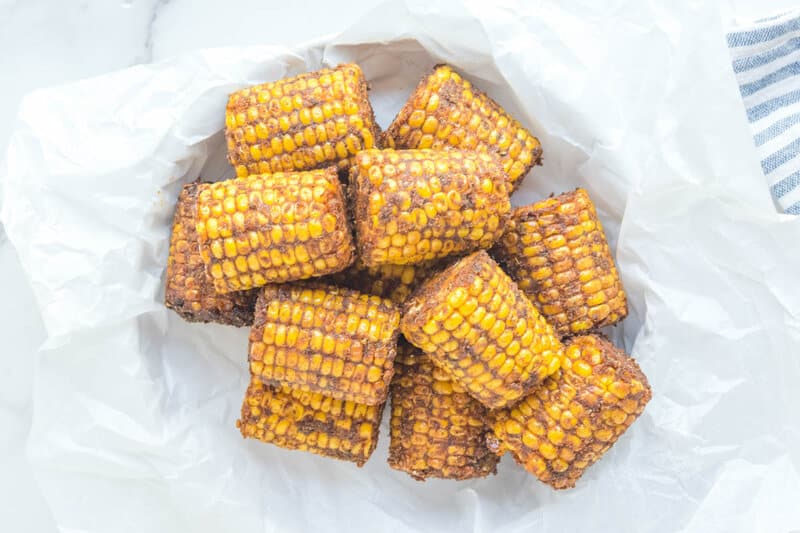 What to Serve With Deep Fried Corn on the Cob
Offering a few dips on the side gives your guests options. Here are a few you may want to try:
Ranch dressing goes with everything, and it is particularly good with fried corn on the cob.
Bloomin' Onion Sauce, with its kick of horseradish and cream mayo, pairs well with this dish.
Buttery garlic sauce makes everything taste even better.
How to Store Leftover Cajun Fried Corn
Let the corn come to room temperature before storing it in an airtight container in the fridge. The fried corn leftovers will stay fresh for up to three days.
How to Reheat Fried Corn
Reheating the corn for a minute or two in the microwave is quick, but you'll lose some of the crispiness that makes this side dish so awesome. A better option is using an air fryer if you have one available:
Preheat the air fryer to 350°F.
Spray the corn with cooking oil.
Reheat for five minutes, turning midway through the cooking time.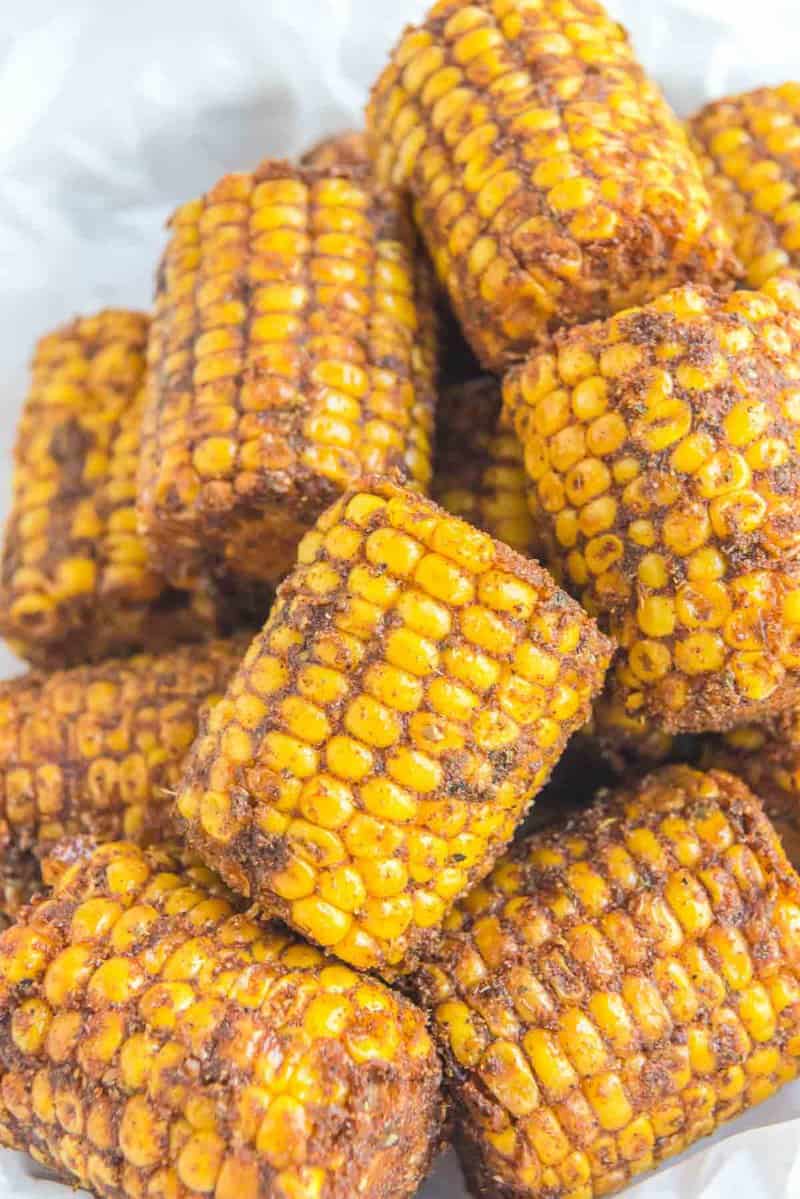 More Wingstop Copycat Recipes
Favorite Corn Recipes
Check out more of my easy side dish recipes and the best copycat fast food recipes on CopyKat!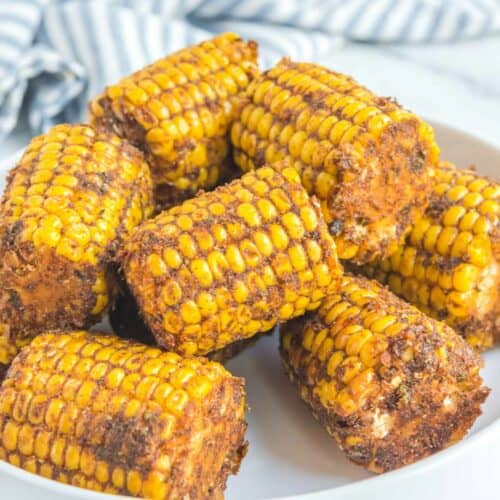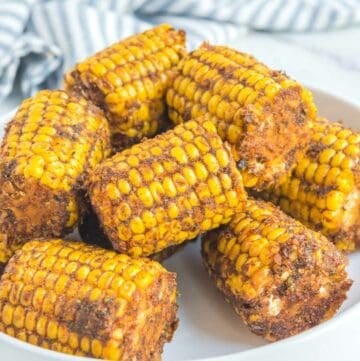 Ingredients
vegetable oil

for frying + 2 extra tablespoons

12

frozen mini corn cobs

thawed

2

teaspoons

garlic powder

1

teaspoon

onion powder

2

teaspoons

paprika

1

teaspoon

dried oregano

1

teaspoon

black pepper

1 1/2

teaspoons

cayenne pepper

2

teaspoons

dried thyme

1 1/2

teaspoons

salt
Instructions
Heat the vegetable oil to 350°F in a deep fryer or heavy-bottomed pot over medium heat.

Carefully place the corn into the oil, 3 to 5 cobs at a time, using a pair of tongs. They should start sizzling right away. Cook for 3 to 4 minutes, until the corn cobs are a light golden brown and the edges of the kernels appear slightly crispy. Remove the cobs from the oil using the tongs and allow them to drain over paper towels.

In a small mixing bowl, combine all the seasonings and mix well.

Place the fried corn cobs in a large mixing bowl. Top with the seasoning blend and 2 tablespoons of vegetable oil. Toss well with a rubber spatula or mixing spoon.
Notes
This seasoning blend is a typical cajun blend. You can substitute creating your own blend of store-bought cajun seasoning blend.
Excess seasoning blend may build on the ends of the cob.
If the corn browns too early, remove it from the oil.
Nutrition
Calories:
192
kcal
|
Carbohydrates:
29
g
|
Protein:
5
g
|
Fat:
9
g
|
Saturated Fat:
2
g
|
Polyunsaturated Fat:
5
g
|
Monounsaturated Fat:
2
g
|
Trans Fat:
0.1
g
|
Sodium:
895
mg
|
Potassium:
444
mg
|
Fiber:
4
g
|
Sugar:
9
g
|
Vitamin A:
1116
IU
|
Vitamin C:
12
mg
|
Calcium:
24
mg
|
Iron:
1
mg