Creamy Corn Chowder with potatoes is a delicious and hearty soup perfect for a cold day. It's easy to make with canned corn and great to enjoy for lunch or dinner.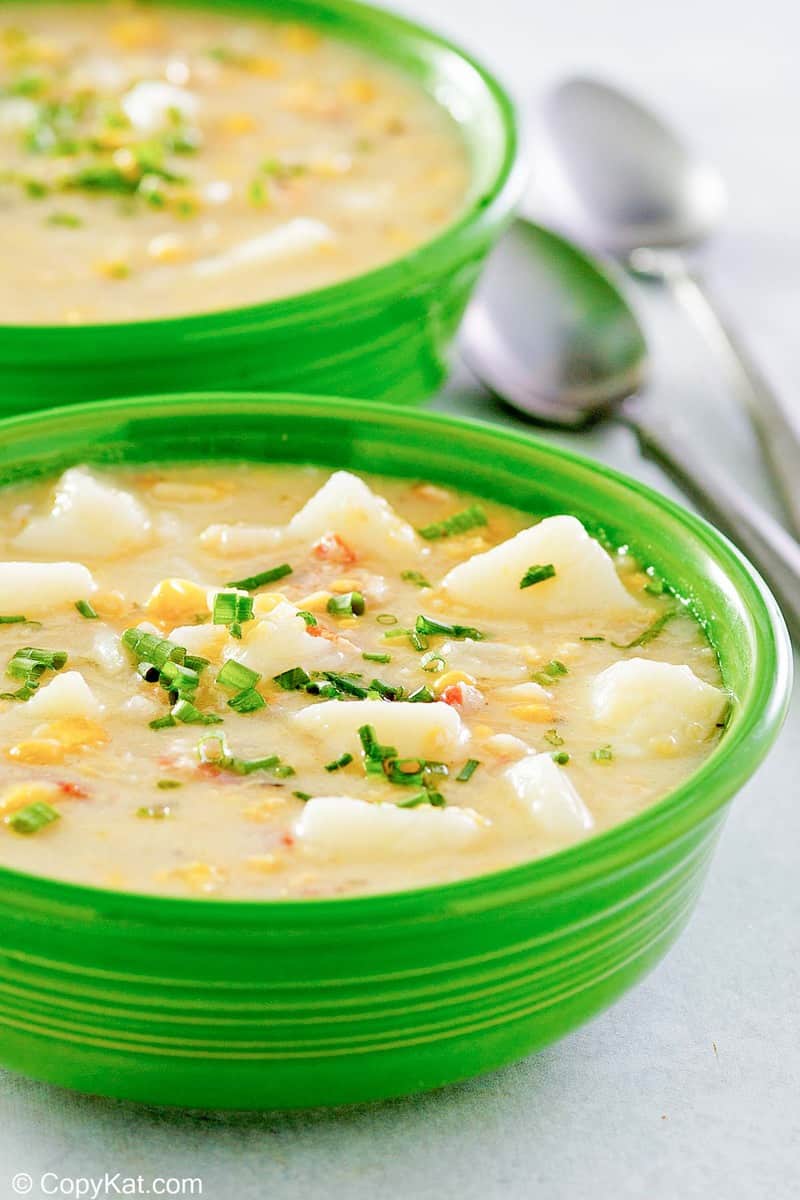 This post contains affiliate links. As an Amazon Associate, I earn from qualifying purchases.
Potato Corn Chowder
Few people can resist a big bowl of corn chowder when it's cold outside. This version makes the ideal lunch or starter with hearty potatoes, sweet corn, and a touch of milk.
Why This Is The Best Easy Corn Chowder Recipe
This no-fuss potato corn chowder can come together in less than an hour with only a few common ingredients that you probably already have at home. The soup is delicious as is, but you can easily make changes to customize the flavor to your liking. This recipe is not made with fresh corn or frozen corn, but this recipe is made with a creamed corn you get from the can.
Recipe Ingredients
To make this corn chowder recipe, you will need:
Butter – you can use salted butter or unsalted butter
Onion – you can use yellow onions or white onions
Potatoes – I like to use Russet potatoes or Yukon gold potatoes
Salt
Ground black pepper
Canned cream-style corn
Milk – I like to make mine with whole milk, I think it reheats best when made with whole milk
Bacon bits (optional garnish)
Ingredient Notes
The best potatoes to use for this corn chowder soup recipe are a bit on the waxy side. Red potatoes are a good choice. Yukon Golds are also lovely.
Try to stay away from baking potatoes, like Russets, because they have a mealy consistency and tend to fall apart when simmered in a chowder.
Don't confuse cream-style corn with creamed corn. They are two different things. Creamed corn contains heavy cream, but creamed-style corn does not.
Save your favorite creamed corn recipe for the next time you need a side dish, and use a can of cream-style corn instead.
Ingredient Substitutions
Make this summer corn chowder vegetarian by replacing the bacon bits with a plant-based alternative, like All Y'alls Foods Vegan Bacon Bits. Skip the butter and use margarine instead for a completely vegan version.
How to Make Corn Chowder
To make this corn chowder soup recipe on the stovetop:
Place a large stockpot with two cups of water over high heat. Season the water with salt and pepper.
Peel the potatoes and chop them into small cubes.
Once the water comes to a boil, add the cup of cut potatoes directly into the pot without rinsing. Cook at a boil until the potatoes are knife-tender, about 6 to 8 minutes.
Meanwhile, dice the onions into the same sized pieces as the potatoes.
In a pan over medium heat, sauté the onions in butter until they soften and become translucent; about 5 minutes.
Dump the cooked onions, two cans of cream-style corn, and a cup of milk into the undrained stockpot with the potatoes.
Bring the corn chowder to a full boil and reduce the heat to a simmer.
Stir in the bacon bits and let the liquid thicken slightly before serving.
Crockpot Corn Chowder
Use a slow cooker to make this recipe even easier:
Prep the onions and potatoes the same as in the stovetop version.
Add the onions, potatoes, cream-style corn, salt, and pepper to the slow cooker bowl.
Pour in two cups of water and stir.
Cover and cook on LOW for 6 to 8 hours.
Stir in the butter and milk and cook uncovered on high until hot.
How to Serve Corn Chowder
Serve the homemade corn chowder in a thick-walled soup bowl. If you want to get fancy, or are just nostalgic for the '80s, try using a small, hollowed-out sourdough boule as a bread bowl!
Garnish with some extra bacon bits and maybe a few kernels of cooked corn with a sprinkle of cayenne pepper on top.
Sour cream and finely chopped jalapeno peppers give the chowder a south-of-the-border vibe.
What Goes Well With Corn Chowder
Any sort of rich and flaky biscuit is excellent on the side of corn chowder. Red Lobster Cheddar Bay Biscuits are particularly good when paired with this recipe.
You can add diced or shredded cooked chicken to the soup if you want a little extra protein.
How to Store Leftover Corn Chowder
If you don't eat all the chowder, you can keep it in a covered container inside the fridge for up to three days.
Any longer than that, and you'll want to freeze the leftovers. Frozen creamy corn chowder will keep in an airtight container in the freezer for up to three months.
If you know you want to freeze the chowder, you will get better results by leaving the milk out of the recipe and adding it later when you reheat it.
Divide the soup into individual portions using freezer-safe bags to make reheating easy.
How to Reheat Corn Chowder
To reheat corn chowder from thawed:
Warm in a small saucepan over medium-low heat. To thin the soup out, add a few tablespoons of water.
Alternatively, you can heat for a minute and a half in the microwave. Stir the chowder. Continue to heat in 30-second bursts until hot.
To reheat corn chowder from frozen:
Thaw the chowder in the microwave or overnight in the fridge.
If you left the milk out when you made the chowder, add a cup of milk and bring it to a simmer over medium heat in a small saucepan. Continuously stir the corn chowder until it starts to thicken.
If the chowder already has milk, follow the directions above to reheat.
Love corn? Try these recipes!
Favorite Chowder and Soup Recipes
Check out more of my easy soup recipes and the best winter recipes here on CopyKat!
Ingredients
1

cup

diced potatoes

2

cups

water

1

teaspoon

salt

1/8

teaspoon

ground black pepper

2

tablespoons

butter

1

cup

finely diced onion

2

cans

cream style corn

2

cups

milk

2

tablespoons

bacon bits
Instructions
Stovetop Method
In a large pot, boil the potatoes in 2 cups water with salt and pepper until the potatoes are tender. Do not drain.

Melt the butter in a large skillet.

Add the onions and sauté until they are soft and translucent.

Add the onions, corn, and milk to the potatoes, and bring to a full boil.

Add the bacon bits and any other seasonings you like, and serve.
Crockpot Method
Prepare the potatoes and onions the same as the stovetop method.

Place the potatoes, onions, cream-style corn, salt, and pepper in the slow cooker bowl.

Add 2 cups of water and stir to combine.

Place the cover on the slow cooker and cook on low for 6 to 8 hours.

Add the butter and milk. Stir and cook uncovered on high until hot.
Nutrition
Calories:
105
kcal
|
Carbohydrates:
7
g
|
Protein:
4
g
|
Fat:
7
g
|
Saturated Fat:
4
g
|
Polyunsaturated Fat:
1
g
|
Monounsaturated Fat:
2
g
|
Trans Fat:
1
g
|
Cholesterol:
20
mg
|
Sodium:
502
mg
|
Potassium:
160
mg
|
Fiber:
1
g
|
Sugar:
5
g
|
Vitamin A:
250
IU
|
Vitamin C:
2
mg
|
Calcium:
102
mg
|
Iron:
1
mg