Crab Bisque is served in many fine restaurants. You can make this creamy and rich soup at home, it's easy to prepare this classic seafood soup recipe.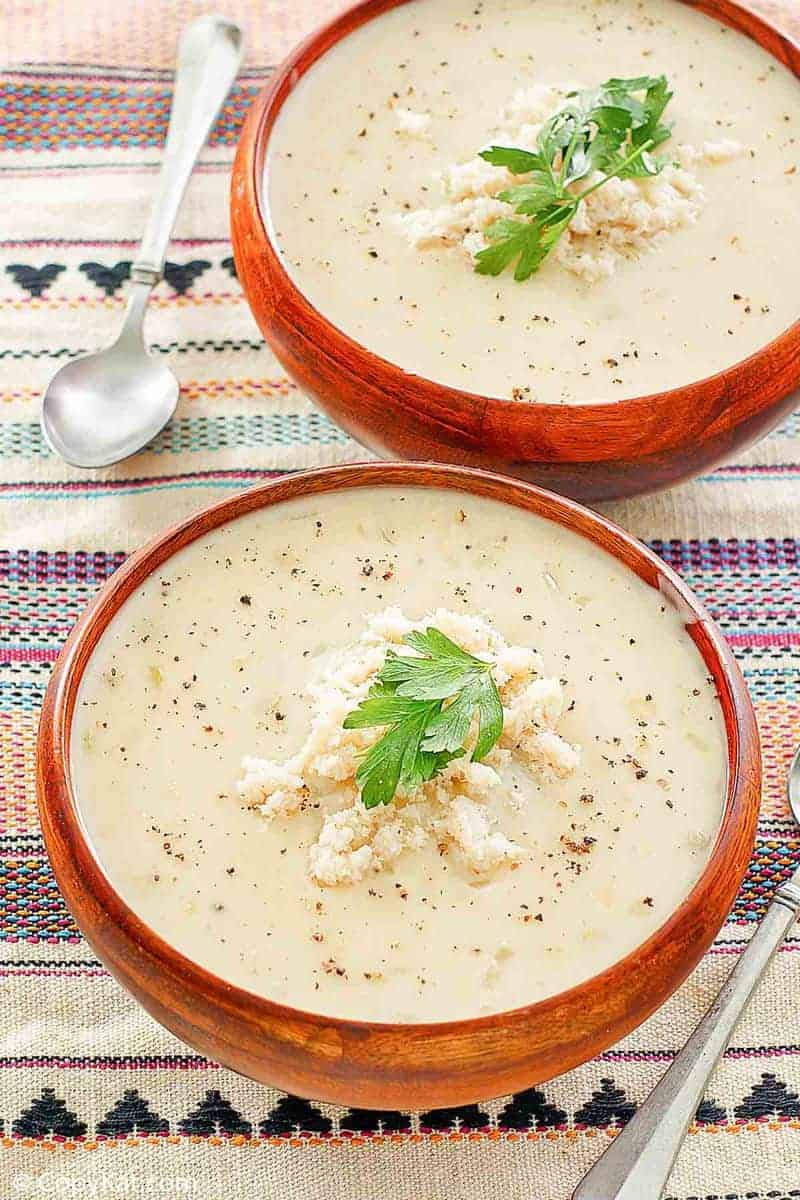 This post contains affiliate links. As an Amazon Associate, I earn from qualifying purchases.
Easy Crab Bisque Soup
Different types of seafood bisque are served in many fine restaurants. Crab bisque is a rich and creamy soup that makes an amazing appetizer in a small quantity. It also makes a delicious first course or is hearty enough to serve as an entrée with some crusty bread and a salad. And, this crab bisque recipe is very easy to make at home.
Many bisque styles of soups are made with the shells of the seafood that is served. And yes, this soup is made with shells of the crab. So if you are going to buy some crab legs, you may want to consider making a crab bisque with the leftover shells.
The Secret to Making the Best Stock for Crab Bisque
Many soups and stews have their basic flavor coming from their stocks, and bisque is no exception. Plus, there is one secret ingredient in a bisque stock, and that is time. It takes several hours to simmer the shells with aromatics to make a deep, rich stock.
To make the crab shell stock for this crab bisque recipe, you simply place the shells in a large pot. You add some coarsely chopped onions, leeks, celery, and a few carrots. Then you fill the pot with enough water to fully cover everything and cook on low heat for several hours.
I personally prefer to season the stock when it nears completion. This way, you can taste it and see what it needs. Seasoning stock while it cooks is judging your food way too early. Once you have your stock ready, this soup comes together fairly quickly (see instructions).
What Does Crab Meat Taste Like?
Eating crab is a bit like eating soft white meat with a mildly sweet flavor. Depending on the type of crab, it could have a more or less salty taste to it.
Different Types of Crab to Eat
Maryland Blue Crab – This crab has a very distinctive blue shell that can turn bright purple when cooked. The meat is very sweet, and blue crabs are said to be the best for making crab cakes.
Soft-Shell Crab – This crab is a Maryland blue crab that has just grown out of its hard shell and formed a soft shell during the molting process. These crabs are ideal for making fried crab sandwiches (boiling them will make them fall apart).
Dungeness Crab – This crab is named after Dungeness Bay in Washington State. The meat is more delicate and slightly less sweet than that of the Maryland Blue Crab.
Snow Crab – In Canada, these crabs are also called queen crabs, and when harvested, only the males are kept. The females are thrown back into the water to sustain the crab stock. Snow crabs have a delicious, sweet taste.
Florida Stone Crab – The claws on the stone crab easily detach from the body to enable the crab to escape from predators. These claws then quickly regenerate. When a stone crab is caught, the claws are torn off, and the crab is released back into the ocean. This promotes incredible sustainability. The meat in the claws is amazingly delicious and is reminiscent of lobster, making the stone crab an expensive dinner option.
Alaskan King Crab – This is the largest species of crab in the eastern hemisphere. A king crab can have a 5- 6-foot span between the middle legs. This enormous leg size yields some substantial pieces of meat with a unique sweet taste.
What Is the Difference? Bisque vs Soup
All bisques are soups, but all soups are not bisques.
Soup is commonly prepared from meat and/or vegetables together with a liquid such as water or stock such as vegetable stock or chicken broth or chicken stock.
Bisque is a smooth and creamy soup with a French origin. A classic bisque is based on a strained broth from the shells of crustaceans.
A bisque has more cream than a soup (including a cream soup). The cream in a bisque is added early in the cooking process and later in a soup.
Recipe Ingredients
Here's what you need to make the stock and bisque:
Crab shells
Onion
Celery
Leek
Carrots
Butter you can use salted butter or unsalted butter
Shallots
All-purpose flour
Sherry
Heavy cream
Cooked crab meat
If you don't have crab, you can use shrimp or even lobster for the recipe. You can interchange the crab, lobster, and shrimp. I think this is a good soup to make when you are trying to get the most value out of shellfish which can be fairly expensive.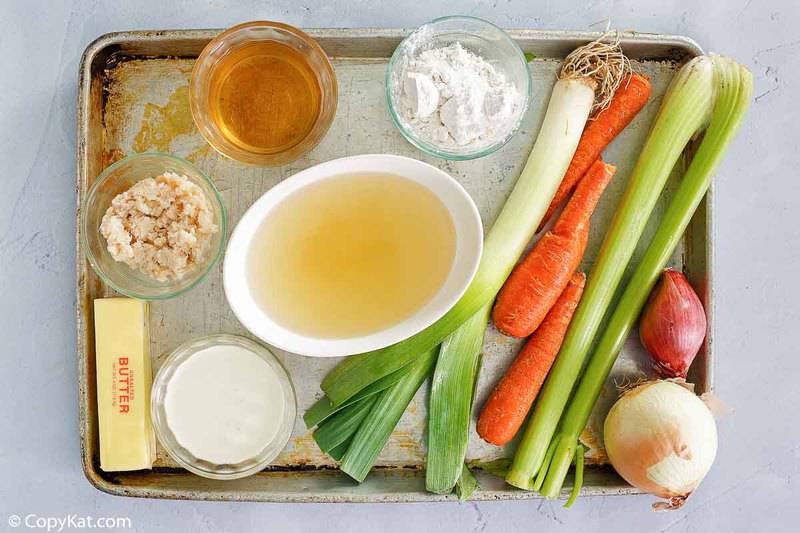 How to Make Seafood Stock
To make crab shell stock, you are simply going to place all of the leftover shells in a large pot.
Add some chopped coarsely chopped onions, leeks, celery, and a few carrots. Fill the pot with enough water to fully cover all of the stock ingredients.
Cook the stock at a low temperature for several hours.
I personally do not like add salt and other seasonings at this time. I like to season the soup when it nears completion. This way you can taste the ingredients and see what they need. I feel like seasoning stock while you cook it is judging your food way too early.
After 3 to 4 hours, you will want to drain the stock and toss all of the solids. You will then reduce the remaining liquid by half. At this point, you will have a super concentrated and flavorful stock you can make your crab bisque.
My big tip here is to not let the stock boil at this time. You want it to simmer only. Allowing a stock to boil means you will have a cloudy stock.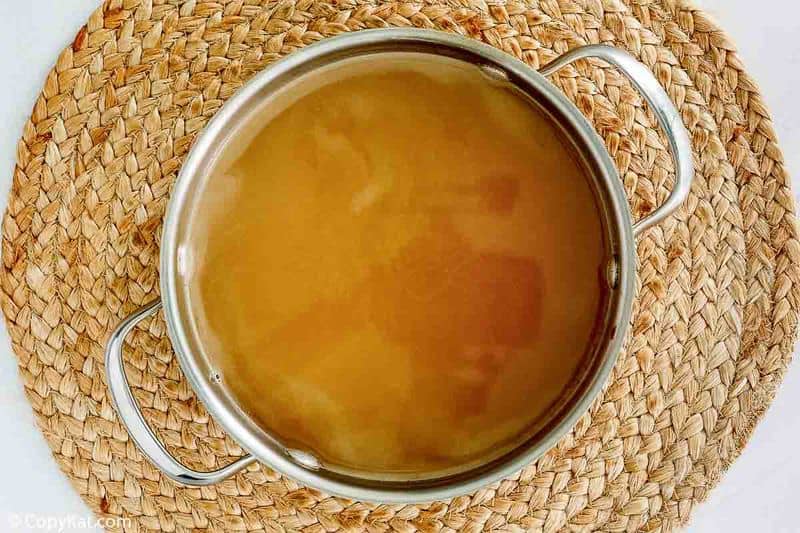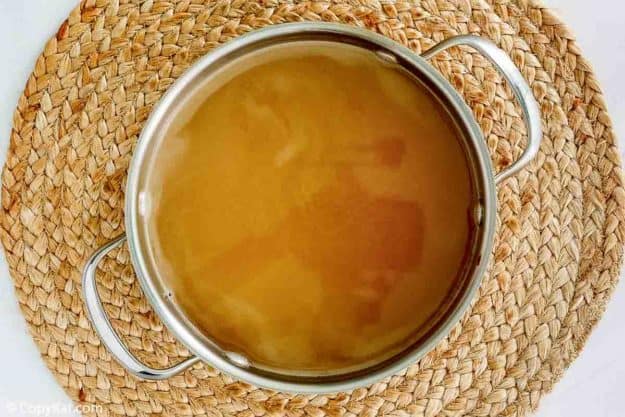 Once you have your stock ready, this soup comes together fairly quickly.
How to Make Crab Bisque
Melt butter in a pot or a dutch oven over medium heat.
Saute the aromatics like shallots and celery in the melted butter iuntil they are just soft.
Add some flour and cook a roux.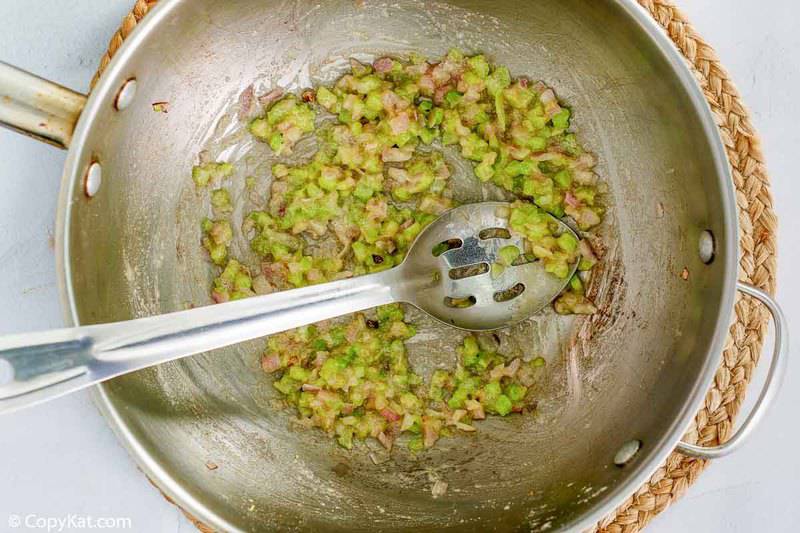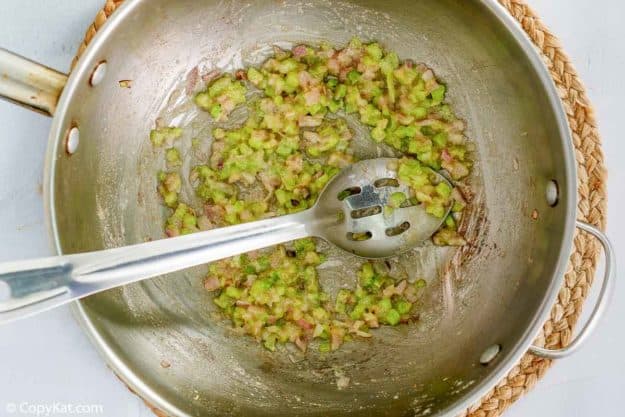 After the roux cooks for a minute or two, you will add in the remaining liquids in small but equal batches.
If you want a smooth bisque, you can puree the soup and run it through a sieve.
Then add some cooked crab to the bisque and enjoy it.
If desired you could garnish the soup with some fresh parsley or other herbs like fresh chopped chives.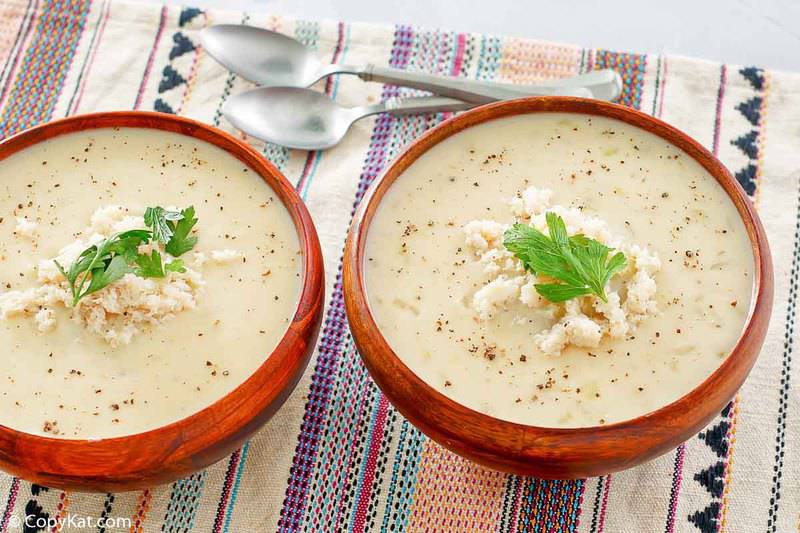 What to Serve with Crab Bisque
How to store leftover crab bisque
Be sure to store the leftover crab bisque in an airtight container in the fridge for up to 3 days. Reheat the soup on low in a pot on the stove. You will want to reheat this soup slowly and gently for the best results.
Popular Soup Recipes
Be sure to check out more of my easy soup recipes and the best seafood recipes.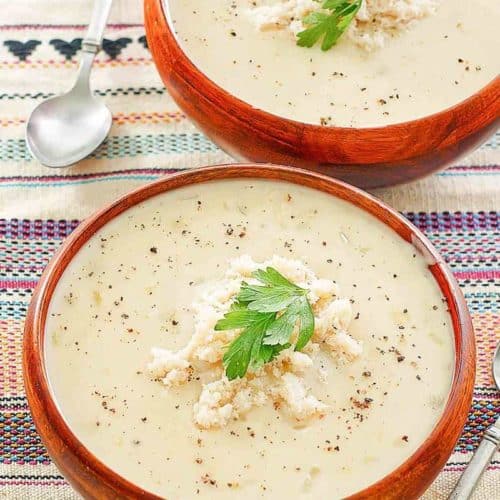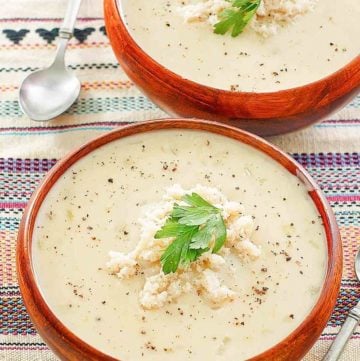 Ingredients
Seafood Stock
2

pounds

crab shells

1/2

cup

coarsely chopped onion

2

celery

stalks cut into small pieces

1

leek

(white part only) sliced

2

medium

carrots peeled and cut into thirds
Bisque
2

tablespoons

butter

2

tablespoons

chopped shallots

2

tablespoons

chopped celery

2

tablespoons

all-purpose flour

1 1/2

cups

seafood stock

1/2

cup

dry Sherry

1

cup

heavy cream

4

ounces

crab meat

if desired
Instructions
Seafood Stock
If the shells are not already cooked, you will want to break them up into smaller pieces, drizzle a little olive oil on them and roast them in a 350-degree oven until they become fragrant and just begin to brown. This may take about 30 minutes.

In a large stockpot, place shells, coarsely chopped onion, celery stalks, leek, and carrot. Cover all ingredients with enough water so the shells are completely submerged by 1 to 2 inches. Cook the stock on low for 3 to 4 hours. Strain stock, discard all solids. Return stock to a pan, and reduce by half by turning up the heat until the stock just begins to boil.
Bisque
Place 2 tablespoons of butter in a 2-quart pot with the shallots, and celery. Saute until the shallots and celery become soft. Add 2 tablespoons of flour and cook until the roux becomes fragrant. Add seafood stock and sherry. Stir until the soup becomes thick. Add cream and heat through. If you desire a bisque that is smooth, process the soup with a food processor or a stick blender, then strain the soup with a fine sieve. Return soup to the pot. Add cooked crab if desired. Serve immediately.
Nutrition
Calories:
392
kcal
|
Carbohydrates:
18
g
|
Protein:
10
g
|
Fat:
29
g
|
Saturated Fat:
17
g
|
Cholesterol:
111
mg
|
Sodium:
490
mg
|
Potassium:
477
mg
|
Fiber:
2
g
|
Sugar:
5
g
|
Vitamin A:
6645
IU
|
Vitamin C:
9.5
mg
|
Calcium:
95
mg
|
Iron:
1.3
mg