Homemade Crostini is perfect for a party or anytime you want to make quick and easy appetizers. Not only does crostini when made fresh taste wonderful, but it is also easy to make. For some reason in the grocery store crostini costs up to five dollars for a small bag of crostini. You can make a delicious appetizer at home for much less.
Who doesn't love to entertain? It gives you a chance to try out new recipes and lets me hear what people think about a recipe you are trying.
Crostini is simple bread sliced thin, which is drizzled with olive oil, seasoned if desired, and tossed into the often for a few minutes. You wouldn't think that this would cause high prices at the grocery store, but it can.
When I make them I like to use a day-old baguette. I can save a little extra money and since the bread is being toasted it really doesn't matter if it is fresh and baked that morning. If there is no day-old bread, I actually like sourdough the best. You can choose whatever bread you like best, the technique doesn't change.
Crostini ingredients
Baguette
Olive Oil
Salt and Pepper
How to Make Homemade Crostini
You want to slice your bread thin and then drizzle with olive oil, you could even use a little smear of butter. I sometimes choose one over the other depending on what I am adding to the crostini when I serve it.
You could even rub a clove or two of garlic over the bread before you add the olive oil, or top with a seasoned salt if you desire.
Sprinkle salt and pepper on bread slices.
Broil on both sides until golden brown and crispy.
How to Store Crostini
Place in an air-tight container and store it at room temperature.
How to Use Crostini
Crostini is used most often as an appetizer. Serve it with Italian tomato-basil topping, tapenade, goat cheese, and so much more!
You can also serve these as crispy bread with soup or salad.
Can you make Crostini ahead of time?
Yes, you can. You can make it up to three days ahead of time. You do not need to reheat crostini before using it again, but you can heat it up by placing it on a baking sheet for about 5 minutes at 350 degrees. When you reheat crostini the bread becomes extra crispy and crunchy!
Can you freeze crostini?
Yes, you can. You can freeze it after it has been toasted, or you could brush with a bit of olive oil, freeze, and then toast just before serving. Either way, it's up to you. I love to keep a bag in my freezer so I can always have some appetizers in a flash.
What kind of bread can you use to make crostini?
You can use any type of bread you like. I prefer day-old baguettes, but I have also made them with sourdough bread, bollos, day-old bread I bought at the bakery or even leftover dinner rolls. You really can make these crunchy bites out of anything you have on hand!
Ideas for Crostini
Serve crostini with these soups
Get more ideas for crostini to make tasty appetizers and comforting soups.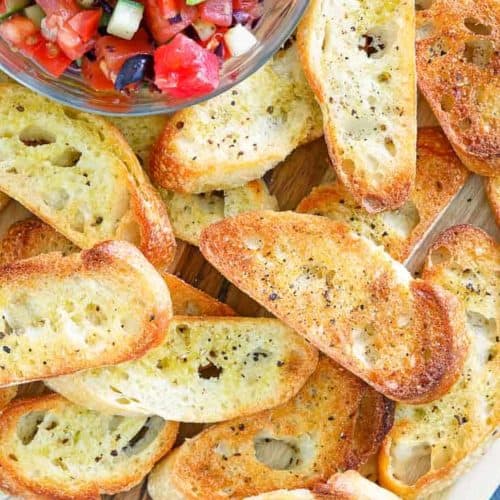 Ingredients
1

baguette

(8 to 10 ounces) sliced into 1/4 to 3/8 inch slides, this should yield 40 to 60 slices

1/2

cup

olive oil

or 1 stick of butter

kosher salt

pepper
Instructions
Slice bread into 1/4 to 3/8 inch slices, and place sliced bread onto a rimmed baking sheet. Drizzle half of the olive oil over the sliced bread.

Use a pastry brush to brush out olive oil evenly. Season with salt and pepper if desired. Place into oven, the bread should brown in one to two minutes. Remove baking sheet from oven. Flip bread over, drizzle with remaining oil, and brush out olive oil evenly.

Place baking sheet back into the oven and allow bread to brown, this should only take about one minute. Allow bread to cool completely before storing in an airtight container.
Notes
For variety, you can rub a cut piece of garlic onto the bread after it has been toasted. 
You may also want to consider using a flavored oil to brush onto these when cooking them. 
Nutrition
Calories:
68
kcal
|
Carbohydrates:
5
g
|
Protein:
0
g
|
Fat:
4
g
|
Saturated Fat:
0
g
|
Cholesterol:
0
mg
|
Sodium:
63
mg
|
Potassium:
11
mg
|
Fiber:
0
g
|
Sugar:
0
g
|
Calcium:
8
mg
|
Iron:
0.3
mg