Jezebel Sauce is a popular sauce served over cream cheese for a party appetizer. You can also use it as a dipping sauce or for cooking pork tenderloin and chicken. This delicious southern sauce is sweet with a spicy kick.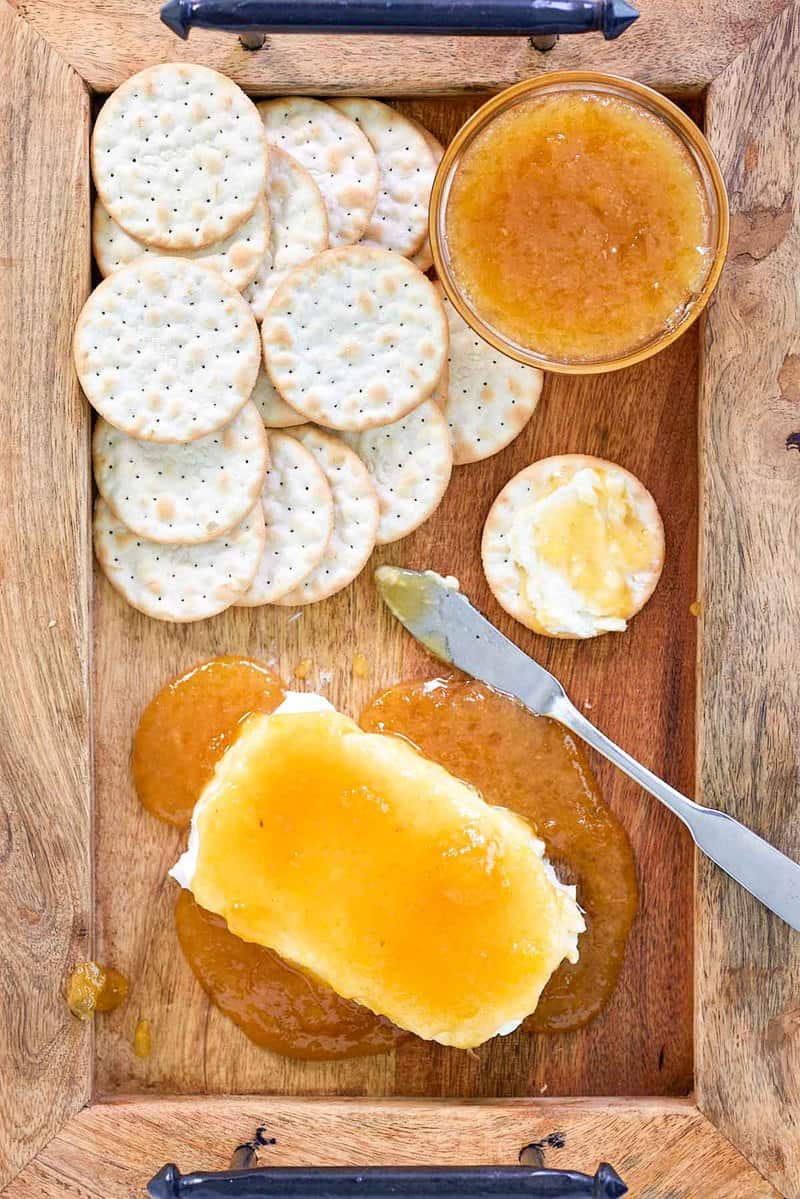 This post contains affiliate links. As an Amazon Associate, I earn from qualifying purchases.
What Is Jezebel Sauce?
Jezebel Sauce combines the sweet and tangy twang of pineapple preserves and apple jelly with the mild heat of dry mustard and prepared horseradish. If you have never tried Jezebel Sauce before, what are you waiting for?
What Makes Jezebel Dip the Perfect for a Party and a Meal?
This classic Southern recipe has popped up at dinner parties and church socials for generations. Its popularity comes from its fabulous taste and the fact that it is incredibly easy to make. Oh, yeah, it is super versatile, as well.
Pour this sauce over a block of cream cheese to transform it into a rave-worthy appetizer; use it as a glaze for meat or as a dipping sauce for just about anything.
Save this recipe and stock up on the shelf-stable ingredients, and you'll be ready for any last-minute get-together.
Ingredients You Will Need
To make Southern Jezebel Sauce, you'll need:
Pineapple Preserves
Apple Jelly
Dry Mustard
Prepared Horseradish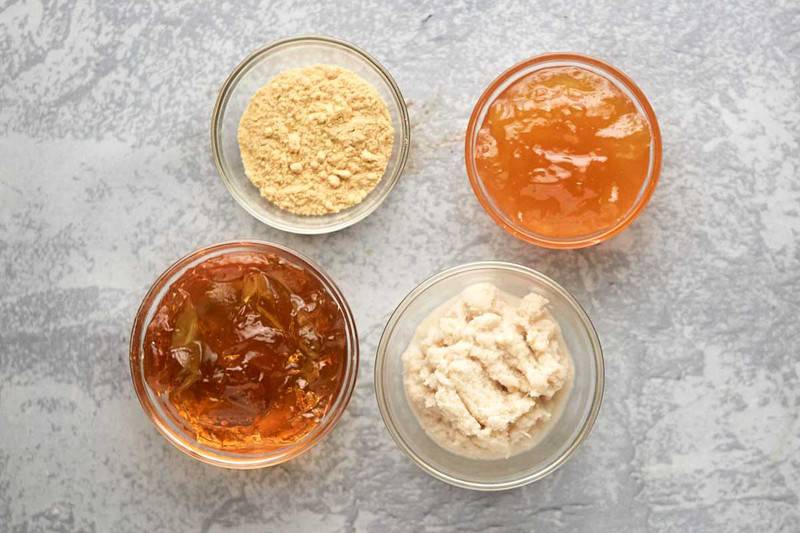 Ingredient Notes
Read the label for the horseradish carefully. You want prepared horseradish, not horseradish sauce, for this recipe.
You won't find apple jelly in every supermarket, but you can buy apple jelly online. Don't try to substitute the more common apple butter, but you can make Jezebel Sauce with orange marmalade or apricot jam instead.
How to Make Jezebel Sauce
This recipe is so easy to make! Here's all you have to do:
Drain the prepared horseradish and pat dry with a paper towel.
Combine the pineapple preserves, apple jelly, dry mustard, and prepared horseradish in a mixing bowl.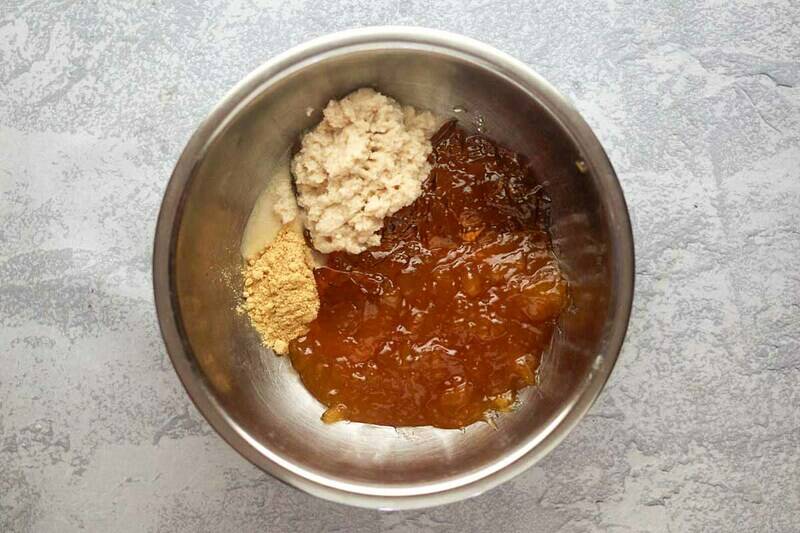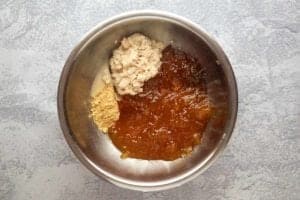 Whisk well. Heating the jelly and preserves in the microwave until warm makes incorporating the other ingredients much more manageable.
Transfer the sauce to a container with a lid and put it in the fridge.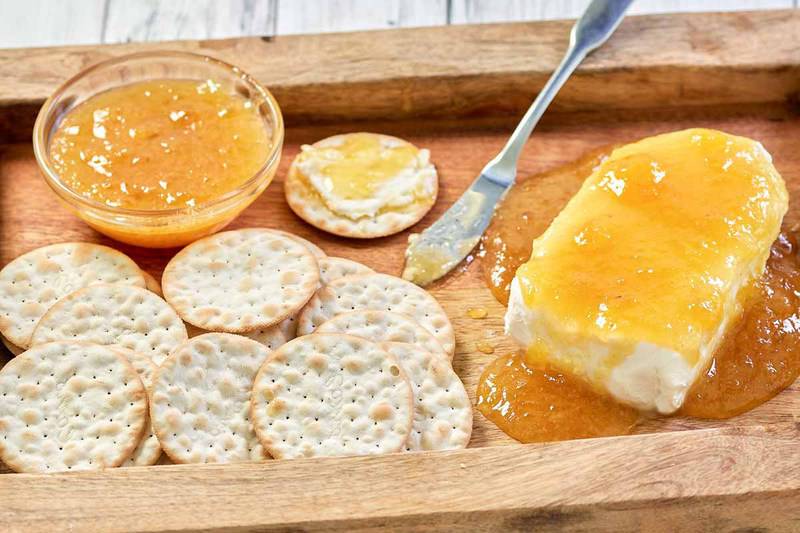 Recipe Variations
Changing up the taste of this sauce is simple.
Switch out the apple jelly for pepper jelly for a hotter sauce spice. No pepper jelly on hand? Finely chop a few jalapeños or habaneros and toss them in with the apple jelly.
Put an Asian spin on this recipe by replacing the apple jelly with apricot jam and substituting a tablespoon of grated ginger for the dry mustard.
How To Serve Jezebel Sauce
Make the sauce two days in advance, and let it hang out in the fridge before serving for the best flavor. Fair warning, the spicy version of this Jezebel Sauce recipe will get hotter over time, so be careful not to let it sit for too long.
To make the classic Jezebel Dip, bring a block of cream cheese to room temperature and pour the sauce over the top. Serve the dip with plenty of crackers. Ritz Crackers are the traditional choice, but Wheat Thins, Triscuits, and pita chips are good options, too.
What To Serve Jezebel Sauce With
In addition to using the sauce as a dip, it is incredible as a glaze on pork and ham. Try glazing slices of pork tenderloin, crisping the sauce under a broiler, and serving between two pieces of crunchy garlic bread as a sandwich. Yum.
Use as a condiment for dipping chicken tenders, wings, little smokies, or egg rolls. This is amazing with fried shrimp!
How To Store Southern Jezebel Sauce
Keep the sauce in the fridge. Old jam jars or mason jars with screw-on lids make the perfect containers.
Cover any leftover Jezebel Dip with plastic wrap and put it in the fridge.
How Long Does This Jezebel Sauce Recipe Last?
You can keep Jezebel Sauce in the fridge for up to three weeks, but once you pour it over the cream cheese to make the dip, try to finish it within 48 hours.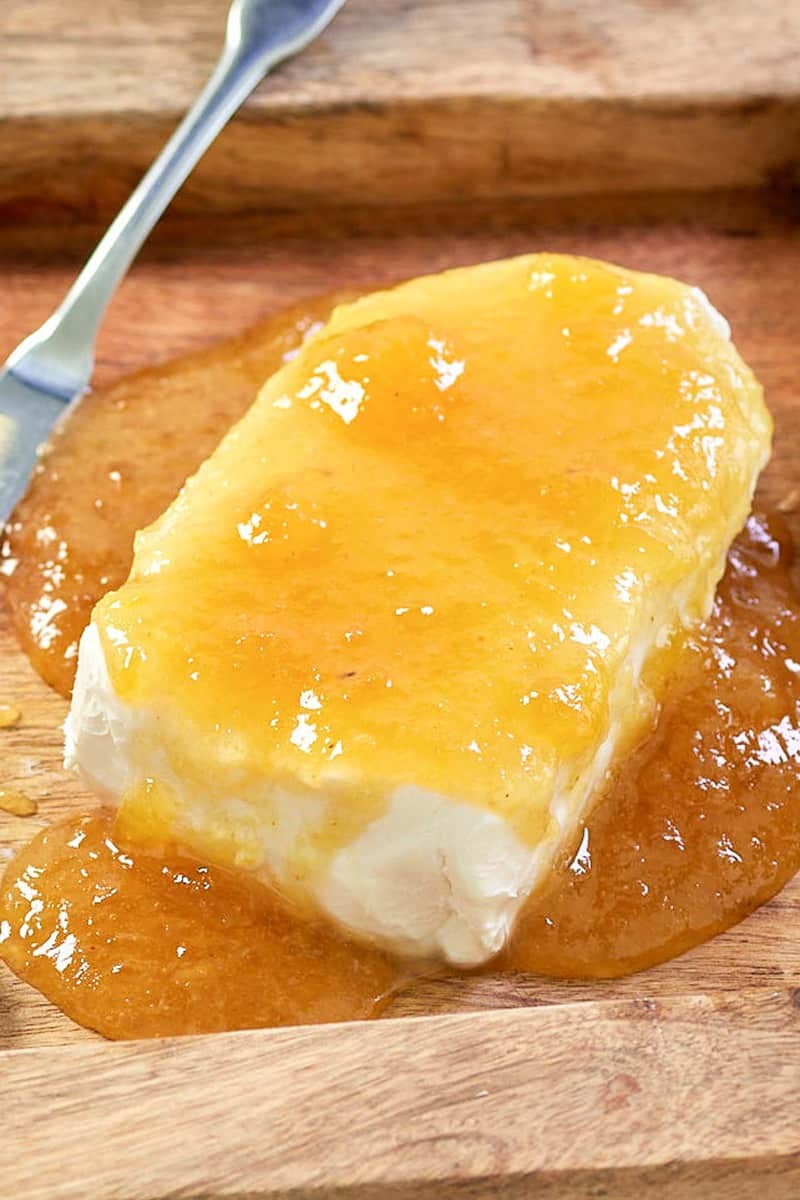 Do You Love Sauces? Try These Recipes
Popular Appetizer Recipes
Check out more of my easy sauce recipes and the best appetizer recipes here on CopyKat!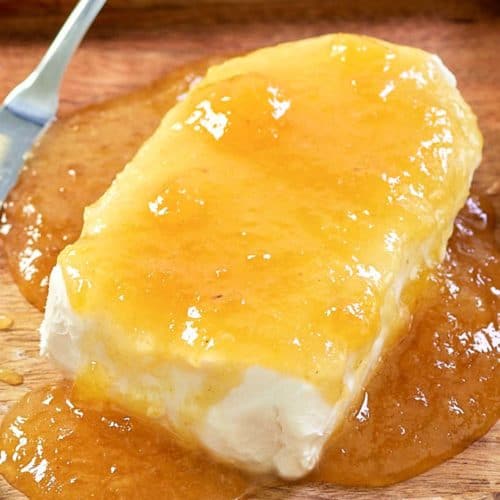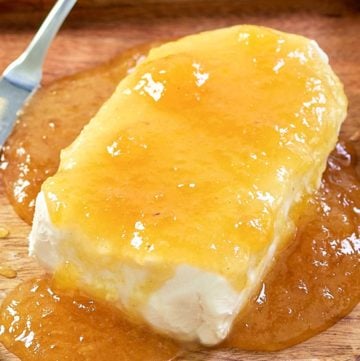 Ingredients
15

ounces

pineapple preserves

15

ounces

apple jelly

3

tablespoons

dry mustard

1/2

cup

prepared horseradish
Instructions
Place all the ingredients in a medium bowl, and stir until well combined.

Transfer the sauce to an airtight container, and refrigerate until ready to serve.

To serve, pour over cream cheese and serve with crackers.
Notes
This will store refrigerated for several weeks.
You can also use Jezebel sauce for a ham glaze or dip for chicken nuggets and egg rolls.
Nutrition
Calories:
242
kcal
|
Carbohydrates:
59
g
|
Protein:
0
g
|
Fat:
0
g
|
Saturated Fat:
0
g
|
Cholesterol:
0
mg
|
Sodium:
77
mg
|
Potassium:
95
mg
|
Fiber:
1
g
|
Sugar:
42
g
|
Vitamin C:
10.5
mg
|
Calcium:
24
mg
|
Iron:
0.5
mg