Thai Peanut Sauce is great for dipping spring rolls and satay. It's also a delicious noodle sauce and salad dressing. You can easily make this spicy peanut sauce with simple ingredients. Just stir everything together and you'll have a tasty Thai peanut sauce to enjoy in so many ways.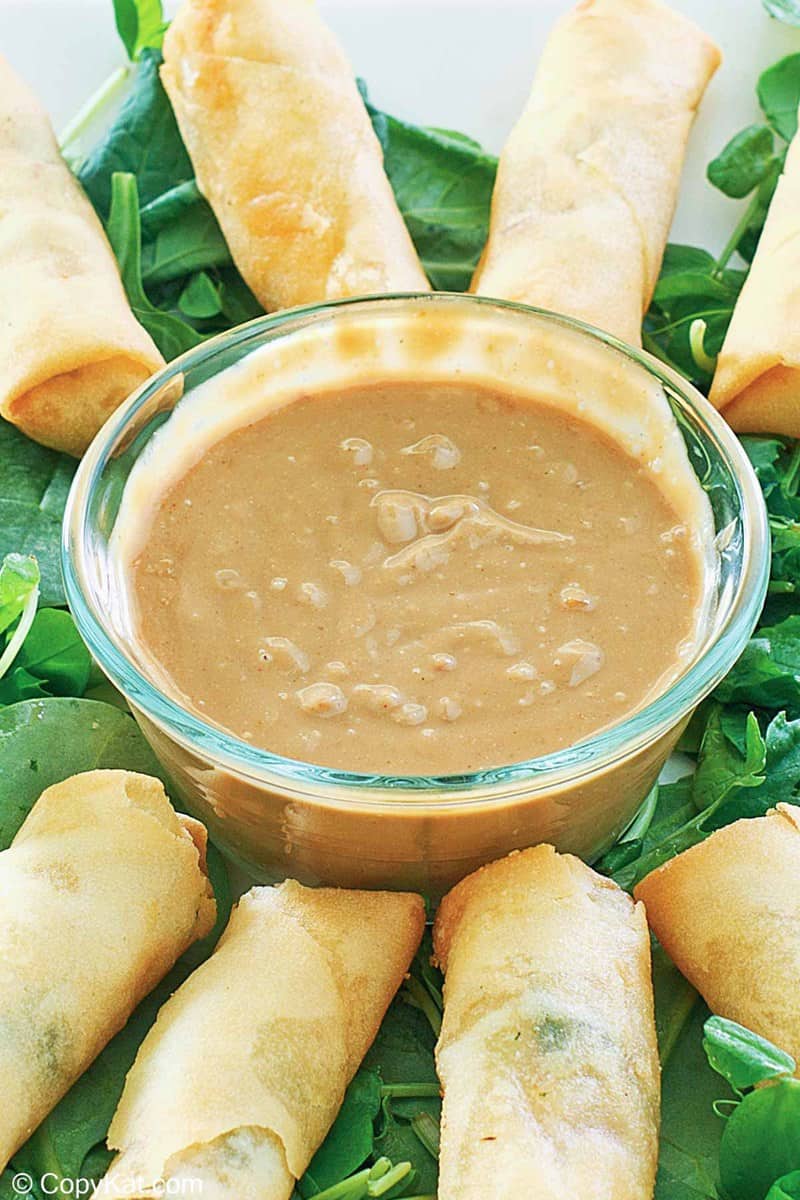 Need a little variety for your egg rolls and more? Of course, you can try sauces like fish sauce, chili garlic sauce, coconut aminos, or even Sriracha sauce. Thai peanut sauce is a sauce you simply ust try.
You can make spicy peanut sauce with a few ingredients in your pantry. This spicy Thai peanut sauce recipe is incredibly versatile and can be used in so many ways. It makes the perfect spicy peanut dipping sauce. And, it only takes five minutes to put together!
What Does Thai Peanut Sauce Taste Like?
The peanut butter in this easy spicy peanut sauce brings all the ingredients together for a sweet, spicy, and salty taste. It's just irresistible!
Ingredients for Easy Spicy Thai Peanut Sauce
This spicy peanut sauce recipe uses everyday ingredients that are easy to find at the grocery store. Some of them are probably already staples in your pantry – peanut butter, coconut milk, soy sauce, fresh ginger, sesame oil, crushed red pepper flakes, chicken broth.
How to Make Thai Peanut Sauce
All you need to do is mix together all of the ingredients, and voila! An easy spicy peanut sauce – no cooking involved! You can mix the ingredients by hand, with a whisk, in a jar with a lid, or in a food processor or blender.
By hand will give you the most natural consistency, and using a blender will create the smoothest and creamiest sauce.
Is Satay Sauce the Same as Thai Peanut Sauce?
Satay sauce is often called peanut sauce. The sauce is widely used in Thai, Malaysian, Indonesian, and Chinese cuisines (often under different names). The essential ingredient is peanuts, which in combination with soy sauce creates a salty and mildly spiced taste. There are various recipes for making peanut sauce, which means satay sauces don't all taste the same.
What Can I Use Spicy Thai Peanut Sauce On or With?
This recipe makes a spicy peanut dipping sauce that's perfect for spring rolls, lettuce wraps, veggies, grilled chicken, shrimp, tofu, tempeh, and more. In fact, it goes with anything that needs a punch of flavor from a spicy peanut butter sauce.
This spicy peanut sauce is also good as a marinade, a salad dressing, with chicken satay or pad Thai, or to use to make peanut noodles.
You can also drizzle this spicy peanut butter sauce on steamed or roasted vegetables for some extra protein and tons of flavor. It's great with mango, too!
Tip: To use as a salad dressing, you may want to thin the peanut sauce with a little water, lime juice, or some extra coconut milk.
Tips for Making Spicy Peanut Sauce
This recipe uses chunky peanut butter, but you can use the creamy pean utter butter if you want a smoother sauce. 
If your peanut butter is very thick, microwave it for about 15 seconds so that it's smooth enough to easily blend with all the other ingredients.
You can adjust this spicy peanut sauce recipe to suit your taste. Make it saltier, sweeter, spicier – it's up to you!
For an extra burst of fresh flavor, add a squeeze of lime juice and/or some chopped cilantro.
If you don't want to use soy sauce, you can go with low sodium tamari, which is also gluten-free. Another idea is coconut aminos.
Can Peanut Butter Be Substituted if Someone Has a Peanut Allergy?
If you're allergic to peanuts, you could easily swap out the peanut butter. And use another type of nut butter like almond butter, cashew butter, tahini, sunflower seed butter – they'll all work as a great base.
Can You Freeze Spicy Peanut Sauce?
You can make this sauce ahead of time, and it will store in your fridge for up to a week. This spicy peanut butter sauce also freezes well. Freeze it in small portions for use in making fast meals in the future.
Thai Peanut Sauce Ingredients
Here's a list of what you need:
Crunchy peanut butter – natural peanut butter is my favorite, it does not have extra sugar in it.
Coconut milk
Soy sauce – or coconut amino sauce
Fresh ginger root
Sesame oil
Dried crushed red pepper flakes
Chicken broth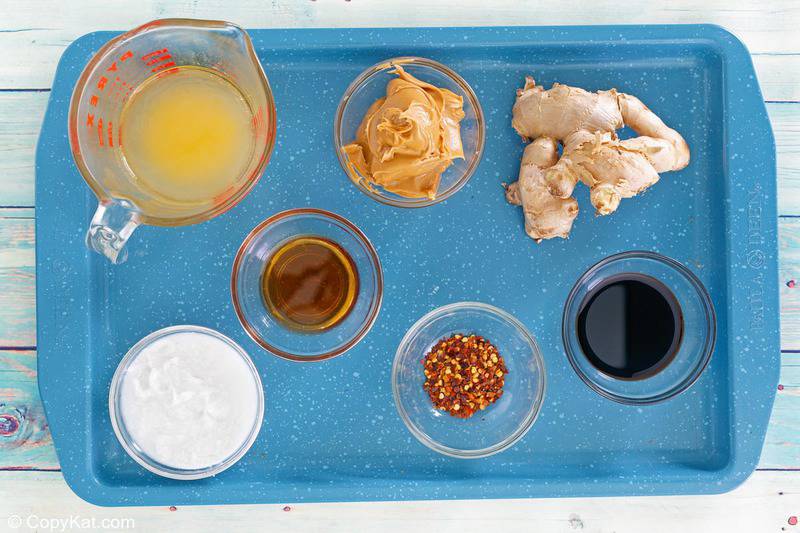 How to Make Thai Peanut Sauce
Place all the ingredients in a bowl.

Whisk or stir to thoroughly combine.
Let it sit for a couple of hours before serving.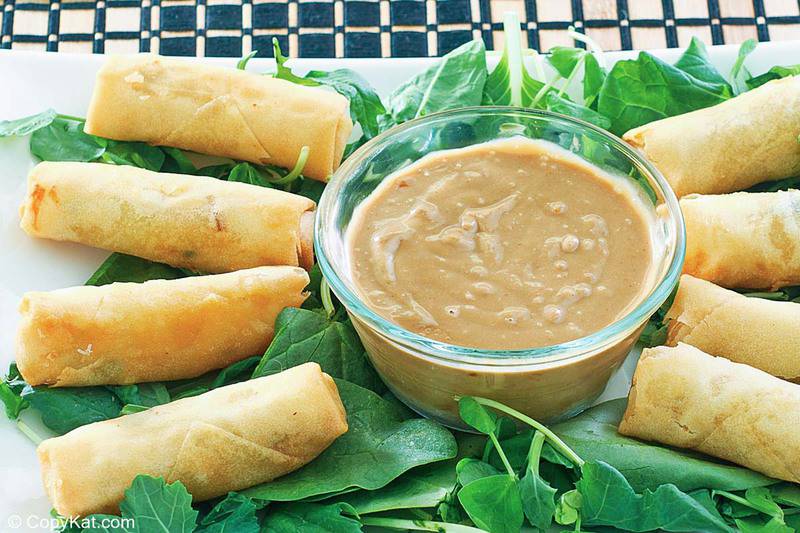 Love Asian food? Try these recipes!
Popular Sauce Recipes
Check out more of my easy dips and sauce recipes and the best Asian recipes here on CopyKat!
Ingredients
1/2

cup

crunchy peanut butter

1/3

cup

coconut milk

2

tablespoons

soy sauce

1

tablespoon

freshly grated ginger

1

tablespoon

sesame oil

1/4

teaspoon

dried crushed red pepper flakes

1/4

cup

chicken broth
Instructions
Combine all ingredients in a bowl and stir well.

This is best if it sets for a couple of hours before serving.
Nutrition
Calories:
44
kcal
|
Carbohydrates:
1
g
|
Protein:
1
g
|
Fat:
3
g
|
Saturated Fat:
1
g
|
Cholesterol:
0
mg
|
Sodium:
118
mg
|
Potassium:
46
mg
|
Fiber:
0
g
|
Sugar:
0
g
|
Vitamin A:
5
IU
|
Vitamin C:
0.2
mg
|
Calcium:
3
mg
|
Iron:
0.2
mg