Can't get enough of perfectly crispy and crunchy tempura shrimp? You will want to try this tempura recipe. You can make crispy shrimp tempura at home with ingredients you have on hand! It will taste just as good as any Asian restaurant, and best of all, it will take minutes to prepare! Don't hesitate in making perfectly crisp shrimp tempura at home, where you can enjoy as many of these as your hearts desire.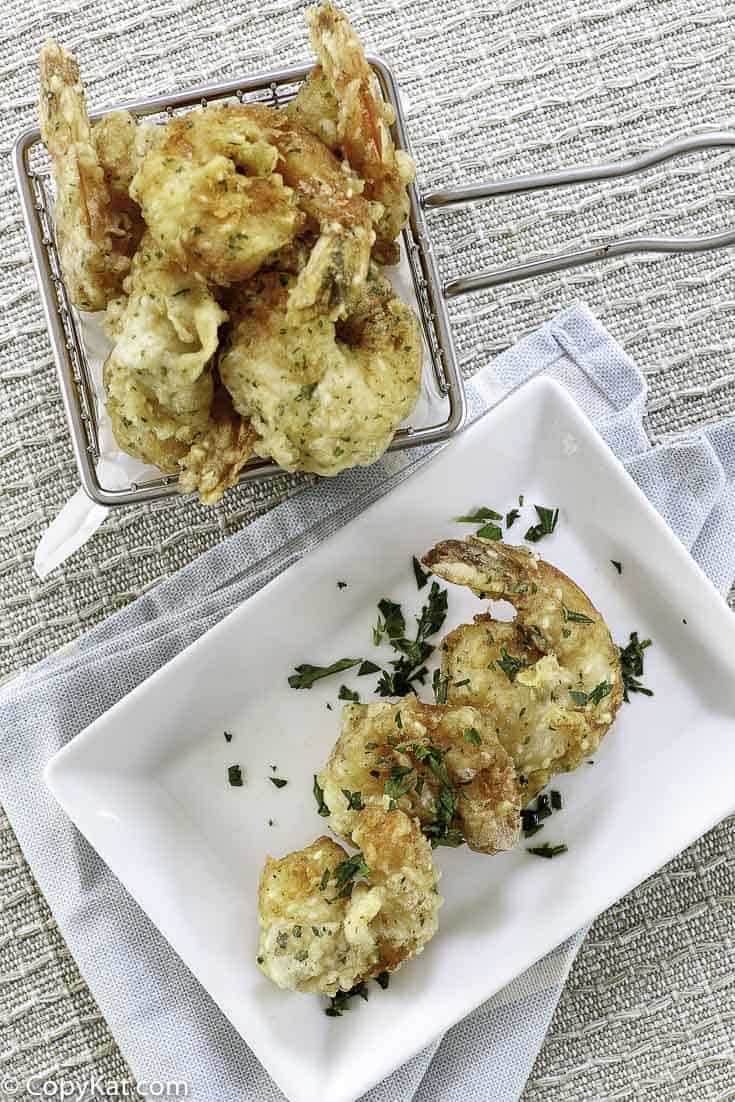 You don't have to go out to enjoy this Japanese dish, enjoy shrimp deep-fried in this crispy batter when you prepare this from scratch. It's super easy to make these delicious Japanese restaurant appetizers in your own kitchen. And, not a single ingredient is difficult to find.
This is a basic and easy shrimp tempura recipe for tasty shrimp in a crunchy tempura batter.
How did Shrimp Tempura get started?
You might be curious about the origin of tempura shrimp, or tempura in general. Frying food in a batter in Japan can be traced back to the middle of the 16th century.
The idea of batter frying was brought to Japan by the Portuguese, which explains why tempura is not a Japanese word but is Latin based. It derives from the word tempora, as in quatuor tempora (the ember days) when Catholics give up eating meat.
Tempura became a favorite dish of the first shogun of the Tokugawa/Edo era, Tokugawa Ieyasu.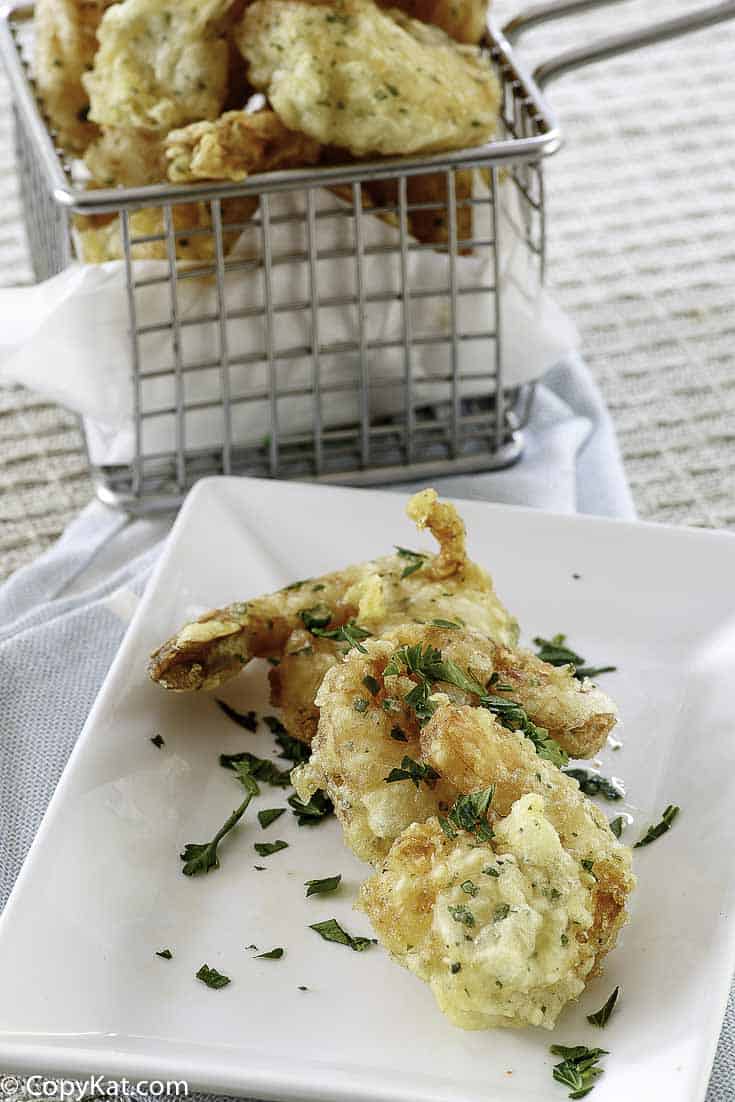 Why this is the shrimp tempura recipe you should use
This recipe is simple, you do not need special ingredients like potato starch, or corn starch. Ordinary all-purpose flour works well in this recipe. You will make a quick and easy batter, and then deep fry your shrimp. Best of all you don't need to boil your shrimp before cooking because the frying process will cook the shrimp.
What is Tempura Batter?
Tempura batter is made with flour that is often mixed with ice water. The ice water helps to create a very light and crispy texture. My copycat recipe uses club soda instead of ice water.
There are specialty flours available that are designed to give you super crispy tempura. However, regular flour will work provided you don't overdo stirring the batter. Too much stirring will activate the gluten in the flour, and you will end up with a batter that isn't as light as you want.
This easy to make copycat tempura batter recipe will inspire you to fry up shrimp, other kinds of seafood, and fresh vegetables.
Since this recipe is a wet batter, it is not suitable for an air fryer. The batter will drip off before it cooks. If you want to make crispy shrimp in an air fryer, I would batter the shrimp with an egg wash and panko breadcrumbs.
Some Tips for Making Shrimp Tempura:
The club soda will work better if it is VERY cold, you may want to place a few ice cubes in a glass and pour the club soda into the glass to make sure it's ice cold.
Mix the batter ingredients just to the point that the dry ingredients are combined. Do not overmix.
For deep frying the shrimp, use at least 3 inches of oil in your pot.
How long to fry the shrimp? Make sure the oil is hot enough before you start and try not to crowd the shrimp together. Ideally, fry at 375 degrees for just 2-3 minutes until the tempura batter is golden brown.
Do NOT place the fried shrimp on paper towels. The paper towels will generate steam, and you will lose that crunchy texture you've strived to achieve.  Place the shrimp on a wire rack just like they do in a restaurant.
Make Shrimp Tempura Anytime!
This shrimp tempura recipe makes the best Japanese appetizer. It's made with a light batter and it fries super crisp in no time. Note that it's important not to fry the shrimp for too long.
Serve this as an appetizer with a dipping sauce or even soy sauce every time you have an Asian-themed dinner. Or pair your shrimp tempura with rice and some vegetables for a light meal.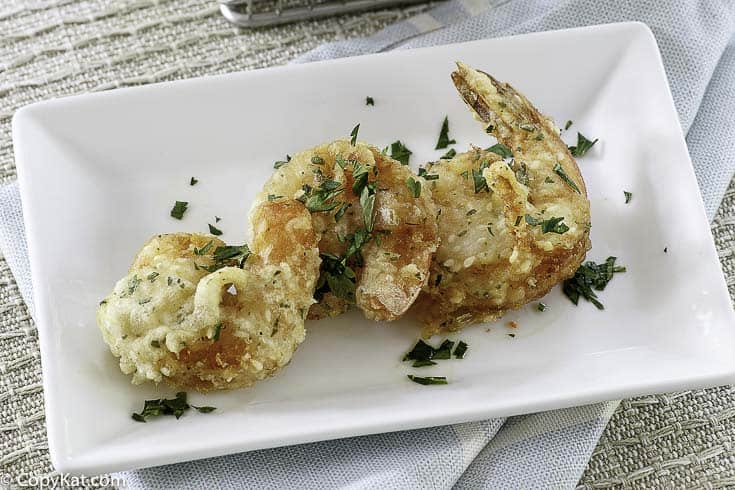 Don't stop with just shrimp you can make vegetable tempura!
This tempura mix can be used to make vegetable tempura. You can use this tempura mix for:
a sliced avocado
a sliced sweet potato
onion rings
green beans
a sliced zucchini
slices of daikon radish
Shiitake mushrooms
What type of oil should you use?
Peanut oil, vegetable oil, and canola oil all work very well for deep frying. Peanut oil gives a wonderful taste, but peanut allergies are common.  Most restaurants use vegetable or canola oil, so either one of those are highly recommended.

How to store leftover shrimp tempura
Place your room temperature leftover shrimp tempura into an airtight container, store for up to 3 days in your refrigerator.
Best way to reheat leftover shrimp tempura
Reheat your shrimp tempura in an airfryer at 350 degrees for 3 to 5 minutes for maximum crispiness. If you do no have an air fryer, reheat in a 350 degree oven on a baking sheet for 5 to 7 minutes. Be sure to lay out the shrimp into a single layer.
Love shrimp? Try these recipes
Shrimp Dipping Sauces
Be sure to check out more copycat sauce and seafood restaurant recipes.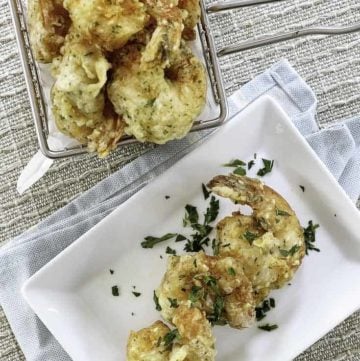 Shrimp Tempura
Make crispy shrimp tempura at home with this easy copycat recipe. Rival any Asian restaurant with easy ingredients to find at home! This tempura mix is super easy to make.
Print
Pin
Rate
Add to Collection
Go to Collections
Ingredients
1 1/2

pounds

shrimp

deveined

1 2/3

cups

all purpose flour

1 1/2

cups

cornstarch

2

cups

club soda

or super cold water

1/4

cup

sesame seeds

optional

1/4

cup

fresh herbs

optional (parsley, chives, thyme are suggested)

oil for frying
Instructions
Heat oil to 375 degrees f in a deep fryer or pour enough oil into a large pot to deep fry. You may want to check the oil temperature with a candy thermometer.

Mix together flour, cornstarch, and club soda in a bowl. Whisk the mixture until just blended, mix only until there are no lumps in the batter. If desired add some of the fresh herbs to the batter.

Dip shrimp one at a time into batter. There is no need to dip the tails. Shake off excess batter. Deep fry for about 2 to 3 minutes, the batter should crisp up, do not let the batter brown, the shrimp will overcook. Remove the cooked shrimp with a large slotted spoon.

Drain shrimp on a wire rack on top of a baking sheet. You can keep the shrimp in a warm oven (200 degrees) before serving if desired.

Sprinkle sesame seeds and herbs on top if desired.
Notes
Peanut oil is my preferred cooking oil, but regular vegetable oil will also work!
You could use this battered shrimp tempura in sushi, these would make a great tempura shrimp roll.
Nutrition
Calories:
650
kcal
|
Carbohydrates:
89
g
|
Protein:
45
g
|
Fat:
11
g
|
Saturated Fat:
1
g
|
Cholesterol:
429
mg
|
Sodium:
1379
mg
|
Potassium:
314
mg
|
Fiber:
4
g
|
Sugar:
1
g
|
Vitamin C:
7.8
mg
|
Calcium:
386
mg
|
Iron:
8.6
mg